With the average costs of single vision lenses at $113 and frames at $238, you can easily spend over $300 on a pair of prescription glasses. But Zenni Optical is changing all of that with glasses for as little as $20 a pair.
If you need glasses, you need glasses. Not having up-to-date glasses can affect your driving, reading, work, and regular day-to-day activities. But glasses are expensive when you buy from the optometrist, even if you have insurance.
With insurance, I would pay $400+ for glasses. At Zenni Optical, I pay about half of that.
Zenni Optical offers a less expensive alternative to traditional prescription glasses. With an interactive buying experience, you can browse through a wide variety of frames and even "try on" glasses before you buy them.
After buying several pairs of glasses from Zenni Optical over the years, I'm going to explain my experience with Zenni, how to order glasses online, and how much money I saved my family by buying glasses through Zenni.
What is Zenni Optical?
Zenni Optical was founded in 2003 with the goal of making stylish eyewear affordable for everyone. Since they first started, Zenni Optical has expanded its selection of frames and made the ordering process even easier.
There are now over 6,000 frames available on Zenni, and prices range from $6.95 to $45.95. But these aren't just cheap online glasses, they're good-quality frames and lenses for a variety of prescription types.
Zenni makes all of its glasses in-house, and its prescription lab can handle every kind of prescription. And they send out over 7,000 pairs of glasses every day to more than 80 countries around the world.
Looking for an alternative to health insurance? Check out Liberty Health Share Review 2020: A Health Insurance Alternative?
How does Zenni Optical work?
Zenni Optical is able to offer such inexpensive glasses because they don't have the same kind of overhead as brick and mortar eyeglass retailers. These places build the cost of outsourcing costs, licensing fees, warehousing, and more into what you pay for glasses.
Because Zenni operates in-house production, they've cut out the middleman to pass savings along to you.
Zenni Optical isn't the only company using this business model – Warby Parker is another big name – but I've personally had a really great experience with Zenni. So if you're asking, "Is Zenni legit?" I can tell you that yes, yes it is.
Inexpensive, good quality, and stylish glasses do exist out there!
For more on saving money, read How to Save Money: Set Goals, Find Savings, Make Big Things Happen.
What kind of glasses can you order from Zenni Optical?
Zenni Optical can make prescription glasses, prescription sunglasses, prescription goggles, blue-light blocking glasses, and glasses for toddlers and kids. But, Zenni is only for ordering glasses – they can't tell you your prescription or diagnose any optical issues.
You will need a current prescription before ordering your glasses, and then Zenni can make glasses for nearly any kind of prescription, including:
Single-vision prescriptions: Up to -20.00 or +12.00 on the Sphere (SPH), up to + or - 6.00 on the Cylinder (CYL)
Bifocal prescriptions: Up to -9.00 or +6.00 on the SPH, up to + or - 6.00 on the CYL, up to +3.50 on the NV-ADD
Progressive prescriptions: Up to -10.00 or +8.00 on the SPH, up to + or - 6.00 on the CYL, up to +3.50 on the NV-ADD
Prism (single-vision only): Up to 5.00 in any base direction
Zenni Optical can also make lenses for people with an astigmatism (fun fact, most people have one!). You can even order bifocals with computer-distance up top and reading distance on the bottom.
You'll enter your prescription after selecting your frames (more on the ordering process further down in my Zenni Optical review), and there is a wide variety of different options. Zenni organizes their glasses by collection, face shape, fit,, trend,, and more.
What to know before you order glasses from Zenni Optical
I've said it already, but I'll say it again: make sure you have an up-to-date prescription. Zenni Optical recommends a prescription that is no older than two years. If you don't have vision insurance, an exam can cost anywhere from $50-$200.
You may have to ask your doctor for a copy of your prescription. I've even asked them to email me a copy. Your prescription will look something like this:

SPH is sphere and CYL is cylinder. DIST PD stands for pupillary distance, which might not be on your prescription. This is an important number and measures the distance between your pupils, and you'll need this measurement to order prescription glasses from Zenni Optical.
If you don't have that measurement, Zenni has an easy guide to measuring your own. I'll admit that I stressed out about it at first, but it's surprisingly simple.
It's also not a bad idea to try some frames on when you're visiting the eye doctor. You can get a good idea of what you do and don't like in terms of colors, frame styles, shapes, etc. While you can "try on" frames when you order from Zenni, checking some out in person will help you narrow down your search.
To recap, before ordering glasses from Zenni Optical make sure you have:
Your eyeglass prescription (up to two years old)
Make sure you have your SPH, CYL, AXIS, and PD – but you can measure your PD when ordering from Zenni
Try on some frames in-person to get a sense of what you like
How to order prescription glasses from Zenni Optical
Now that you have your prescription and an idea of what kind of glasses you want, let's start ordering!
Step 1: Measure your PD
You can skip this step if you already have it, but it's important to have at the beginning of the ordering process because it may limit your selection of frames. You can see how to measure your own PD here. It takes just a couple of minutes, and all you need is a millimeter ruler and mirror.
Step 2: Set up Zenni's Virtual Try-On tool
On Zenni's site, you'll record a five-second video of your face using your desktop or phone camera. You hold a credit card-sized piece of paper or plastic above your eyes and move your head back and forth
It might feel weird, but Zenni uses this video to create a virtual mirror that lets you "try on" glasses before ordering them. Before Virtual Try-On, Zenni had you upload a photo of yourself – this works much better.
Step 3: Shop frames
With over 6,000 different frame styles, it's easy to get overwhelmed. Zenni tries its hardest to make browsing easy, but there's just no way you'll get to see everything.
You can start browsing by rim style (full-rim, half-rim, rimless, acetate, metal, etc.). Then filter it by style. You can browse by color, shape, material, size, and features (clips-ons, nose pads, etc.)
There's even an entire section of the site dedicated to their lowest price point – $6.95 prescription glasses.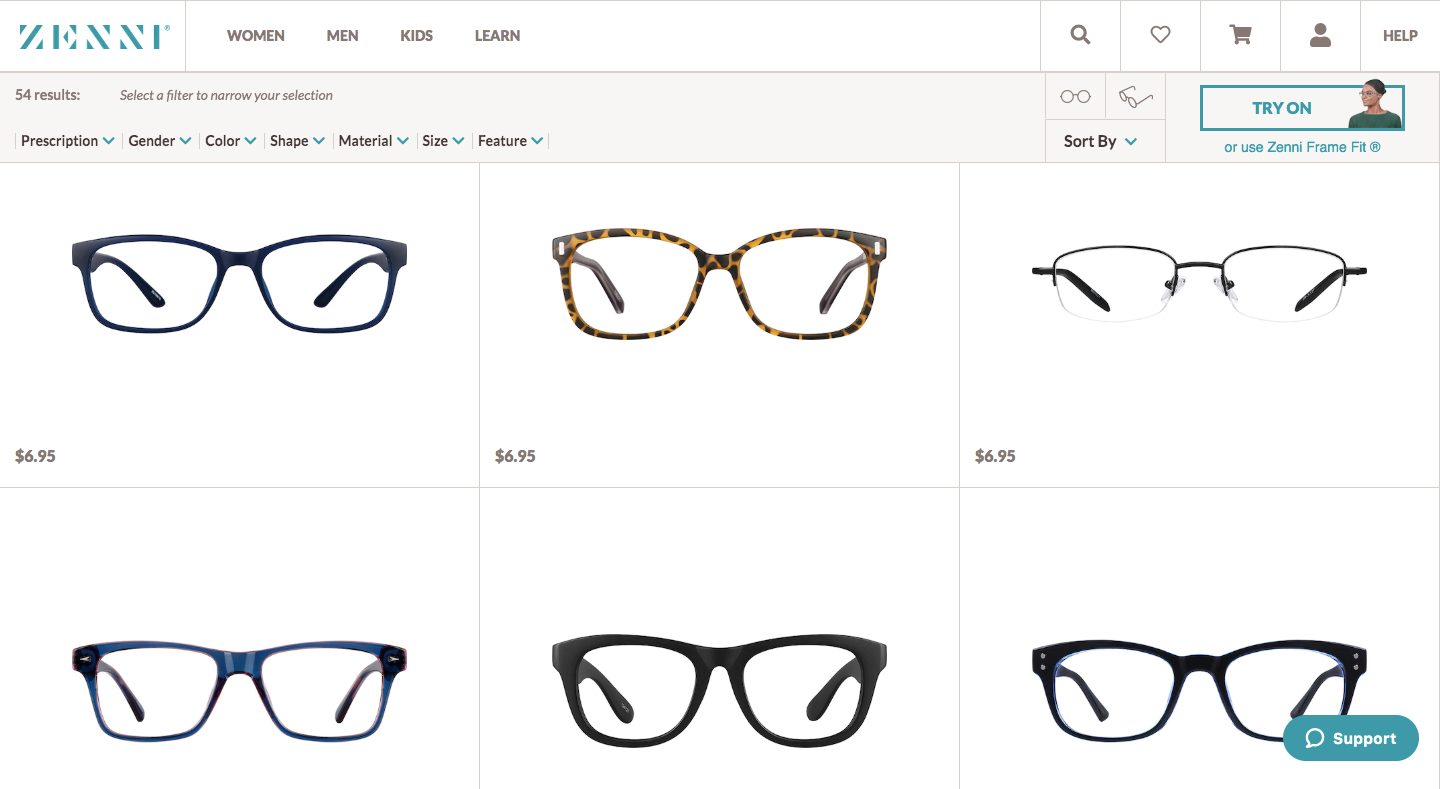 As you're browsing frames, you can start saving the ones you like by clicking the "Add to Favorites" button or try them on with Virtual Try-On.
Once you've found a few you like, you can click on the heart button at the top of the screen to compare them. You'll definitely want to use the Virtual Try-On here. It's like being in the eye doctor's office and standing in the mirror trying on the ones you like.
Step 4: Enter your prescription
After you've found one (or a couple, that's one of the best parts about inexpensive glasses), it's time to select your lenses. Have your prescription in front of you for this step.
You're first asked about your prescription type, then pupillary distance. There are question marks for each section if you're unsure about anything.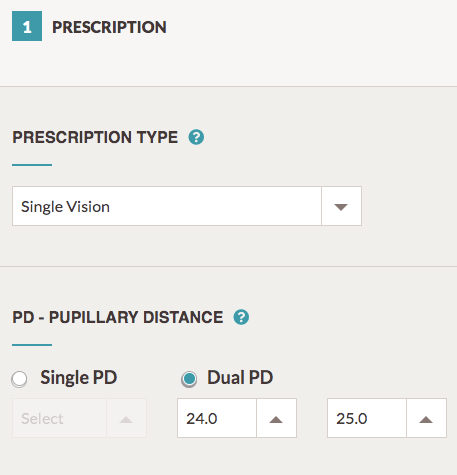 Next is entering the numbers on your prescription. OD stands for Right, OS for left. If there aren't numbers for every section of your prescription, that's okay.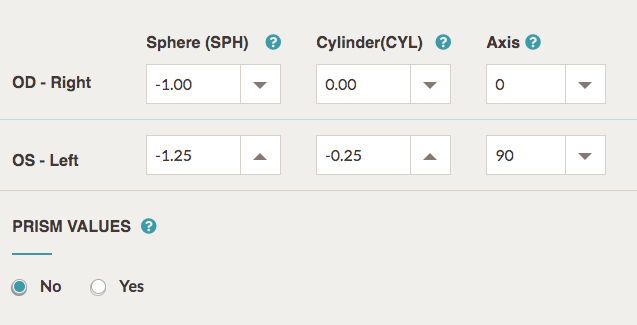 You can also name and save your prescription to make it easy to order in the future. Keeping your prescription on file with Zenni is really helpful, especially if you're ordering glasses for more than one person.
Lastly, click "Submit Prescription." A screen will pop up asking you to confirm the prescription, and you can either edit or confirm it.
Step 5: Ordering your lenses
There are a lot of options in this step, and it's where the price of your inexpensive glasses can really start to creep up on you (speaking from experience).
Zenni Optical offers four different types of lenses:
Standard eyeglass lenses
Blokz Blue Blockers (they're virtually clear but block out blue light if you spend a lot of your day staring at computer or smartphone screens)
Polarized sunglass lenses
Photochromic lenses (these are essentially the generic version of Transitions lenses)
Within each type, there are more options.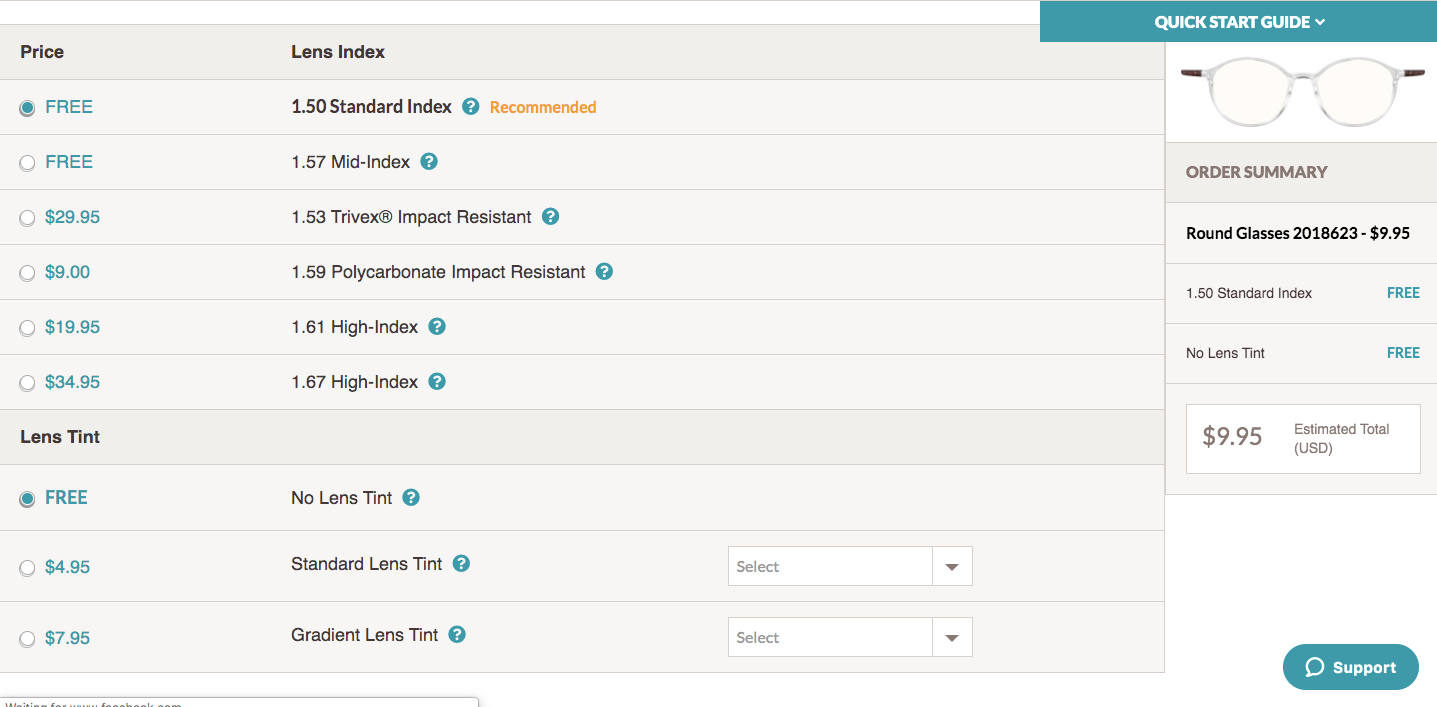 The last pair of glasses I ordered from Zenni were for my daughter, and I ended up paying the extra $30 for Trivex Impact Resistant lenses because she plays sports. When I order my own glasses from Zenni, I have to go for the 1.67 High Index because otherwise, I would end up with Coke bottle glasses. And I order the Blokz lenses because I spend about 6 hours a day in front of a computer screen – an additional $49.95.
The next part of ordering your lenses is the type of coating. No coating is free, but Zenni recommends that you opt for Standard Anti-Reflective Coating at $4.95. You can also order clip-ons on this screen if your frame style supports them.
Then, add to your cart and proceed to the next step!
Step 6: Check out
You get one more chance to check your prescription, but if everything looks good, then check out. You will need to create an account if you don't already have one.

Enter your shipping and payment information, review your order, submit, and that's it!
The add-ons that are worth paying for
Like I said, the additional lens features can really add up. But how do you know which ones to purchase?
According to Consumer Reports, an extra scratch-resistant coating isn't necessary if you're buying plastic frames, because it comes standard. There's also some research that suggests that blue light blocking lenses might not be as worthwhile as we're lead to believe, because the science behind the benefits is weak.
The one extra that may be worth it is anti-reflective coating – it can help you see through your lenses better at night as it reduces glare. That also makes it easier for people to see your eyes through your lenses.
Read more at 29 Easy Ways to Lower Your Monthly Household Expenses.
How does the cost compare to traditional glasses?
Considering that you can get a pair of glasses for under $20, Zenni Optical costs significantly less than traditional retailers, even if you have vision insurance.
For example: The last pair of glasses I bought for myself from the eye doctor's office was over $400 with insurance. The last pair I bought from Zenni Optical was around $150. My daughter's first pair of glasses from the eye doctor's was around $200 with insurance, but only $60 from Zenni.
Considering that my prescription changes every year and that we have three people in our house wearing glasses, Zenni Optical has easily saved me close to $1,000 on eyeglasses over the past few years.
Read more at 7 Easy Ways to Save Money on a Tight Budget and 36 Ways to Save Money Fast.
Zenni Optical Review: Customer service
The one thing I miss when ordering from Zenni is the one-on-one type of support you get from the eye doctor's assistants. You can also go into the doctor's office for free adjustments, but that's not possible with Zenni.
Even so, I've had stellar customer support from Zenni. I helped my dad order a pair of glasses from them a week before he died, and I was able to email them about what had happened, and they gave me a full refund, which was transferred to my own Zenni account.
Zenni Optical Review: FAQs
How long do Zenni Optical orders take?
Standard Shipping via USPS is 14-21 days and costs $4.95. The fastest shipping is 7-10 days via Express Shipping and costs $18.95.
Does Zenni Optical take insurance?
No, but you can use FSA/HSA funds to purchase glasses from Zenni Optical. You use your FSA/HSA card at the checkout in the same way you would use your credit card. If you don't have an FSA/HSA card, you purchase your card and submit your receipt for reimbursement.
What is the Zenni Optical return policy?
Zenni Optical has a 30-day return policy that starts on the day you received your glasses. You'll receive a 50% refund or a one-time-use 100% store credit refund, excluding shipping.
If your glasses break during the 30-day window, Zenni will replace them at no charge.
Can you get contacts through Zenni Optical?
Zenni Optical does not offer contact lenses, but there are several other online places for contact lenses, like 1800contacts.com or LensDirect.
Zenni Optical review pros and cons
Zenni Optical review final word
Overall, I've been very happy with the glasses I've ordered from Zenni. With my first order, I went in with the mindset of "you get what you get," but I was surprised with how much I liked those glasses.
One of the things many people like about Zenni is that you can get a couple of different styles and still spend less than you would at the eye doctor's. Just think, a pair of glasses for every occasion!
Ordering prescription glasses from Zenni Optical is an excellent alternative if you're looking for a low cost solution, even if you have vision coverage. It's been a really good solution for my family, and at such a low cost, it's definitely worth checking out.
I still order contacts from my optometrist office (I like supporting a local business), but now I can put my vision insurance allowance to contacts, and pay much less for glasses from Zenni Optical.