Grocery delivery services are all the rage right now, and for good reason – more and more people are choosing delivery services over visiting the grocery store, and services like Instacart and Shipt offer a flexible way to make extra money.
But if you want to make extra money delivering groceries, how do you choose whether you shop for Instacart vs Shipt
The reality is that both of these delivery services are really similar, but there are some key differences that might make one stand out.
What is the difference between Shipt and Instacart?
Instacart and Shipt are both on-demand grocery delivery services. Both let customers order groceries in the app or online, and then a shopper shops for your order and delivers it to your door. But there are a few key differences that I'll explain.
Instacart was started in 2012 and has grown to deliver to over 5,500 cities across the U.S. and Canada. They've partnered with over 350 retailers with more than 25,000 grocery stores.
Anyone can use Instacart – customers create an account in the app or online and then start placing orders for delivery.
Instacart also has two different options for workers – full-service shoppers and in-store shoppers. Here's the difference:
Full-service shoppers are independent contractors who shop for the orders and deliver them, and they can work as many hours a week as they want.
In-store shoppers work part-time for Instacart, only shop for and package orders, and are limited to no more than 29 hours per week.
Read a full review at Instacart Shopping Side Hustle: How Much Do Instacart Shoppers Make?
Shipt was founded in 2014 and is currently owned by the Target corporation. Shipt delivers groceries, home products, and even some electronics.
Until recently, Shipt was a membership-only site, but they've expanded their services to non-members. You can still pay for a membership to Shipt Everyday at $99 a year, and this comes with free deliveries on orders over $35. Members pay $7 per delivery for orders under $35.
Non-members have two options for delivery fees:
Pay a $10 delivery fee for each order you place
Purchase Shipt Passes and save on delivery fees – 3 Shipt Passes are $9/delivery or 5 Shipt Passes are $8 for delivery
How do Instacart and Shipt work?
These two apps are really similar in how they work for shoppers. Both apps let you schedule your hours in advance, and then once you're "on", you start seeing available orders in the app.
Here's one big difference though: Shipt gives you an estimate on the time and earnings for each order, but Instacart tells you exactly how much you'll make for each delivery.
Here's what it looks like in the app for Instacart: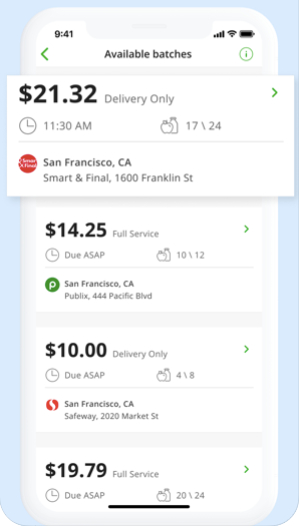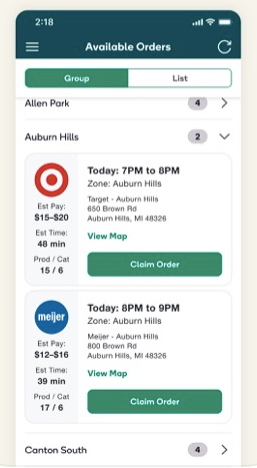 You can accept or reject orders from both Shipt and Instacart. For example, you might reject small orders because they don't pay as well.
Once you accept an order, you drive to the store and start shopping. The list of items you need is in the app, and you can use the app to contact the customer about substitutions if an item is out of stock.
Instacart and Shipt both give you a prepaid debit card that you'll use to pay for orders, and after you've paid for the groceries, you deliver them.
Customers are notified in the app about the progress of their orders – when it was accepted, who their shopper is, and when it's on the way to their house.
It's a fairly simple process overall, and you're given directions for everything in the app, from driving directions to what you need to shop for.
M$M tip: If you're interested in finding work-from-home options, check out 13 Legitimate Work From Home Jobs (Earn an Extra $1,000 Per Month in 2020!) and Online Jobs | Where to Look Right Now.
Where Shipt and Instacart are available
If you're deciding between Shipt vs Instacart, availability is going to be a huge factor. Shipt delivers to far fewer locations in the U.S. than Instacart. Shipt is in most major U.S. cities, but it has a lot of room to expand in the southwest, plains, upper midwest, and west coast regions.
Remember Shipt is currently only in 270 cities throughout the U.S., but Instacart is in thousands of cities.
Shipt has continued to expand, especially since it was acquired by Target in 2017. It's grown from 27 markets in 2016, to 170 by the end of 2018, to 270 in 2020. And I imagine they will continue to grow.
You can check Shipt here to see if they're available in your area, and here for Instacart.
Shopper requirements with Shipt vs Instacart
Shipt and Instacart differ slightly in shopper requirements, but both require that you be at least 18 years old, and have both car insurance and a driver's license.
But here's how they're different:
Phone requirements: Instacart shoppers need an iPhone 5 or Android 4.4 or higher. Shipt shoppers need an iPhone with iOS 10 or Android 5.1 or newer.
Car requirements: Instacart only asks that full-service shoppers have consistent access to a car. Shipt says your card needs to be manufactured in 1997 or newer.
Physical requirements: Instacart shoppers need to be able to lift 50lbs or more with or without accommodation, and Shipt shoppers must be able to lift 40lbs.
Instacart and Shipt both run background checks for all shoppers through a third-party service. It can take up to 10 days to run a check before you can start delivering groceries.
Does Shipt or Instacart pay more?
Shipt and Instacart are fairly even when it comes to pay, and drivers for both make between $15-$20/hour on average. Shipt claims drivers make up to $22/hour, but that's definitely not what most shoppers make.
Instacart uses a complex algorithm to figure out how much full-service shoppers make. It factors in the number of items in each order, the kind of items, driving distance, and the amount of effort it takes to shop and deliver the order.
Instacart shoppers are typically paid more for larger orders and during busier times. For example, if you were willing to work during holidays, you will probably make more than you would on a typical weekday.
Shoppers for Instacart can also earn referral bonuses after they've logged 40 hours of service in the past 6 months. Referral bonuses vary by zone and role, but it's a way to make extra money if your friends sign up to start shopping.
Like Shipt, you can keep 100% of your tips when you work for Instacart, and you get paid once a week via direct deposit.
Both companies also let you accept or reject orders before you take them. Instacart doesn't seem to penalize drivers for not taking orders, but Shipt drivers may be contacted about their acceptance rate if they reject too many.
How do Instacart and Shipt support their shoppers?
Shipt and Instacart have the same 24/7 shopper support options if you have any issues. This includes phone and email support, and both actively reply to issues through Facebook and Twitter, but these aren't official support channels.
Here's how you can contact Shipt:
Here's the contact info for Instacart:
And in light of recent events, both companies have changed their policies on sick pay. Instacart gives shoppers one hour of sick pay for every 30 hours worked. And there's also a new contactless delivery option so customers can leave delivery instructions like "leave it on the porch." Drivers use the app to take a picture of the delivered groceries.
Shipt is providing up to 2 weeks of financial assistance to shoppers who have been diagnosed with COVID-19 or placed under mandatory quarantine because of an infected family member. Shipt also offers contactless delivery.
Is Instacart vs Shipt better for customers?
The reason I bring this one up is because for you to make money with a delivery service, the customers you're delivering for need to be happy with the company as a whole. I'm going to break down some of the factors customers care about.
Availability
Instacart is available in far more locations, making it an obvious choice for more customers. You can't order groceries from a service that isn't in your city.
Cost
Both Shipt and Instacart offer the same membership pricing: $99 for the year. And each membership program offers free delivery on orders of $35 or more.
Shipt's delivery fees are flat rates for non-members ($8-$10 per delivery), and there aren't additional service fees. Instacart, on the other hand, charges $3.99-$7.99 for deliveries plus service fees.
It's really hard to say which delivery service is better for users, but some like the flat rates that Shipt charges because they make it easier to budget for.
What they deliver
While both are primarily grocery delivery services, they both also deliver from CVS, Costco, and Target. Yes, Target allows Instacart deliveries even though Target owns Shipt. Both of these services even do alcohol deliveries in some markets.
But due to Instacart's greater reach, it has many more partner stores overall.
FAQs
Can you work for Instacart and Shipt?
+-
Yes! Many shoppers actually deliver for more than one service. If you want to deliver for more than one and Shipt isn't in your area, you might want to look at DoorDash or Postmates.
You can read more about other food delivery side hustles in these articles:
Are you reimbursed for mileage when you drive for Shipt or Instacart?
+-
Neither Instacart or Shipt reimburses drivers for the mileage they put on their vehicles. But you can write off 57.5 cents per mile on your taxes.
Writing off the mileage you put on your car is how you account for gas and the wear and tear you put on your car. This is worth thinking about, because car maintenance will eat into your pay
You'll be buying gas more often – this could hurt if you're not in a fuel efficient car – and you'll have to take care of routine maintenance more often, like brakes and oil changes.
Do you have to pay taxes on your earnings from either company?
+-
Full-service Instacart shoppers and Shipt shoppers are all considered independent contractors. This means you're responsible for withholding and filing your own taxes. Each company will send you a 1099 form if you've made over a certain amount of money.
The final word on Instacart vs Shipt
Here's the thing: either one of these grocery delivery services are a legitimate option if you want to start making extra money. You pick your own hours, make a decent amount for the work you're doing, and you can work for more than one at a time.
Whether or not you choose Shipt or Instacart is more likely going to come down to where you live.