Micro investing apps are breaking down the barriers to traditional investing — this is a really great thing for new investors.
With micro investing, you don't need a big buy-in because you're investing in fractional shares. Many of the apps also help you pick which investments are best for your financial situation and goals.
The best part is that micro investing will give you tangible results that show how investing makes your money work for you. Seriously, nothing feels better than earning passive income, even if it's a few cents here and there.
Micro investing teaches newbie investors a lot of valuable lessons about investing: the importance of education, setting long-term goals, market volatility, and much more. And I'm all for anything that teaches people how to start investing in their future.
But, let's back up a little for anyone who isn't familiar with micro investing…
What is micro investing?
It's essentially investing with small amounts of money, and some of these apps even refer to it as spare change investing. The way most of these apps invest on such a small scale is by purchasing fractional shares of ETFs (exchange-traded funds).
ETFs are inherently diverse because they track a broader set of assets instead of a single stock. Diversification is good, and it's something micro investing apps help you achieve with carefully curated portfolios that match your risk tolerance and financial goals.
But, with an influx of micro investing apps on the market, which one should you invest with?
Here are the five best micro investing apps of 2020
1. Acorns
Acorns has become one of the most popular micro investing apps with its version of spare change investing, what they call Round-Ups. Here's how it works:
You link a debit or credit card to your Acorns account.
When you make a purchase with your linked card, Acorns will round that amount up to the next dollar.
Acorns pulls the difference from your funding source and invest it for you.
For example, if you spent $4.37 on a latte, Acorns will round that transaction up to $5 and invest the $0.63 difference for you.
If you want to get even more out of those Round-Ups, you can apply 2x, 3x, or 10x Multipliers. If you have your multipliers set to 3x, that $0.63 turns into $1.89 that Acorns invests for you.
The Acorns micro investing app also has a Found Money feature. It's a Google Chrome extension that helps you earn extra cash for investing when you shop at any one of over 350 different partner companies, including Hulu, Nike, Apple, etc.
You can also set up recurring deposits with Acorns. You can cancel or pause them at any time.


How to sign up for Acorns
Just like the rest of these micro investing apps (and online brokerages), Acorns is going to ask for your name, birth date, and Social Security number. Acorns has three different types of accounts to choose from, starting at $1/month.
Acorns accounts
Acorns Core $1/month. This is a personal taxable investment account.
Acorns Core + Acorns Later $2/month. You can also invest in an IRA, which is a tax-advantaged retirement fund.
Acorns Core + Acorns Later + Acorns Spend $3/month. This adds on a checking account that has zero account fees and reimbursed ATM fees.
These fees are for accounts with up to $1,000,000 invested.
After you've chosen your account type and set up a funding source, Acorns will set you up with the best portfolio for your situation.
Acorns portfolios
There are five different Acorns portfolios ranging from conservative to aggressive. Acorns will recommend a portfolio based on your current age, projected age of retirement, and the level of risk you're comfortable with. Acorns portfolios were developed using Nobel Prize winning research.
No matter which portfolio you use, you'll be investing in micro shares of a variety of ETFs. You can see how much you own of each ETF in the app, or when you link your Acorns account to a money tracking tool like Personal Capital.
Where Acorns shines
Acorns automates the entire micro investing process, so it's incredibly mindless. You might even forget about the fact that you are passively earning money in the background.
Where Acorns falls short
You have very little control over what you're investing in.
Learn more about Acorns, including what's in each portfolio, in my full M$M Acorns 2020 Review.
2. Stash Invest
There are currently over 4 million people investing with Stash, setting aside over $1.8 billion for the future. The coolest part is that 86% of those people are first-time investors!
There are three different ways to invest using the Stash investment app:
Set-Schedule: You set up recurring deposits into your Stash account.
Round-Ups: When you use the debit card associated with your linked funding source, Stash rounds up transactions to the next dollar amount, investing the difference.
Smart-Stash: Using a special algorithm, Stash analyzes your spending and earning patterns to set aside small amounts of money for you. You can set maximum transfer amounts at $5, $10, or $25.
All of these Stash features can be turned off and on as needed.
Like Acorns, Stash invests your money in micro shares of ETFs, but Stash also lets you purchase fractional shares of nearly 200 different stocks.
How to start investing with Stash
All of these apps have a really similar sign-up process. You'll need to provide your personal info, link a card, and pick an account type.
Stash has three different account options, and it takes $5 to start investing in any of them.
Beginner $1/month: Includes a personal investment account, unlimited trades, and financial education.
Growth $3/month: Includes a personal investment account, retirement account, unlimited trades, and financial education.
Stash+ $9/month: Includes everything in Growth plus custodial accounts for up to two children, and you also receive a metal debit card with 2x stock back.
More to know about investing with Stash
Stash gives you two different options for how you invest your money. You can pick which assets you invest in, or you can use the Stash Portfolio Builder to invest in a diversified portfolio based on your risk tolerance.
Portfolio Builder is a brand new feature that was released in September of 2019. There are three different portfolios: conservative, moderate, and aggressive. Stash recommends starting the Portfolio Builder with at least $20.
If you do want to choose your own assets, you can browse through a diverse list of ETFs and stocks to find ones that match your interests and/or values. Stash will hold money in your account until you click the "Buy Now" button.
Here's an example of some of the ETFs you'll find on Stash:
Clean & Green (companies with clean and renewable energy) is the Stash name for the iShares Global Clean Energy ETF, ticker symbol ICLN
Women Who Lead (female-focused companies, leadership, and charitable work) is the Stash name for SPDR SSGA Gender Diversity Index ETF, ticker symbol SHE
All That Glitters (precious metals) is the Stash name for Aberdeen Standard Physical Precious Metals Basket Shares ETF, ticker symbol GLTR
Stash is growing informed investors
Stash gives you really important information about each ETF and stock before you buy any of them, like performance, position, and expense ratio. The goal is that you get to know each of your investments so you can make educated investing decisions.
Where Stash shines
The Stash investing app teaches you how to invest. You can also learn if you're a hands-on or hands-off investor now that they have the Portfolio Builder.
Where Stash falls short
New investors run the risk of making uninformed decisions which can result in losing money. This is the downside of having the freedom to choose your own investments.
You can learn more about Stash in my M$M Stash Review. And see how Stash compares to Acorns at Acorns vs. Stash: Which is Better, How Much They Cost, and Should You Use Them?
3. Twine
Started by insurance giant John Hancock in 2018, Twine has branded itself as a micro saving and investing app that's built for two. You can invest with your spouse, your partner, or even your friend.
The Twine app has both savings and investing account options, and the idea is that you set financial goals and then start working towards them with a partner. It's a new way to fund a vacation, save up for a downpayment, buying a car, etc.
Unlike Acorns and Stash, you fund your Twine account with only recurring and one-time deposits. Twine will recommend amounts based on how much you need to save for your goals and when you want to reach them.
For those investing with Twine, Twine has three different portfolios (conservative, moderate, and aggressive) that are managed on a glide path. This is a strategic approach to determining the right mix of equity and fixed income assets to meet your goals.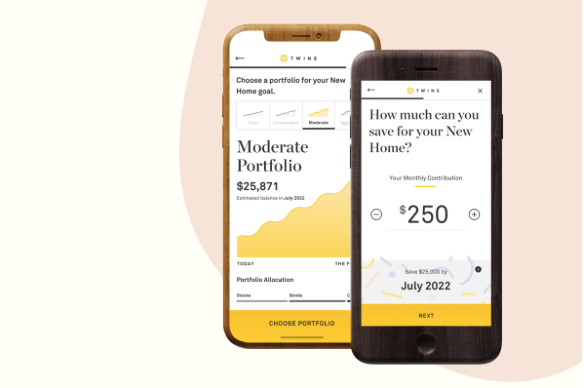 What's different about Twine
The Twine app doesn't invest in micro shares, rather they focus on low-cost ETFs. You'll need $100 in your account to start investing. Until you reach $100, Twine holds your funds in a savings account with a slightly higher than average APY (currently 0.63%).
How to invest with Twine
Sign up is similar to the rest of these micro investing apps, including the type of information you'll need to provide when opening a new account.
You pick a financial goal, including a time frame, and then invite someone to invest or save with you.
You both make contributions to a shared investment account and can see your combined progress.
How much Twine costs
With this micro investing app, the fees are simple. You pay per the amount you have invested — $0.25 per every $500 invested or 0.6% annually. There is no cost to saving in cash.
Where Twine shines
Investing with your partner teaches you the value of setting goals and working towards them as a team.
Where Twine falls short
For a personal investment account, Twine is on the more expensive end. It also lacks many of the features of other micro investing apps — how you fund your account and investing in fractional shares.
Learn more about Twine in my Twine App Review: Money-Saving Solution for Couples.
4. Betterment
Many micro investing apps are built as Robo-advisors — this is the process of picking the right portfolio and rebalancing it automatically when there is any drift. Betterment is the OG Robo advisor, and it's a great choice for micro investors.
Betterment feels a little more like a traditional investment brokerage because it gives you lots of different account options, including:
Individual accounts
Joint accounts
IRAs (traditional, Roth, SEP)
401(k) and 403(b) rollovers
The way you fund your Betterment account is more traditional too — you can make one-time deposits or set up recurring automatic deposits. But, you can deposit any amount into your Betterment account to be invested because there are $0 account minimums.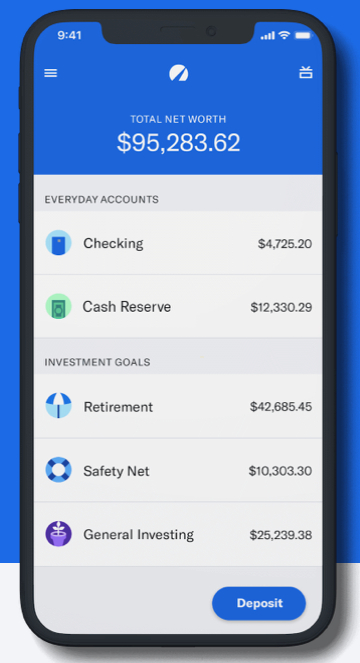 How to start investing with Betterment
Getting started with Betterment is really similar to the rest of these micro investing apps. The biggest difference is for anyone who wants to transfer funds from a different brokerage using an ACATS (Automated Customer Account Transfer Service) transfer.
If the brokerage supports it, an ACATS transfer is the fastest and most cost-efficient way to move money from one investment account to another. The reason this is different is that some micro investing apps force you to sell your assets instead of being able to transfer them. You can learn more about transfers here.
How much Betterment costs
Betterment has a two-tier pricing system:
Betterment Digital: 0.25% annually with $0 account minimums. Once your account hits $2 million invested, your fees drop to 0.15% annually.
Betterment Premium: 0.40% annually with a $100,000 account minimum, which drops to 0.30% when your account hits $2 million. You receive unlimited access to Betterment's Certified Financial Planners. These CFPs are fiduciaries who can help you with accounts both in and out of Betterment.
More Betterment features
Besides just conservative through aggressive portfolio options, Betterment offers a Socially Responsible Investment Portfolio, the Goldman Sachs Smart Beta Portfolio, BlackRock Target Income Portfolio, and flexible portfolios.
Betterment also has financial advice packages starting at $199. There is an online savings account called Betterment Everyday. Cash Reserve, Betterment's checking account, is being released soon. And, Two-Way Sweep is a cash analysis tool that moves excess cash from a linked checking account to a Betterment Cash Reserve account.
Where Betterment shines
Betterment has tons of options for investors in all different stages of life. That means you can start using Betterment as a micro investor and stick around when you're able to make more substantial contributions.
Where Betterment falls short
In terms of micro investing apps, Betterment lacks all of the exciting funding sources, like rounding up transactions, earning money back on your purchases, and multipliers.
For more on Betterment, read the Betterment Review 2020: Should You Use the OG Robo-Advising Tool?
5. Robinhood
Like Twine, Robinhood is different from the rest of these micro investing apps because you are purchasing full shares of stocks, bonds, and ETFs. But because there are zero commission fees and no account management fees on their flagship accounts, Robinhood is a low-cost option for new investors.
Robinhood actually pioneered the zero-commission fee trades, a step many of the larger brokerages are not taking to stay more competitive.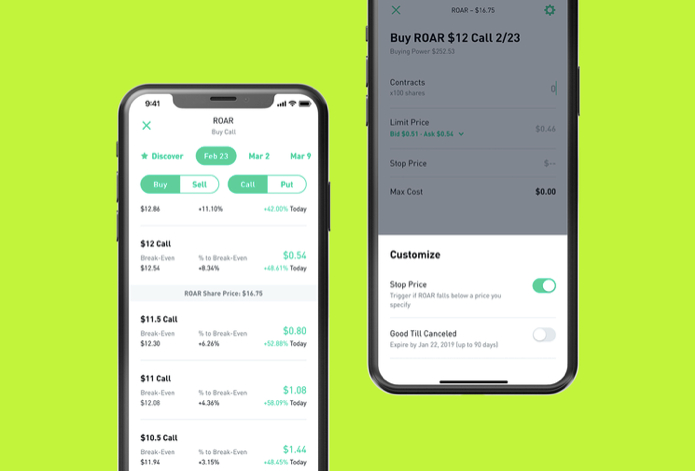 How to invest with Robinhood
Opening a Robinhood account is simply giving them your name, birth date, and Social Security number. Because it's not a Robo-advisor (you do everything on your own), there aren't any questions about risk, goals, etc.
Investing in Robinhood is very hands-on. You pick every single asset that goes into your portfolio.
Robinhood also offers cryptocurrencies, and for seasoned investors with at least $2,000 in their account, you can do margin loans.
How much it costs to invest with Robinhood
For basic accounts, Robinhood is free. Seriously.
There are zero stock trading costs, options trades, and account management fees.
If you are interested in margin loans, this is available with Robinhood Gold. It's a per month cost that varies based on your account size and buying power — ranging from $6 to $200. Robinhood Gold also gives you Morningstar research reports and Nasdaq Level 2 market data.
Where Robinhood shines
Does free sound good? That's the real benefit of using Robinhood. There's also a referral program, giving you one free stock when you refer a friend.
Where Robinhood falls short
Robinhood is free because it lacks the options you get with other micro investing apps. There's also limited educational support.
More to know about micro investing
How to choose a micro investing app
The best way to pick which of these apps you should use is to think about how hands-on you want to be with your investments. Apps like Acorns and Betterment do the hard work for you, setting you up with the right portfolio, while Stash and Robinhood give you more control over your investments.
I would also consider what types of accounts you want to invest in. Betterment has the biggest variety of account options, but Twine makes it really easy to invest with your spouse.
Low starting deposits
When you ask people why they aren't investing yet, the number one reason is because they think they can't afford it — 40% of the millennials that aren't investing say it's because they lack the funds to do so.
However, these micro investing apps blow up the myth that you need a lot of money to start investing:
It takes just $5 to invest with Acorns
Stash takes $5 to start investing
Betterment has $0 account minimum
Investing has suddenly become accessible to everyone.
What the returns are like
If you like how little it takes to start micro investing, here's what that means… micro results.
Micro investing alone shouldn't be your retirement plan.
Seriously, not even the power of compound interest will turn that spare change into enough money to fund your golden years, especially if you want to retire early.
But, that doesn't mean you still can't earn money from micro investing. It's a great way to passively save money for vacation, a downpayment, etc.
You're still going to experience market volatility
The first time you see your portfolio value drop is a feeling you will not forget. You worked hard to save that money, and then suddenly you've lost a chunk of it. Well… that's the stock market.
But, the point of investing is to let your money sit somewhere and build over time. The market recovers, you earn back what you lost, and then earn some more. Micro investing will help you get comfortable with how the market moves up and down over time.
The cost of micro investing
Non-investors aren't just turned off by the perceived high cost of the actual investment, they're also bummed out by all the fees — brokerage fees, commissions, advisory fees, inactivity fees, and more.
These micro investing apps don't charge like that at all. They either charge a flat monthly fee (Stash and Acorns) or by a percentage of invested funds (Betterment and Twine). The flat fee model is better for accounts with higher balances, while the percentage model is better for smaller balances.
So fee wise, is micro investing worth it? Kind of.
Here's what you need to pay attention to…
Eventually you may want to move your money to a brokerage that offers more hands-on support (like when you get closer to retirement). The cost of moving your money from a micro investing platform to a traditional brokerage will vary, but here are some of the costs associated with moving your investments:
You can only transfer full shares. Partial shares will need to be liquidated, and you will have to pay taxes on any gains.
Some apps charge you for transfers, which can range from $50-$75.
Micro investing is still investing real money
You don't need to know a lot about the stock market to start micro investing, but I strongly believe that taking the educational aspect of investing in your own hands can turn you into a smarter investor overall.
Those small amounts of money are still money… real money… so if you're going to choose any of these micro investing platforms, work on growing your overall knowledge of the market.
The final word on micro investing
I am a big fan of anything that encourages people to build good financial habits, and learning how to invest is a great habit to start.
Micro investing isn't going to make you rich. It's not even going to give you enough cushion for retirement. But, what it does well is to introduce newbie investors to the market. It makes investing an approachable option for people who don't feel like they have much money to put towards investing in the first place, and that's pretty cool in itself.