Deciding to drive for DoorDash vs Grubhub is a tough choice – both are in-demand delivery services and offer a flexible way to make extra cash.
Helping people find flexible ways to increase your income is something I'm incredibly passionate about. Extra money means you can destroy your student loan debt, save up for the vacation you've been wanting to take, or make long-term plans for retirement.
To put it simply, making more money gives you options.
That's why I want you to have the best choices when it comes to side hustles. Today, I'm going to dig into each of these food delivery services to explain how they work for drivers, from how much you can make, driver requirements, scheduling delivery hours, and more.
DoorDash vs Grubhub | Which Is the Best for Drivers?
About DoorDash
DoorDash was founded in 2013 and now delivers for over 300,000 local and chains across the U.S., Canada, and Australia. Customers can use DoorDash to order food from restaurants, grocery stores, and even get essential items from convenience stores.
When you drive for DoorDash, you're called a Dasher, and you can deliver using your car, bike, scooter, or motorcycle. And DoorDash tells its Dashers that they can make even more money when they drive for competitors, like Grubhub, Uber Eats, and Instacart, at the same time.
That's 100% true, and it's the same when you drive for rideshare companies. You can open more than one app at the same time and pick the orders you want to take.
How to sign up for DoorDash:
Complete an in-person or online driver orientation
Pass a driver screening process
Download the app once you're approved (approval can take 3-10 days) and start driving
About GrubHub
Grubhub was founded in 2004 to provide an alternative to paper menus. They merged with Seamless, a food delivery service, in 2013, and now Grubhub delivers for over 200,000 restaurants in all 50 states.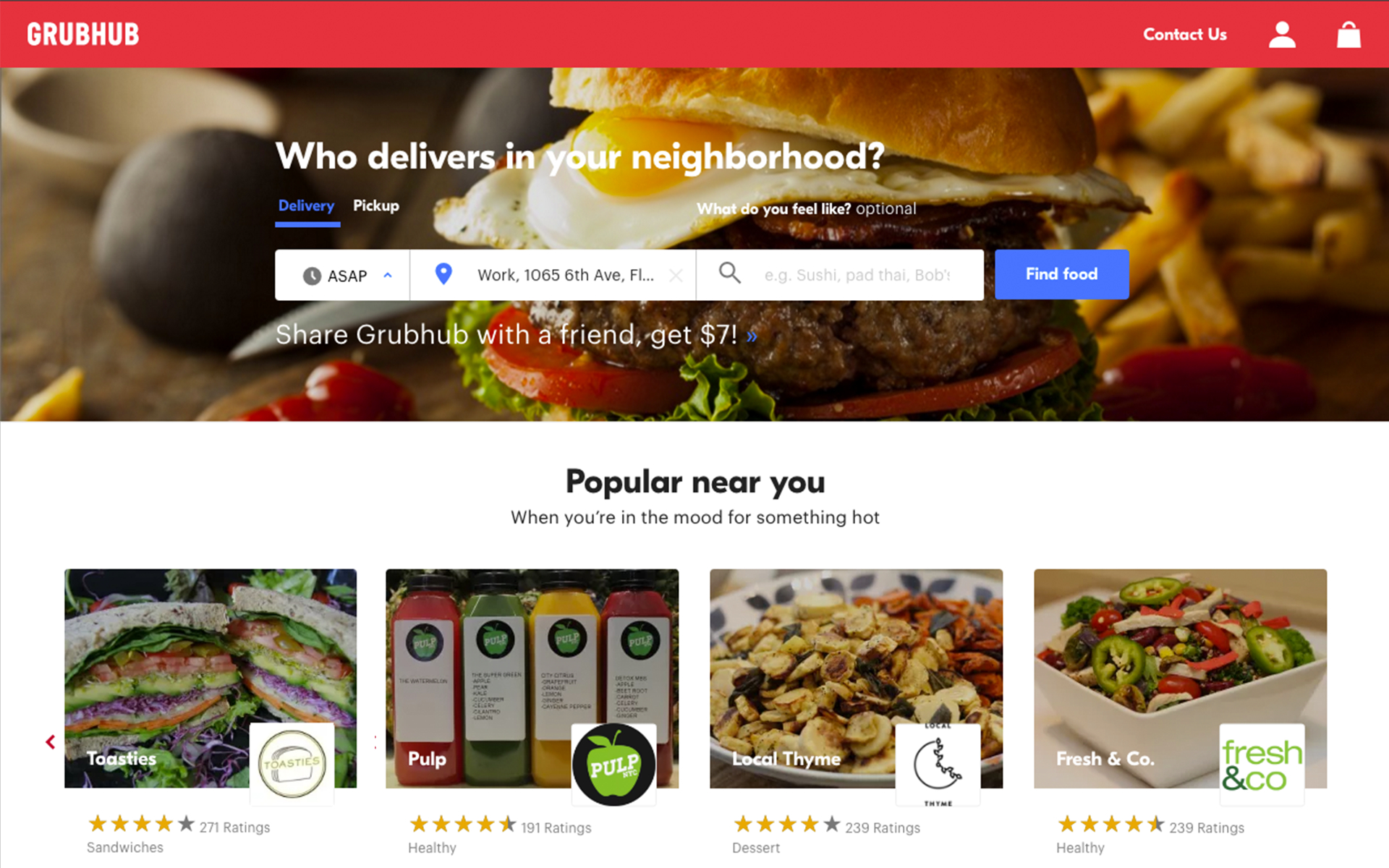 Grubhub processes more than 516,000 orders daily and has paid out over $3 billion in tips to drivers. It's an on-demand service for restaurant delivery.
How to sign up to drive with Grubhub:
Start here and click Apply to Drive
Answer questions about driver requirements and eligibility
Start a driver profile where you provide your driver's license, insurance information, and checking account, plus authorize a background check
Once you're approved (which can take 5-7 days), complete an in-person or online onboarding
Start making deliveries
Does Doordash vs Grubhub pay drivers more?
I'm going to start by explaining how each of these food delivery services pays drivers, and both have made changes in the past few years to be more transparent about their pay models and to help drivers earn more.
Here's what Grubhub factors into your pay:
Mileage for pick-up and drop-off
Total mileage
Time driving and waiting
All of those variables vary by market – demand for drivers, location, and ease of delivery. You also get to keep 100% of the tips you make.
You can see below how Grubhub's new pay model helps drivers earn more.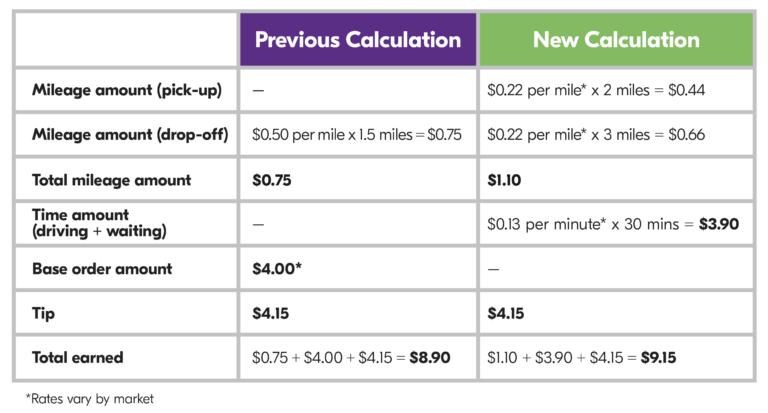 DoorDash pays drivers based on the Dasher Pay Model, which is Base Pay + Promotions + Tips. DoorDash drivers also keep 100% of their tips.
Base Pay ranges from $2-$10 and is calculated by time, distance, and earnings. Promotions give you a few ways to increase your earnings, including:
Peak Pay: You make $1-$4 more per delivery when you drive during busier hours, and a Peak Pay alert will pop up in the app.
Challenges: DoorDash incentivizes drivers to complete a certain number of orders in a set amount of time. Challenges appear in the app and you can combine them with Peak Pay.
Drive: This is less common, but you can also get paid more for completing larger orders.
Before tips, DoorDash drivers make around $12-$15/hour and GrubHub is closer to $12-$13/hour.
You're considered an independent contractor when you drive for either company, so you're responsible for your own tax withholdings.
Winner: Doordash is the winner – higher pay and chances to increase your pay with promotions.
Where you can drive for DoorDash vs Grubhub
Grubhub has become one of the largest on-demand food delivery services in the world, and it holds around 30% of the total market share. This means it's widely available, and it was bought by Just Eat Takeaway, a food delivery service based in Amsterdam, to create the world's largest food delivery service outside of China.
It's U.S. presence has continued to grow in recent years, and Grubhub is now available over 4,000 cities in the United States.
DoorDash is growing too – growing from just 850 U.S. markets in 2018 to more than 3,300 cities in 2020. DoorDash is also available in Canada and Australia.
Both of these companies have moved to smaller cities across the U.S., which increases the chance that they're available in your town.
Winner: GrubHub is available in more places in the U.S.
Grubhub vs DoorDash on driver requirements
These companies have similar requirements for drivers, but let's look at the requirements for each.
To drive with GrubHub you must:
Be at least 19 years old (or 21 and up in Las Vegas and Chicago)
Have a smartphone with a data plan – an iPhone with an iOS of 11 or higher or Android with 5.0 or higher
Have a checking account for direct deposit
Have a valid driver's license and auto insurance
GrubHub also requires you to pass a driving and criminal background check. You'll be ineligible to drive if you're a felon or have any major violations on your driving record. DoorDash drivers are held to the same standards. They explicitly say that more than three minor driving violations in the past three years, you will be disqualified.
Here are the other requirements for DoorDash drivers:
Be at least 18 years old
Have a valid driver's license and auto insurance
Have an Apple or Android smartphone
You also have to complete an orientation before you start working for either company. There are online and in-person options, and they cover the delivery process, how to use the app, how to get paid, and how to fill out tax information.
Winner: DoorDash wins by a small margin because it has slightly less stringent requirements for age and kind of phone.
How you get paid with DoorDash vs Grubhub
DoorDash pays Dashers every week on Friday using direct deposit. Most drivers report that money hits their bank account on Wednesdays. If you want your cash ASAP, you can use Fast Pay for $1.99 to cash out immediately.
GrubHub uses a similar payment process, with payments sent out on Thursday via direct deposit, and arriving in driver's accounts 3 to 5 days later. Or, you can use Instant Cash Out to get paid early. It costs $0.50 for each cashout, but it's free if you're using a Chase checking account.
Winner: GrubHub gives you a less expensive way to cash out early.
Scheduling delivery hours for DoorDash and Grubhub
While some delivery apps like UberEats don't give you the option to schedule hours, both Grubhub and DoorDash let you plan your driving hours in advance. This is a nice option for people who have a predictable work schedule and want to deliver as a side hustle.
Grubhub asks that you only schedule blocks of hours that you know you can fill and drop blocks as soon as you know you can't work them. The app reserves the right to restrict your scheduling access to regularly drop blocks within 72 hours in advance.
Grubhub gives drivers who schedule in advance priority access to deliveries. So helps you plan your week and make more cash. But you can also log in if you have any free time, and see if there are deliveries in your area.
DoorDash lets you schedule time anywhere from a week in advance to an hour beforehand. This ensures that there are enough deliveries to go around for all drivers.
For unscheduled delivery hours, you can use the Dash Now option. The in-app map will light up in red for places that have a high enough need for additional drivers.
Winner: Tie – both apps let you either schedule hours in advance or take deliveries when you have extra time.
How do these companies treat their drivers?
Because there are so many different options for drivers these days (more on this in a second), you can be a little pickier about who you drive for.
One consideration is driver support – DoorDash runs their driver support as a chat function through its app, and it can be slow at times. GrubHub, on the other hand, offers live phone support while you're on a delivery.
DoorDash was involved in a tipping scandal in 2019 that claimed the app was using tips to make up the guaranteed minimum pay. DoorDash has since changed it's driver pay model so you earn 100% of your tips and higher base pay.
GrubHub has been involved in a couple of labor lawsuits, political controversies, and allegations of cybersquatting.
How do all of these allegations and scandals affect you as the driver?
While some are directly related to drivers, others can shape the public perception of these brands and possibly prevent users from going with one company over another. Decreased orders mean few chances to drive.
Fortunately, both of these companies are actively making changes to provide a better environment for their drivers. And the reality is that all of these on-demand services have faced criticism in the past few years.
Alternative ways to make extra money
DoorDash vs GrubHub the final word – Which is best for drivers?
Both companies give you a flexible and easy way to make extra cash in your spare time. That's great if you want to pay down your consumer debt, save up for a downpayment on a house, plan for retirement, and more.
Of the two, DoorDash is my top pick because it pays more for your time, which is what matters most when it comes to side hustles in my opinoin.
But remember, you can drive for both to increase your chances of earning more money. I recommend also signing up for Instacart as well and keeping both apps open. Then you can choose which deliveries you'd like to keep based on how much they pay.