Investing your money is one of the best ways to save for retirement and build future wealth, and a robo-advisor like Betterment makes it easy for investors to put their money in personalized portfolios. These portfolios are built with your risk and goals in mind, so you have the best asset allocation for future performance.
In this Betterment review for 2020, you're going to learn what makes Betterment stand out in a growing crowd of robo-advisors, and why investing through Betterment might be the right move for your money in 2020 and beyond.
Started in 2008, Betterment is the first widely available robo-advisor, and it's risen to be one of the top options for hands-off investors. The robo-advisor model takes advantage of technology, using sophisticated algorithms to generate the best asset allocation for your future financial needs.
The perk of using a robo-advisor is that you get a low-cost, yet strategic, plan for investing. Your asset allocation is based on your risk and goals, and Betterment automates the entire process by purchasing the right mix of ETFs for each investor.
And as your financial situation changes, Betterment makes sure that your asset allocation changes with you. And this is what keeps you on track for your long and short-term goals.
However, Betterment investing takes more than just a technological approach. There is optional fiduciary advice on retirement planning, purchasing a home, saving for college, etc.
Pros
There are a few things we LOVE about it.
Cons
There are a few things we dislike about it.
How does Betterment work?
When you sign up to start investing with Betterment, you are taken through a short questionnaire that asks about your age, income, and goals. You can also connect external accounts to provide a more complete picture of your assets.
Then, using Modern Portfolio Theory (created by Nobel Prize-winning economist Harry Markowitz), Betterment recommends a portfolio that's optimized for your risk and goals. Your funds are invested in ETFs, which are inherently more diverse than individual stocks and bonds, and can be bought in fractional shares.
Your portfolio is automatically rebalanced if there is any drift, and as you get closer to reaching your goals, your money is moved into more conservative funds.
If you want to learn how to start investing, a robo-advisor like Betterment is a great place to start. ETFs keep you diverse, you don't have to research which assets you need in your portfolio, the percentages, etc. And you also don't have to pay hefty fees to an advisor — you're taking advantage of Betterment's technology to save you money, literally.
And for seasoned investors, Betterment has features to offset taxes, options for socially conscious investors, and portfolios for nearing retirement.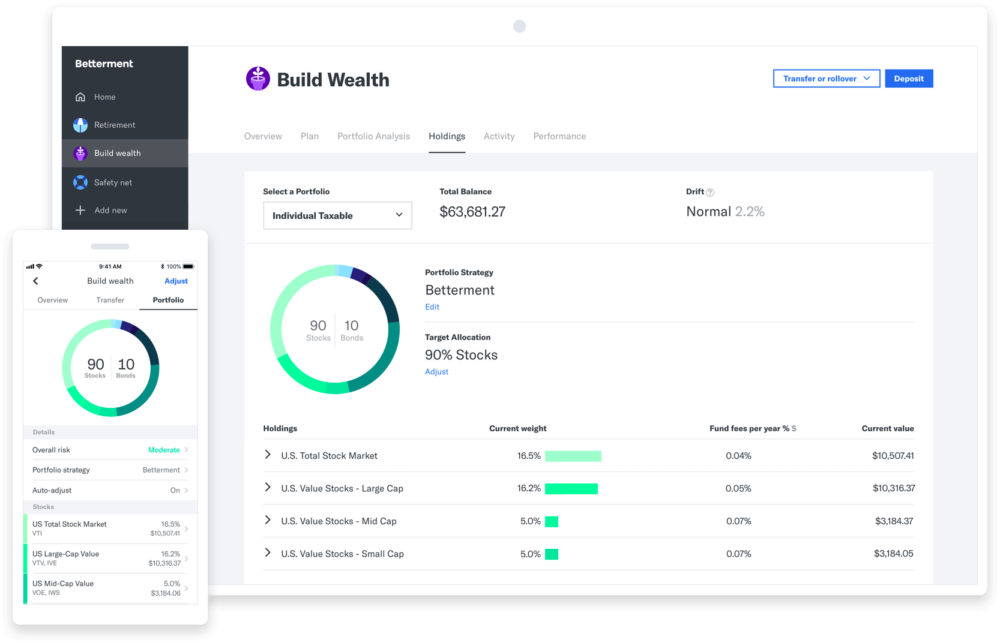 Betterment features
No minimum deposits
If the cost of investing is holding you back from starting, Betterment investing breaks down that barrier by offering a $0 minimum starting balance to use Betterment Digital. And because Betterment invests your money in fractional shares of ETFs, there's no cash drag in your account.
Learn more at How to Get Started In Stocks: A Beginner's Guide to Investing in Stocks and Bonds.
Goal-based savings
When you create an account with Betterment, you're asked to set some goals. You can save for long-term goals like retirement. But you can also use Betterment to save for short-term ones, like saving up for a downpayment on a house or an emergency fund.
Betterment takes your goals and target dates to recommend the best asset allocation for each. But, you can personalize this by adjusting the recommendation and type of account.
To save for your goals, you can set up auto-deposits. Betterment will help you track your progress and will advise you to add more funds if you get behind. These reminders can be a great way to stay on track.
Related: Best Online Stock Brokers for 2020
Betterment's tax strategy
Betterment has several features to protect as much of your money as possible:
There is daily tax-loss harvesting on all taxable accounts, with no account minimums.
You get warnings from the Tax Impact Preview tool about the tax effect of portfolio changes.
You can easily donate appreciated assets with the charitable giving tool.
Assets are allocated in your retirement and taxable accounts according to tax impact with the Tax Coordinated Portfolio tool.
Socially responsible investing has become a hot topic as some investors are trying to align their investments with their beliefs — environmental, humanitarian, social, etc. To stay on top of this trend, Betterment now offers an SRI themed portfolio with an average expense ratio of 0.14% to 0.22%.
Now, this isn't a full SRI because Betterment wanted to ensure a cost-controlled and diversified account. Betterment focused on replacing U.S. Large Cap stocks and Emerging Market stocks with SRI alternatives. As more options become available, they plan on making more adjustments.
How to invest in Betterment's SRI portfolio
You can select this option when you create a new goal, and for current goals, you can find the option to edit your portfolio under "Portfolio Analysis." There are no minimum account balances for the Betterment investing SRI portfolio, and you can switch to another option up to once per day.
Click here to learn more about Betterment's approach to socially responsible investing.
Goldman Sachs Smart Beta Portfolio
If you're okay with a little risk, Betterment's Smart Beta portfolio seeks to target "higher returns by taking on additional systematic risks." What does that mean?
The Smart Beta portfolio uses both passive and active strategies by moving from market capitalization weights in and across equity asset classes. There are 101 different variations of this portfolio, ranging from 1% to 100% stocks, and each asset is assessed by four factors:
Good value
High quality
Strong momentum
Low volatility
This smart beta option costs less than the industry standard for most smart beta strategies. However, the Goldman Sachs Smart Beta Portfolio has a higher aggregate annual expense ratio (0.11% to 0.24%) than Betterment's Core Portfolio (0.07% to 0.16%).
Who can invest in Betterment's Smart Beta portfolio?
While anyone can use this portfolio, it's only advised for investors who are comfortable with more risk.
BlackRock Target Income Portfolio
For investors who are nearing or are in retirement, the BlackRock Target Income Portfolio works to provide a dependable income stream. It's comprised of bond ETFs to create an inherently low-risk portfolio.
More about the BlackRock Target Income Portfolio:
This portfolio seeks to generate income, not grow your investments.
Your portfolio is updated four to six times per year.
Tax-loss harvesting is not an option for this portfolio.
Any income this portfolio generates will be reinvested unless you set up withdrawals on a monthly or quarterly basis (depending on the fund).
Learn more about the funds and construction of the BlackRock Target Income Portfolio here.
Flexible portfolios
If you have at least $100,000 invested with Betterment, you can invest in a more flexible portfolio where you choose the assets classes and the percentage of each.
This option is only available with Betterment's Premium accounts, and I'll explain what else comes with these accounts and they cost a little further down in my Betterment review.
M$M tip: If you want to keep track of all of your accounts, investments, and plan for retirement, I highly recommend Personal Capital. It's free to use and has a ton of robust tools that will help you plan for the future. I use Personal Capital to check my net worth, do a cash flow analysis, see the performance of my portfolio, manage my fees, and more.
Learn more at my Personal Capital review for 2020. If you sign up through my exclusive M$M Personal Capital link, we'll both get $20 when you join.
Financial advice packages
Robo-advisors are generally for investors who prefer an automated approach, but Betterment investing believes that there are still times when you might need one-on-one personal advice from an expert. To help you with in-depth financial advice or major life changes, Betterment offers five different financial advice packages:
Getting Started $199: Help setting up your Betterment account to maximize your investment, tax, and savings options.
Financial Checkup $299: Review your current finances and investments.
College Planning $299: Help understanding how much to save and which accounts work for your state.
Marriage Planning $299: Professional advice on merging your finances, budget, setting goals, etc.
Retirement Planning $299: A review of your holdings, employer-sponsored plans, current finances, etc.
These are all one-time fees to speak with a Certified Financial Planner. Each plan comes with a personalized action plan and exclusive educational content.
Betterment Everyday
Everyday is Betterment's new online banking option. Cash Reserve is the high-yield savings account that was released in July 2019 and replaced the Betterment Smart Saver account. Betterment Everyday Cash Reserve now offers 0.40% APY*. It comes with unlimited transfers, no minimum balance, and is FDIC insured up to $1 million.
Betterment will soon be releasing Everyday Checking, and it comes with no overdraft or other checking fees, reimbursed ATM fees, and is FDIC insured up to $250,000.
Two-Way Sweep
Two-Way Sweep is Betterment's cash analysis tool that moves excess cash from your linked checking account to your Betterment Cash Reserve savings account. The goal is to automate the savings process even more and make sure you don't have any idle cash.
This function is entirely optional and can be turned off and on. And if Two-Way Sweep detects a lack of funds for upcoming purchases, the money will be moved back to your checking account.
Betterment's interface
Betterment does not disappoint with its interface — both its website and app are easy to use and intuitive.
I've seen a lot of Betterment users talk about the interface on Reddit, using words like "amazing" and "beautiful design."
How important is this for your investment strategy? Not very, but if an app is user-friendly, you're going to get more out of it. It's just that simple.
Betterment investing fees
Betterment has straightforward pricing on two different levels of service — Betterment Digital and Betterment Premium.
Betterment Digital is 0.25% annually and no account minimum. You'll have access to Betterment's online tools and resources, and once you hit $2 million in your account, these fees drop to 0.15%.
Betterment Premium is 0.40% annually, and there is a $100,000 account minimum. This plan comes with unlimited access to Betterment's Certified Financial Planners. These advisors are fiduciaries and can offer advice on accounts held both in and outside of Betterment. When your balance hits $2 million, Premium fees drop to 0.30%.
How Betterment compares to other robo-advisors
If you're researching different brokerages, how Betterment directly compares to other online brokerages is worth knowing. So, I'm going to tell how it stacks up to two of the most popular options…
Acorns vs. Betterment
Acorns funds your investment account with round-ups, multipliers, and Found Money — this is more of the spare change or micro-investing model.
Betterment gives you a wider range of investments.
Both brokerages offer the same types of investment accounts, plus checking and savings.
Because of the fee structures, Acorns is more expensive for low balances, while Betterment is slightly higher for larger balances.
Betterment gives you the option to get advice from real advisors. Acorns does not.
Learn more about Acorns in my Acorns Review 2020: Turn Spare Change Into Investments.
Betterment vs. Wealthfront
Wealthfront has a few more account options, including 529 college savings plans.
Betterment doesn't have account minimums, but Wealthfront has a $500 minimum.
They offer different types of investments — Wealthfront offers REITs but doesn't provide bonds as Betterment does.
Both robo-advisors offer tax-loss harvesting.
Unless you choose Betterment Premium, both have the same 0.25% fee.
Learn more at Betterment vs. Wealthfront: Which Robo-Advisor Is Best?
Betterment review 2020 — the final word
As the first robo-advisor on the market, Betterment has continued to make updates and changes that will appeal to investors at any stage of their financial life. The fees are relatively low, there is now more flexibility in how you invest, and they offer services for high net worth individuals.
Really, it's no wonder that Betterment has always been a top pick Robo-advisor.