Temporarily Unavailable! Due to improvements currently being made to our Launch That Blog free install service, we are unable to set up any blogs. Please check back in the coming weeks to see our new and improved setup service!
To set your blog up manually, please go here.
Starting my blog three years ago completely changed my life. I went from being a high school band director that hated his job to working from literally anywhere that has an internet connection and choosing my own hours.
I don't have a degree in writing, and there's nothing "special" that I have which led to my success as a blogger. I'm just a former teacher who worked hard and figured things out along the way.
And since I get emails and private messages every single day asking how to start a blog, I decided to put my teacher hat back on and show you exactly how to start your own money-making blog right now!
I'm going to show you everything you need to know to get started blogging, and have even put some great free resources together for you. Over the years I've seen so many people who want to start blogs and don't, and I've realized that even if you know exactly what to do, getting started is still the hardest part.
The learning curve for growing a blog seems steep, and unfortunately, it's what keeps thousands of potentially incredible bloggers from starting their own blogs every year.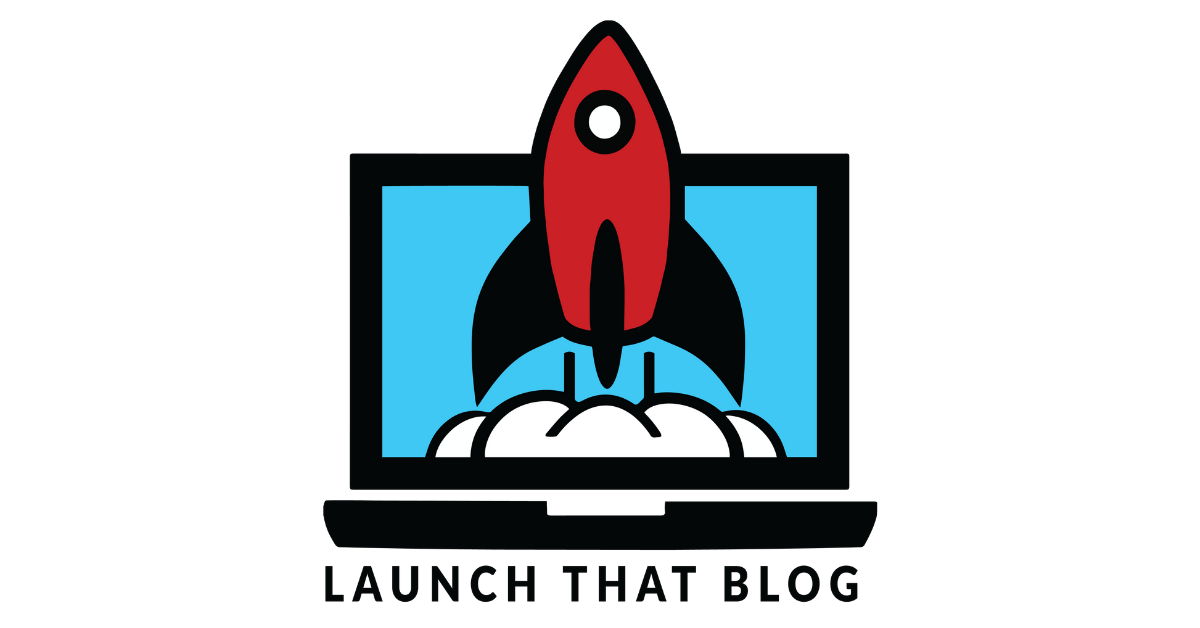 My goal is to help you focus on what matters most with your blog: sharing your unique message with the world (and make money doing it).
I'll talk more about Launch That Blog (LTB) and how this free service will make the process of starting a blog simple, but first, I want to help you figure out if starting a blog is a good choice for you.
Let's get this out of the way first - I'm not some kind of tech genius. I had no idea how to run a blog before I started this website. I was a high school band director that had worked hard to pay off a lot of student loan debt, and I wanted to help people that were in the same situation that I had been.
In fact, I was so intimidated by the prospect of starting a blog that I put it off for months. I would share what I had learned about personal finance on my private Facebook page but realized pretty quickly that I could only reach so many people that way.
I wanted to reach thousands of people, not hundreds. So I finally jumped in and started my own website.
Talk about stressful. All of the sudden, I was drowning in technical terms like themes, plugins, hosting, and more. It kinda sucked, honestly. All I wanted to do was write!
That's where Launch That Blog comes in. My team takes care of all the tech stuff so that you can get started blogging faster. I spent hours and hours watching YouTube walkthroughs, reading OTHER blogs about how to actually get mine started, and slogged through tutorial after tutorial just to get to the point where I could even write my first blog post.
Launch That Blog will do all of the hard stuff for you...for free
We set up your blog, teach you how to use it and make it look awesome, and even make sure that the essential tools you'll need to start blogging are installed for you. All for the low low price of...free. Seriously.
Here's the deal: There's a good chance that you have something you want to share with the world, and blogging is an awesome way to do it.
Let's say you make incredible recipes, and you want to teach other people how to cook food like you.
Maybe you have a big financial goal, and you want to inspire other people by telling your story.
Or...maybe you just like puppies and want everyone who loves puppies to love puppies with you. Puppy blogs are the best blogs.
For me, I just wanted to share my message with other people that had student loans and show that paying them off early was a real thing that they could do too.
Now don't get me wrong, I wanted to make money blogging. I'm not shy about that. And the cool thing is that making money with a blog is a real thing, and you don't have to be the next Mark Zuckerberg to make it happen.
Remember...I was a teacher. A high school band director. Now, I work from home full-time making great money and have been on Forbes, Business Insider, CNBC, and tons of other sites that I never even dreamed of being on. I've even been on TV before, all because of my blog.
Am I promising that you'll do the same? Heck no. Not at all. But I've seen enough bloggers reach success to know that it's possible for you.
What I am saying is that blogging is a platform that you can build a reputation on and do so much with. It's not just about making money from ads or selling products on your website. You can make money as a freelancer or as a speaker, or even land book deals.
I have so many blogging friends that have used their blog to build a completely different career path for themselves. Some have become authors. Some have become speakers. Some travel full-time in RV's and Sailboats while working online. It's pretty incredible, really.
And here's the other thing - you don't have to be a professional writer to make this happen. I'm pretty notorious for typos. I'm not exactly perfect in the grammar department either. But that's OK because what matters is authenticity.
If you have a real message to put out in the world, you can blog. That's the truth and Launch That Blog makes it easy to start.
There is probably something you know that others don't, or maybe something that you have a passion in your life that you love telling all your friends about (if you start a wine or bourbon blog, let me know...I'll read ALL of your posts), so why not write up a blog post and share it with the world!?
If you're here, reading this post, you already know how powerful a blog can be and maybe have even had your life changed because of one. How much more do you think owning a blog can change your life?
For me, and many of my blogger friends, it changed everything. Instead of spending every day at a job we hated, we work when we want from the comfort of our own home often making more than we did that job anyway.
So now that you know what a blog can do for you, and now that you know how easy it is to set up your blog via Launch That Blog…
What are you waiting for?
If you're ready to start your blog, let me show you how much Launch That Blog will do for you, for the low cost of free…
When you start your blog using Launch That Blog's free service getting started is easy, you'll get a ton of great benefits, and it will take you under two minutes, because we do everything for you.
Here's what you get with Launch That Blog...
Launch That Blog will handle the entire installation process of your self-hosted WordPress blog and deliver it to you within two business days so that you can get up and running quickly, with none of the tech headaches
Launch That Blog will install our favorite customizable website theme so that your blog looks professional from day one
Launch That Blog install the 10 essential plugins that every professional blog needs to have
Launch That Blog will also send you 4 training resources - both video and PDF guides - that I've created to show you exactly how to get a strong start and make money from your blog
And you'll get a FREE domain (free for the first year) and exclusive monthly hosting rates through Bluehost
Here are the sweet free bonuses you'll receive as well:
Creating Blog Posts in WordPress: A Step-By-Step Walkthrough
The Key Ingredients To the Perfect Post (Step-By-Step Video Guide)
The Professional Blogger's Toolkit
The Blueprint To Building a Profitable Blog
Facebook Ads 101 Training For Bloggers
BONUS: How to Customize Your Blog - my web developer for Millennial Money Man and Laptop Empires (my other blog) has put together a special bonus training showing you exactly how to customize your theme to make your blog look great in minutes!
Here are a few examples of what you can create with our free Launch That Blog setup: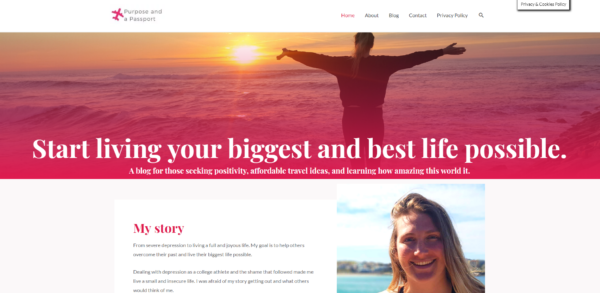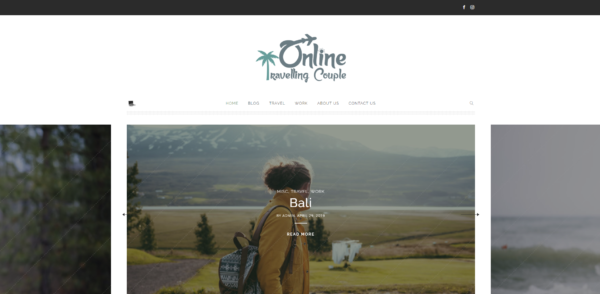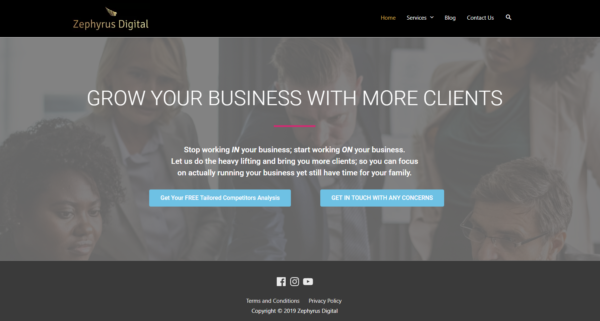 What does it cost?
There is literally only one thing you have to pay for...hosting. Launch That Blog does everything for you but store the website on a server. You'll need to pay for that, but fortunately, you can get that as low as $2.95 per month (billed annually) when you use Launch Your Blog to set up your site.
Here's how to start your blog in under 5 minutes without touching a single line of code (quick-start guide)
*Rakuten users, formerly known as Ebates - please do not activate Rakuten when you purchase your hosting! Ebates will take our commission when activated on Bluehost, which means we will not get credit for the sale and won't be able to install your blog for free.
Now, this part is important - if you want to take advantage of Launch That Blog's free setup service and all of the bonus training material that I provide, you'll need to purchase Bluehost hosting through Launch That Blog's link.
Why, you ask?
Well...it's simple. When you purchase hosting through our link, we get a commission from Bluehost for sending you their way. Using our link does not add any extra cost to you, but the commission from Bluehost allows us to provide you with this free setup service.
I'm basically bribing you to use my link by giving you a ton of free stuff. It's a win-win for you and me.
So which plan should you choose? (Hint: Basic)
Here's how it works - you're going to see three options for your Bluehost/Launch That Blog hosting: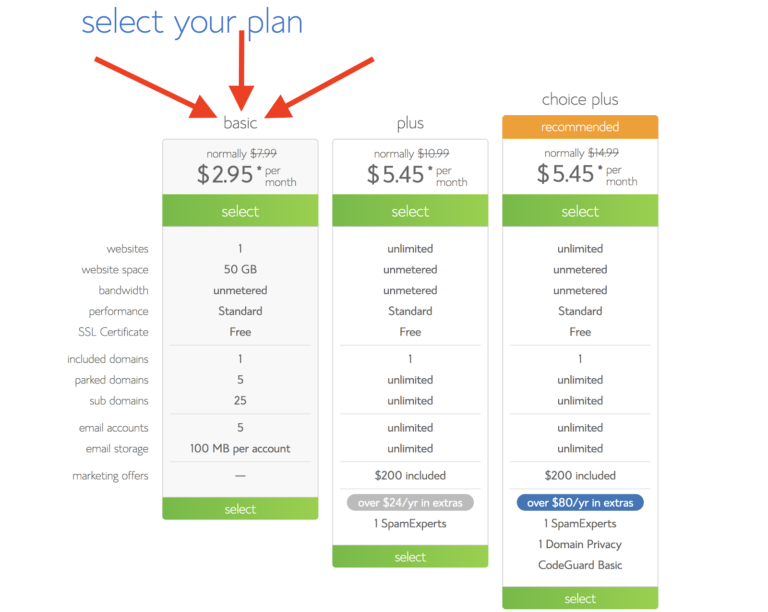 My advice to you as a brand new blogger (but soon-to-be awesome blogger after you get all of my free Launch That Blog training videos) is to select the Basic plan.
The other ones look great with all of the extra features, but you don't need them. You'll have everything you need to create an incredible blog with Basic, and you'll keep more money in your pocket.
I am a personal finance blogger, after all. I can't have you spending more money than you need to. 🙂
How much is Bluehost going to cost?
You'll have several different options, but here are the pricing options I think you should choose from:
1. Basic hosting for 36 months ($2.95/month billed up-front at $106.20)
If you're looking for the most value and lowest per-month cost, this is the option you'll want. I recommend this option because it locks your hosting in for three years at less than $3 per month.
Also, that $2.95/month for hosting is an exclusive perk for anyone who purchases hosting through Launch That Blog. I've been with Bluehost for a long time, so they give my people a discount (it's usually about a dollar more per month).
2. Basic hosting for 12 months ($4.95/month billed up-front at $59.40)
Yes, the total cost of this option is cheaper in the short-term, but you're locking yourself into a much higher price that will likely go even higher when you have to re-renew after the first year.
Also - I'm a firm believer that you need to go into blogging with the expectation that you'll be doing this for more than just one year.
I want you to commit to doing this for the long haul so that you can really do something special with your blog.
So basically, choose "Basic 36 Month Price" from the drop-down menu if you want the best value and lowest monthly cost. Pretty simple.

Which hosting add-ons and extras should you choose?
After you select the Basic plan, Bluehost will give you add-on options.
You DO NOT need all of them. The only one that I recommend is the "Domain Privacy Protection" add-on.
Domain privacy protection keeps all of your contact information hidden, and for about $12/year, I think it's absolutely worth it.
If you don't select it, you'll get a bunch of spam phone calls and emails.
I went the super-cheap route when I first started my blog and opted out of domain privacy protection, which turned out to be a very inconvenient/annoying decision.
Here's exactly what I would select for the extras/add-ons:

Create a password for your Bluehost account and SAVE it somewhere!
This is extremely important - after you pay for your hosting, you'll be prompted via email to create a password for your Bluehost account.
Create a great password (please make it something that someone can't guess), and don't just rely on your memory. Write it down and do not lose it!
You'll need to send Launch That Blog your password using our secure form below so that we can install your blog and set it up with everything that you'll need.
You're almost there! Once you submit your Bluehost information to us through our secure form, Launch That Blog will get to work on installing your blog and making sure it has everything you need to be successful.
Remember - you'll still need to make your blog look the way you want it to after installation (we include an awesome training that walks you through the steps), but we are going to take care of everything else for you.
Please give us two business days to complete your installation. We'll also send you an email with all of the free bonus training guides that you get for using our service as soon as we verify that you used our exclusive Bluehost link to purchase your hosting.
If you have a message to share and want to make an impact on others while growing an incredible business, starting a blog is the way to do it. Our team at Launch That Blog will it simple for you to start blogging.
One last time, here's how to get your blog installed for free:
1. Select your hosting and receive a free domain name
2. Complete the secure Launch That Blog onboarding form
That's it! Please allow two business days and we will have your brand new blog installed for you and you'll have plenty of free bonus goodies to get started quickly.