Geared towards newbie investors who've felt like they don't have enough money to invest in the stock market, Acorns and Stash make it easy to start investing with spare change.
While these apps have a lot in common, this Acorns vs. Stash comparison will highlight key differences and fully explain the features and cost of Acorns and Stash. I even detail my experience using both, including how much I have saved with each app.
Acorns vs. Stash | Which Is Better, How Much They Cost, and Should You Use Them?
| | | |
| --- | --- | --- |
| | | |
| | $0 to open account, $5 to invest | |
| | Plans at $1, $2, and $3 per month | Plans at $1, $3, and $9 per month |
| | | 3 portfolio options, plus around 60 ETFs and 100+ single stocks |
| | Individual brokerage accounts, Traditional IRA, Roth IRA, SEP IRA, and debit account | Individual brokerage accounts, Traditional IRA, Roth IRA, debit account, and up to two custodial accounts |
| | | |
| | | |
| | | |
About Acorns
Acorns is a micro-investing app, but it offers more of a Robo-advisor experience. What that means for you is that Acorns takes care of picking and automating your investments.
It was launched in 2012, and now has nearly 4 million investors. There is a mobile app available on iOS and Android, and you can also use it on your desktop.
Acorns has three different plans to choose from:
Acorns Core $1/month. Personal investment account.
Acorns Core + Acorns Later $2/month. A personal investment account and IRA.
Acorns Core + Acorns Later + Acorns Spend $3/month. This adds an Acorns checking account.
These prices are good for accounts under $1 million. When you reach $1 million, Acorns costs $100/month.
​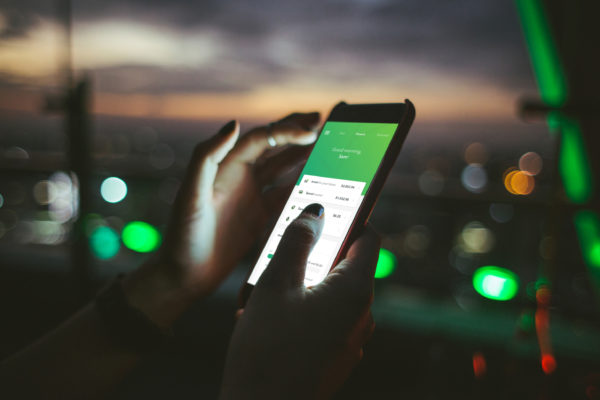 For more about Acorns, read Acorns Review 2020: Helpful Robo-Advisor or Waste of Time?
About Stash
Stash was founded in 2015 and offers investors a diverse set of curated portfolios that allow you to invest in your interests. They offer several different types of accounts, which include:
A dedicated investment account
Traditional, Roth, and SEP IRAs
Custodial accounts
Stash currently has over 4 million users. The app is available for both iOS and Android, and you can also use it on your desktop.
Stash has three different account options, and it takes $5 to invest in any of them.
Beginner $1/month. Includes a personal investment account, unlimited trades, debit account access, and financial education.
Growth $3/month Includes a personal investment account, retirement account, unlimited trades, and financial education.
Stash+ $9/month. Includes everything in Growth plus custodial accounts for up to two children, and you also receive a metal debit card with 2x stock back.
All of these plans also come with unlimited trades, unlimited education, and online financial coaching.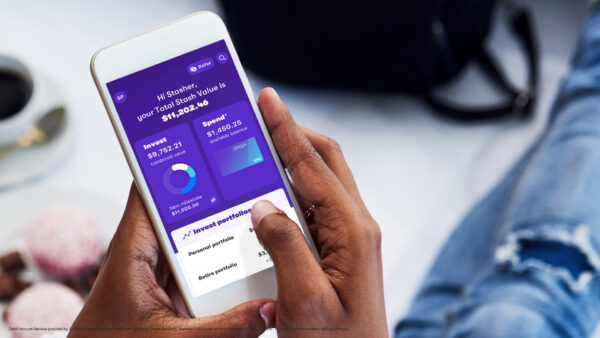 Learn more about Stash at Stash Review 2019: Worthwhile Investing App or Waste of Time.
What's similar about Acorns and Stash
The real appeal of these two apps is that they make investing affordable for new investors, and that's the idea of investing your spare change — known as micro-investing.
Micro-investing apps offer new investors:
The ability to invest your spare change. Helps you feel like you can afford to invest.
An automated investment process. The apps do the "work" for you.
A diversified portfolio. The apps assess your risk and help you make informed investment decisions.
Micro-investing isn't entirely mindless, but it does mostly happen in the background. You can go about your day spending as you normally would, with apps like Acorns and Stash pulling money from your bank account and investing it for you.
Investing with micro-investing apps means you are buying micro shares of ETFs. You don't own full shares until you've invested a certain amount; even then, you might own 1.05 shares of an ETF.
To use Acorns and Stash for micro-investing, you can set up one-time or recurring deposits for as little as $5. You can also use round-ups, which is when the app rounds up transactions from a linked account to the next dollar amount, then investing the difference.
But, there are a number of subtle differences to talk about as we explore Acorns vs. Stash.
Related: How To Get Started In Stocks: A Beginner's Guide to Investing in Stocks and Bonds
What's unique to Acorns
Acorns is very much a Robo-advisor — it selects a portfolio for you with an asset allocation to meet your goals and invests your money in those funds. For example, a younger investor has more time to ride out market volatility with an aggressive portfolio than an investor close to retirement age, who needs a conservative portfolio.
Acorns also automatically invests your money and rebalances your portfolio. Your investing experience is incredibly mindless, because Acorns does the majority of the work for you.
The Found Money feature allows you to earn money on purchases you make through the Acorns app. There are over 350 companies partnered with Acorns, and you can earn a percentage of your purchase or a flat amount. Your earnings hit your account in 60-120 days.
Here are a few of the Found Money offers available when this article was written:
$30 from Hello Fresh for new customers
$2 from Walmart Grocery
5% from Macy's (you click on the Macy's link in the Acorns app and are redirected to Macy's website to shop)
$0.50 per ride from Uber (must book your ride through the Acorns app)
Acorns' dashboard focuses on growth by showing you your past, present, and potential. The potential is a hypothetical model that uses your current settings and balance to project your investment balance over time. You can run models that show how adding more money will make your balance grow.


What's unique to Stash
The most unique feature of Stash is that you have significantly more control and choice when it comes to your investments.
You can use Stash's Portfolio Builder to invest in a preset portfolio, but you can also pick your investments based on your interests and values. Here are a few of the themed ETFs that you can invest in with Stash:
American Innovators (U.S. based tech companies) is the Stash name for Vanguard Information Technology ETF, ticker symbol VGT
Clean & Green (companies with clean and renewable energy) is the Stash name for the iShares Global Clean Energy ETF, ticker symbol ICLN
Women Who Lead (female-focused companies, leadership, and charitable work) is the Stash name for SPDR SSGA Gender Diversity Index ETF, ticker symbol SHE
All That Glitters (precious metals) is the Stash name for Aberdeen Standard Physical Precious Metals Basket Shares ETF, ticker symbol GLTR
Do the Right Thing (companies who focus on positive environmental, social, and/or governance impact) is the Stash name for iShares MSCI USA ESG Select Fund, ticker symbol SUSA
There's also the Smart-Stash feature, which analyzes transactions from a linked external account to find out how much money you can spare to invest each month. Smart-Stash then transfers that amount into your Stash Invest cash balance. You can set maximum transfer amounts at $5, $10, or $25.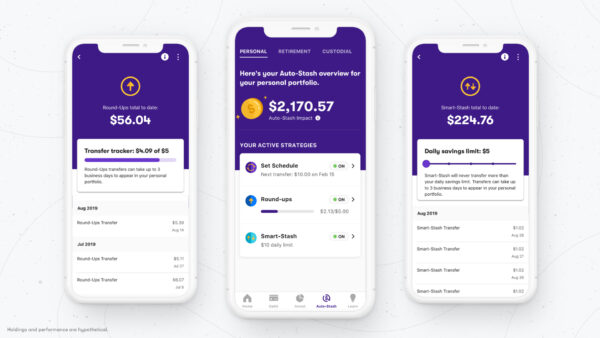 Stash users can also enroll in the Stock-Back program. This is a rewards program where you earn 0.125% stock when you using a linked account — Stash+ users earn 2x rewards. There are regular bonuses listed in the Stash Invest app where you can earn up to 5% back.
The Stash Coach works like a personal trainer for your investments. You can try out personalized challenges, test your knowledge, and more.
Stash also lets you invest in fractional amounts of single stocks. Always wanted to own some Facebook stock? You can buy $5 worth, instead of ponying up the $219.76 (closing price at the time of publication) it takes to own a full share.


Acorns vs. Stash: Who has better Round-Ups?
Like I said, both apps let you turn on round-ups so you can invest your spare change. For example, if you spend $4.37 on a latte, you can round up that transaction to the next dollar amount and invest the $0.63 difference.
However, the Round-Ups feature with Acorns gives you a few more options. You can apply multipliers at 2x, 3x, or 10x. Using the latte example, you could theoretically use Acorns to invest up to $6.30 on that $4.37 purchase.
Acorns also lets you link more than one card. You can do this in the app, and it's a great feature if you do your spending on more than one card.
More round-up options gives Acorns an edge.
Stash vs. Acorns: Why has better portfolio options?
If you want to invest in a preset portfolio, this section will tell you how these two investment apps compare.
While you can invest in fractional shares of any of the ETFs or single sticks available through Stash, you can also use the Portfolio Builder for more of the Robo-advisor experience. There are three preset portfolio options available with Stash: conservative, moderate, and aggressive.
Acorns gives you five options:
Conservative- 40% short term government bonds, 40% ultra short term corporate bonds, 20% ultra short term government bonds
Moderately Conservative- 24% large company stocks, 4% small company stocks, 4% real estate stocks, 30% government bonds, 30% corporate bonds, 8% international large company stocks
Moderate- 29% large company stocks, 10% small company stocks, 3% emerging market stocks, 6% real estate stocks, 20% government bonds, 20% corporate bonds, 12% international large company stocks
Moderately aggressive- 38% large company stocks, 14% small company stocks, 4% emerging market stocks, 8% real estate stocks, 10% government bonds, 10% corporate bonds, 16% international large company stocks
Aggressive- 40% large company stocks, 20% small company stocks, 10% emerging market stocks, 10% real estate stocks, 20% international large company stocks
Having more preset portfolio options makes Acorns the winner here.
Winner: Acorns
M$M tip: Personal Capital is a free financial app that you can use to track your investments and net worth. Personal Capital has robust tools that analyze fees associated with retirement accounts, it creates a cash flow budget, and more. Sign up using the exclusive M$M link for a $20 bonus.
Acorns vs. Stash: Comparing fees
For the individual investment accounts, Acorns and Stash are both priced at $1/month. This probably doesn't feel like much, but if you consider that your balance might be low in the beginning, $1 a month is pretty steep.
For higher-tier plans, those costs get even costlier, especially with Stash. And while Stash does offer more features, it has far fewer tools than bigger brokerages with lower management fees.
What you need to know about these apps is that you're paying for features like Round-Ups and Stock-Back. If you plan on funding your account with one-time or recurring deposits, you can find lower fees with a Robo-advisor like Betterment.
Winner: Acorns
Read more at Betterment Review 2020: Should You Use the OG Robo-Advising Tool?
Stash vs. Acorns: Which app gives you more control?
Despite many similarities, these apps are wildly different in the amount of control you have over your investments. Acorns automates the entire investment process, while Stash lets you pick where your money goes… if you want.
While there are downsides to picking your own investments — possibly investing in funds with higher expense ratios and not diversifying your portfolio — the fact that you can choose which route you go makes Stash a clear winner here.
Winner: Stash
Related: Top 23 Legit Money Making Apps to Download For Your Smartphone
Acorns vs. Stash: Features for advanced investors
Stash and Acorns lack many features that are appealing to advanced investors. For example, neither does tax-loss harvesting, offer charitable giving options, have smart beta accounts, etc.
Acorns does have automatic rebalancing, though, and this is a nice feature that helps protect your asset allocation.
Winner: Acorns
For brokerages with more advanced investing features, check out these articles:
Acorns vs. Stash: Which will teach you more about investing?
When you consider what holds people back from investing is probably a combination of lack of funds and lack of knowledge, both of these apps are breaking down those barriers. You can invest with as little as $5, and you can experience regular market fluctuations on a small scale (this is a huge part of the learning curve).
Stash has a slight edge over Acorns because the app has more in-depth articles and research tools.
Winner: Stash
Acorns vs. Stash: Customer service
Both apps have a phone and email support. The only difference is that Stash's customer service phone number is much easier to find on the app than Acorns'.
Winner: Stash
My personal experience with Acorns vs. Stash
Right now I'm using Acorns and Stash a little differently, and I've been using Acorns for several months longer than Stash. I should note that I'm not using either of these apps for retirement — I have my retirement account set up through Charles Schwab.
My experience with Acorns
I've had an Acorns Core account for a little over a year, and I use the Round-Ups and have a monthly deposit of $100 scheduled (I started this a few months later). Since I opened my account, I've invested a total of $1,256.35 and my total gain/loss was +$127.43. That return has been really nice, but it likely has more to do with the overall market, not Acorns.
My experience with Acorns has been really positive, and I normally forget that I have money invested with Acorns until I see the withdraws ding on my bank account.
My only issue is entirely personal — I only have my debit card linked to trigger Round-Ups while I primarily use credit cards for spending (for earning travel rewards). I can connect my credit cards, but I haven't yet. I bring this up because if you want the most out of Acorns, you may want to think about how you spend money and which accounts will trigger Round-Ups.
My experience with Stash
I'm newer to Stash, using the Starter plan for less than a year. I only have my account set up for auto deposits of $10 every week, and I'm not using round-ups or Smart Stash. My portfolio is currently valued at $374.09 with a portfolio return of +$5.09. Not as big of a return as Acorns, but more on that shortly…
What Stash offers in the way of choosing your investments is incredibly appealing to me. Socially responsible investing is a part of my larger investment strategy, and more than anything, I just want to choose where my money goes. For example, I opted to invest $25 in the Beyond Meat stock because I'm a vegetarian. It's an aggressive stock, and I've actually lost $7.60.
Not a huge amount, but when you consider how small my total invested balance is, $7.60 is a big hit. While I like the choices I have with Stash, there is a cost.
Stash has prompted me with challenges to diversify my account, and I have. And I've enjoyed browsing through Stash's list of securities and researching each one.
Stash vs Acorns, which micro-investing app should you use?
If you're a new investor, both of these apps are going to have some really appealing features. The key difference is whether you want to be hands-on or hands-off with your investments.
If you want a mindless experience — investing money without even thinking about it. Acorns might be a better choice for you. Acorns is a straightforward Robo-advisor that's meant for people that don't want to stress about picking investments.
If you want to pick your investments, even just some of them, Stash gives you that option. This app has significantly more flexibility and strong research tools that will help you become a better investor.
So while both apps are good, they lack some of the features you find with more traditional brokerages, and the fees are high for small balance.