I've been reading Shipt Shopper reviews online, and I've been really surprised at how many positive reviews there are. Shoppers love the flexibility and claim the company is great to work for. Those kinds of reviews make this side hustle worth exploring.
Shipt is one of many on-demand delivery services that make it easy for customers to order groceries from the convenience of their home. Shoppers take orders in the app, shop, and then get paid. It's a pretty simple system.
These services are so appealing for side hustlers because there's an incredibly low commitment. Need money? Log on and take orders in the app. You're not starting and running a side business, but you're earning a little extra cash when you need it.
I'm about to give you an in-depth explanation of how Shipt works, how much you can expect to make, and what working for Shipt is really like.
Shipt Shopper Review 2020 | What It's Really Like Working For Shipt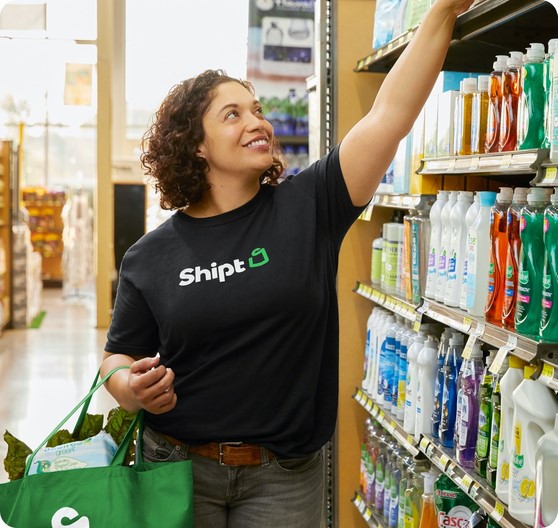 What is Shipt?
Shipt is an on-demand grocery delivery service that was founded in 2014 in Birmingham, Alabama. It's grown to over 260 nationwide and partners with local and nationwide retailers to deliver groceries and other household essentials. Shipt is now owned by Target.
Besides Target, some of the well-known retailers that Shipt works with are CVS, Meijer, HEB, Petco, and Costco.
What makes Shipt unique compared to other food delivery services is that users must be paid members to use the service. The monthly membership costs $14/month or $99/year. Members get free delivery on orders over $35 and pay a flat $7 delivery fee for orders less than $35.
How does Shipt work?
Shipt members open the app and place an order for whatever it is they want – groceries from HEB, toilet paper from Costco, etc. They can select a delivery time, and the order is sent out to Shipt Shoppers.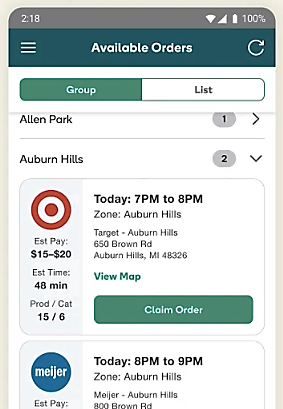 Shipt Shoppers open their app, select the area where they're located, and find open orders. Once a Shopper selects an order, they head to the store and start shopping. If items are out of stock, the Shopper can contact the customer via the app to ask about substitutes.
Shoppers are expected to wear a Shipt shirt – this helps store employees know you're there to work. You're also given a Shipt debit card to pay for the order. Shipt loads money on the card so you can pay for orders – you don't pay for anything out of pocket.
After you've paid for the order, you'll use the app to get directions for delivery. After you've fulfilled the order, you can mark it delivered and can go back out for more deliveries.
Read more at 7 Reasons You Absolutely Need a Side Hustle.
How much do Shipt Shoppers make?
Their site says Shipt Shopper pay is up to $22/order and that typical orders take about one hour.
Most Shipt Shopper reviews online say that pay typically ranges between $15-$20/hour. However, I did find one Shipt Shopper review that claimed they made well beyond $22 an hour because they had such good tips from customers – one tip was $25 and another was $17. They did admit that over the course of a week of deliveries, at least two customers didn't tip at all.
The wide range in expected pay and real pay has to do with a few factors:
Commission: This is how much Shipt pays you for the order, and it's $5 plus 7.5% of the order amount. You'll see how much an order is worth before accepting it in the app.
Tip: Shipt doesn't require tips, but it does encourage them. You keep 100% of your tips, and customers have up to a week to add a tip to your order.
Mileage: Driving around delivering orders for Shipt puts wear and tear on your car, plus you're paying for gas. Shipt does not cover these costs, and they do eat into your take-home pay.
Taxes: Because Shipt Shoppers are independent contractors, you will be responsible for withholding your own taxes. The general rule of thumb is to set 30% of each check aside for taxes.
So how much do Shipt Shoppers really make?
Shipt Shopper reviews suggest you can realistically expect to make $15-$20/hour. Remember you'll need to set money aside for taxes, so that hourly pay gets closer to $10-$14/hour.
Driving a fuel efficient car and trying to keep your deliveries in a concentrated area can reduce fuel costs, and the standard mileage deduction rate is 57.5 cents per mile. Keep track of your mileage so you can take the deduction on your taxes.
How do Shipt Shoppers get paid?
Shipt holds on to your commission and tips – you'll be able to see where you're at in the app – and pays out every Friday via direct deposit.
Most Shoppers receive their previous week's pay by Wednesday.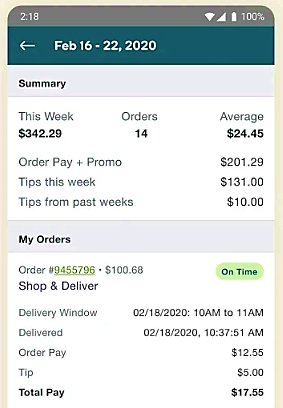 Shipt Shopper requirements
If you're interested in becoming a Shipt Shopper, you'll need to meet the following requirements:
Be at least 18 years old
Access to a reliable vehicle manufactured in 1997 or newer
Have valid car insurance
Have a valid U.S. driver's license
Own an insulated cooler bag – Shipt does not supply these
Be able to lift 40+ pounds
Have a smartphone with iOS 10 or Android 5.1 or newer
Access to a bank account to accept payment via direct deposit
You will also have to pass a background check performed by a third-party service called Checkr. These requirements are pretty standard among grocery delivery services.
Where Shipt is available
Shipt is one of the smaller grocery delivery services out there, so it's not available everywhere. Shipt says they are in 260 cities and growing, and since they're now owned by Target, I'm sure we can expect that growth to happen quickly.
The best way to see if they're available in your area is to click on this link and enter your email address. If Shipt is available in your area, you'll see which store they have partnered with.
How to sign up as a Shipt Shopper
The first step is filling out an online application, which is incredibly simple – follow this link, and then enter some basic information about yourself, including your name, age, driving experience, and insurance information.
Shipt will reach out to you for a virtual interview, where you'll be asked questions about your availability, skills you have that will make you a good fit for Shipt, what you would do if a store was out of something, when you've provided exceptional customer services, and more. The questions are fairly standard interview questions, with a focus on what you'll be doing for Shipt.
If you pass the interview, you'll receive a confirmation email 24-48 hours after submitting your interview.
As long as everything goes well, it can take anywhere from a few days to a couple of weeks before you can start shopping. Shipt adds to their team on an as-needed basis, but if you have any questions about how long your application is taking, you can email Shipt's recruiting team at [email protected].
You'll get access to the Shipt Shopper Hub after you've been hired on, and this is where you'll get more information about how to get started. There's an optional course you can take that explains how to use the Shipt Shopper app.
Is working for Shipt worth it?
Shipt Shopper reviews rave about the flexibility to make money in your spare time, and that's honestly the biggest benefit of working for an on-demand delivery service.
The commitment is low because you're not starting a business – you're using a platform to make money in your spare time. This leaves little room to scale your side hustle, but that's not something everyone wants.
So if you are looking for a flexible side hustle that requires little commitment and pays decently for the work you're doing, then Shipt could be a good choice for you.
Shipt Shopper FAQs
How does Shipt make money?
Shipt makes money charging membership and delivery fees. Until recently, Shipt was a membership-only site that offered free delivery for orders over $35, but anyone can use Shipt now.
Non-members pay flat rates for delivery, and members pay delivery fees on orders under $35 (there's free delivery for orders over $35). Customers also pay in-app pricing for the items they order, and it's slightly higher than in-store pricing.
Does Shipt deliver alcohol?
Shipt delivers alcohol in some markets – the legalities of alcohol delivery vary across the country. In places where it's accepted, Shoppers will have to be 21 years old and complete an alcohol delivery certification course administered by Shipt.
How do taxes work for Shipt Shoppers?
Shipt Shoppers are considered independent contractors meaning you are responsible for withholding your own taxes.
If you earn over $600 from Shipt over the course of the year, they will send you a 1099 form which is what you use when filing your taxes. Even if you don't make that much with Shipt, you are still responsible for reporting your earnings.
Here's a really good article to understand how taxes work for side hustlers: How to Handle Taxes for Your Side Hustle.
Are there any perks of working for Shipt?
Many Shipt Shopper reviews are really positive, stating that Shipt treats their employees well and that the company is responsive to Shopper issues. Shipt also has a nationwide Facebook group for Shoppers and more local groups to build a sense of community among Shoppers.
There are also more tangible perks of working for Shipt:
Access to Shipt Shopper Perks – a program that offers discounts for insurance, prescriptions, and more
Rewards for Shopper milestones, like swag gift cards and travel opportunities
A free Shipt membership
Are there better food delivery services to work for?
Grocery delivery services are pretty standard for both customers and Shoppers, so I don't know if there is a better service out there. But what you do need to know is that you can drive for more than one at a time to increase your chances of earning more.
Most on-demand delivery drivers drive for more than one company, and the same goes for rideshare drivers. You see a lot of crossover in those kinds of companies. Drivers log in to more than one app at a time, and then select the orders that pay out the highest.
Here are a few more food delivery services to check out:
Shipt Shopper Review – the final word
Working as a Shipt Shopper is an incredibly flexible way to make extra money in your spare time, and with more and more people choosing to stay home and have their groceries delivered, there is a lot of room out there for new Shoppers.
But if you want to look at alternative side hustles, or even how to start a business on the side, check out 22 Best 2020 Side Hustle Ideas (Make $1,000+ Per Month).