Wealthfront is a strong contender for investors that are looking for a simplified yet comprehensive Robo-advisor that takes a modern approach to make the most of your money.
Investing at any level, from $1 round-ups in micro-investing apps to $1 million+ balances in traditional brokerages, is a good thing. And, it's never too late or too early to start investing and planning for your future… trust me… but I mean, sooner is always better.
The reality for millennials is that not many of us are investing like we should be. Whether it's a perceived high cost of investing, inaccessibility, or distrust for the market overall, we're just lagging behind. This can have a direct impact on your ability to one day retire.
Another issue millennial non-investors have is that they just don't know how to invest their money. I get it, but that's why Robo-advisors like Wealthfront are increasing in popularity.
Robo-advisors take the guesswork out of the investing process. You answer a few simple questions about your long-term goals, and technology takes over to come up with a portfolio that optimizes your funds. It gets even easier when you are given the ability to automate the way you fund your account.
Those are all things that Wealthfront does, and with as little as $500, you can start investing.
The 2020 Wealthfront Review
What is Wealthfront?
Wealthfront was founded in 2011, making it one of the original Robo-advisor platforms. It is the second-largest Robo-advisor today with over $12 billion in assets.
They are primarily known for automated online investing that gives investors a much more passive experience. Wealthfront calls this approach "self-driving money." It means they are betting on the fact that millennials want even more automation and less human interaction. So, while some Robo-advisors are adding human advisors, Wealthfront is building even more advanced technology to automate the experience.
You get a very hands-off investment experience when you use Wealthfront – they build and invest in a portfolio for you that's based on your risk tolerance and goals.
Wealthfront isn't the only Robo-advisor out there, and to gain an edge, they've added an impressive list of features and services that make them a strong contender.
How does Wealthfront work
You can sign up and start investing with Wealthfront for as little as $500. The sign-up process is really no different than any other Robo-advisor – you fill out your personal information and then answer a series of questions to figure out your goals, risk tolerance, and timeline. These answers are what's used to build your portfolio.
Wealthfront uses Modern Portfolio Theory (MPT) – the economists who developed MPT won a Nobel Prize in Economics in 1990 for their research. This is a software-based service that identifies the largest expected return for the type of risk you're comfortable with. It's also used for constant monitoring and rebalancing while attempting to minimize your tax liability.
Using Modern Portfolio Theory to customize your portfolio leaves you with a diverse, low-cost, and optimized set of assets that are represented by an ETF. ETFs are generally known for inherent diversity and low fees. This only saves you money, while also passively making you money.
Wealthfront doesn't do dollar-cost averaging because they believe that when you're investing in an inherently diverse portfolio, dollar cost averaging isn't as important as it is when investing in individual assets.
Click here to start investing with Wealthfront today.
How Wealthfront invests your money
For the purpose of tax-loss harvesting, which will be covered a little further down in this review, Wealthfront has both a primary and secondary set of ETFs to cover a variety of asset classes. The average expense ratio on these ETFs is 0.08%.
Here are the current recommended primary ETFs:
S. Stocks: Vanguard Total Stock Market Index (VTI)
Foreign Stocks: Vanguard FTSE Developed Markets (VEA)
Emerging Markets: Vanguard Emerging Markets Stock Index Fund (VWO)
Real Estate: Vanguard Real Estate (VNQ)
Natural Resources: Energy Select Sector (XLE)
S. Government Bonds: Vanguard Total Bond Market ETF (BND)
TIPS: Schwab U.S. TIPS (SCHP)
Municipal Bonds: Vanguard Tax-Exempt Bond (VTEB)
Dividend Stocks: Vanguard International Dividend Appreciation ETF (VIGl)
Because Wealthfront is constantly trying to identify which assets are best for their customers, this list is subject to change at any time. You can see the current list and secondary assets here.
What exact mix of those assets is in your account will be determined by what kind of allocation is best for your personal situation.
One more thing that's important to know is that Wealthfront doesn't purchase fractional or micro-shares of assets, only full shares. So, depending on the cost of each and how much money you've invested, you may end up with a little cash drag.
Read more at How to Get Started in Stocks: A Beginner's Guide to Investing in Stocks and Bonds
Types of Wealthfront accounts
Wealthfront wants to help you plan for the future by giving you access to a variety of different investment accounts:
Individual, joint, and trust investment accounts
IRAs: Traditional, Roth, and SEP
401(k) rollover
529 College Savings
If you want to move investments from another Robo-advisor or traditional brokerage to Wealthfront, they help you minimize your tax liability with a Tax-Minimized Brokerage Account Transfer.
The cost of investing with Wealthfront
Wealthfront offers simple, low cost, and transparent fees:
25% advisory fee
No trading commissions, withdrawal fees, minimum fees, or transfer fees
How do those fees compare, or is Wealthfront worth the fee?
Well, there are lots of Robo-advisors on the market, and that's done something really good for investors – competitive fees that save you money. It also means that most Robo-advisors are charging a really similar amount. I'm cool with that as long as it's low, which it is.
Here are some comparisons for other top Robo-advisors:
Betterment 0.40% fee
Ellevest 0.25% fee
Ally 0.30% fee
Vanguard 0.30% fee
Other Wealthfront features
Knowing that you're getting similar pricing across most Robo-advisors, Wealthfront's additional features are what really make them stand out.
Tax-loss harvesting
Tax-loss harvesting is when an asset that has experienced a loss is sold to offset the gains you make from assets that are appreciating. It's meant to help you maintain the highest level of performance while mitigating excessive taxes. The asset that's sold is replaced by a similar asset to keep your asset allocation where it needs to be for your specific portfolio.
Wealthfront offers this benefit through its PassivePlus program and is available no matter how much you have invested in your account.
Wealthfront's PassivePlus program
Besides tax-loss harvesting, you'll need to have a higher account balance to utilize the other benefits of this program, which include:
Stock-Level Tax-Loss Harvesting. For accounts between $100k to $500k, this feature adds up to 500 different stocks to your portfolio instead of ETFs. Your account stays diverse while giving you even more access to tax savings.
Risk Parity. This is similar to Modern Portfolio Theory but is a more enhanced strategy to optimize your returns. It's available for accounts with $100k or more.
Smart Beta. For accounts of $500k or higher, Smart Beta is a multi-factor model that uses five different factors to determine how the assets in your account are weighted. This includes value, momentum, dividend yield, market beta, and volatility.
Socially responsible investments or SRIs
Knowing that millennials are more engaged in their social impact, SRIs are assets that are sustainable or socially conscious. These assets look at both your financial and social or environmental return.
Wealthfront supports this investment model by letting you set certain restrictions on the types of assets you invest in. However, this is currently only available for those in the PassivePlus program who are using Stock-Level Tax-Loss Harvesting and/or Smart Beta.
Free financial planning
This is one of Wealthfront's features, but it deserves its own section because of how useful it can be to investors. It's also 100% free to use and available even if you aren't investing with Wealthfront. That means you can download the app and start planning.
Wealthfront's free financial planning service is completely automated and uses technology to play out different scenarios based on where your finances stand now and in the future.
The way it works is that you connect all of your financial accounts – this helps the tool to see where you're at – and then start making plans. Want to buy a house in the next few years? Thinking about having a baby? Do you want to retire early? Do you want to take a big trip?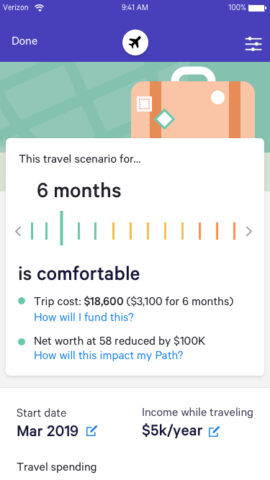 Path, Wealthfront's advice engine, analyzes your data to tell you how possible it is to make those goals happen. It also shows you how one choice will affect another down the line.
For the real actionable part, this software helps you make a plan to realize your goals. You'll learn how much you need to save and the types of accounts to put your money in (even if they aren't Wealthfront accounts).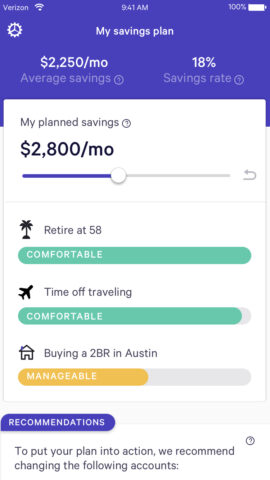 The whole thing is constantly updating so you're always in the know.
M$M tip: Want even more robust retirement planning tools? Check out Personal Capital. It's the app my wife and I use to keep track of our investments (you can link your Wealthfront account and any other investment accounts). Personal Capital analyzes my fees, shows me where I stand for retirement, and has a really cool asset allocation tool.
Learn more in my Personal Capital 2020 Review.
Wealthfront's cash savings account
To help you make the most of your uninvested money, Wealthfront recently rolled out its very own cash savings account. It comes with a higher than average APY of 2.32%.
This is a high-yield savings account that lets you grow your funds while giving you short-term access to them. You only need $1 to start an account, and there is no minimum balance to maintain to earn the 2.32% APY.
Your money is FDIC insured up to $1 million and doesn't come with any management or transfer fees.
2020 Wealthfront Review – My final word
Investing is a healthy part of your financial life, and a Robo-advisor like Wealthfront makes it even more accessible to start the process. And, Wealthfront offers some really cool tools, like tax-loss harvesting and financial planning software, that make them stand out from the rest.
If you haven't started investing yet, you need to make it a priority. It may take some sacrifices and finding new ways to make money to find the funds. But, it's never too late to start.