DoorDash drivers are being used by big chains and local restaurants across the U.S to get food into the hands of hungry customers. So, if you want takeout from your favorite Chinese place, ribs delivered from that great BBQ joint downtown, a McFlurry ASAP, DoorDash has your back.
This new world of on-demand food delivery is great news for side hustlers — it's flexible work that can help you pay off debt, save for retirement, finance a big purchase, and more.
But what's it like working for DoorDash? How do you sign up, get paid, and how much will you actually earn?
This will explain everything from signing up to making more than the average Dasher.
2020 DoorDash driver review
What is DoorDash?
DoorDash is a service that delivers food from restaurants in your area. Customers can place orders from their favorite chain or local restaurants, and a Dasher (that's you!) will deliver the order.
The company was launched in 2013 and is available in over 4,000 cities all across the U.S.
And in 2018, DoorDash introduced Project DASH (DoorDash Acts for Sustainability and Hunger) to help address hunger and food waste in the U.S. It kicked off its first month with a 1:1 meal donation, and continues its mission with MealConnect, a program that links surplus food with local nonprofits.
How to make money with DoorDash
There are a few requirements in you're interested in delivering for DoorDash:
Must be 18 or older
Have access to a car, scooter, or bicycle in some cities
Have a driver's license number
Have auto insurance
Social security number if delivering in the U.S.
Complete a background check
If you meet those requirements, DoorDash is a very flexible way to make extra money. You can choose your own hours, and there are no minimum numbers of hours to keep your account active. You can deliver around your house, near your work, and even the places you're visiting.
And once you complete the steps in the next part of this DoorDash driver review, you can start accepting orders immediately.


How to start working as a DoorDash driver
There's a four-step process you'll have to complete to start driving for DoorDash. The first step only takes a couple of minutes, but it will be around 1-2 weeks before your account is fully activated.
Step 1: Fill out a DoorDash application online
This application asks for personal information like your name, phone number, location, driver's license number, and Social Security number. You'll also need to agree to a background check.
Step 2: Complete a background check
The DoorDash background check will take a look at your driving record. If you have too many moving violations in the past few years, DoorDash may turn down your application.
Step 3: Receive your DoorDash Activation kit
If your driving record looks good, DoorDash will send you an Activation Kit. This includes an insulated bag for food deliveries and a prepaid Red Card. The Red Card is a debit card loaded by DoorDash and used to pay for orders that aren't paid for by customers in the app.
Step 4: Download the DoorDash Dasher app
You'll receive instructions for downloading and using the app in your DoorDash Activation Kit. The app is where you can go to receive orders, schedule dashes, read announcements, see your earnings, and more.
You can use the DoorDash Dasher app to find nearby areas with the most available orders, and you'll be shown the best route for fulfilling those orders.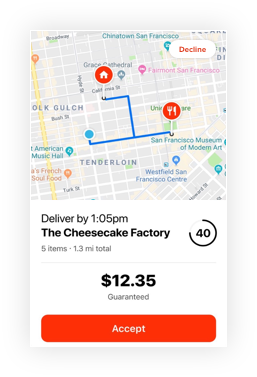 The app is available for Apple and Android.
Related: Top 23 Money Making Apps to Download For Your Smartphone
DoorDash driver review: How to deliver food using the app
Once your application is approved, you can start accepting and delivering orders. From here, the process is pretty simple overall.
Dashers can open the app and click "Dash Now" to start taking orders, but you have to be in one of the red or pink areas on the Doordash map to enable "Dash Now," because that's where DoorDash can guarantee that orders are available to drivers.
You can also click the "Schedule" button to reserve delivery times for later. These time blocks can be scheduled up to a week in advance and as close as day-of. DoorDash offers this feature to limit the number of Dashers, which will help you keep a steady stream of orders going.
Whether you're Dashing now or scheduling it for later, after you accept an order, the app will tell you where to go, the route to take, and any special delivery instructions.


How DoorDash drivers are paid
DoorDash pays drivers on a weekly basis, and you're paid via direct deposit to your bank account, which shows up in 2-3 days. DoorDash says most payments show up in your bank account by Wednesday night.
If you want faster access to your earnings, you can opt for Fast Pay. It costs $1.99 to cash out earnings instantly, and you'll have to meet all of the following requirements:
Have a debit card
Have completed 25 deliveries
Dashed for at least two weeks
How much can you make with DoorDash?
Before I explain how much you can expect to make with DoorDash, you need to understand the Dasher Pay Model.

Base pay ranges from $2-$10 and varies by order, and you'll see this amount in the Dasher app before accepting an order. You always keep 100% of this amount.
Promotions give you opportunities to increase your earnings. There are Peak Pay times when certain delivery areas in the Dasher app light up red with a plus dollar amount, which is the additional amount you'll earn on top of the base pay. This is typically between $1-$4 extra per delivery.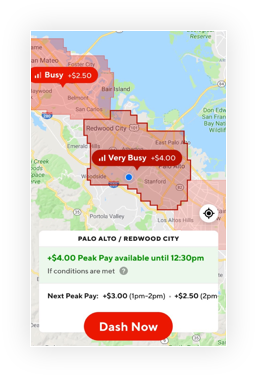 Challenges are currently in beta mode, and will be things like "complete X number of deliveries in a set amount of time". If you complete the challenge, you'll receive bonus pay. Dashers can earn challenge bonuses on top of Peak Pay.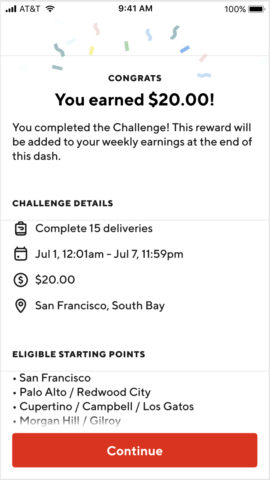 Customers can add tips after the delivery is completed. You get to keep 100% of your DoorDash tips. Being prompt with deliveries and friendly with customers are the best ways to earn tips. Picking up napkins, utensils, sauces, and even adding freebies like mints are all good ways to get tips.
The only bummer is that not all customers will leave good tips or tips at all.
So one more time, your total earnings are your base pay + promotions + tips.
But, how much do you really make with DoorDash?
For real Dasher pay, here are a few DoorDash driver reviews from Reddit:
$200-$300 a week working an average of 14 hours = $14-$21/hour
$120 in five hours = $24/hour
$750-$900 a week working 35-45 hours a week = $16-$25/hour
$150-$300 in 10-20 hours over the course of 2 days = $7.50-$30/hour
Overall, DoorDash driver pay averages pretty close to $20/hour.
Most of these drivers recommend that you avoid being picky with the orders you pick up, which will help keep the flow of deliveries going strong. Drivers also recommend driving for other delivery services, like Postmates, too.
DoorDash used to advertise driver pay between $15-$25/hour, but it stopped making those claims after pay turned out to be much lower. That's because those per hour earnings don't include driver expenses, like taxes, wear and tear on your car and related costs.
Some of those expenses are deductible (I'll explain more about this further down in this DoorDash Driver review), but they will still eat into your total take-home pay.
Read more at How to Make Money: Top 44 Ideas for 2020
DoorDash FAQs
How do I earn more money driving for DoorDash?
As I explained earlier in this DoorDash driver review, DoorDash offers drivers a couple of ways to increase earnings:
Peak Pay (driving during busier times)
Challenges (completing a certain number of orders in a set amount of time)
Peak Pay hours are generally around dinner time and earning that $1-$4 extra per order can really boost your hourly pay. Like other food delivery services, DoorDash is busier during holidays or special events, so if you want to make more money, make yourself available during those times.
You'll also want to maintain the highest possible customer rating (more on this in just a second) to be eligible for special programs, bonuses, and incentives.
What is the Dasher rating system?
There are four different ratings you earn as a DoorDash driver:
Customer rating: This is a 1-5 scale calculated from your 100 most recent ratings (old ratings are replaced as new ones come in). You need to maintain a 4.2 at least, otherwise, DoorDash can deactivate your account.
Completion rate: The percent of deliveries you've completed out of your 100 most recent deliveries. However, if an order is canceled by the customer or merchant, those won't count against you. You need to maintain a completion rate of at least 70% to stay on the app.
Acceptance rate: This is the percentage of deliveries you accept. There's no minimum acceptance rate to maintain your rating.
On-time/Early rate: This is how many orders have been delivered on-time or early out of your most recent 100. While there are no minimums, customers are more likely to give you a higher customer rating for on-time or early deliveries.
To recap, your customer rating and completion rate need to be at a certain level to keep driving for DoorDash, and the higher your ratings are overall will likely have an impact on your overall earnings.
What about DoorDash and taxes?
Working as DoorDash driver means you're an independent contractor — DoorDash does not withhold taxes. They will send you a 1099-MISC form if you earn $600 or more for the year, and you'll use this when filing your taxes.
There are a few eligible deductions that you can take on your taxes:
Mileage
Car insurance
Tolls and parking
Your phone and phone plan
Accounting costs
You should keep track of these expenses as much as possible, but there's also a standard deduction you can take.
You can learn more about how side hustles and taxes at How to Handle Taxes for Your Side Hustle.
Do DoorDash drivers make good money?
Most food delivery services have fairly comparable pay. It's also similar pay to rideshare side hustles, like driving for Uber and Lyft. But one thing that many DoorDash drivers like about it compared to Uber and Lyft is that you're driving food around, not people.
You can drive for multiple delivery services at the same time, toggling back in forth between apps, so you're very rarely going without a delivery.
However, there are other kinds of side hustles that might pay a little more if you're interested in the work.
Learn more at 22 Best 2020 Side Hustle Ideas (Make $1,000+ Per Month!)
DoorDash driver review final word
DoorDash is going to be a decent side hustle for a lot of different people. You can work on your own schedule, giving you some serious flexibility. Driving for DoorDash can be a short-term solution to making more extra cash when you need it, or it can be a long-term way to increase your income.