Food delivery apps are blowing up these days, and today I'm breaking down Instacart vs. DoorDash to see how two of the most popular delivery apps stack up against one another.
Both of these on-demand food delivery services give you a flexible way to make extra money. But is one better than the other? Let's take a look at each app's features, pay, safety practices, and more.
Instacart vs. DoorDash: Which One is Better for Drivers?
Instacart vs. DoorDash: The Basics
These two food delivery services are a little different in the options they offer customers and drivers. I'm going to start by explaining what each of these companies are and what they offer.
What is Instacart?
Instacart is a grocery delivery service that's available in 5,500 cities in all 50 states and Canada. They work with over 350 different grocery retailers including Costco, Petco, Safeway, Kroger, H-E-B, Target, and Aldi.
Customers place orders online or in the app and can choose to pick up their packaged orders from the store or have them delivered directly to their house.
Because of those options for customers, there are two different ways you can work for Instacart: as a Full-Service Shopper or an In-Store Shopper.
Full-Service Shoppers shop for and deliver orders to customers.
Full-services shoppers are considered independent contractors
You'll need a car to complete deliveries
You can pick the hours you work
In-Store Shoppers shop for orders and package them for customer pick-up.
In-store shoppers are considered part-time Instacart employees
You won't need a vehicle
You can pick your hours, but you can't work more than 29 hours per week
You can't be both a Full-Service and In-Store Shopper – you have to pick one. But if you're in good standing with the company, you can switch after six months.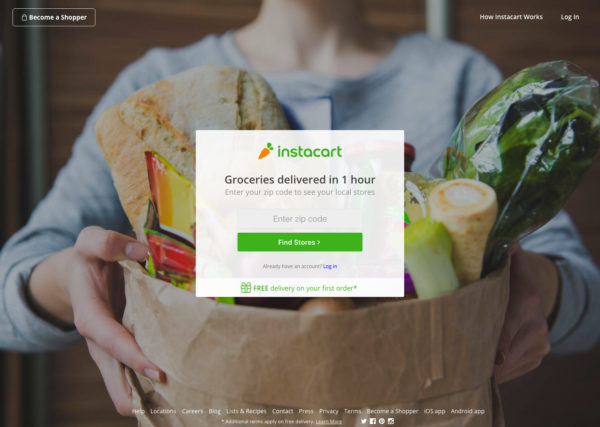 Learn more at Instacart Shopping Side Hustle: How Much Do Instacart Shoppers Make?
What is DoorDash?
DoorDash delivers food from over 300,000 local and chain restaurants across the U.S. and Canada. The company was founded in 2013 and now delivers in over 4,000 cities.
DoorDash calls their delivery couriers Dashers, and they can use a car, bike, scooter, or motorcycle to deliver orders. Dashers can schedule blocks of time to work up to a week in advance, or they can open the app at any given time and see if there are orders available to deliver.
DoorDash encourages drivers from other services like Postmates, UberEats, Instacart, and more to come and deliver for them too.
Instacart vs. DoorDash: How much money you can make
Instacart
Your pay is based on a few different factors: what kind of shopper you are, your location, and how many orders you complete. According to Glassdoor, Full-Service Shoppers make anywhere from $7-$26/hour. During busy times, you can make closer to $20/hour.
Full-service shoppers will see an estimate of how much they will make per order before they take it. The pay per order is based on how many items are in the order, type of times, driving distance, and the effort it takes to shop and deliver the order. You get to keep 100% of your tips.
In-store shoppers are paid a flat hourly wage, which ranges from $9-$16/hour. This is based on where you're working, and you'll see the rate in the offer letter you get from Instacart when you sign up to shop.
One key difference between these two shopper options is that full-service shoppers are independent contractors. That means that if you're a full-service shopper, you'll be responsible for withholding taxes. You will also have to factor in the wear and tear on your car you're using to deliver, but you can write off your miles, which is 57.5 cents per mile in 2020.
Once you've logged 40 hours of service in the past 6 months you can start earning referral bonuses. Instacart gives you a unique code that your friends can use to sign up with. The bonus and requirements vary by zone and role.
DoorDash
Dashers earn around $20/hour, and your earnings are based on the Dasher Pay Model. Here's what it looks like:

The Base Pay ranges from $2-$10. This amount increases if you need to drive a longer distance to complete an order, if the order will take more time overall, and/or if it's less popular with other Dashers.
Promotions give you an opportunity to make more, and there are three options:
Peak Pay: These are the busiest delivery hours in your area, and you'll see a Peak Pay alert pop up in the app. Peak Pay is usually around $1-$4 more per delivery.
Challenges: These are incentives to complete a given number of orders in a set amount of time. Challenges show up in the app, and you can also track your progress. You can combine Peak Pay and Challenges to earn even more.
Drive: These are large orders that you're paid extra for.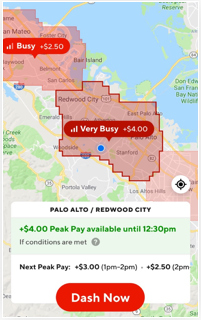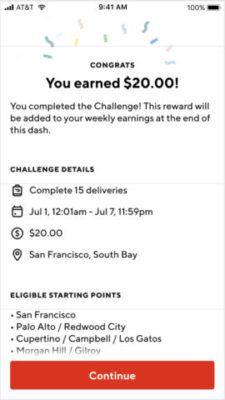 Customers can leave a Tip for their Dasher in the app either when they check out or when the order is completed. You get 100% of that amount.
Just like Instacart, Dashers are responsible for taxes and wear and tear on their vehicles.
Verdict: DoorDash is the winner. There are more opportunities for drivers to increase their pay with a variety of in-app opportunities and promotions.
For more flexible ways to make money, read 22 Best 2020 Side Hustle Ideas (Make $1,000 Per Month).
Instacart vs. DoorDash: Driver requirements
Instacart
You must be 18 years old and eligible to work in the U.S. to work as either a Full-Service Shopper or In-Store Shopper. Both roles require access to an iPhone 5 or Android 4.4 or newer device, and you'll need to be able to lift 50lbs with or without accommodation.
Full-Service Shoppers also need at least two years of driving experience and a clean record.
Instacart runs background checks on all of their shoppers, and you authorize the background check when Instacart extends a conditional offer to perform services. It normally takes 10 days to process background checks.


DoorDash
You have to be 18 years old, have a Social Security number if you're in the U.S., and complete a background check. Background checks take 5-7 days under normal circumstances, but they can sometimes take longer.
If you're delivering using a car, you'll also need a valid driver's license, insurance, and a clean driving record. Scooters, bikes, and motorcycles can be used for deliveries depending on where you're located.
Instacart vs. DoorDash: When you get paid
Instacart
Instacart pays its shoppers each week via direct deposit. If you're an in-store shopper, you can request a check be mailed to your house. You can keep track of all of your earnings in the app.
DoorDash
Dashers get paid on a weekly basis, and payments are transferred directly into your bank account using direct deposit. Most Dashers see payments show up in their accounts by Wednesday.
DoorDash offers something called Fast Pay if you want to cash out your earnings early. You are charged $1.99 each time you use Fast Pay.
Verdict: DoorDash wins. If you really need your money ASAP, DoorDash gives you the option. The only downside is that cashing out every day will cut into your earnings.
Instacart vs. DoorDash: What the job is like
Instacart
After you've signed up to start shopping, you use the app to schedule your hours. You can deliver between the hours of 9 a.m. and midnight.
Thirty minutes before your shift starts, you'll start seeing notifications in the app for orders, which you can accept or reject. You might reject an order that doesn't pay well or is too far away. If you accept an order, you go to the store and start shopping.
You'll want to stay in contact with the customers you're shopping for to see if they're okay with any substitutions and let them know your progress. You can do that through the Instacart app. When you're ready to checkout, you use a preloaded Instacart debit card to pay for the order.
DoorDash
DoorDash sends out an Activation Kit once you've been approved to start working, and the kit includes an insulated food bag to make your deliveries and the Red Card. This is a prepaid debit card used to pay for orders if a customer hasn't already paid for the order in the app.
You have two options for taking orders:
Schedule in advance: DoorDash sets limits on the number of Dashers working at a given time, meaning that there's always a steady stream of orders for everyone. You can schedule your time anywhere from day-of to one week in advance.
Dash Now: If the in-app map shows areas lit up in red or pink, those are places where you can Dash Now, meaning that there is a high volume of orders. You can also scroll through the map to find Dash Now areas.
An order will show up in the app showing the route, restaurant, deliver-by time, and guaranteed pay. You can accept or decline orders.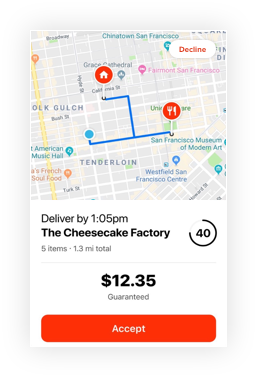 Verdict: DoorDash has a slight edge. I like that you can schedule your time in advance, but Dash Now means that if you have the time to make some extra cash, the option is available.
Instacart vs. DoorDash: How they're keeping drivers safe
Instacart
Instacart now lets in-store shoppers accrue sick pay – one hour of sick pay for every 30 hours worked, up to 40 hours per year.
There's also a "Leave at My Door Delivery" option for contactless delivery. Customers can choose this option and then leave specific delivery instructions, like "put it on the back porch" or "leave it on my front step." Then you send them a photo to verify the delivery has been made.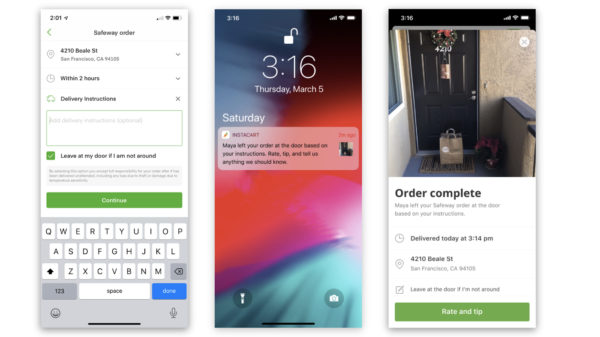 DoorDash
DoorDash is providing up to two weeks of financial assistance to Dashers who are diagnosed with COVID-19 or are subject to quarantine. You will need to have been active on the platform for at least 30 days and have completed at least 30 delivers in that period.
All deliveries are defaulting to no-contact drop-offs, and moving forward, Dashers can request no-contact delivery at any time. This can help you feel safe while out delivering groceries.
Verdict: Tie. Both companies have rolled out changes to keep drivers and customers safe. This is a big deal for independent contractors.
FAQs
Does Doordash or Instacart pay more?
+-
With both companies, you can expect to earn up to $20 per hour depending on the time of day, type and length of deliveries that you're completing, and how many delivery requests are being submitted by app users.
Which is better for drivers: Doordash or Instacart?
+-
While we do think that both companies are solid options for drivers to make money, Doordash provides more opportunities for earning money and gets our vote as top pick. However, you'll likely want to sign up for both apps to increase your opportunities to deliver more often.
Do you have to pay taxes on your earnings with Doordash or Instacart?
+-
With both companies, you'll be considered an independent contractor instead of an employee, which means that you will be responsible for paying taxes on the earnings that you make while delivering.
Instacart vs. DoorDash: The final word
Even though DoorDash scored a few more points than Instacart in our matchup, it's honestly really hard to say that one of these services is better than the other right now. Instacart is providing an incredibly valuable service delivering groceries, and both companies are making commitments to keep their drivers safe.
And the bottom line is that you can drive for both DoorDash and Instacart at the same time, and many drivers do that as a way to earn even more.