Are you interested in shopping for Instacart? Want to know how much do Instacart shoppers make? And, are there better side hustles?
Over the past year or so, I've seen more and more Instacart shoppers at my local grocery store, and I was really excited to see that they've started delivering for Aldi. I've heard how helpful Instacart is for busy families who are more than happy to eliminate grocery shopping as a weekly chore, but I've always wondered… how much do Instacart shoppers make?
Instacart and other grocery delivery services are offering a high level of convenience and changing the way we shop, but they can also be a great way to make a little side hustle cash.
Today, I'm going to explain what you can expect working for Instacart, Instacart pay, how to apply for Instacart, and more.
Instacart Shopping Side Hustle: How Much Do Instacart Shoppers Make?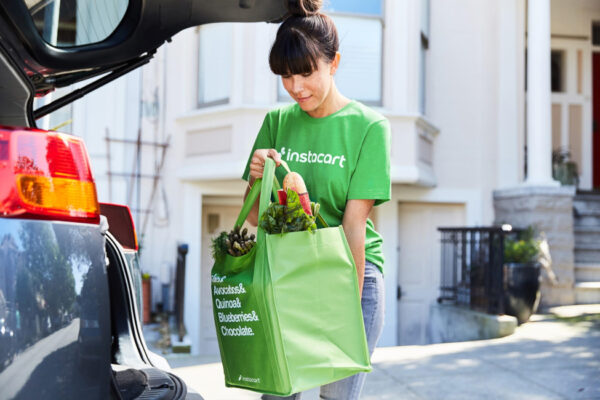 What is Instacart?
Instacart is an on-demand grocery pick-up and delivery service. It offers one-hour delivery from local groceries across the U.S. in all 50 states and parts of Canada.
The idea behind Instacart is simple: you place an order online or through the app, and an Instacart shopper fulfills your order so you can have it delivered or schedule a pick-up.
For people that find it hard to hit the grocery store, Instacart provides a valuable service. And I've heard from a number of people that ordering groceries via Instacart saves them money because there's no risk of buying things that aren't on your grocery list.
But those interested in making some extra cash, working as an Instacart shopper is a flexible side hustle that can fit into the busiest of schedules.
Read more at How to Make Money: Top 44 Ideas for 2020
Full-service shoppers and in-store shoppers
Instacart has two different types of shoppers, full-service and in-store. The main difference is that full-service shoppers are independent contractors that both shop and deliver, while in-store shoppers are part-time employees that only do the shopping.
Full-service Instacart shoppers
Full-service shoppers receive orders through the Instacart app, then they shop for and deliver grocery orders. These shoppers have the most flexibility — you can pick the days and times you work, and how often. To work as a full-service shopper, you'll need to:
Have access to a car
Be at least 18 years old
Be eligible to work in the U.S.
Able to lift 50 lbs.
Full-service shoppers are considered independent contractors, meaning you're not technically employed by Instacart, and you may have to make estimated quarterly tax payments.
In-store Instacart shoppers
Like full-service shoppers, in-store shoppers receive orders through the app, but they only shop for them and then stage orders for pick-up (no car necessary).
In-store shoppers are considered part-time employees, so they are limited to 29 hours a week or less. However, that doesn't mean you're guaranteed those hours. The hours are flexible, but you're assigned hours at a grocery store instead of picking when you work as a full-service shopper does.
Switching roles
Instacart shoppers can either be full-service or in-store, not both. But you can switch roles as long as you're in good standing with Instacart, and you can switch only once every six months.
How much do Instacart shoppers make?
Instacart full-service shoppers can make $20+ per hour during busy times, and Glassdoor reports shopper pay at $7-$26/hour, with an average of $12/hour.
Instacart bases full-service pay on several factors. Here's what Instacart says about it: "The amount you earn per batch of orders depends on the number of items, type of items, driving distance, and effort involved in shopping and delivering."
One recent change is that Instacart shoppers can now preview their estimated earnings before taking an order. This gives you the power to decide if an order is worth your time.
Generally, the larger the order, the more you're paid. Plus, earnings are typically higher during peak times — think Superbowl Sunday, any kind of special events, holidays, etc. You make more as an Instacart shopper when people don't want to shop.
Full-service shoppers can also collect and keep 100% of any tips they make. And, all Instacart shoppers can earn referral bonuses, and these vary by role and location.
Cost of driving for Instacart
If you're interested in the full-service option and want to know how much Instacart shoppers make, one thing you have to consider is how much it costs to drive for Instacart.
This often-overlooked factor can make a big difference in how much you actually make. Have you considered the wear and tear on your car? Gas? Taxes?
It's hard to estimate how much an individual shopper will pay towards maintenance and gas, but it's safe to say it will eat into your pay. A more fuel-efficient car will help you keep more of your take-home pay, but not if you feel like you need a brand new car to make that happen.
This issue similar to what Uber and Lyft drivers face, which you can read more about Is Driving For Uber Worth It? 6 Things to Know Before Jumping In.
When it comes to taxes, independent contractors (full-service shoppers) are considered self-employed, which means Instacart is not responsible for withholding federal and state taxes. You'll have to settle up with the IRS on your own, and if you will owe more than $1,000 in taxes, you have to pay estimated quarterly taxes.
However, Instacart shoppers can write off the miles they drive while making deliveries, and this is about $0.58 in 2020.
You can learn more about being self-employed and taxes at How to Handle Taxes for Your Side Hustle.
What you can expect working for Instacart
As a full-service Instacart shopper, you can pretty much work whenever you want. There are delivery windows from 9 a.m. to as late as midnight. You use the app to pick time slots for when you're available to work, and there's no minimum number of hours you have to work.
If you're available to shop and there are orders, you'll be notified in the app 30 minutes before your shift starts. You can accept or reject the offers. For those you accept, you'll go to the store to start shopping.
While you're working, you'll need to make updates in the app about your progress so customers can track their orders. Instacart gives you a preloaded debit card to pay for the orders.
Being able to select your hours is huge, and Instacart is a pretty low-stress job overall that can bring in extra cash when you need it.
Here's an example… say you have an upcoming vacation and you'd like to pocket some extra cash. Spend a month shopping for Instacart just 15 hours a week, and you could have an extra $1,200.
How to get paid by Instacart
How to start working for Instacart
If you want to apply for Instacart, the process is pretty simple:
Open and activate an account. You'll need to share basic personal information (including name and location).
Agree to a background check. Background checks take 2-7 days.
Fill out your paperwork. Full-service shoppers will need to sign a contractor agreement and a W-9. In-store shoppers must sign an offer letter and W-4.
Download the shopper app. The app is where you pick your availability, take orders, track your pay, and contact support for any issues.


How does Instacart pay compare to other side hustles?
Overall, Instacart is a super flexible side hustle, and that's what so many shoppers like about it, but here are a few more side hustles that you might be interested in.
Run Facebook ads for local businesses
One of the best ways for local business owners to reach new customers is to run highly targeted ads on Facebook. However, most small business owners lack the skill (or time to learn it) to run an effective ad strategy.
You can learn how to run Facebook ads for local businesses and:
Earn $1,000-$1,500 a month per client
Run ads in just a few hours per week
Scale this side hustle up (we know many digital marketers who are making around $5k/month)
Help small business owners compete with big chain store


Teach English online with VIPKid
If you have a bachelor's degree (it doesn't have to be in English or teaching) and experience working with kids, you can make $14-$22/hour teaching English online through VIPKid. More to know about VIPKid:
Instructors teach 25-minute lessons
You don't have to plan or design your curriculum
As long as you have a laptop and an internet connection, you can work anywhere
You can pick your hours, and many VIPKid teachers teach a lesson or two before their 9-5 job
Work as a Pinterest virtual assistant
Pinterest is more than just a place to find new craft projects and recipes — side hustlers can make money on Pinterest working as a virtual assistant. Pinterest VAs help bloggers and online business owners drive traffic to their sites with Pinterest by creating pins, optimizing images, doing keyword research, and more.
Pinterest VAs make an average of $500 per month/per client and can easily work online in their spare time. You can learn how to become a Pinterest VA in the Pinterest Virtual Assistant Course by Kristin Larsen.
Read more at How to Make Money on Pinterest in 2020 (Earn $1,000 Extra Per Month!)
The bottom line on how much do Instacart shoppers make
If you're looking for a flexible side hustle that you can start earning from quickly, shopping for Instacart is worth checking out. But, I would pay attention to any policy changes the company makes (this has been an issue for Uber and Lyft drivers) so that it continues to make sense for you.
If Instacart isn't the side hustle for you, no problem… there are at least 20 more awesome options available: 22 Best 2020 Side Hustle Ideas (Make $1,000+ Per Month).