Work-life balance has been a major point of emphasis for young people lately, and the numbers surrounding the phenomenon don't lie. According to a recent study administered to 1,500 working professionals by Fidelity Investments, 4 out of 10 millennial workers are willing to take an average pay cut of $7,600 to achieve a better work-life balance.
Not only are young people wanting to spend more time living life and less time working, but they are willing to take less money to do it too?!? I'm sure somewhere out there, a Baby Boomer is rolling their eyes and thinking: "I'm so tired of these lazy kids that are ruining America".
Here's the deal – I don't think this is about a generation that just happens to be lazy. There's more to this thing.
When I was a band director before starting this site, I remember being worried about the work-life balance fairly often. A lot of people wouldn't think that band directing is a high-workload job, but you'd be surprised. I regularly clocked 60-70 hours a week, and sometimes closer to 80. It was exhausting in relation to the pay.
I didn't have kids, but when I do I want to spend time with them. I wanted to hang out with my wife before 8:00 pm every weekday. I wanted more time. Here's what work-life balance is really all about:
Work-life balance is about efficiency
I'm not afraid of being a hard worker, but if I'm working hard I want it to be efficient. I want to make as much money as I can in the least amount of time possible. While this might seem like a foreign concept to people past their mid 30's, it's completely achievable and desirable for millennials.
We are surrounded with more information than any generation before us with the emergence of the internet, and here's the scary thing – we know how to use it.
There are seemingly thousands of stories of millennials leaving the 9 to 5 grind and working for themselves from wherever they want to, and it has Gen Y's attention. In fact, I'm one of those stories. I work MUCH less than I used to from basically wherever I want, and I make more money. It's generally awesome, and other millennials want a piece of the pie too.
We've learned from the Boomers' mistakes
I'm not trying to start some kind of generational war with older people, but in my opinion a lot of millennial behavior has a cause/effect relationship with the Baby Boomers. Boomers were all about rolling up their sleeves for 30+ years until retirement (after the whole hippie drug thing in the 60's). It's their badge of honor to be labeled a hard worker.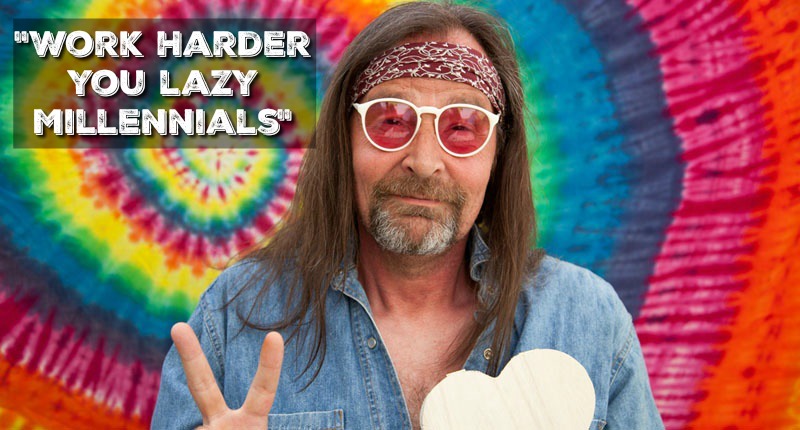 Here's why millennials don't care about all of that: Where has it really gotten the majority of that generation? Boomers are notoriously struggling to retire, and sacrificed time with their kids (millennials) and their spouses along the way because of their generational approach. Millennials are watching baby boomers delay their retirement, so there is a bit of the "what's the point" mentality.
If you are going to work forever, you might as well have better hours and enjoy life, right?
Millennials need to be careful
Even with all of that said, taking a $7,600 pay cut when you are young has consequences. That amount of money if invested with even a lowish 7% return in the markets could turn into $57,853.14 after 30 years. A couple of years at that type of reduced pay, and those numbers start to add up quickly. Bye-bye retirement.
Having $150,000+ later down the road could help you achieve the ultimate work-life balance sooner (You know…not working at all). As much as we don't want to have the same fate as the boomers, making less money isn't exactly the smartest option.
Replace hours with passion
If you are one of the people that is striving to create that better work-life balance at the cost of less salary, don't just sit around twiddling your thumbs if you make that choice. Replace work you didn't like with work you do like. Pick up a part time job you enjoy, or even start your own business like I did! Just because we aren't as obsessed with hard work doesn't mean we shouldn't be smart earners.
Before we go I'm going to hit you with a little secret that most bloggers won't tell you.
Working from home or way less hours is kinda boring sometimes. I've literally achieved the work-life balance that millennials want…and it's not really that special after the first few months. I'm trying to figure out how to do MORE work so that my days are full. I know that is some serious #firstworldproblem talk, but just trust me. Keep focusing on growing your career (and making more money), or fill your time with more work you enjoy. The grass isn't always as green as you'd think.