Well...sleeping giant = awake.
To be clear, I'm definitely not talking about me haha. I'm more tired than I've ever been in my life. But after years now of grinding, stress, wondering if I had made the right choice leaving teaching, and all of the things that come from taking a blind leap of faith into a totally different career...I feel like M$M has finally arrived.
Arrived at what? I'm not really sure. But I know that I've built something special, and I'm just getting started. I'm pretty proud of where I am considering I was waving a stick at my band less than three years ago and didn't know how to run a blog at all. 🙂
All kidding aside, this thing has come so far since it was just an idea for a blog in my head. It's just unbelievable.
January was by far the hardest that I've ever worked in my life. Period. But it was also the most fun I've had in the process of building M$M.
Since my last income report, I had a six-figure course launch, created two info-products that are actually helping people (people are already making money with both of my courses), gained a business partner, and have now grown the M$M team to five people (including myself of course).
This income report will be a little different than my previous ones. There is a lot to cover for sure. Here are the things I'll touch on:
How my first big product launch brought in over six figures of revenue
Details about the Make Money Marketing Course that quietly released last month
What is has been like having a team instead of being a solopreneur
How I'm growing M$M moving forward and what I'm NOT changing
...and all of the other fun things that you normally find in my income reports (affiliate income, ad revenue, sponsorships, life updates, etc.)
I'll go through all of the gross revenue and net revenue that M$M brought in last month. Basically, any money that was brought in through M$M will be included in these reports, and then I'll break down where everything goes after that.
This is all way more complicated than any income report I've ever done, so it may take me a few months to get the exact format I like going forward. Just hang with me and I'll get a system worked out. 🙂
So let's get started (you'll want to check all of this out):
If you're new around here, I started tracking my blogging income through these income reports in mid-2016. This is a great way for me to keep an eye on my progress of doing M$M full-time, and it's also a great way for you to follow along as well if you're thinking of starting an online business.
My income reports are divided into three sections:
A quick intro to who I am and what my story is for new readers (Must-read if you are new here, skip if you're not)
How I made money the previous month (This changes monthly)
Cool things that happened in my personal life and business goals that I have coming up (Also changes monthly, so you'll want to read)
It's already been so cool to see the progress and how much my life has changed over the past two years!
1. Here's a quick rundown of my story:
I used to be a high school band director, which was basically what I had wanted to do my entire life. I had $40,000 of student loan debt that I hustled really hard on and paid off in a year and a half (you can read more about that here).
Then, I got really excited about personal finance and started this site. I had NO idea what I was doing, but kept plugging away and eventually quit my job six months later to run M$M (which had basically made no money at that point haha).
And now, here I am. I run an awesome online business and basically have found my passion in life.
A lot of you have wanted to start your own blogs after seeing the success that I've had, and I highly recommend it. If I hadn't taken a shot on M$M, I would still be stuck in a career I didn't really end up enjoying very much.
Just understand – blogging (or any online business for that matter) isn't easy in any way or for the faint of heart, and definitely not something you should immediately quit your day job for. Most people quit blogging long before they actually "make it."
It takes time to build a business like this, but if you have talent and a good message/story, it is possible to do well.
Take a look at my free blog setup tutorial. You'll have your own blog set up in just 10-15 minutes, and will receive a lower website hosting price since you're a M$M reader when you use my exclusive link. As a bonus from my family at Bluehost- you'll also get a domain name for free ($15 value)!
Have you taken my free blogging course yet?
So far I've had 1,600+ people sign up for my blogging course since it debuted in February, and the reviews have been killer! Even if you are just thinking about starting a blog or want to figure out how to get more traffic to the one you already have, this will be useful for you.
Basically, if you want to learn the foundational elements for how I went from a high school band director to blogger doing $100k+ of revenue in one month - you'll want to check this out:
Let's get to the report…
Something to remember when you look at this income report – I'm self-employed and have to cover expenses, my basically useless health insurance policy (seriously it SUUUUUCKS), and taxes. There will be a lot of taxes moving forward. I am not looking forward to that.
2. Here's how I made money with my online business this month:
Facebook Side Hustle Course: $139,488.00 ($127,741.80 after credit card fees and affiliate payouts)

Well obviously, the FB$H course launch went really really...really well, in a lot of ways.
I actually partnered up with a friend of mine named Mike Yanda (we went to high school together) that owns a dedicated Facebook ad agency to create this course.
When I mentioned the idea of a course that taught people how to make extra money running Facebook ads for small businesses to my audience, I got hundreds of responses in 24 hours.
I knew we were on to something big.
I'll tell you this: It's really scary selling a product to your readers when every piece of information you've given out over the past three years has been free.
Getting people to come to your site consistently because they like your content is one thing, but asking them to trust you enough to pay you for a product (no matter how good and useful) is a different animal.
The course was priced in a mega-affordable way compared to all of the other local lead generation Facebook courses on the market. $397 is definitely a lot of money in my mind, but these courses regularly go for $1,000 - $6,000 (yes seriously) in other entrepreneurship circles.
I knew this would be good for my audience though - it's a killer side hustle on an unbelievably powerful ad platform. Facebook ads are legit, aren't going away anytime soon, and they are so effective that businesses will pay great money to have someone run them and bring in potential customers.
They're also not that hard to learn.
The problem with any online product is that it's hard to convince people that you have a great one when there is so much trash out there.
Right at the beginning of the launch, I had people that didn't know anything about the course already claiming that I was scamming my readers, selling some crappy ebook, a new version of Tai Lopez (gross), and anything else that you can think of.
But then something incredible started happening...
The people that trusted me enough to jump on this started talking. The course and private group attached to it are really well done, and people noticed.
Here's just a taste:
Anyone that was questioning my motives pretty much disappeared on day one of the launch.
We already have course students (we call them "The Hustlers") that have picked up clients that are going to pay them $1,000+ per month as Facebook ad specialists, and a bunch more that have started trials with new clients at different price points.
The course has only been live for two weeks. It's crazy.
It literally couldn't have gone any better.
I knew I was staking a lot of my reputation on this course, so Mike and I did everything in the world that we could to over-deliver and provide a great product to anyone that jumped in.
In fact, the private group for the course is freaking awesome. It's like my other groups, but with more alcohol (we do live happy hour trainings every week) and gif-offs.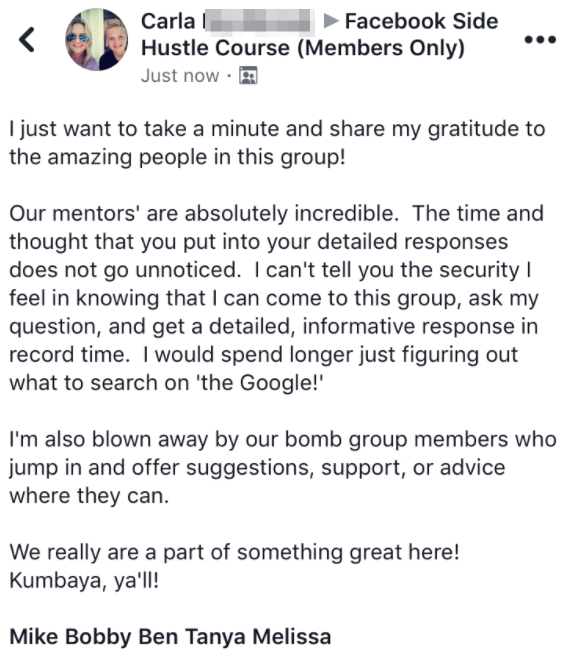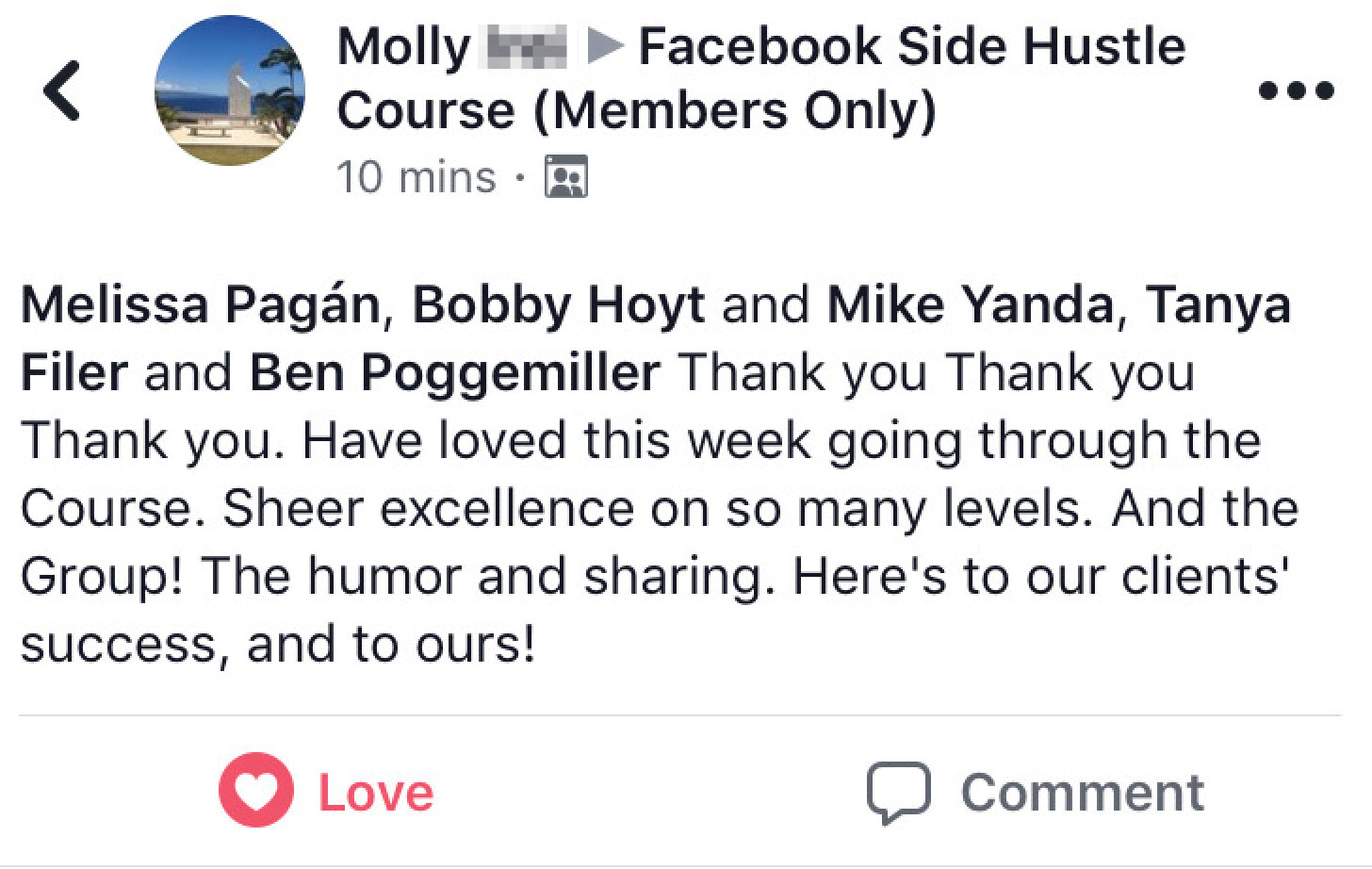 So it was really a perfect storm here. I've done things the right way from the start of M$M, never sold out to push things I didn't believe in, genuinely got to know my audience and care about them, and then found a need and filled it with a high-quality product that actually produces results for people that want to invest a little more or pay off debt.
The short version is that it's the right course at the right time for the right audience at the right price. That's pretty special.
Here are the other reasons that the course worked so well:
Mike and I know Facebook ads. We just do. We both have been doing marketing work for years now, and I've been slowly growing M$M via Facebook for a long time. My readers understand that I get the Facebook game.
Most of them found me through a Facebook ad!
I brought in over 600,000 readers in 2017 to M$M via Facebook ads alone, and I've done it at 2-3 cents per click. That's almost unheard of quite honestly.

About half of the traffic for M$M comes from Facebook ads. I don't think there are many bloggers out there (at least in the personal finance space) that have dedicated this much time and resources to grow an audience this way.
Most bloggers focus on Pinterest or Google. So I wanted to do something different.
I basically take my ad revenue and re-invest it back into Facebook ads every month, so for a long time I was essentially growing my site for free or at a ridiculously low price (depending on the month).
I spend more money now because I want to continue to grow this quickly, but this wasn't something I started out spending thousands of dollars a month on. It was $25 here, $30 there, and I just grew it slowly as the site became profitable.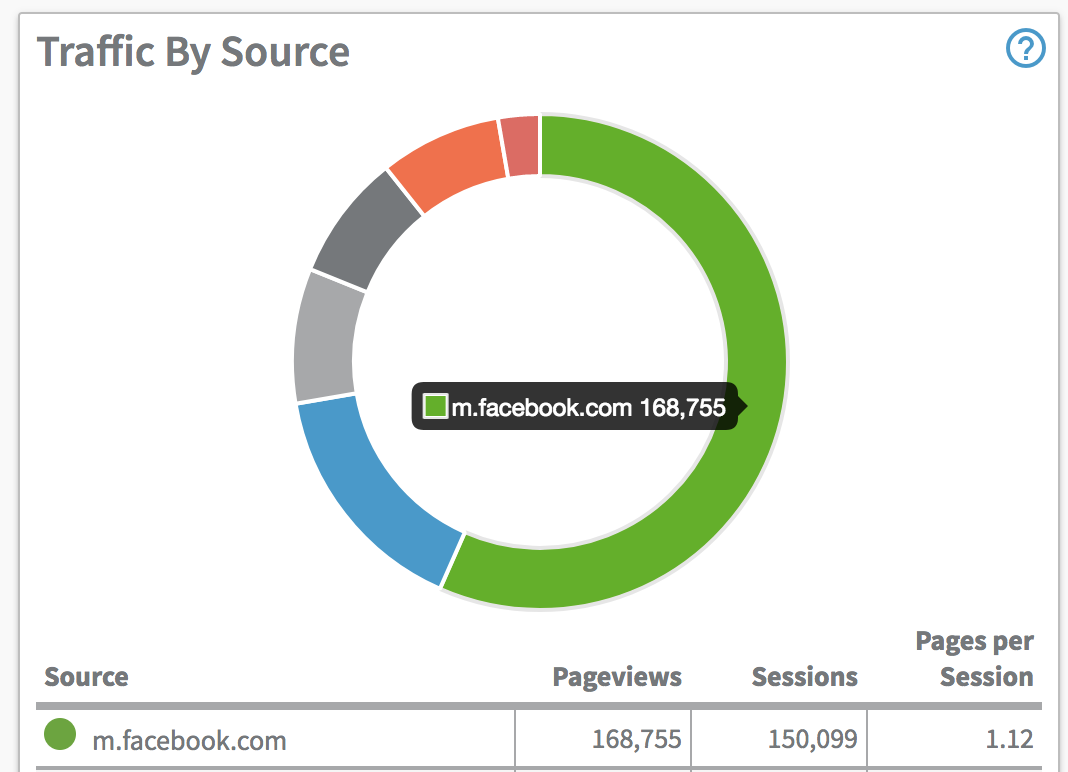 I'm also bringing in over 100 email subscribers per day consistently, and much of that is coming from Facebook. At this pace, I'll have 50,000-60,000 subscribers by the end of the year (I think I can do more though).

And last but certainly not least, we cracked the code on retargeting people that visited the course sales page.
Get ready for this:
We spent $72.87 on retargeting ads during the launch and made $27,407 in course sales from it. That's over a 30,000% ROI.

Needless to say...we've got the Facebook thing down pretty well.
There are a lot of people out there selling Facebook courses for a ton of money that have never built anything. Never dealt with a marketing client, never built an audience, etc.
I want to put those people out of business. They're basically scammers in my opinion. So Mike and I are creating an army of Facebook ad specialists that do things the right way.
We're even creating internships at Mike's ad agency, and I am going to create a referral program where I match M$M readers that own small businesses with Facebook ad specialists that we've trained. It's going to be cool.
Right now, the course is open for enrollment! Click below to jump in if you're interested in making an extra $1-2k per month:


Make Money Marketing Course: $4,007.00 ($3,707.40 after fees)
Two courses going live in one month? Yeah. I'm crazy enough to do that haha.
This was a little different though. I didn't do a big launch for the Make Money Marketing course like I did with the FB$H course. When you do a launch you have to send out a lot of emails, and there was no way my list could handle two full-blown launches in a month.
I released the M$M course to a very small portion of my audience (specifically, bloggers) that have been waiting for me to get this course out for months.
I took way too long to finish this course, but the final product is really special (in my humble opinion).
This course is evergreen, which means I won't be closing and opening it all the time. Even with the quiet release, I still had people take it and immediately get marketing clients.
The most surprising one was Josh. Josh runs the personal finance blog MoneyLifeWax.com and was able to land a marketing client while the course was still in freaking beta testing haha. I definitely asked him for a testimonial. Just so cool.

Now he's making money that he can put back into his blog to grow it even faster, which from my perspective is really gratifying because it's how I was able to grow M$M to where it is now. It's also cool because blogging is hard to monetize from the beginning. This gives him a legitimate path towards making money, which is what it's all about.
If you're a blogger and want to find out how to make money with freelance marketing gigs using your blog as a portfolio, take the M$M course.
You'll learn:
Search Engine Optimization for local businesses (not as scary as it sounds)
Social media management
Freelance writing
Client acquisition skills
AND will get killer bonus material and additional trainings as well
You will not regret taking this course, especially if you are tired of not making money from your blog.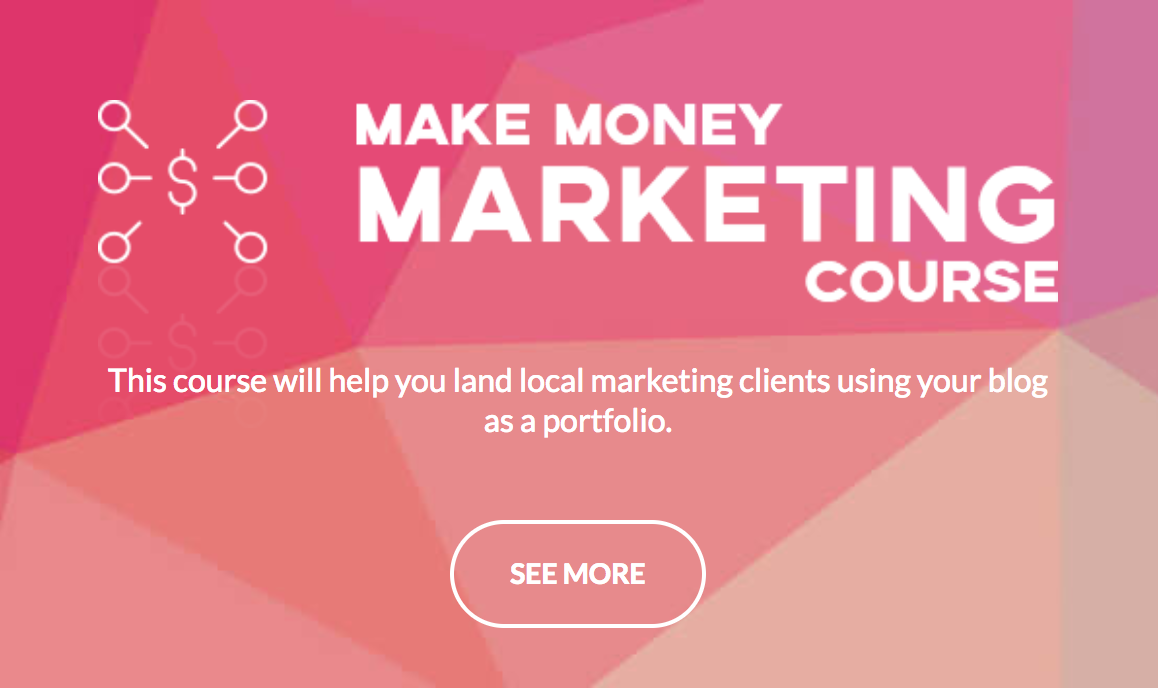 Digital Marketing Income: $4,669.95
So you all know by now, I run a small digital marketing company from my laptop, which is where I got the experience to create courses like the ones I just released. I keep my agency capped at just 5 clients (some are seasonal, some aren't) so I can also grow M$M and attempt to maintain a good quality of life.
This has been a great source of income for me as I've continued to grow this site!
Blogging professionally takes a lot of time, so for me having the steady revenue coming in while the site was able to grow a legitimate audience has been really helpful.
Out of respect for clients' privacy, I can't name them on the site or list my rates for specific projects, but you're always welcome to email me if you are an aspiring digital marketer and want tips or guidance!
Affiliate income: $4,337.15
This is another great way that I make money through M$M! I'm very picky about companies that I work with, but it's a nice way to make semi-passive income as the site has grown.
Bluehost Blog Hosting: $2,780.00 (Take a look at my free blog starter guide to set up your own site in 15 minutes or less!)
LendEDU: $981.75 <- Over 1,500 M$M readers have used this free rate finder tool so far to search for better student loan interest rates. (Bloggers, I highly recommend that you apply to become a LendEDU affiliate here)
Making Sense of Affiliate Marketing: $304.00 (Read my review of this course that helped me grow my affiliate income to over $4,000 per month!)
Haven Life Insurance: $20.00 (If you're looking for term life insurance, this company is the bomb)
Online Surveys: $33.00
Personal Capital: $200.00
ConvertKit: $18.40
Staff writing: $0
My main staff writing gig started back up in January, but I wasn't able to get to writing any articles until this month. I only plan on writing one (maybe two) paid articles per month moving forward.
Ads: $2,922.00
So outside of the revenue side of things, January was great for traffic. I broke 300,000 views, and it looks like February is going even better right now.
If you haven't noticed...take a look at some other articles on the site. I've cut back the ads on M$M by 50%!
Truth be told, the ads on this site were starting to wear on me and get on my nerves. That gave me a pretty good idea that my readers probably didn't like them too much either (especially that big one that popped up at the bottom of the site).
Now that I have revenue coming in from other places, I can scale back on the ads and provide an even better reading experience for the M$M crew.
Here's ad revenue and traffic for January:

Sponsorships: $0
Yeah again, I just didn't really focus on sponsorships in January. I turned down a few things, and I have a feeling that I will be even pickier and only work with really really good/well-known companies moving forward.
I'm not anti-sponsorship like a lot of bloggers out there. There is nothing wrong with showing high-quality products to your audience if it is relevant.
But if it's something that doesn't actually help readers, what's the point?
Expenses for January: $9,223.78
I haven't included expenses before to run the business in my income reports, so this was pretty interesting! My costs to run the blog aren't usually this high, but I invested in a lot of different areas to make sure that the course launch went well.
This included paying my team, Facebook ads, Teachable, web hosting, Convertkit, copywriting help, BigStock, Quickbooks, and a few other recurring subscriptions that I have to run the site.
Typically my expenses for 2017 averaged about $3,500 per month because I liked to experiment with Facebook ads and tweak things. Obviously, it will be more expensive going forward because now I have a team and some other expenses that make the business more complicated to run.
Net Revenue: $70,283.62
For the purposes of this report, I'm going to split the net revenue of the Facebook course in half. Mike and I certainly aren't going to take out half every month (in fact, I don't think we are really going to touch anything other than re-investing back into the course to continue to make it awesome), but legally we get 50% before taxes.
3. Cool stuff for M$M:
I made more money than I've ever made in my life in January. So...what did I buy?
Not much haha. In fact, nothing has really changed. I don't feel any different, and I'm certainly not going out to spend a bunch of money for a few very important reasons:
First of all - taxes
The first person I called after the course launch was my accountant. While I'm happy that my business looks like it is going to have a great year in 2018, I also want to make sure that I do everything the right way when it comes to paying Uncle Sam.
Right now I'm putting together a plan, but there are some big decisions that I'll have to make about the type of tax-advantaged accounts that I have and how I handle my money moving forward.
Here's the other thing - you don't just instantly change who you are when you make more money
I'm still the same person I was before. I still don't care about clothes too much (I currently have two pairs of jeans) or what kind of car I'm driving.
In fact, my 2004 Yukon is in the shop right now because of a check engine light. I might put some additional money into it (shocks and a few other things) just because I'd like to keep it for a while longer. I've never had a car payment and don't plan on starting anytime soon haha.
Now, I DID buy a $60 bottle of wine to celebrate the launch with my business partner Mike, which is about 4x my normal "upscale" bottle of wine. He has a tradition of getting a nice bottle of either wine or whiskey and keeping the empty bottle as a reminder of a business milestone.
It's actually pretty cool and I am stealing the idea haha.
I've never had $60 wine before. It was good and all (probably a little too complex for my non-developed wine palate), but it was actually really hard for me to buy.
I stared at the bottle for like 20 minutes before I pulled the trigger on it at the store. We had just made over $100,000 in four days, and I felt guilty spending $60.
Oh well. Some things never change I guess.
Laptop Empires, LLC is born
Mike and I actually started a completely new business called Laptop Empires, and I'm really excited about this project!
The idea is to teach people how to start legitimate online businesses. I think that there is a place for teaching people real-world skills and career paths that don't involve a college degree. I want to be closer to the start of that movement than the end.
With our backgrounds as online entrepreneurs, this just made a lot of sense.
Don't get me wrong, I'm not hating on college. I have a degree and went into debt for it like a lot of people did. But I know that I have the ability to help people start real businesses online, so that's what I'll be doing with this second business.
Maybe it will put a dent in people's student loan debt or help people avoid it altogether...who knows.
I'll tell all of you more about that as we flesh the ideas out. There may even be a podcast in the works too. 🙂
My wife is a saint
I worked so much in January and have no idea how she put up with it. There was literally a point in time where I didn't leave the house for 8 days and I didn't even realize it.
My goal is to spend as much time with her as I can this year and be better at work-life balance.
I set out to create a 4-hour work week with M$M, but somehow I started the 60-hour work week instead.
But that's actually an important lesson - entrepreneurship isn't easy. Everyone thinks that you can just vacation 24/7 and do whatever you want all day.
Maybe you can at some point, but it takes a ton of effort and time if you want to build something special.
I'm definitely out of the solopreneur business model now
Just a year ago, it was me, my laptop, and my blog. Now I have two assistants, help with my social media posting, and a business partner to bounce ideas off of.
I'll tell you this - it is so much more fun for me now than it was before.
I've been waking up at 6:00 am every day (which is unheard of for me) because I'm just so excited about everything right now.
Readers are sharing success stories about their student loans and debt constantly. I'm helping people make more money. It's just everything that I ever envisioned for M$M, and it's been the greatest joy of my life building this for the M$M readers.
I also have found out that I really enjoy hiring people and creating jobs. My newest assistant, Erin, is a blogger that hangs out regularly in my private Facebook group.
She posted in the group about a week ago that she was losing her corporate job next month. Those kinds of stories tug at my heartstrings, so I messaged her as soon as I could and offered her a job helping me with M$M and managing all of the courses.
We are just getting started, but I know that she is going to make an awesome addition to the M$M team. I'm also going to mentor her and help her grow her own blog so that she can hopefully do it full-time someday (if she wants).
Anyways, that's what I love so much about owning a business. You can create, be creative, help people, and have a lot of fun...inbetween the stressful times of course. 🙂
Everything is changing with M$M...right?
Hell no. (Sorry, I know I have committed to not cussing on the site haha).
The reality is that a few hundred people bought a course from me because they wanted a good side hustle. I had a million readers last year that don't care about side hustles or courses at all. They just come for the money talk.
You'll still be getting the same content from me every week, the same high-quality private personal finance group, and as much face time and personal attention from me as I can possibly deliver.
I still remember exactly what it was like opening the envelope from Sallie Mae with my $40,000 student loan balance. That feeling isn't something you forget.
I still remember how hard I worked for my teaching salary, just to turn around and make a student loan payment.
I still remember renting a 10x10 bedroom from my in-laws to save money and keeping my clothes in the garage because there wasn't enough room in the closet.
I still remember exactly what drove me to leave a teaching job for a site that had made $3.
My mission hasn't changed: Help as many people get ahead financially as I possibly can.
I have a lot of people to thank for helping me get to this point, so I'll quickly do it here:
My wife Coral
Can't forget her here haha!
The M$M readers
Seriously - you guys have made my dreams come true, and I'll do everything I can to help you find more ways to get ahead, get inspired, and don't forget...we are going to start doing local meetups soon.
Vegas retreat anyone? 😉
The M$M team
I don't know what I'd do without your help. Lord knows that I'm not mentally capable of handling all of this stuff by myself haha.
My $ blogging friends
Erin Lowrey, J$, Michelle Schroeder-Gardner, Grant Sabatier, Kristin Larsen, and the list goes on and on. You're all awesome and I appreciate all of the killer knowledge that you've shared with me so far. If I can help you in any way, just let me know.
You can take a look at all of my income reports here or check out the latest ones below: