Yeah, that headline is real (and maybe the longest one I've ever used haha). In the next few months, my wife and I are going to transition to living completely off of my blogging business income and investing her entire $55,000 per year salary.
Even though it feels like I've been blogging about personal finance forever, the reality is that M$M is still a relatively new site in the personal finance world. I've only been self-employed for a little over 2 years now, which seems crazy when I sit back and think about the success I've been able to achieve so far.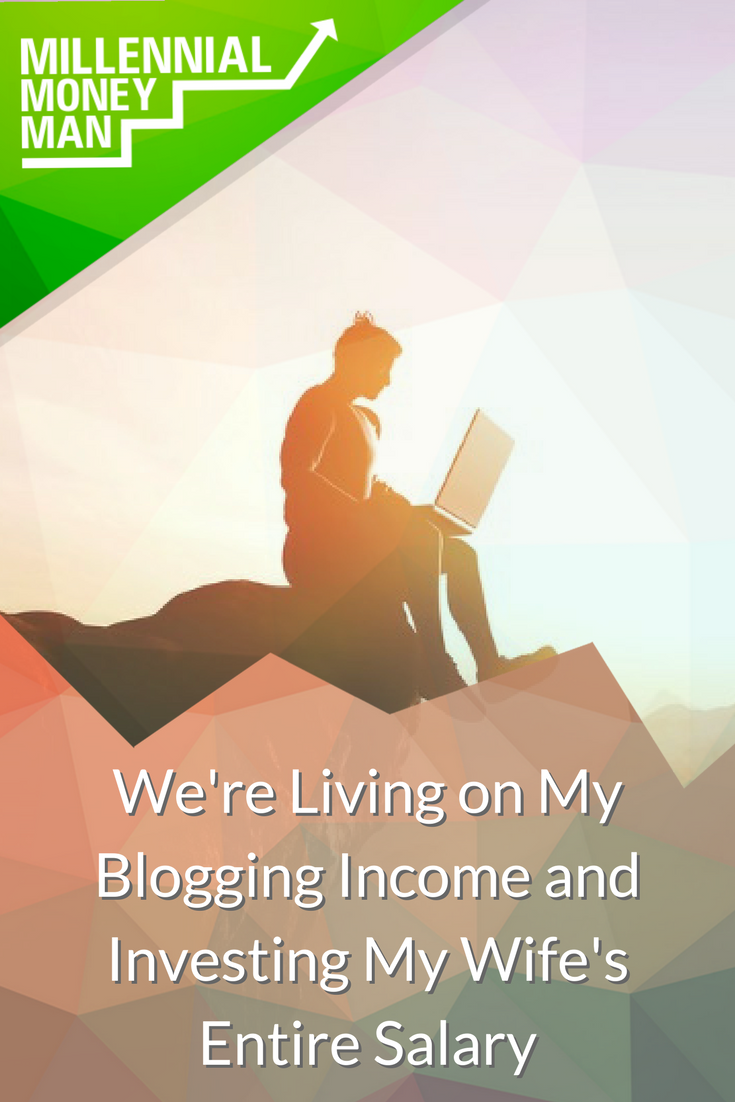 I'm sure most people that stumbled onto this post are wondering how we would possibly be able to do something like this so fast, even if you regularly check out my monthly income reports. So…I'm going to tell you. 🙂
Here's how we made this transition so quickly:
1. I built a business around my passion and work ethic
I'll get into the nuts and bolts a little later in this post, but first I need to explain that the biggest reason I've had any success with an online business is that I built it the way that I wanted to.
Ever since I paid off my $40,000 of student loan debt in 18 months, I've been super passionate about personal finance. My idea of a good time is hanging out with people and talking about money and business, and that's pretty much it.
That's why it's been easy to spend so much time building this site and its following, and I really feel like I've barely even started.
You have to like what you're doing, or else it's not worth it IMO. I pound this concept on the site constantly for people who want to start a side hustle or jump into entrepreneurship.
If you're just doing something for the money, you're going to hate it.
I've talked about this with people who earn much more than me, and they always confirm the same experience I've had: Making more money doesn't equate to happiness. It just doesn't.
So if the idea that money = happiness is what you're building your income streams around (whether it's your W-2 job or side hustle), you're screwed.
2. I barely paid myself in the beginning
For several months after I left my teaching job to run M$M, I wasn't making any money. Blogging is an incredible business model once you start actually making money, but it takes time!
That's when I pivoted to finding digital marketing work with the skills that I had already picked up from blogging. A few months in, I managed to land a great client that hired me to run their website, write content, manage email campaigns, Facebook campaigns, social media, and more.
That first client gave me a huge boost of income and allowed me to get even more marketing clients while I grew M$M in the background (I'm creating a course that will be available for purchase soon to teach you how to do the same…you can sign up below!).
[convertkit form=5034013]
The real secret to success is what I did afterward: I laid low and limited the amount of money that I took out of my business. I wanted to keep as much money in the business as possible so I could grow exponentially in a short period of time.
It worked.
3. I started the foundation of my business with a solid tax plan
My business is structured as an S-Corp with a LLC designation. I pay myself as an employee on a bi-weekly basis, but I can also draw funds out of my business account as needed on top of that in the form of a "partner's draw."
Being able to pay yourself in multiple ways seems complicated, but it's actually a great tax strategy that gives you a lot of flexibility. Rather than paying Social Security and Medicare tax on everything the company brings in, those taxes are only levied on the amount that I pay myself in salary.
I don't believe that I'll need to rely on Social Security when I retire, so I have no issue keeping my contributions low there. If I get some money from it later…cool. I'll buy extra Metamucil and bi-focals with it or something.
Lastly (and most importantly), I hired a great accountant to help me set up my business and give me high-quality advice.
3. We have kept our expenses very low
My wife and I will make well over $200,000 combined this year (if my business doesn't randomly fall apart), but we definitely don't live like it.
Here are things we still don't have:
Cable
A house (working on that though)
Cars built after 2004
For the first two years that I was building my business, Coral and I decided that we were going to keep our expenses to less than what she brought in every month.
That gave me the flexibility to keep a lot of money in my business, which allowed me to pay for courses and grow my knowledge, experiment with Facebook ads, pay for good legal and tax advice, make upgrades to the website, etc.
As the business has grown, we've basically stayed on that same spending plan. I've written a lot about spending less vs. making more on this site, and they are both really important.
But, I think that if you're starting a business, you have to have the "spending less" part of the equation down. If I had just pulled all of the money out of my business, I'd probably still be making $3,000/month instead of $10,000-$20,000.
Sticking to our frugal roots while learning to make more money has exponentially increased our freedom.
Pretty sweet, right?
4. Now we're going to "flip flop"
Before, we were just using the money that came in from my business to add to savings for a house and max out my retirement.
I paid myself $1,800 per month for almost two years, but on the advice of my accountant have bumped that number up pretty significantly to keep up with the businesses' growth.
The next step is to switch over to paying our monthly expenses with my salary from the business, and use Coral's entire salary to max IRA's, an HSA, and dump the rest into our brokerage account.
Paying off my student loans quickly was the catalyst for everything…
Ultimately, it all comes back to the decision I made years ago to pay off my student loans as quickly as I could.
Without that, I wouldn't have had a story to tell, and I wouldn't have the discipline I needed to grow my business.
Right now, we're taking a big step…but we're also just getting started.