Truebill wants to help you clear the clutter in your financial life so you can gain control of your money.
Truebill has grown from a niche app created to help you cancel unwanted subscriptions, to an app with a strong list of features including bill negotiation services, budgeting, and a Truebill savings account.
My Truebill review is going to dive into all of its features, cost, answer FAQs, and help you decide if this app is for you.
Truebill Review 2021 | Save Money with Less Effort
What is Truebill?
Truebill is a money savings app that works to lower your bills, cancel unwanted subscriptions, show you how you're spending your money, and help you save money.
Yahya Mokhtarzada, one of the founders of Truebill, got the idea for the app after he was going through some of his bank statements. He noticed a recurring charge of $40 from an inflight wifi service, and he realized that he had been subscribed for over a year.
That's over $480 on one unused subscription alone.
Mokahtarzada was able to get a refund, but he realized that he probably wasn't the only person out there who didn't realize what they were being charged for.
That's where the idea behind Truebill was born. People sign up for things and forget to cancel them, so why not create an app that helps people cancel those subscriptions?
For more money saving apps, check out Best Personal Finance Software of 2021 (You Need These Apps!).
How does Truebill work?
Truebill is an automated financial assistant that uses algorithms to analyze your financial transactions. It starts working after you enter and connect your bank account and credit card information to the app.
From there, Truebill uses the information in your accounts to find recurring transactions so you can cancel subscriptions, track your spending, and see which bills you may be able to lower.
But to understand exactly how Truebill does each of those things, let's look into each of Truebill's features.
How Truebill manages subscriptions
Subscription services are a way of life right now. We've got streaming TV services, music, snack boxes, wine clubs (who would want to cancel that?), apps, and more. A lot of people sign up for a service, and then lose track of what they're paying for because the process has become so automated.
Here's how Truebill handles that: once your accounts are linked up to Truebill, you can view subscriptions under the "Recurring" tab, or you can see them on the calendar.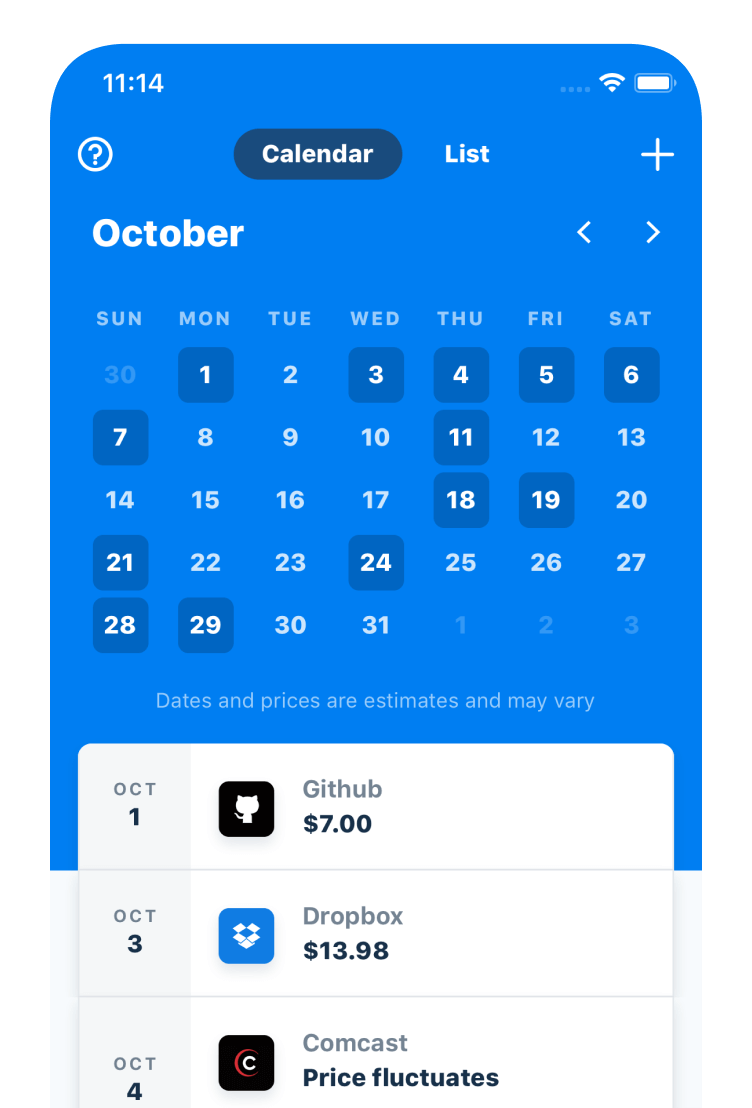 You can click on each bill to get more information about it, and then you can decide to cancel it on your own. You can also pay for Truebill Premium (I'll cover pricing further down in my Truebill review) and have the app cancel the subscription for you – Truebill calls this service their Cancellations Concierge.
Truebill doesn't say how long it will take to process cancellations, but you can keep track of the status of each request in the app.


How Truebill lowers your bills
Most people either don't realize or act on the fact that it's possible to negotiate for lower rates on some of your bills. For example, I call my car insurance company about once a year to see if I can get a lower rate, and the last time I did it, I was able to save around $40/month.
Now, Truebill can't negotiate rates on your car insurance, but it will try to negotiate for lower rates on telecom services like cable, internet, and cell service providers.
Here's how it works:
Click on the "TrueProtect" tab in the app
Upload information about the bills you want lowered
Truebill will contact the company on your behalf to negotiate for lower rates, apply promotional rates, or cut extra fees
Truebill charges 40% of what you save in the first year. That means if they're able to lower your cell phone bill by $20 a month, you pay them $96. You only pay Truebill for bill negotiation if they are successful.
Outage refunds
If you connect your internet and/or cable bill and there are service outages, Truebill can help you get refunds if there are service outages. Truebill tracks outages on a monthly basis, and the refunds show up as statement credits.
You do have to pay for this service – it's 40% of any successful statement credit.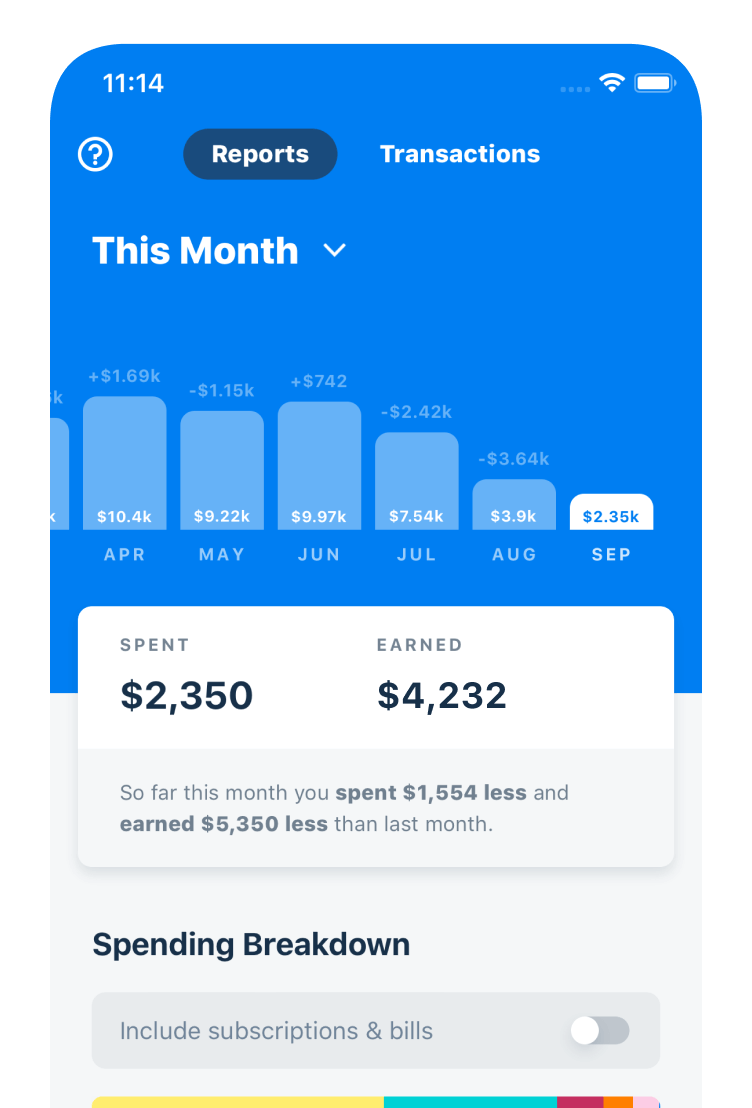 Truebill tracks your spending
By giving Truebill access to your accounts, the app can also tell you where your money is going every month. There is a "Spending" tab where you can see a monthly report of where your money is going.
You can compare each month's spending and get a breakdown of each spending category. This could be helpful if you're trying to lower your grocery spending, for example.
Budgeting with Truebill
Like a lot of niche financial apps, Truebill has started taking a more holistic approach to helping people manage their financial lives.
If you're interested in creating a budget with TrueBill, you'll start by confirming your income and recurring bills. Truebill starts with an estimated budget for you based on the spending it reads in your accounts, but you can go through transactions and bills individually to customize your budget.
After you've set it up, you can see how you're spending in each category, if you're over budget, have extra money left over for saving, and how this month's spending compares to last month's.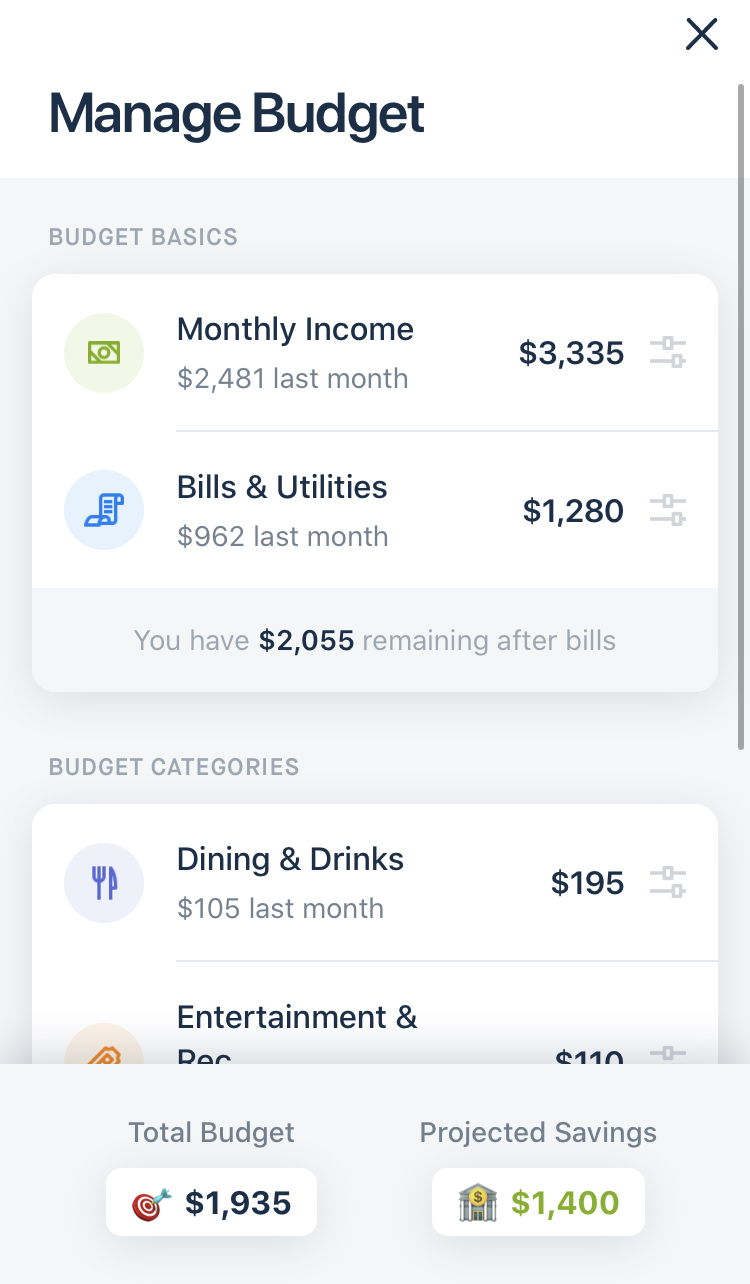 Smart Savings
This is Truebill's savings account feature, and it's meant to make it easy to set money aside to reach your savings goals.
You can create multiple savings goals, and the money you save for each one is held in a separate FDIC-insured savings account. Once you've set a new goal, you can connect a funding source (your bank account) and set up the frequency of deposits.
You can also make one-time deposits, like if you made a little extra with your side hustle this month and want to deposit more into your vacation fund. You can also withdraw money at any time.
How much does Truebill cost?
Here's the big question…cost. Many of Truebill's features are free, and it's also free to download the app. But there are a few features that Truebill charges for and a Premium service option.
Truebill Premium
This optional service costs between $3 and $12/month, you can choose your pricing, and includes the following features:
Balance syncing
Custom budget categories
Unlimited budgets
Cancellations Concierge
Premium Chat
Fee refunds (Truebill will automatically request a refund if your bank charges you any fees)
Most of Premium's features give you more budgeting functionality out of the app, but you will have to pay for Premium if you want Truebill to cancel your subscriptions for you. Remember, you can always cancel them on your own.
Bill negotiation
Again, this is 40% of what you save the first year on your negotiated bill. This is an upfront charge, and you'll have to enter your credit or debit card information. You can also set up a 2 to 6 month payment plan.
Outage refunds
If you want to use Truebill to find outage refunds, you pay 40% of any successful statement credit.
Is Truebill safe?
Truebill takes several measures to secure your data. First of all, Truebill doesn't store any login information for your accounts – it uses a third party system called Plaid to connect bank accounts to the app
Plaid is used by lots of very well-known financial companies, including American Express, Betterment, Acorns, and Venmo. They keep your information safe with role-based access controls, routine tests, API key authentication, and more. Security is a valid concern, and you can read more about Plaid's security practices here.
The transactional data Truebill gets is read-only, so they can't move money around.
Truebill Review FAQs
What about Truebill vs Trim?
Trim is another financial app that specializes in bill negotiation services and canceling subscriptions. Pricewise, Trim costs less for bill negotiation services – they charge 33% of your total yearly savings compared to Truebill's 40% charge.
Trim Premium has a flat fee of $99 per year, and it offers:
Canceling your subscriptions
Refunding bank fees
Medical bill negotiation
Negotiating credit card rates
Bank negotiation
Unlimited email access to Trim financial coaches
Automatic credit card payments
Truebill, on the other hand, has the budgeting features that Trim doesn't have. It all depends on what you're looking for. You can read more about Trim in Trim App Review 2021 | An Easy Way to Save Money on Bills.
Can't I negotiate bills on my own?
This is a great question, and the reality is, you don't need an app to negotiate your bills.
Like I said earlier in this Truebill review, I regularly call my car insurance company to see if they can lower my rate. The reason apps like Truebill and Trim are popular is because lots of people don't do that sort of thing.
I understand that anxiety about calling and asking for a lower rate, but the worst they're going to say is "no." The customer service rep isn't going to put a red mark on your account if you ask to have your bills lowered.
All you have to do is call the company and ask nicely if there are any discounts, promotions, or other ways you can have your bill lowered. A lot of times there are, and it seriously only takes 5-10 minutes to call and ask.
It's also worth pointing out that Trim and Truebill can't negotiate on all of your bills – they mainly work on telecom services.
Personally, I would rather negotiate a bill on my own than pay someone else to do. But bill negotiation services like Truebill and Trim provide a valuable service for anyone who doesn't want to negotiate.
Does Truebill do credit scores?
Currently, no. But Truebill is planning on releasing some kind of credit score feature in the near future.
From the information on their site, it sounds like Truebill will use your Experian and Vantage 3.0 scoring model to determine your Truebill credit score. And that you will be able to see an updated score each month in the app.
I'll be updating my Truebill review when I learn more about how they are handling credit scores.
Does Truebill track investments?
No, Truebill doesn't track investments. But I highly recommend Personal Capital for investment tracking. My wife and I have been using it for a couple of years, and it has some pretty robust retirement planning tools.
Personal Capital is free to use and tracks your net worth, analyzes fees, does an investment checkup, and helps you plan for retirement. You can learn more at Personal Capital Review 2021 | Free Investment and Net Worth Tracking.
The final word on my Truebill review
Truebill has a lot of solid features that can help you save money and become a better money manager overall, and I'm excited to see what new features they roll out.
But if you decide to pay for Truebill Premium, make sure you really use it as a tool to gain control of your finances. Don't let it become another subscription you need to cancel.