If you've followed me on M$M for any amount of time, you've probably seen my "car post" about the little red truck that I've driven around for the last 9 years. It was reliable, mega cheap to operate, and kept a ton of cash in my pocket every year. It didn't have automatic locks, automatic windows, automatic seats, or any of the other things that normal people have in their cars, but I drove it around pretty proudly anyways.
I had a love/hate relationship with that car.
Yeah, had. The M$M mobile is gone! Before you get all crazy and start calling me out for caving and getting something else…let me explain. I saw an opportunity to get a bigger, better, nicer vehicle for very little money. Most importantly, I needed a tow vehicle, and there was no way I was pulling anything behind the little red truck that had a tiny 4 cylinder engine (and sketchy brakes).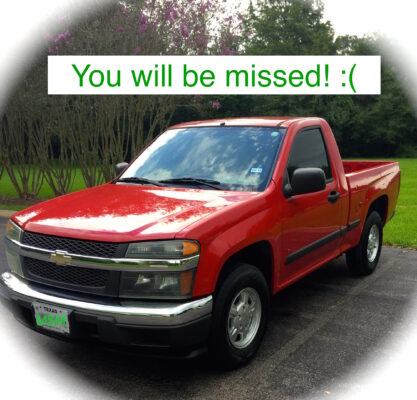 I'm actually not going to go into the specifics of how I got the other vehicle, because that is going to go into a post that explains "How to trade up in vehicles the cheap way". I WILL give you the basic transaction costs though. Ready?
"New" car – bought it for $6,000 cash.
Old car – sold it for $4,250 cash.
Total difference = $1,750
"New" car insurance – roughly $600/year
Old car insurance – roughly $600/year
Came out a wash.
"New" gas mileage = holy crap.
I'm sure you are wondering – I plan on buying some stock that pays a quality dividend to make up for my newfound extra cost in gasoline. My "new" purchase will come out to about $500/year in extra gas, and I'm pretty confident I can recover that amount. Not a big deal as far as I'm concerned.
The "newer" truck has leather and power seats, power windows, automatic air, and a DVD player. I'd be happy to give you a ride if you're in town so someone could actually watch movies. It's a nice vehicle, and had about the same mileage as my red truck. The big difference is that it can tow 6,000 pounds and has a big V8 engine. If you were wondering – it's actually 2 years older than the M$M mobile.
Most importantly, my wife likes it because she can "put her purse somewhere".
Gotta love em' right?
Now, let's get down to it and talk about the real issue here: Craigslist. It took me a few weeks to find my next vehicle, and I was determined to not go to some used car lot and get a sales job on a bad car. A lot of the used cars in Houston are flooded-out vehicles because of all the crazy rain we had a few weeks ago. I'm not about that life. I went the Craigslist route to find my tow vehicle, and hated almost every second of it due to potential scams.
Craigslist sucks (in my humble opinion) for looking at cars. Here's why:
1. The cars on Craigslist don't look anything like they do on the site.
Time and freaking time again, I found a car that looked perfect on the 4 or 5 pictures that were posted on the ad, and when I would ask the seller to send more, I suddenly found out that all the seats were torn and that "minor blemish" that the seller talked about was really a crushed rear bumper and the car had a salvaged title.
Don't trust the pictures!
2. Clicking the "For Sale By Owner" button is useless.
This one was the second most infuriating thing that I had to deal with on Craigslist (I'll get to the first one shortly). Like I stated before, I did NOT want to deal with a used car salesman. I wanted to deal with a person that knew the car and was a decent human being.
I already had a rule that if the neighborhood in the background didn't look OK, I wouldn't consider the car. There are some pretty rough neighborhoods around me, and I wasn't exactly comfortable walking around with $6,000 cash while looking at cars in a shady place.
Because of my neighborhood requirement – I actually ran into MORE shady people.
I started finding cars that that were in a great neighborhood, looked like they were in good shape, etc. When I'd call the seller and ask for an address, they would happily send it over!
I actually set up an appointment to look at one car, and did a little Google map search to figure out where I was going. I thought it was weird that the house was in the middle of a busy street, so I used Google Earth (you're welcome for the free advertising Google) and saw a carwash that had a bunch of used cars on it.
I called the guy and told him I wasn't interested in buying from a dealer, and that the meeting was off. Here was his response:
"Come on man, it's the same thing as buying from a regular person, you can trust me!" 
If you have to tell me to trust you, I don't. Pretty simple strategy.
These guys know that people like me like the nice neighborhood in the background, so they park their used cars in front of some random person's house and take picture for the ad. Ugh.
3. People are flat out liars on Craigslist, and want to scam you.
This is the one that really grinded my gears (any Family guy watchers out there??). I found a car that was in my price range, with WAY better mileage than it should have had, and it looked awesome.
I called the guy, and he gave me the address. It turned out to be an apartment complex, but the car looked good enough for me to check it out anyways.
When I got there (brought a friend with me), I called the guy, and he said he was actually across the street. Across the street happened to be a junkyard…and you might know where this is going to go already.
I got out of the car to meet the guy. He said he had the car around back and took us behind his office.
This whole situation was super shady.
I'll never go around to the back of a junkyard again even WITH a friend.
I hate this guy.
I'm literally ashamed of myself that I didn't just leave when I saw the junkyard.
I thought I was going to get mugged or something, but the guy actually just wanted to show us the car. We opened the hood, and it had a fresh coat of Armor All on every inch of the engine. **This is a red flag, and made me think he was hiding something right from the start**. The car's radio was ripped out, and all the leather seats were shredded. The tires were also bald.
Didn't see that in the stupid pictures, did we?
He said that he bought the car to go camping, and that it was his second car. The odometer read 64,000 miles, and the dude said he barely drove it. My buddy looked at it for a while, started it up, looked some more, and then said:
"Not interested. Let's go."
The registration sticker on the windshield said that the car had 120,000 miles instead of 64,000. This guy had replaced the entire dash with some junk car dash and had made up an entire backstory to the car.
The car had obviously been sitting there forever, and barely started because the battery was almost dead. He lied about the address, the mileage, the condition, AND where the car came from. I don't usually dislike people – but this guy sucks.
Do yourself a favor and use Autotrader or a similar website where people pay to list their cars. I always tell people to drive used cars to save money, but it can be a nightmare trying to actually get one on Craigslist!!
Has anyone had a good experience with Craigslist or buying a used vehicle on it? Let me know.
Live differently, your bank accounts will thank me later. -M$M