Please note – this is NOT the Facebook Side Hustle course. That course goes live next Thursday (1-25).
I went from band director to full-time blogger making nearly $200,000 per year in just two years. I'm going to teach you how I did it with the Make Money Marketing course.
It's pretty crazy to think that just a few years ago, I was a high school band director and wasn't too happy with my job choice.
It's not that I didn't enjoy teaching the kids or listening to music every day. I loved it. But for some reason, I always felt like I was supposed to be doing something else with my life.
I would have never thought that I'd land on blogging as my job, but if I had to guess, most full-time bloggers would say the same thing.
I had started Millennial Money Man in my spare time after work, and very slowly became more passionate about writing about personal finance and reaching people through my website.
If you have followed me for any amount of time, you probably know what happened next…
I quit my job to run my blog after I had only made a cool $3 in Google ad revenue.
No, it probably wasn't the smartest idea. But…it did teach me how to make money on my own.
After about three months of not having any blogging success through the traditional income streams like affiliate revenue, ads, or sponsorships, I had to figure out something else.
That's when I realized that so many small businesses in my area were trying to market to their local area online through blogging and social media, but they had no idea what they were doing.
So I started pitching the idea that I could help them grow their presence.
Eventually, I got my first client. Within a few months, I had almost matched my teaching salary.
The best part? I was able to continue to grow Millennial Money Man in addition to my local marketing business.
It worked. In 2017, I made more money than I ever thought was possible online, and Millennial Money Man reached over 1,000,000 people!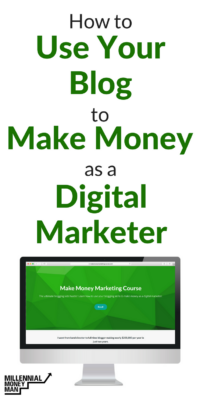 So many good bloggers never make significant income through their sites. I am going to change that.
The reality is that blogging is hard, and takes a lot of time to see full-time income.
But what if you could speed up the process like I did? All it took was a change in mindset and using the skills I already had learned through blogging to help businesses in my area reach more people online.
It doesn't matter if you're brand new to blogging, have been doing it for a few months, or even for years – the Make Money Marketing course is going to teach you how to pick up local marketing clients in your spare time and supercharge your blogging income.
Here's what I'm going to teach you in the Make Money Marketing course:
This course has 6 modules, hours and hours of content, point and click tutorials, bonus content from marketing industry experts, a private Facebook group just for course students, and so much more.
The Make Money Marketing course is only $197 – you'll want to jump on this now. This is the lowest price that this course will ever retail for.
Marketing courses typically run $1,000 or more, but I want every blogger to have this opportunity without spending an arm and a leg (I am a personal finance blogger after all).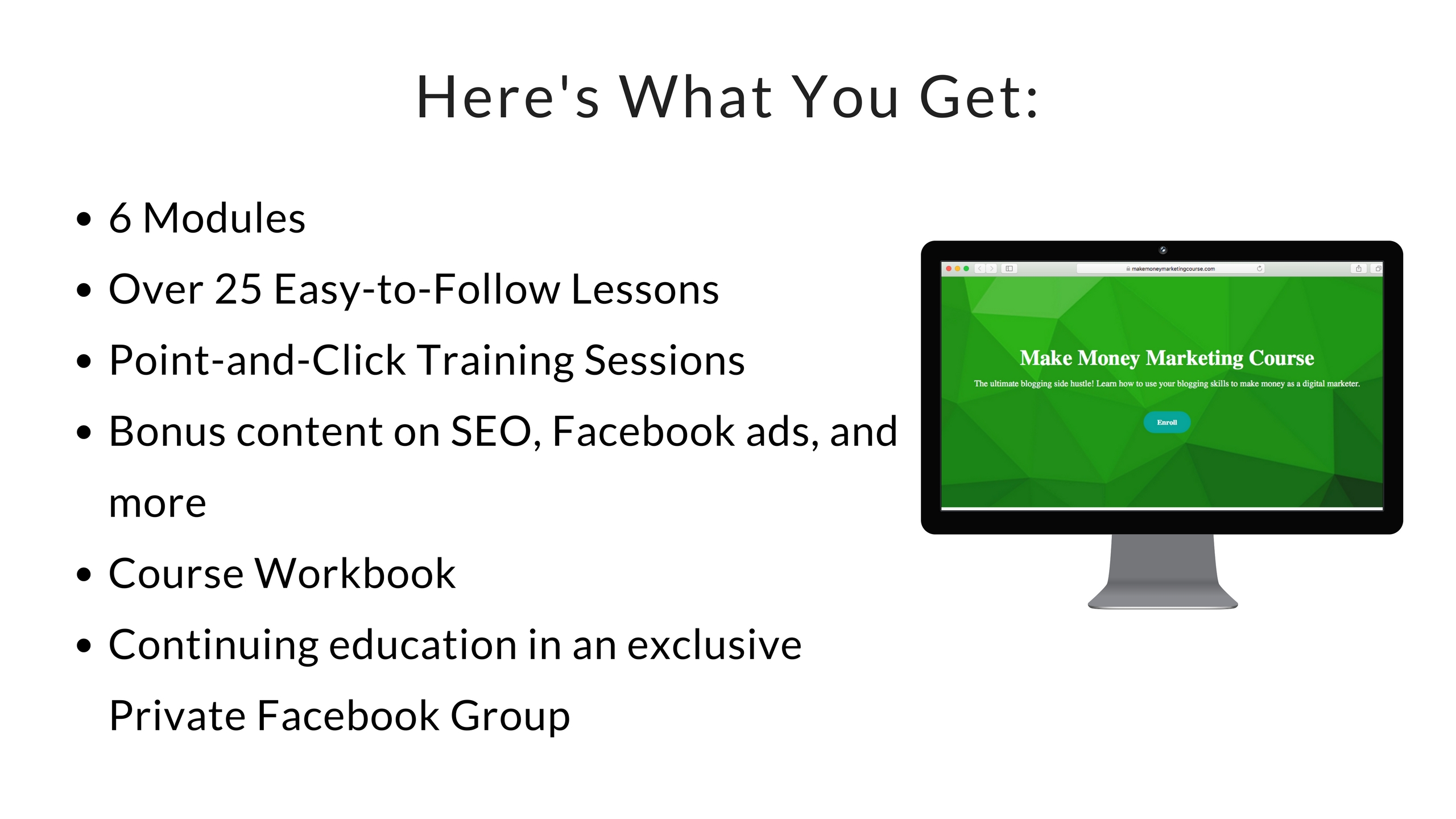 You'll learn:
How to use your blog as a portfolio to get freelance marketing work and ACTUALLY make money from your blogging skills
Client acquisition strategies I have used to get clients
Local Search Engine Optimization strategies for small businesses
Freelance writing
Managing social media for local businesses
Tons of bonus content from industry experts on Facebook ads and Google
A private group where you will have direct access to me and the other course students
You can see the entire course module list and everything you need to know about what the course teaches here.
Frequently asked questions:
When does the course start and finish?
The course starts now and never ends! It is a completely self-paced online course – you decide when you start and when you finish.
How long do I have access to the course?
How does lifetime access sound? After enrolling, you have unlimited access to this course for as long as you like.
Does it matter what blogging niche I'm in?
Not at all! If you can run any type of blog, you can use those skills to make money marketing.
Will this course work for me if I haven't started my blog yet?
Absolutely! I made sure to include soon-to-be bloggers in my beta tests, and all of them loved the course. It will give you a monetization strategy out of the gate.
Do you have to have sales experience to get marketing clients?
Definitely not. I was a high school band director with ZERO sales experience, and I've done well with getting clients. I've included multiple client acquisition strategies to help you have success quickly.
Do you offer refunds?
I would never want you to be unhappy! If you are unsatisfied with your purchase, contact us in the first 30 days and we will give you a full refund. However, I do ask for you to show that you have implemented all of the techniques and strategies contained in the course.
Is there an affiliate program for this course?
Yes! I have included a generous affiliate program, along with tips and strategies you can use to see sales quickly for this course.
Go here to purchase the Make Money Marketing Course!