Hey M$M crew! Today I have a post for you by AF from Accidental Fire. Ever since I started M$M, I've been so concerned about the amount of student loan debt in America. I've seen hundreds and hundreds of stories from readers. It's crazy.
It's even crazier to see it on a map and understand how student loan debt is accumulating across this country. AF did a killer job of pulling data and putting together this VERY eye-opening post. Enjoy! ~M$M
The student debt crisis in America is a silent crisis for the most part.  I'd venture to say it's mentioned in the media even less than the National Debt, which at least gets obligatory coverage when politics or the Federal Budget are discussed.
Bobby has done quite a few posts about student loans on this blog and he's someone who conquered his own loans in spectacular fashion.  His story, however, is not the norm and the crisis is only getting worse.  Need proof?  Remember this post?
Yeah, crazy.
I recently came across some fascinating research that maps America's student debt.  Since I'm a geographer by trade and a mapping nerd, I dove into it with enthusiasm.
If you don't like maps or don't want to go to the article I'll list the three key takeaways:
Affluent zip codes have high average student loan balances per household.
Higher delinquency afflicts low-income zip codes.
Within metropolitan areas, the geography of loan balances is very different than the geography of delinquency.
That last bullet is kind of a combination of the first two bullets, but with a specific focus on urban areas.  Since I live just outside of Washington D.C. which is one of the highest cost of living areas in the country, let's look at D.C.
From the report:
If you're not familiar with D.C. the west side of the city, especially the northwest, is absurdly wealthy.  The east side has much lower incomes, and the southeast is poor in many areas.  There are exceptions of course including the rapid gentrification happening in Northeast D.C., but in general, those are the simple rules.
I'd be remiss if I didn't mention that D.C has a lot of colleges, including expensive choices like Georgetown and George Washington University.
So the maps show the wealthy people are carrying far more student debt, but have lower delinquency rates.  And the poorer areas are carrying less debt but have much higher delinquency rates.  I have to admit, there's a bit of a "duh" factor here.
Without seeing the data mapped, had you asked me how those data points would look I would have probably predicted this exact scenario.  The wealthier people are sending their kids to super expensive schools, but still borrowing.  And they, of course, have a much greater ability to make their loan payments on time.
A key thing here to remember is that the wealthier people are likely also in overall debt themselves, not just student loan debt!  As we personal finance warriors know, just because someone is driving around a Porsche Cayenne and lives in a 4500sq ft. home doesn't mean he or she is not in debt.
Actually, it's more likely they are.  The data clearly shows the higher the income, the more credit card debt a household has.  According to this report, households with an income over $160,000 have an average of more than $11,000 in credit card debt.  Lifestyle inflation is real.
So it doesn't surprise me that the wealthy are still borrowing heavily to send their kids to expensive colleges since they're likely also borrowing to have their mega-SUV's and houses, and all the accoutrements in it.
On the other hand, the poorer zip codes are borrowing less and are much more delinquent on the student loans they do have.  Again, no surprise.  Lower income families tend to have less education and thus wouldn't be sending their kids to college at the same rates.  And even when they do send them they'd likely send them to cheaper colleges.
Nationally
The mapping page links to a far more detailed analysis and report of the data.  They discuss two theories to the correlation of income, loan amounts, and delinquency rates.
Again, this makes sense on the surface.  The second bullet here describing "for profit" colleges is referring to more trade-based schools that often have a lower barrier to entry.
A few more takeaways from the report:
Student debt absorbs around 7 percent of gross income in zip codes where median income is $20,000, declining to 2 percent in the highest-income zip code ($160,000)
As median income increases in a zip code, so does the average loan balance, until income reaches approximately $140,000. After that, the relationship becomes flat.
Student Loan Delinquency
Here's a snapshot of student loan delinquencies at the national level from the report.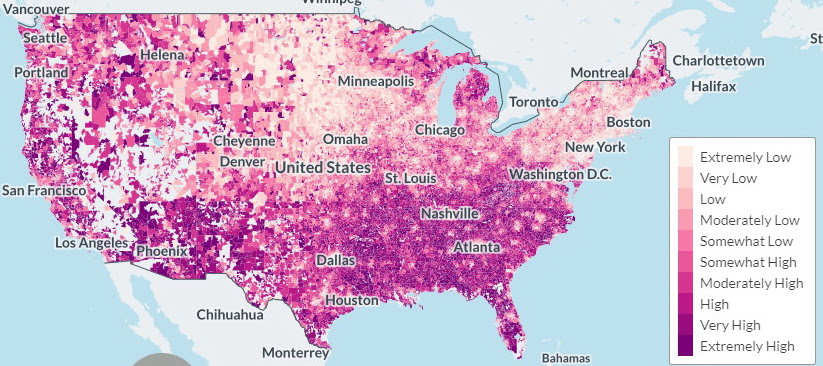 It's apparent that the South, especially the Southeast are struggling with student loans.
Another visual standout on the national map is Arizona and New Mexico.  It appears that these two states do indeed have high default rates on student loans as this report corroborates.  New Mexico actually has the highest default rate by percentage.
Here are the top ten default rates by percentage in America by state.
| | | |
| --- | --- | --- |
| 1 | New Mexico | 18.9 |
| 2 | West Virginia | 16.2 |
| 3 | Kentucky | 15.5 |
| 4 | Mississippi | 14.6 |
| 5 | Indiana | 14.2 |
| 6 | Florida | 14.1 |
| 7 | Arkansas | 14 |
| 8 | Arizona | 14 |
| 9 | Wyoming | 14 |
| 10 | Oregon | 13.7 |
Student Debt Related To Net Worth
The Pew Research Center found that college-educated households with student debt have one-seventh the wealth of people without debt.
No surprises here.  If you have debt like that – even if it comes from going to a very good school, it's going to impact your net worth substantially.
Notice the small print in the chart above, that's net worth data for households where the head of household is under 40.  So if you get out of college at 22, or say 24 for a graduate degree, that means 16 or 18 years later when you're 40 you will likely still be suffering from the impacts of those student loans on your net worth.
Not good.
Destroy The Debt!
If you have student debt you should try to crush it as soon as you can.  Even if you're making your payments on time and seemingly handling it, the data and research clearly show it's hindering your financial well being and future.
There's lots of advice out there including tons on this blog.  You could use Dave Ramsey's debt snowball method or other methods, but first and foremost you have to track your spending, budget, and stop wasting money on things you don't need.  Paying off large sums of money requires discipline and good habits, and the simple rule of spending way less than you earn is the place to start.