Over the past few years, I can't tell you how many times I've received a reader email that plays out almost exactly like this:
"Hey Bobby!
I just had a quick question about something that you might have some insight on. Our best friends are terrible with money. They're always talking about how they are living paycheck to paycheck or that they can't afford to go do things that we want to do.
We are really good with our money and have paid off (insert whatever amount of debt here) in the last (insert whatever time frame here). How do we get our friends to listen to us about money? They just seem to get offended every time we try to help them. It's really frustrating and I think it's hurting our friendship!
Thanks in advance and we love your site so much!!!! (OK I just added that, they don't always say that but I wish they did.)
-Random M$M Reader"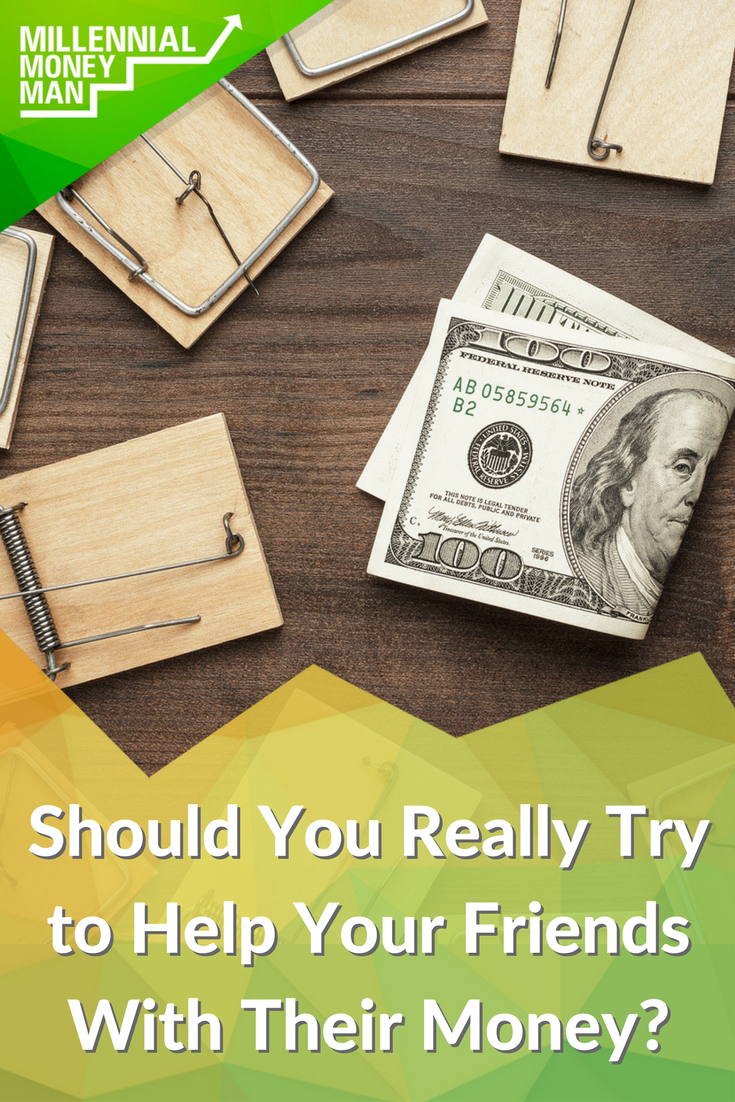 So…should you even talk to your friends about money?
When I get emails like the one above, I always cringe a little bit. This might sound a little weird because I'm a personal finance blogger professionally, but I really really really don't like to talk to the people close to me in life about money.
With very few exceptions, any time that a friend asks me a financial question I try to reply with: "Sorry, I don't talk about money with friends or family."
It doesn't matter if it's just an innocent question about Roth IRA's vs. traditional IRA's or a playful jab about how "it must be nice to make that much money."
It always catches people off guard a little when I decline, because why wouldn't a personal finance blogger want to talk about…personal finance?
It's actually pretty simple. The ROI isn't high enough for me.
As a person that literally puts out all aspects of my life online, including how much money I make, I've learned that there is almost zero return on investment when it comes to having financial conversations with friends (there are a few exceptions that I'll talk about below, but for the most part this has been my experience).
Usually, nothing good comes from it. It just doesn't.
More often than not, someone gets their feelings hurt. Financial conversations have the potential to turn out exactly like political conversations if they go on too long.
Money has this really weird way of being divisive in our society. Even though it's a ridiculously important part of our day to day lives, it's equally taboo.
People don't want to talk about their salaries. They definitely don't want to talk about their debts in depth, and most importantly – they don't want to hear about how awesome you are at money. That's actually the last thing they want to hear about.
Related: The Reason That Most People Don't Pay Off Debt
I think the last part of that paragraph above is a bit of a gut punch to people who are fired up about personal finance.
It's so easy for all of us that are either killing it with debt payoff goals and/or really passionate about investing to assume that everyone around us is the same way.
We all flock to sites like this one or personal finance groups to talk or read about money. We're comfortable with it. We're a group of money nerds nerding out with other money nerds.
It's like the taboo part of personal finance gets stripped away when we surround ourselves with like-minded people.
But unfortunately, all of that is a mirage.
The reality is that most people we are surrounded by in our daily lives don't focus on money, and they don't want to talk about it…because, well, it's intimidating.
Here are some pretty heavy stats to consider for a second:
69% of Americans have less than $1,000 in their savings account
34% have no savings at all
$16,000 – that's how much the average U.S. household with credit card debt owes
44 million U.S. borrowers have $37,172 of student loan debt
Related: A Fifth of Millennials Have No Savings
So when I get emails like the one I laid out in the beginning of the post, I usually want to respond with:
Why in the world would any of those people want to listen to how awesome you are with your fat bank accounts and zeroed out loan balances? 
*Hint*: They probably don't, and it's OK.
In my very humble opinion, it's not really our job to help our friends with money, even if they bring it up. I think a lot of times, they are just mentioning their financial situation out of desperation.
That's the dangerous part. You might want to go charging in there with your budget talk and definition of an index fund because they opened the door, but there's a good chance that it blows up in your face.
Money conversations can go from productive to offensive in a ridiculously short period of time.
Now sometimes, you might have a friend that genuinely does want to talk about their financial situation and learn from what you've done in the past.
I'd still proceed with caution, but there are some ways you can keep it on track.
Here are three things you can do if your friends DO want to talk about money:
1. Realize that friendships are massively more important in life than personal finance, and pull the plug on the conversation if needed
Like I mentioned above, it's really not any of our jobs to teach our close friends about money. They're adults. If they want to learn about personal finance, there are plenty of avenues to get it done.
If you engage in a conversation about money with a friend and sense any amount of offense being taken – cut the conversation off and move on.
It's just not worth it to mess with your friendship over money.
Friends > money. Always.
2. Listen 1,000% more than you speak
I think this is just good life advice, but in a money conversation this skill is a huge asset. After talking to thousands of people about money now, I can tell you that most people just want a place to vent or bounce ideas around without being judged in return.
You may *really* want to tell your friends exactly how to handle their finances, but in the first few conversations you'd be better off just to lend an ear.
Even if you aren't trying to judge someone or talk down to them, the fact that they are probably coming to you from a negative place with money makes it all the more likely that they'll take your advice the wrong way.
3. Punt the responsibility to a pro
Do you have any idea how many people have called me a jerk or an a**hole online because of my financial message? We're well into the hundreds now (stopped counting a while ago).
I've had people threaten to sue me, send me angry messages, and even create fake Facebook accounts to harass me over things as small as saying new cars aren't a good place to put your money.
My skin is thick AF now (wasn't always like that), and most people who talk about money for a living are the same way. Read ANY comment section on a CNBC or Yahoo Finance article and you'll see why.
If you're ever worried about your friend getting upset about what you have to say about debt or investing, just send them over to your favorite personal finance personality and let them take the beating instead. 🙂
There's a degree of separation between people with money problems and people like me that talk about money. Honestly, that perceived distance is the key to productive money conversations a lot of the time.
People might not like what I have to say about various topics, but the fact that we aren't best friends or have a real history together makes it way less likely that I'm going to deeply hurt them on some emotional level.
Just…be careful
I can't stress it enough. Money can destroy families and friendships in the blink of an eye without a single transaction ever taking place.
Always remember what's really important when you're attempting to help your friends.