Mint vs. Quicken? Which one of these budgeting apps is the best pick for you?
Personal finance tools like Quicken and Mint help you become a better money manager. You can track your spending, see your investments, net worth, keep on track with long-term goals, and much more.
Mint has been a newer favorite because it gives you a broad overview of your finances while being completely free. On the other hand, Quicken has been a personal finance favorite for over 30 years.
Today, I'm going to take a close look at Mint vs. Quicken — the features, cost, and more.
Mint vs. Quicken 2022: Which budgeting app is best for you?
Quicken overview
has been one of the most popular names in budgeting software since 1983, making it an OG in the personal finance game. Quicken has made some recent changes that make it even more accessible — it's now subscription-based cloud software that's also available as apps for Apple and Android.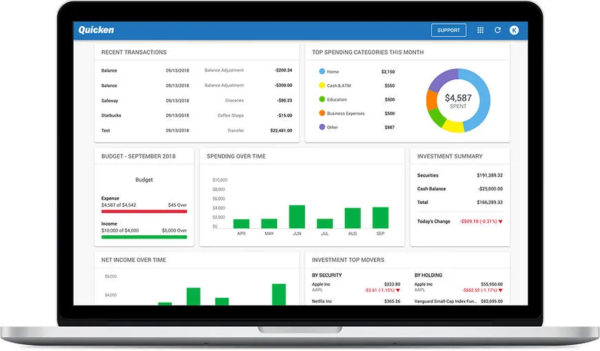 Interesting fact, the average tenure for Quicken users is ten years, which says something about how much people love it.
Before I go into specifics, here are some things that you can expect from Quicken:
Robust budgeting software, ready for basic users to power budgeters
Investment tracking
Syncing capabilities with your bank and bills
Bill-tracking and reminders
Net worth tool
Simple and easy to use visuals
Desktop, web, and mobile options
Debt reduction plan (super cool, but currently only available on the PC desktop version)
A cost of anywhere from $35.99 to $74.99 per year (but it's currently 40% off for new users)
Mint overview
Mint has consistently topped the lists of best budgeting apps and personal finance tools because it offers a broad and clear overview of your finances. It was founded in 2006, then acquired by Intuit in 2009, and currently has over 10 million active users.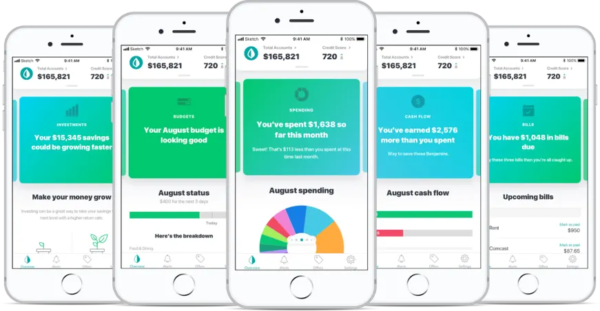 Mint works on the premise that to understand your money, you need to have a full picture of your finances, looking at everything from your debts, budgets, bills, assets, investments, etc. They have both web and mobile options, and they've worked hard in recent years to declutter their dashboard to make it more user-friendly.
Here's what you can expect from Mint:
Budgets
Syncing capabilities
The ability to see your net worth
Bill-tracking and reminders
Credit scores
One of the major perks of Mint is that it's 100% free to use.
Now, let's dig into the specifics to see if Mint vs. Quicken is better for you.
Budgeting
Both Quicken and Mint are excellent budgeting tools. There are preset categories that you can edit and customize. You can set limits in each category, receive notifications when you overspend, and edit all of these totals as needed.
The majority of basic budgeters are going to find what they need with Mint, but Quicken does offer more features. You can create rollover budgets and forecast your balances with Quicken, and you can also easily import Excel data.
Read more at Best Budgeting Apps and Personal Finance Tools.
Track and pay your bills
Both Quicken and Mint allow you to track any bills you link to their software, but Mint recently eliminated their bill pay option, stating that not enough users found it valuable.
Bill Pay is available with Quicken Premiere only. Quicken doesn't charge any additional fees when you use Bill Pay, but it's always possible that the bill holder or financial institution will charge for it, so double check first.
To track your bills with both Quicken and Mint, it's really simple — find the holder of your bill, log-in using your username and password, and there it is. Depending on the bill, with Quicken you can also download PDF copies of some of your statements.
Investment tracking
This is a big one for me, and it's one of the reasons why I love Personal Capital so much. Mint does allow you to link your investment accounts, but the functions just aren't as robust as what Personal Capital offers.
Quicken, on the other hand, has a lot in terms of investing, but you're going to find the most investment tools when you use their Premiere option. Those tools are:
The ability to track your investments and retirement accounts
Access to Morningstar's Portfolio X-ray tool to evaluate your investments
Compare buy-and-hold options, improving your portfolio analysis
Compare your returns to market averages
See your cost basis and create tax reports
When it comes to Mint vs. Quicken, I'm going to say that Quicken clearly has more advanced options for active investors.
M$M tip: If you're interested in learning more about Personal Capital, what I use to track my investments, read my Personal Capital review. And, check out Personal Capital vs. Quicken 2021: Which Money Tracking Software is Best?
Debt
With both Quicken and Mint, you can link any debt accounts (credit cards, student loans, mortgage, etc.). Quicken has an additional feature called the Debt Reduction Plan, which is currently only available on the PC desktop version.
Quicken's Debt Reduction Plan will build a graph that shows you how long it will take to eliminate your debt with your current payments. You can play around with totals, increasing or decreasing monthly payments, and the Debt Reduction Plan will project the difference over time. You can even see what it would look like to make a lump payment.
The most useful part of Quicken's Debt Reduction Plan is that it will help you develop a plan for paying off your debt. It leans more towards the debt avalanche method — paying off loans with the highest interest rate first to save the most money. But if you prefer the debt snowball method, you can adjust the settings.
Overall, this is a great way to visualize your debt and see how subtle differences affect the total cost and duration of your debt payoff.
Synchronization
Both budgeting apps will let you link and sync your checking, savings, loans, credit card, and investment accounts. However, neither platform is perfect.
But since we're comparing Mint vs. Quicken, Quicken is slightly better at fixing synchronization issues. The other benefit of Quicken is that you can always enter transactions manually. This isn't an option with Mint.
Credit scores
One of the reasons that I've used Mint for as long as I have is that I get regular access to my credit score for free. I wrecked my credit score a few years ago while I was paying off my student loans (it was a stupid issue), but I keep a close eye on it now because I know how important it is.
Every couple of months, Mint sends you an email or notification in the app when you have a new score available. Quicken currently doesn't offer credit score tracking.
Customer service
Quicken has 24/7 phone support, email, and chat, which you should expect with paid software. There are also extensive online community forums where users help answer issues. Still, Quicken isn't known for stellar customer service.
Mint offers support via email and chat, and users express even more frustration when it comes to Mint's response time.
Overall look
One of the things I've always disliked about Mint is how cluttered the dashboard looks. It's been cleaned up in the past couple of years and now has a much more modern feel, but I will always be turned off by the ads.
Quicken's look is unpretentious, it isn't fussy or overworked, and it's completely ad-free… something you'd expect from the software you're paying for. Quicken has kept it's super simple design for years. They've cut the clutter to give you exactly what you came for.
Mobile and desktop access
You can access both Mint and Quicken on your smartphone, tablet, or desktop browser. Quicken recently made the switch to cloud-based download, and you'll get much more out of the desktop version than the mobile version of Quicken.
One important note about Quicken is that it has always been more PC friendly than Mac friendly. Quicken continues to try to update the software for Mac users, but it's still lacking.
M$M tip: If you're a Mac user, read my Quicken for Mac Review 2021: New Features, Pros and Cons, and Alternatives. And for a review of the top Quicken for Mac alternative, read Moneydance Review 2021: A Quicken Replacement for Mac?
Price
If you're deciding between Mint vs. Quicken on price alone, Mint is free and Quicken isn't. But it's not that simple.
When it comes to Mint, free isn't exactly free. Mint has ads. There are also "Ways to Save," which are ads for products and services from Mint's partners. Mint also sells data they collect on users (anonymously) to third parties. This is information like consumer debt, spending habits, etc.
Quicken has a three-tier price structure:
Starter $34.99/year
Deluxe $49.99 (on sale for $29.99 at time of publication)
Premier $74.99 (on sale for $44.99 at time of publication)
You're obviously going to get the most features with Premier, including some I've talked about like Bill Pay and more extensive investment tracking. Premier will also track the value of your home and give you priority access to customer service.
Starter and Deluxe are similar, but Deluxe will help you manage and track your debt, create a customized budget, create savings goals, and track your retirement accounts and investments.
How does the cost of Quicken compare to other paid personal finance software?
YNAB, a platform that is strictly zero-based budgeting, is $83.99/year. EveryDollar Plus, the budgeting app from Dave Ramsey is $129/year. It now includes access to Dave Ramsey's Financial Peace University. Quicken is clearly a more affordable option than either of those.
You read more about all of these budgeting apps in the following articles:
Final verdict on Mint vs. Quicken
Here's the thing, using any type of personal finance tool, even Excel spreadsheets (click on this link for some free ones!), is going to have advantages. These tools help you see where you're at, and they allow you to set goals and work towards them.
I do love Mint, my wife and I use it along with Personal Capital, but I think that Quicken is just going to give you more… if you're willing to pay for it. And while it might take you a minute to find your way through all of Quicken's tools, there is a lot to love.