Shopping. Ugh. One of my least favorite things in the world is going to the mall – ESPECIALLY around the holidays. Probably like a lot of you, I specifically make it a point to do as much of my shopping online. It's just….easier.
As the site keeps growing, I'm trying to find more cool ways to make or save money online that I can share with everyone! One of the services that I've found recently is called Qmee.
Qmee is an online shopping tool that works with your web browser to help you find lower prices on items you are searching for. You shop the same way you normally would, and if Qmee finds a better deal or a coupon code for an item it will display them in your browser.
You can sign up for Qmee here (it's free).
Perfect example: Our coffee maker at home has been slowly dying for the last two years. We have this whole ritual that we have to go through every morning to get it to actually make the coffee. As much as I hate buying stuff like that…it's freaking time.
After I Googled what I was looking for, some options popped up in my browser. I ended up using the Kohls coupon code and found the coffee maker for less than it cost on Amazon. Pretty easy.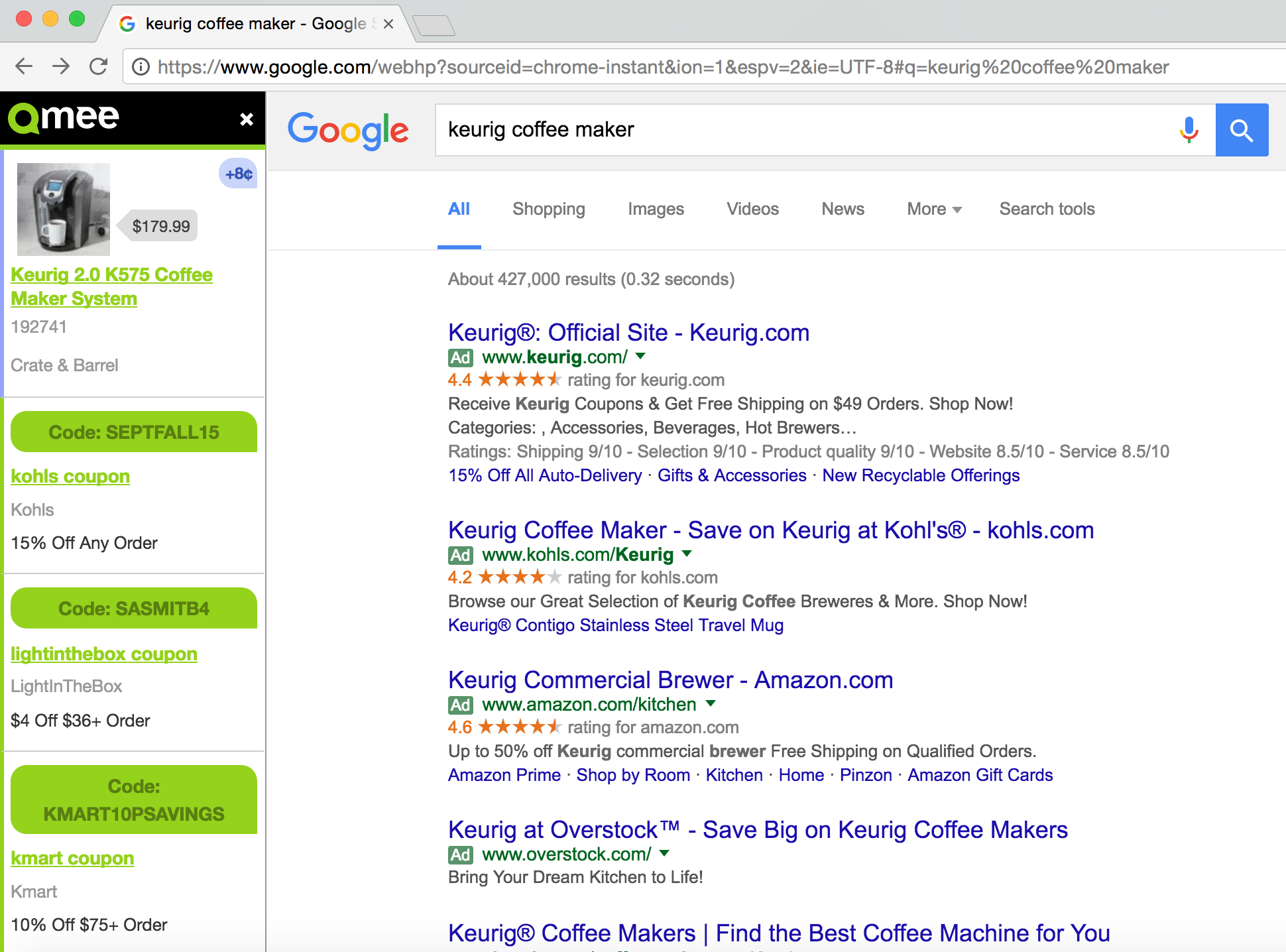 Another perk is that Qmee pays you while you're using the app to shop. You're not going to get rich or anything by using it, but even after just searching and using the coupon code I made a little bit of money in my Qmee account.
If you do a ton of online shopping around the holidays, this is a nice way to earn a little cash doing something you were already going to do anyways! You can cash out your Qmee earnings into a PayPal account, gift card, or even donate the money to charity. This will work with your existing browser and stays hidden unless it finds a deal for you.
Qmee has also started offering online surveys that will let users earn money. I'll check them out and add them to my survey review!
You can use my exclusive link to sign up for Qmee and give it a try.