The PocketGuard app is a budgeting tool that can answer one of the most important personal finance questions: can I really afford this?
We've all been there. We want to go out to eat, buy a new pair of shoes, etc. But sometimes those purchases don't fit in with the rest of your budget. The PocketGuard app wants to make it easier to stick to your budget, set goals, and track your spending.
My PocketGuard review will help you decide if this is the right money management tool for you in 2022.
What is PocketGuard?
Launched in 2014, the PocketGuard apps wants to help you manage your money better. PocketGuard does this by helping you with five different personal finance issues:
Knowing the big picture. Once you link all of your accounts — saving, checking, credit cards, loans, investments, etc. — you can see where you stand with everything.
Watch what you spend. PocketGuard offers several different features so you can interact with individual transactions and different spending categories.
Safe spending. The "In My Pocket" feature tells you how much money you have left to spend after taking care of the rest of your financial obligations.
Automate your budget. Based on your goals, income, and bills, Pocketguard creates a budget for you.
Find new ways to save. You can use PocketGuard to find lower rates on your bills, a high-interest rate savings account, etc.
PocketGuard's "In My Pocket" feature is what really makes the app stand out from other budgeting apps because it gets right to the question that so many of us want to know… Do I really have money for this?
I know you've been there… I've been there too. You want to buy something, but you're also wondering if that purchase will throw off the rest of your budget. PocketGuard wants to be the app that tells you "yes" or "no." Well, they want to help you make a smarter decision.
The PocketGuard app doesn't have a ton of bells and whistles — it's pretty focused on helping you manage a budget. You can also set and save for financial goals (vacation, downpayment, holiday spending, etc.).
One major difference from other budgeting apps is that PocketGuard calls your budgeting categories "Pockets."
PocketGuard features
"In My Pocket"
This is the feature that PocketGuard is known best for. "In My Pocket" makes it easy to see how much money you have left to spend after analyzing your income, bills, savings goals, and ongoing spending.
If impulse spending is a problem area for you, checking this number before you go out could help curb any extra spending.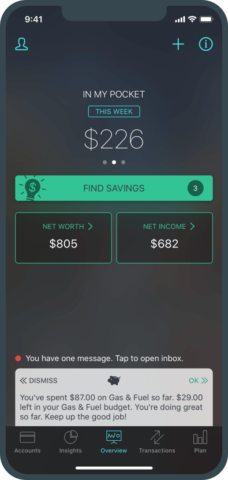 Here's how PocketGuard calculates this number:
Income – Bills – Savings Goal – Ongoing Spending = In My Pocket
Just remember, what's left in your pocket is only accurate if you're sharing everything with PocketGuard. I mean linking all of your credit card accounts, retirement accounts, etc.
Transactions
After you've linked your accounts to the PocketGuard app, PocketGuard will automatically pull your transactions and post them in the app. The app uses an algorithm to categorize each transaction based on the merchant. It's not perfect — PocketGuard is working to improve this — and you can correct miscategorizations.
PocketGuard Plus users have access to expanded transaction features, which I'll explain further down in my PocketGuard review.
While the PocketGuard app will categorize transactions into different pockets, you can take it a step farther with hashtags. Hashtags can be applied to add an even higher level of organization because you can apply them to transactions no matter what category they belong in, and then see the total spending for each tag.
This feature is entirely optional, and some people are going to love it because it's very millennial-friendly.
Here's an example: Say you want to see how much you've spent on your vacation. While some transactions are going to fall into different categories (like gas, restaurants, hotel booking, etc.), you can pick one hashtag and apply it to everything related to your trip, like #Mexico2022.
Spending pie-chart
The PocketGuard app takes all of your spending and puts it into an easy-to-read chart that's divided into categories. This is great for people who need visuals.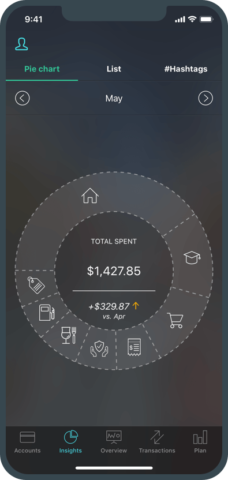 Setting goals with PocketGuard
This feature is for users who want to prioritize any type of savings or debt payoff goal. You will need to open a savings account to save for each of your goals, and PocketGuard will make recommendations. You can track your progress with these goals, set up recurring contributions, etc.
If you're using PocketGuard Basic, you can only set up one goal. Plus users can create as many as they want.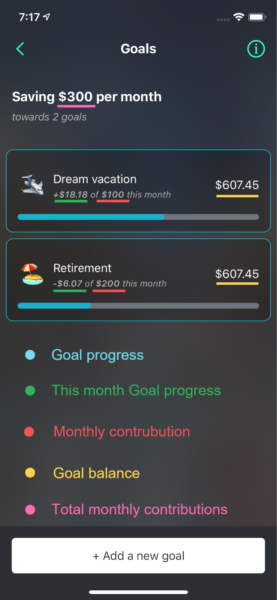 Set spending limits
To help you stay within your budget, you can set spending limits for different spending categories. PocketGuard will notify you when you're close to reaching your limit, but you can check on each limit at any time.
Find Savings
You can find this feature in the apps Overview tab, and when you click on it, you'll get a list of financial services that can help lower your bills, pay off your loans, improve your credit score, get rebates when shopping, etc.
This feature is one of the ways how PocketGuard and similar apps (Mint and EveryDollar) make money. I'm not at all saying you shouldn't trust these products and services, but know that PocketGuard is probably making some cash when you use them.
M$M tip: If you want help lowering some of your bills, the Trim app will help you negotiate for lower rates on your phone, cable, and internet bills. It can also cancel your unwanted subscriptions. Read more at Trim App Review 2020 | An Easy Way to Save Money On Bills.
PocketGuard Plus
This is PocketGuard's paid membership version of the app that bumps up some of the features I've already talked about. Here's a complete list of what you get with PocketGuard Plus:
PocketGuard Plus users can create even more transaction categories
You can change dates for posted transactions
For any cash spending, even bills paid in cash, you can create transactions in the PocketGuard app to keep track of your cash balance
You can manage ATM deposits and withdrawals
For recurring bills and incomes, you can also set a "Just once" option good for side hustlers
You can create unlimited Goals
Users can export transactions to Excel or Google Sheets
M$M tip: If you're a spreadsheet lover, check out: Best Free Google Sheets Budget Templates (and How to Use Them!) and How to Make a Budget In Excel: How-To Guide and Free Templates!.
Customer support and learning
Users can contact PocketGuard for support through the app or via email at [email protected] Through the PocketGuard website, there are articles for FAQs and troubleshooting.
PocketGuard also has a blog that covers different money topics — it's hosted through Medium.
How much does PocketGuard cost?
PocketGuard is free, and PocketGuard Plus is $3.99/month or $34.99 when you purchase a year-long subscription.
The PocketGuard referral program
This referral program is meant to help you get PocketGuard Plus for free. When you invite a friend to sign up, you get 10 points for each of the first three friends. They have to connect at least one financial institution and use your special referral link for a successful signup. After the first three friends, you earn 5 points for additional sign-ups.
You'll receive one month of PocketGuard Plus for free for every 30 points you earn. You can redeem them any time through the app.
PocketGuard vs Mint and other financial apps
Right now, there are a dozen-plus different apps that you can use to manage your money. I'm going to give you a quick comparison of PocketGuard with some M$M favorites.
Mint vs PocketGuard
Mint is free to use and has a few extra features that you won't find with PocketGuard. It comes with credit score monitoring, and you can take a closer look at your investments. PocketGuard has a cleaner look and the ads (ways to save) aren't as obnoxious as they are with Mint.
Learn more at Mint vs. YNAB 2022 | Which Budgeting App is Best?
YNAB vs PocketGuard
YNAB teaches users the value and power of zero-based budgeting, and it probably has the most cult-like following out of any of these apps.YNAB is $84/year or $11.99 when billed monthly, and you can try YNAB for free for 34 days.
EveryDollar vs PocketGuard
EveryDollar was created by Dave Ramsey's team and helps users work through Ramsey's Baby Steps using zero-based budgeting. Like PocketGuard, EveryDollar has a paid and free version. EveryDollar Plus is $129.99/year and includes access to Financial Peace University.
Learn more at EveryDollar vs. Mint Comparison 2022: Which Budget App is Best?
Personal Capital vs PocketGuard
Personal Capital is my favorite financial app — my wife and I have been using it for several years to track our net worth, investments, analyze fees associated with retirement accounts, etc. It's pretty different than PocketGuard, but Personal Capital still has budgeting features.
You can read my full Personal Capital review at Personal Capital Review 2022 | Free Investment and Net Worth Tracking. If you're interested in signing up, you can use my exclusive M$M link and we'll both get $20.
Pros and cons of using PocketGuard
PocketGuard review — my final word
For anyone looking for a simple and user-friendly budgeting app, PocketGuard is worth looking into. The interface is clean, you get a broad overview of your finances, and the free version has some great features.
PocketGuard is clearly focused on millennial users, with hashtags and emojis used to categorize your spending. Some people are going to love this kind of stuff, but not everyone will. And if you want your personal finance app to help you plan for retirement, there are better options out there, like Personal Capital, which would be a great companion to PocketGuard.