You know what sucks about being a professional blogger (or just anyone that sits down a lot as part of your job)? You gain weight.
Back when I was a teacher, I was actually in pretty decent shape. I had to walk the equivalent of a few miles per day because my job was split up over three campuses. I didn't have time for big breakfasts, my lunch was only 20ish minutes so I meal prepped things like chicken and rice, and I was usually too tired to eat a lot when I came home at night.
All of that changed when I started running M$M full-time.
I didn't really realize it at first, but I guess I slowly started to eat more food due to stress (and boredom if we're being real…business was slow when I first started all of this). And then, of course, I don't walk or stand nearly as much as I used to.
So in the three years that I've been working online full-time, I've gained probably 15-20 lbs!
At one point, I was pushing up to nearly 200 lbs, and I was miserable. I felt terrible, my clothes didn't fit anymore, and mentally I just felt like I had this fog on my brain all the time. It sucked, but I usually just tried to either ignore it or justify to myself that I was building a business and didn't have time to work out.
Well…fortunately I'm past that phase (at least I hope). A little over a month ago I hired a fitness coach, and I'm already down nearly 10 pounds.
In that short amount of time I've realized how similar personal fitness and personal finance really are
Before I really unpack all of this, I'm sure you're wondering…
What the heck is a fitness coach? That's a pretty fair question because I had no idea either before I heard about it from my business partner for Laptop Empires (who used to be an online fitness coach for his first business).
Basically, it's someone that teaches you how to eat well, puts you on a workout plan, and then holds you accountable.
In my case, everything that I do with my coach Ranbir is online. I'll show some of the tools I use to track everything here shortly, but it's pretty simple. We chat constantly through messaging and recorded videos, and Ranbir guides everything I'm doing.
Most importantly though…what I'm doing with him is working. I'm down into the 180's already, and I feel stronger and healthier than I ever have in my life.
I'm also just getting started, so I'm excited to see how far I can take it. Even though I'm only a few weeks in, the similarities between paying off my debt and getting ahead financially and losing weight are crazy.
Here are 5 things about getting in shape that remind me of paying off debt and investing:
1. It's slow and you never feel like you're making progress
I remember when I made my first "large" student loan payment. It felt like I was literally throwing money into an ocean, which I think is a pretty common feeling that I've seen M$M readers experience.
What I've learned very quickly about getting in shape is that you don't really see any instant results either. The first few days I was dieting and working out, I'd look at the scale and be pissed off that my weight wasn't going down.
It actually went UP sometimes, which was even more annoying.
And then, just like my loans…the weight slowly started coming off. When you're in the moment you don't notice it, but then a month later you're looking at pictures of yourself and realizing that you look different.
It's the same thing with your student loan balance or brokerage account. You never really notice how far ahead you're getting until you take time to look back over a larger chunk of time.
And then there's the lifting weights part of the equation. Before I started seriously working out, I thought that it was about lifting super-heavy weights right from the beginning.
But…it's not that way at all. I guess you could try to do it that way, but if Ranbir hadn't started me off on lower amounts of weight to make sure I was doing everything correctly, I would have probably shredded my back by now or something.
And yeah, it's maybe a little embarrassing to put 45 lb plates on a bar when you look over and see some dude deadlifting eleventy-bajillion pounds, but there's a good chance that he's been doing it way longer than me.
It can feel the same way when you start throwing some extra cash at your student loans and look over and see somebody becoming a millionaire by 24.
Sometimes you have to ignore that stuff and just focus on what is actually going to make you successful. For me with weightlifting, it's going to be a slow burn.
Here's one week of my workout plan. Every week I'll be adding more weight systematically until I get to where I need to be:

2. You have to understand what you're eating (just like you have to understand how much you're spending)
I always thought I ate well. I don't drink soda, and my wife and I rarely eat fried food. If you had asked me if I did a good job with food a few months ago, I would have told you that I did for sure.
Then…I started tracking my calories and learned pretty quickly that I sucked at eating. I wasn't even close to eating "healthy".
Doesn't that sound pretty similar to a person who thinks they're good with their finances, and then finds out that they spend way too much money on ridiculous crap once they set up their first budget?
Ranbir put me on a calorie limit of 1,800 per day, and I also have to hit certain percentages of "macros" (basically a set amount of protein, carbs, and fat).
The first two weeks of watching what I ate were freaking terrible. Hangry is an understatement. I was that person in the Snickers commercials before they eat the candy bar and become normal again.
And then, just like people that are getting through the shock of staying on a budget for the first time…I started to get used to it. My hanger went away.
I started being more intentional about what I ate. I'd plan out my meals for the entire day when I got up in the morning.
Even just a month in, I'm just not as hungry as I used to be. It's actually awesome. I also realize how much stuff I was eating before just because I was bored *cough just like people who shop when they're bored *cough*.
So basically: Budgeting = dieting. Here's a look at the tracking sheet that I use to track my macros:

I also use an app called My Fitness Pal to track literally everything that I eat during the day. It's pretty eye opening when you figure out how many calories are packed into your favorite foods!
3. Every win feels awesome
One of the cool things about having a fitness coach is that you can share your wins with them and they're like "YES LET'S GOOOOOOOOO".
Here's how it usually works:
Me: Dude I'm down 5 pounds, this is awesome.
Ranbir:
Me: Yooooo I hit my macros today!!!!!
Ranbir:
Me: Hey…can I eat burritos?
Ranbir:
So, obviously, that's pretty helpful. It's the exact same thing that I see every day in the private M$M FB group.
Someone will share their recent money win (no matter how big or small) and the group goes crazy for them.
Here's how that looks:
Group member: I just sent in an extra payment towards my student loans!
M$M group:
Group member: I just got a raise!
M$M group:
Group member: I made avocado toast today and it was SO GOOD.
M$M group:
The moral of the story is that having someone to support you will help you lose weight and/or have more money and/or have better avo toast. 🙂
4. You'll have setbacks
And then there are the times where you have a day that sucks when you're getting in shape. The first time that I ate way too much food felt like I had completely blown it.
And then of course, I was reminded that it's about the big picture. Ranbir basically told me:
"Dude, it's just one day. You have to go over your normal amount of calories by 3,500 to even gain one extra pound. Don't worry about it."
And it's funny because it's exactly the same as money sometimes. Let's say you're not able to make an extra student loan payment or contribute as much to your brokerage account as you were hoping to.
It's not that big of a deal, as long as you have the longer-term plan in place and have the mindset that one "bad" event isn't going to derail the entire journey.
5. You're never really done
I've never met someone that "made it" financially and just…stopped. Even my peers that have retired super early and are already millionaires still find ways to make money, live below their means, and keep their finances in check.
Even for me, it's not like I paid off my student loans and went out the next day to finance a new car.
I still drive a POS, and I think that I could probably afford the note on a Ferrari if I wanted to blow up everything I believe about personal finance.
And it's going to be the same with my personal fitness. Knowing myself and my near-obsessive personality with things like this, I'll get into awesome shape.
After that, I'll have to figure out how to maintain it for *hopefully* the rest of my life. Or, more likely, it will be something that I have to constantly work on with ups and downs. That's just part of life, whether you're talking about money or personal finance.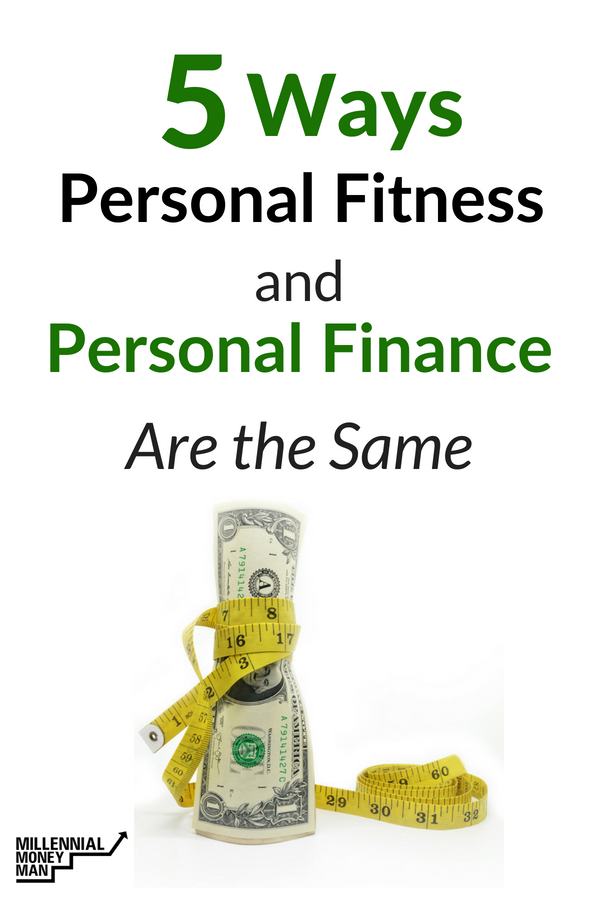 So…what's the point?
Well, to me it's pretty simple. Things that are hard take hard work and patience. It doesn't matter if it's getting rid of student loans, building wealth, or getting healthy.
If you've paid off debt, there's a pretty good chance that you have the mindset and experience to get in shape, and vice versa.
The biggest thing is to understand is that you have to be honest with yourself and recognize what you're good at and what you suck at.
I thought I was eating well until I got some guidance and realized I had no idea what I was doing.
I thought that running would help me get in shape, but lifting weights has been 1,000x more effective for me so far.
I stepped out of my comfort zone, realized I didn't have it all figured out and did what I needed to do to put myself on the right path.
It's all the same with personal finance.