In my house, we use both Personal Capital and Mint. I couldn't live without Personal Capital's investment tracking, net worth, and retirement planning tools, while Mint gives us a nice overview of our spending and has great budgeting capabilities.
Technology has legitimately streamlined our budgeting, spending, and investment practices with a variety of personal finance apps and money tracking tools. Personal Capital and Mint are two of the most popular free options, but is one better than another for managing your money?
Before I take a deep dive into each personal finance tool, let's take a close look at the basics of each…
Personal Capital was founded in 2009 and now has over 2 million users and manages over $9 billion in assets.
Personal Capital offers two services, a paid version that acts more like a robo-advisor for clients with over $200K in investment assets and a free one that can be used by anyone. Since I'm talking about Personal Capital vs. Mint, I'm going to focus on the free version of PC, which has a lot to offer.
Its main focus is on your net worth, investment tracking, and helping you prepare for retirement. It does this with some really robust tracking and analysis tools that are available in the free and paid version, like:
401(k) fee analyzer
Asset allocation tool
Investment Checkup
Retirement planner
To learn about everything Personal Capital offers, including their paid services, you can read my full Personal Capital Review for 2022.
Mint
Mint was founded in 2006 and was acquired by Intuit in 2009. They've grown to over 10 million active users, seeing over 250 billion transactions per year.
Mint's goal is to give you an overview of your finances by offering a variety of personal finance tools, like:
Budgeting
Spending analysis
Bill pay reminders
Credit monitoring
They also offer investment tracking and goal setting tools, but they aren't as robust as what Personal Capital offers.
Personal Capital vs. Mint, how does each app stack up?
I'm going to break down the most important components of each app to help you decide which money tracking tool is best for you.
Signing up
Most money tracking tools have a pretty similar sign-up process, and Personal Capital and Mint are no different. You just need an email address and a secure password to set up your free account. After that, there are a few differences…
Signing up for Mint
Mint asks you to add your cell phone number to verify your account's safety, but it isn't required.
You'll need to enter your country and 5-digit zip code, which helps Mint find the best offers for you (more on this later).
If you already have an account with any other Intuit products like Quicken and TurboTax, you can use the same account when signing up for Mint.
Signing up for Personal Capital
Personal Capital requires a phone number during this process to ensure your account's safety.
There is an optional questionnaire that asks for some basic information (name, age, planned retirement age, and amount saved), which is how the app starts to build a personalized retirement plan for you.
The verdict on signing up – hard tie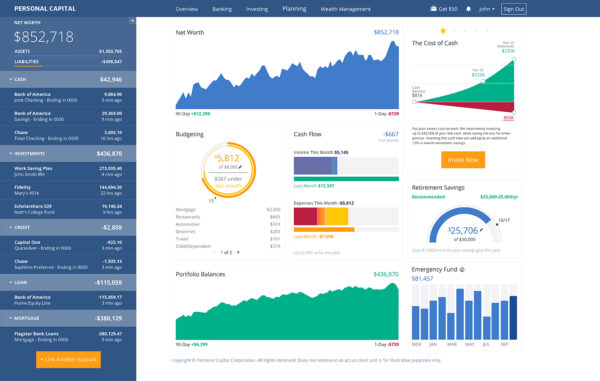 Linking accounts to Personal Capital and Mint
After you've created your account, you'll need to start linking your financial accounts. To get the best picture with either money tracking tool, you will need to link all of them – assets, liabilities, etc. These are things like:
Checking and savings accounts
401(k)
Student loans
Mortgage
Car(s)
Credit card accounts
Student loans
Investments
IRA
Other retirement accounts
Property
Both apps give you a list of some of the largest and most used financial institutions, and you can easily search for any that aren't listed. Don't forget to link accounts from micro savings or micro investing apps like Stash, Acorns, or Qapital.
If you need to take a break from linking accounts during the sign-up process or forget about something, it's a little easier to pick back up with Personal Capital. You just click the + sign at the top left-hand side of your dashboard and link what you need to.
When I was linking my investment accounts to Mint, I did have a couple of issues:
I was prompted to link one account, but then it took me a while to figure out how to add another. The "Add Accounts" tab is nearly hidden under the browser bar, and you can also add an account by clicking on the gear image in the left side of your homepage… this took a lot of clicking around to figure out.
After linking one investment account, instead of giving me the option to add another, Mint wanted me to click on "Invest now with fewer fees," which took me to a page of offers for different brokerages.
Verdict on linking accounts – Personal Capital wins
Synchronization
The point of money tracking apps is to make it easy to see everything in one place. Rather than needing to log into your checking account and credit card companies, you see everything in front of you at once, with numbers you should be able to trust.
At least that's the goal…
I've had issues with Mint synching my transactions. I've heard my readers complain about this too. And when I was writing this overview of Personal Capital vs. Mint, I ran into it again.
Personal Capital showed a completed transaction that went through my checking account earlier that day, but Mint didn't show it. I checked a little bit later and Mint acknowledged that the transaction had been made, adjusting my balance but not my available balance.
Maybe I'm being a little over critical here, but I think this kind of stuff is important if you're hoping to use one money tracking tool to show where you stand financially.
Verdict on synching accounts – Personal Capital wins
Budgeting
Okay, this is where Mint shines, not going to gloss over that at all. Mint really gives you more guidance when it comes to budgeting. Personal Capital, on the other hand, is more focused on your cash flow, which isn't a horrible way to budget, but it's not for everyone.
Here are a few highlights of budgeting with Mint:
Mint sets a budget for you based on your spending habits, but you can build one on your own that helps you work towards your financial goals.
There are around 100 different budgeting subcategories, and you can also create your own.
With each category, you set the time frame, amount, and if a surplus can roll over.
You get notifications if you are close to overspending in an area.
Personal Capital's budgeting functionality is tied to your cash flow.
Cash flow is the amount of money you have coming in every month, from every possible source of income – paychecks, dividends, income on investment properties, earned interest, etc.
You can set your monthly Personal Capital budget to whatever you'd like, and then they use your transactions to show you where you're at with your spending vs. cash flow… or money going out versus money coming in. This is a no brainer, but ideally, you have more coming in so you're not running on a deficit.
Mint overall offers a more structured budgeting function that allows the average consumer, especially those dealing with a credit card or student loan debt, to take action with their budget.
Want even more options for budgeting? You can see how Mint compares to other popular budgeting apps:
My only real complaint about budgeting with Mint is that they sometimes miscategorize transactions in strange ways. When I was trying out the Stash app for my Stash review, Mint categorized a deposit into my Stash account as "public transportation." Personal Capital listed it as "other expense," which is a little better.
The good news is that you can go back and recategorize transactions with each money tracking tool.
Verdict on budgeting – Mint is the obvious winner
Investing
Both Personal Capital and Mint let you link any investment accounts. Both apps show you the performance, value, and allocation of all of your assets. But here's the difference…
Personal Capital really lets you interact with your investments.
There are easy to understand graphics. For example, under "Allocation," I can click on "U.S. Stocks" and I'm given a complete breakdown of large, medium, and small cap value, core, and growth. Personal Capital gives you a visual representation of this, and the actual numbers for each part.
That may sound like a pretty intense investing tool, and not every investor is going to nerd out about this stuff as much as I do. But, Personal Capital gives you the tools to understand and utilize your investments.
If you are more hands off, Personal Capital offers a free Investment Checkup that analyzes the allocation, stocks, and costs of all of your investments. There is a full and easy to find a disclaimer about the checkup (super important). The checkup can tell you things like:
Target allocation for your investments, based on historical performance and future projections
Explains risk and return
Which asset classes you are under or overweight in
Which sectors you're invested in
How much you are paying in fees for each account and each holding
That is really robust investment information for a free money track tool, and legitimately one of my favorite things about using Personal Capital.
Verdict on investing – Personal Capital wins, hands down
Bill management
Neither app offers much in this department, so prepare to be underwhelmed.
Mint lets you set bill pay reminders. They did have a bill pay feature, which let you pay some of your bills through the app, but that was canceled.
Personal Capital pulls the due dates from your linked accounts to remind you, but you can't add reminders for accounts you can't link, like utilities.
Verdict on bill management – pretty boring tie
Customer service
Personal Capital is known for stellar customer service. There is an easy to find "Help" button in the bottom right corner of the screen, and if you can't find the answer to your question that way, just click on the "Contact Us" button that shows up within the "Help" screen.
You can email 24/7 about specific financial institutions or services, upload files, etc. Your request is responded to quickly, usually within 24 hours. I've even been able to contact Personal Capital to help my readers with some of their questions.
Mint offers Chat, but it's more of an email supported help, and I've never found it incredibly helpful or fast.
For customer service – Personal Capital wins
Security
Here's how both Personal Capital and Mint are keeping your accounts and information safe:
Both money tracking tools are read-only apps, which means that money can't be moved in or out of your accounts via the apps. Not by you, the app, or a hacker.
Your full name and account numbers are never displayed.
Your data is heavily encrypted with the same level of security used by top financial institutions and companies.
You can use fingerprint login through supported Apple devices.
Mint does go one step further with multi-factor authentication, which is becoming the new standard. Personal Capital hasn't quite made that leap and asks that you register your computer before using.
Is Personal Capital safe to use? Yes, and I trust them with my information. Data breaches are now part of our new normal, and part of using personal finance apps like Personal Capital and Mint means that you are probably ahead of most in catching any issues.
Verdict on security – Mint wins by a very narrow margin
User experience
Silicon Valley has gotten really good and anticipating any needs in the market and filling those needs with apps that are intuitive and designed well. I really appreciate this.
Mint has worked really hard in the past couple of years to work out the kinks… we've got to get better at synchronization guys… and they've cleaned up that app a little bit. But, Personal Capital still offers a much better user experience IMHO.
Personal Capital is clean and focused on your finances. There's no clutter, no ads, and you can easily find the tools you need. I hope you can see that in the screenshots I've got in this article, but if not, check them out for free to see for yourself.
Verdict on user experience – Personal Capital wins
Personal Capital vs. Mint – More to know
Both money tracking tools clearly have some great features, but there are a few more differences I want to point out about each.
How Mint and Personal Capital make money
Both are free tools, but Personal Capital is ad free because they make money by offering high-level investment services and wealth management tools for high net worth individuals. That means even in the free version, you aren't seeing ads, and I really like this.
Mint makes money by showing users offers for outside financial services – credit card offers, brokerages, bank accounts, and more. You don't have to click on any of these, but know that you'll see them.
Personal Capital's Retirement Planner
This is another really valuable free service that comes with Personal Capital, and the Retirement Planner works by analyzing:
The information from all of your linked accounts
Contributions you're making to your retirement accounts
Your current net worth
Your planned age of retirement
All of that is put together to show you your trajectory towards your ideal retirement age. You can run multiple scenarios to find the best plan to put you on track for retirement. If you're behind on retirement savings, this might be a huge wake-up call. And scary or not, this tool can help you get on track.
Personal Capital's Retirement Fee Analyzer
Depending on how you're investing your money, you may run into fees that can wind up costing you thousands of dollars over the course of your retirement strategy. By showing where you're losing money, you can make adjustments to optimize your retirement funds.
Mint offers credit monitoring tools
Mint gives you quarterly updates on your credit score and also shows you what's hurting and helping you and why.
Why is this valuable?
No matter what anyone says, your credit score is an important part of your financial life. A higher score opens you up to better rates on a mortgage, student loan refinancing, and lets you take advantage of some of the best credit cards for travel hacking (if that's your thing).
If you are working on building your credit score, credit reports can show you how your hard work is paying off. And if there is ever any fraudulent activity, your credit score and report can help you rectify that situation.
I know many people who use Mint as a companion to Personal Capital for this very reason. It doesn't hurt to see your credit report through Mint. That's actually a pretty common myth about credit scores – it doesn't hurt if you pull your score and report (like seeing it through Mint), but you will get a small ding if a lender or credit card company does.
What M$M readers are saying about Personal Capital vs. Mint
I love taking input from my readers to help even more people make informed choices about the tools and services that are on the market today. So, here's what readers in my Millennial Money Man Facebook Community are saying:
"I like Mint for tracking my expenses and spending, I think at this point, because I've finally gotten it the way I like it, I find it's more accurate and less time-consuming… I prefer PC for tracking my investments and net worth."
"For a tool like this, I'm much more concerned with investing and retirement planning than budgeting, so Personal Capital fits my needs much better. I love the You Index to track your investment performance relative to the S&P and Dow. The retirement planner is awesome as well."
"Big time Mint Man… I love that it gives me an overarching view of everything that I have due/have paid recently."
"My favorite part of Mint is over time trending data and the ability to compare months or years spending/income."
"I have a bit more history with Mint, as I used it throughout college to help me manage my beer/food budget… As I started getting more serious about the PF side of things I turned toward Personal Capital to help me manage my net worth and long term goals… So between the two, I get my yin and yang for my short term and long term money goals."
"I think it's great that Personal Capital allows you to plan your retirement, but I like how easy Mint is to use and that it's, for the most part, simple. When you first start out in trying to manage your money, I think that thinking too far ahead could overwhelm you. Once you know what you are doing, then I think switching to Personal Capital will help you take the next steps in your financial journey."
Personal Capital vs. Mint – My final word
When it comes to choosing a winner for the Personal Capital vs. Mint test, overall, I think both of these tools are great. But personally, Personal Capital is my top pick. I'm more interested in retirement planning, and I just like the overall look of Personal Capital. That might seem a little silly, but design matters.
This doesn't mean that you should overlook Mint, because they clearly offer an awesome budgeting tool for the price.
If you're not sure which one you'd like, just try them both. They're free, so what do you have to lose? Definitely not your money.