If you know me by now, you probably know that I'm big fan of using technology for money management. Is this a symptom of my millennial-ness? Maybe, but I also think that millennials are just more willing to stay interested in personal finance if they have access to super-simple apps for money management.
There's nothing wrong with old school systems of pen and paper or even making your own spreadsheets, but that has never really worked for me if we're being honest.
Enter Mint and Personal Capital. These two financial software heavyweights are changing the way we interact with our finances, and that's a good thing. Plus, they're both FREE.
From what I'm seeing in my M$M FB Community, it sounds like a lot of you are using at least one of these platforms already. Nice work on keeping track of your finances! I've also been reading about Mint and Personal Capital in comments from readers and on other blog posts.
I am seriously excited to know that so many people, not just millennials, are paying more attention to their finances. Everyone seems to have their favorite application, and a lot of that comes from which system offers the functionality you need for your financial situation.
I'm signed up for both Personal Capital and Mint, and I really do think they are very different systems, both with the goal of helping you with your finances.
Alright, let's dive in and go over the basics of both today.
First, why you should keep track of your finances
Everyone's financial situation is a little bit different, and your situation likely changes from year to year as your income grows and you begin to make long-term financial goals. There are other factors too, like job loss, changes in your family size, buying a home, paying off student loans, investments, etc. that all add to your overall plan.
That's a lot of stuff to keep track of, and I think that's why some people aren't doing it. I also know that it's tough to sit down and track your money when there really isn't much coming in or if you have a huge amount of debt sitting on your shoulders. Those, though, are the times when you need to track your finances the most. Well… you should ALWAYS be tracking them.
If you like to nerd out on stats like I do, I found some statistics about the overall financial well-being of Americans for you. InCharge, a nonprofit credit counseling service, has compiled them here. Here are a few noteworthy ones:
55% of Americans don't have enough saved to cover a month's worth of lost income.
54% of Americans say they have just enough or not quite enough to cover their monthly expenses.
36% of millennials say they are receiving financial help from their family.
22% of millennials have borrowed from their 401K.
I bring these up because I really believe that financial literacy, not just overall industry terms but understanding your own finances, is a huge factor in where you're positioned in these statistics. You don't necessarily have to use a platform like Mint or Personal Capital to be on the good side of those stats, but let me show you some of the positives their users are experiencing:
62.2% of Mint users who set a budget stay under it.
The Mint user's average credit score is 705, compared to the national average of 673.
The more active you are on Mint, the more likely you are to pay your credit card balances in full each month.
UCLA researchers found that users of Personal Capital save 15% more than those who don't use their service.
Fortunately, both Mint and Personal Capital are available to anyone who wants to use them, and we're getting to a point when there is really no excuse to be ignorant when it comes to your finances.
Here we go, Personal Capital vs. Mint
I just want to be very clear before we start – both tools are really good in terms of helping you manage your financial accounts. Seriously, if you are keeping track of your finances in any way, you are on the upside of this issue.
If you don't like using Excel spreadsheets or even pen and paper to track your money, you'll like either one of these. Both companies offer many of the same features, like two-step monitoring, cash flow monitoring, linked bank/brokerage/credit card accounts, and email spending alerts, but there are subtle differences that mean you might like one better than the other. Like I've already said, it sounds like a lot you are using both.
What you're saying about Mint and Personal Capital
"I like Mint for tracking my expenses and spending, I think at this point, because I've finally gotten it the way I like it, I find it's more accurate and less time-consuming… I prefer PC for tracking my investments and net worth."
"For a tool like this, I'm much more concerned with investing and retirement planning than budgeting, so Personal Capital fits my needs much better. I love the You Index to track your investment performance relative to the S&P and Dow. The retirement planner is awesome as well."
"Big-time Mint Man…  I love that it gives me an overarching view of everything that I have due/have paid recently."
"My favorite part of Mint is over time trending data and the ability to compare months or years spending/income."
"I have a bit more history with Mint, as I used it throughout college to help me manage my beer/food budget… As I started getting more serious about the PF side of things I turned toward Personal Capital to help me manage my net worth and long-term goals… So between the two, I get my yin and yang for my short term and long term money goals."
"I think it's great that Personal Capital allows you to plan your retirement, but I like how easy Mint is to use and that it's, for the most part, simple. When you first start out in trying to manage your money, I think that thinking too far ahead could overwhelm you. Once you know what you are doing, then I think switching to Personal Capital will help you take the next steps in your financial journey."
Personal Capital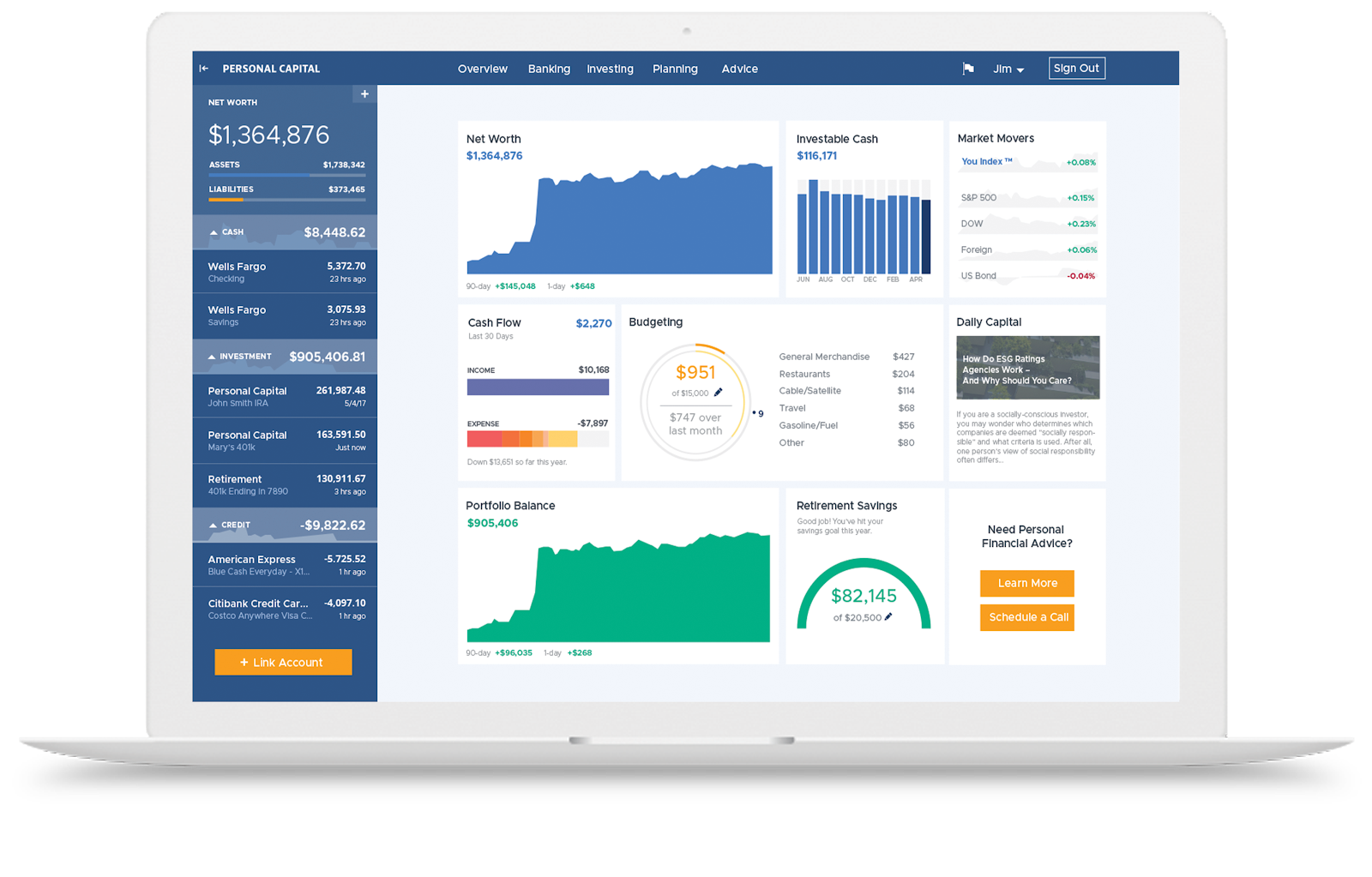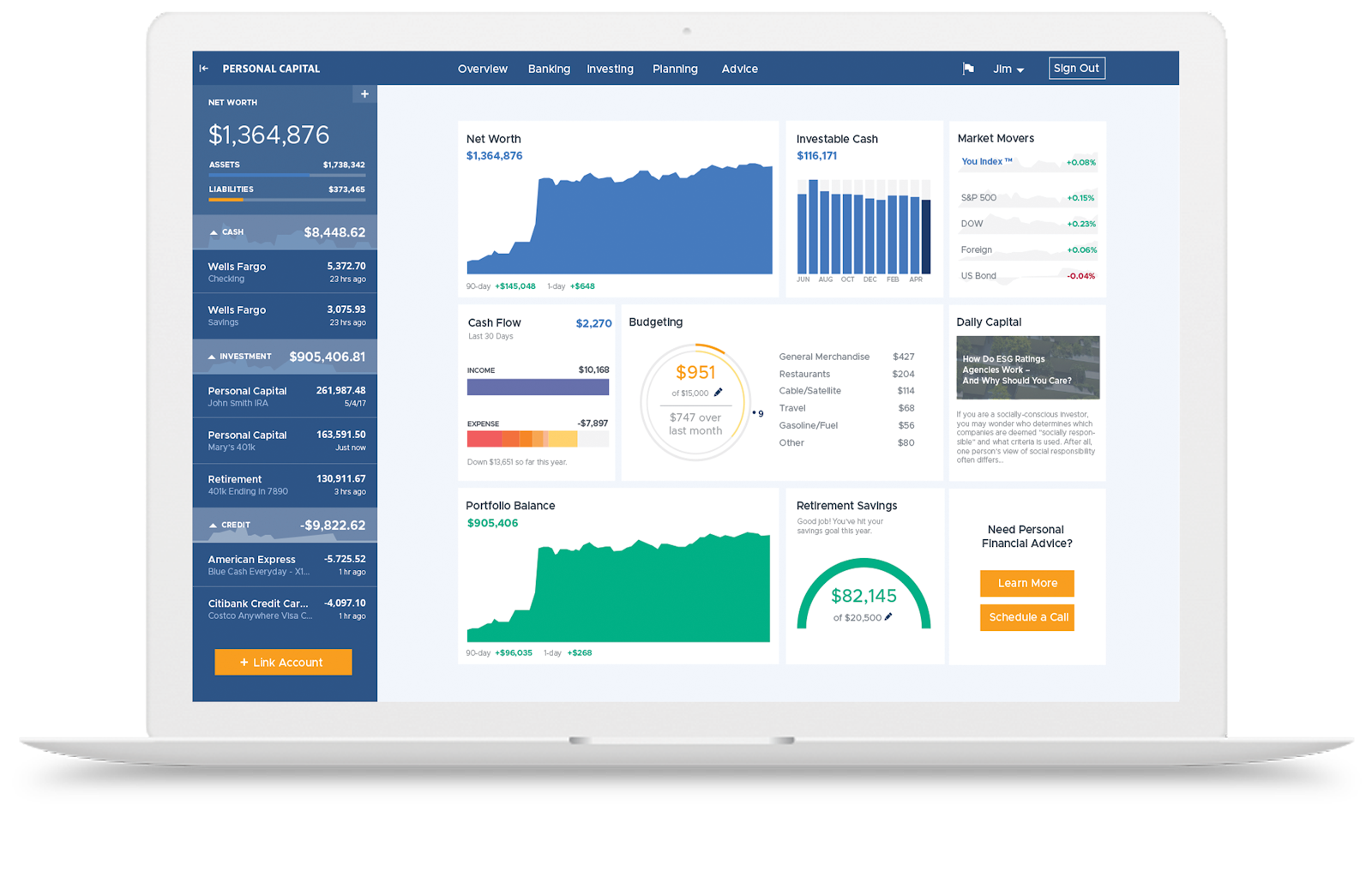 Personal Capital was founded in 2009 and now has over 1.8 million users. They currently track over $550 billion in assets and manage over $7.5 million assets.
Personal Capital's main task is tracking net worth and helping you prepare for retirement. You can see on the dashboard (images provided by Personal Capital) that everything really focuses on your monthly cash flow and investment holdings. You can use the "+" sign in the top left corner to add in every asset you own (including real estate and cars) in order to get an accurate picture.
Probably my favorite feature is that Personal Capital allows you to map out and plan for your future, and they do this with a cool asset allocation tool and easy to understand retirement planning functions. They basically take all of your investments, put them in one place, and allow you to look at them at the same time.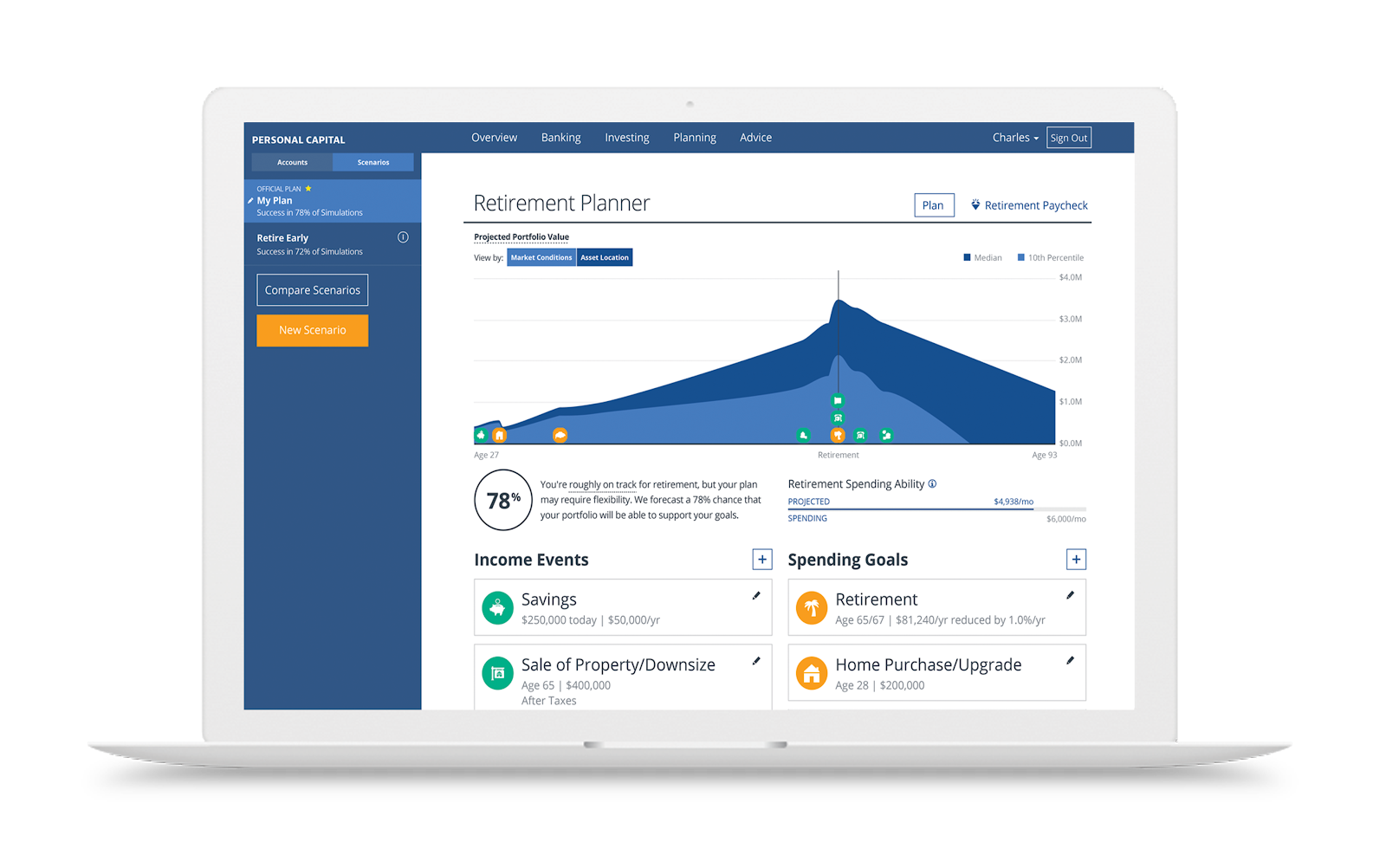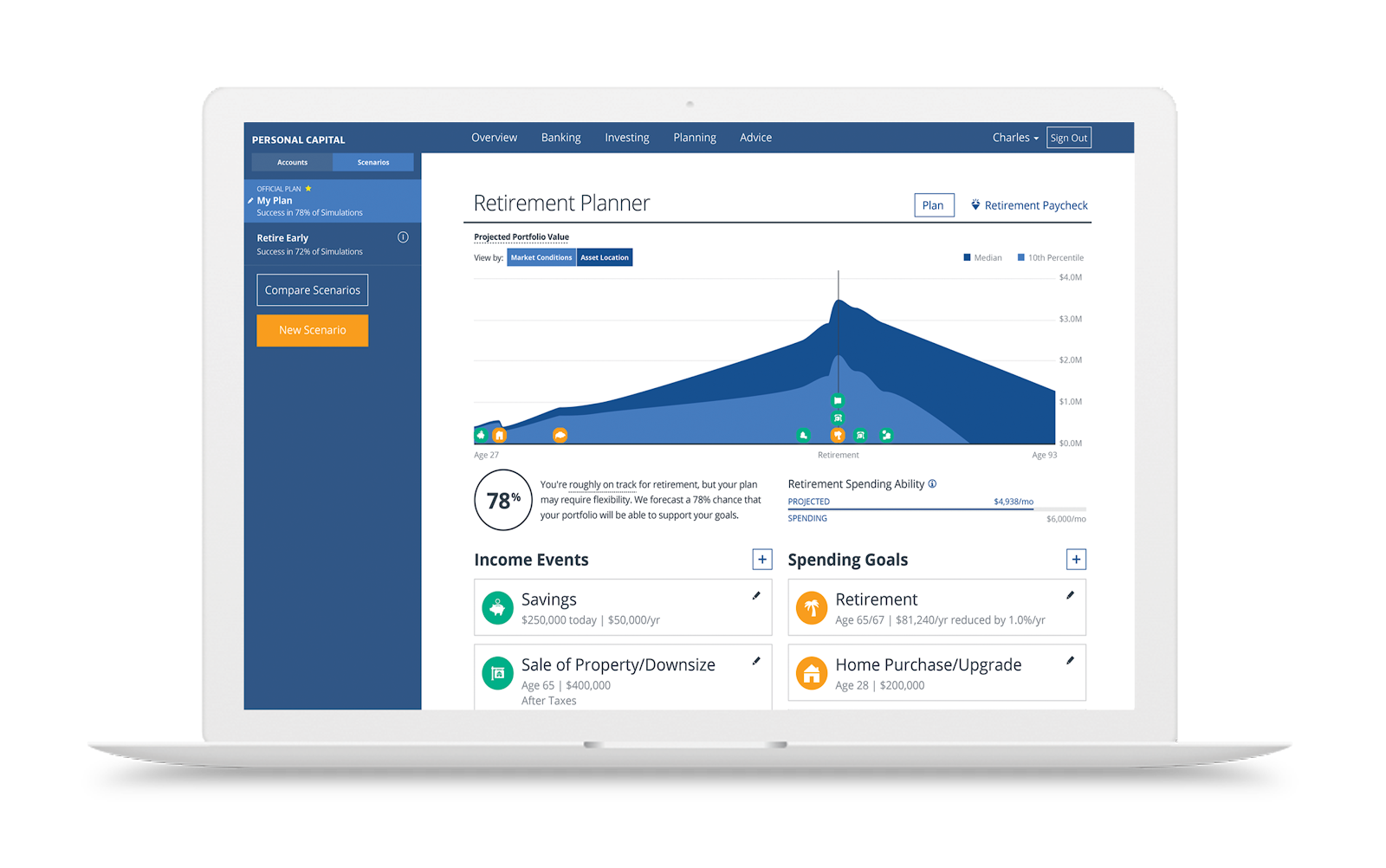 Their net worth tracking is actually a really helpful way to see your overall financial picture. Why is your net worth important, find out here.
The layout is very simple and super non-cluttered, which is what I like the most about it. You won't see any ads on Personal Capital. They make their money by providing financial advising services to high net worth individuals, but it's completely optional and you can still use the asset allocation tool without that particular service.
You can sign up for Personal Capital here.
Mint
Mint was founded a few years before PC in 2006 and were acquired by Intuit in 2009, and they've grown to over 10 million active users, seeing over 250 billion transactions per year. Like many of you were saying, Mint is a great tool for budgeting, and that's really what their main goal is. Like Personal Capital, you can see all of your accounts on the dashboard, and their mobile platform is also very user-friendly.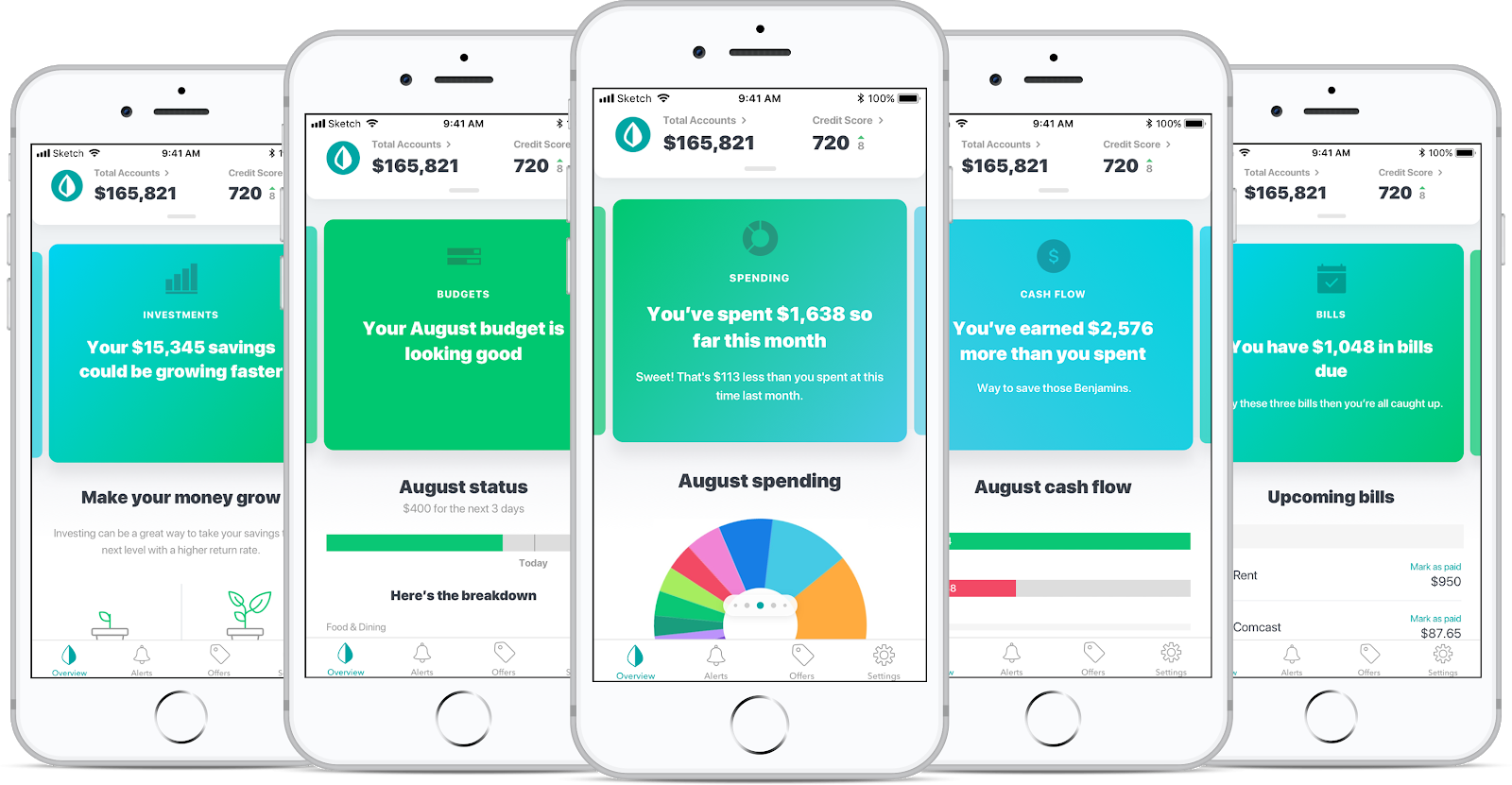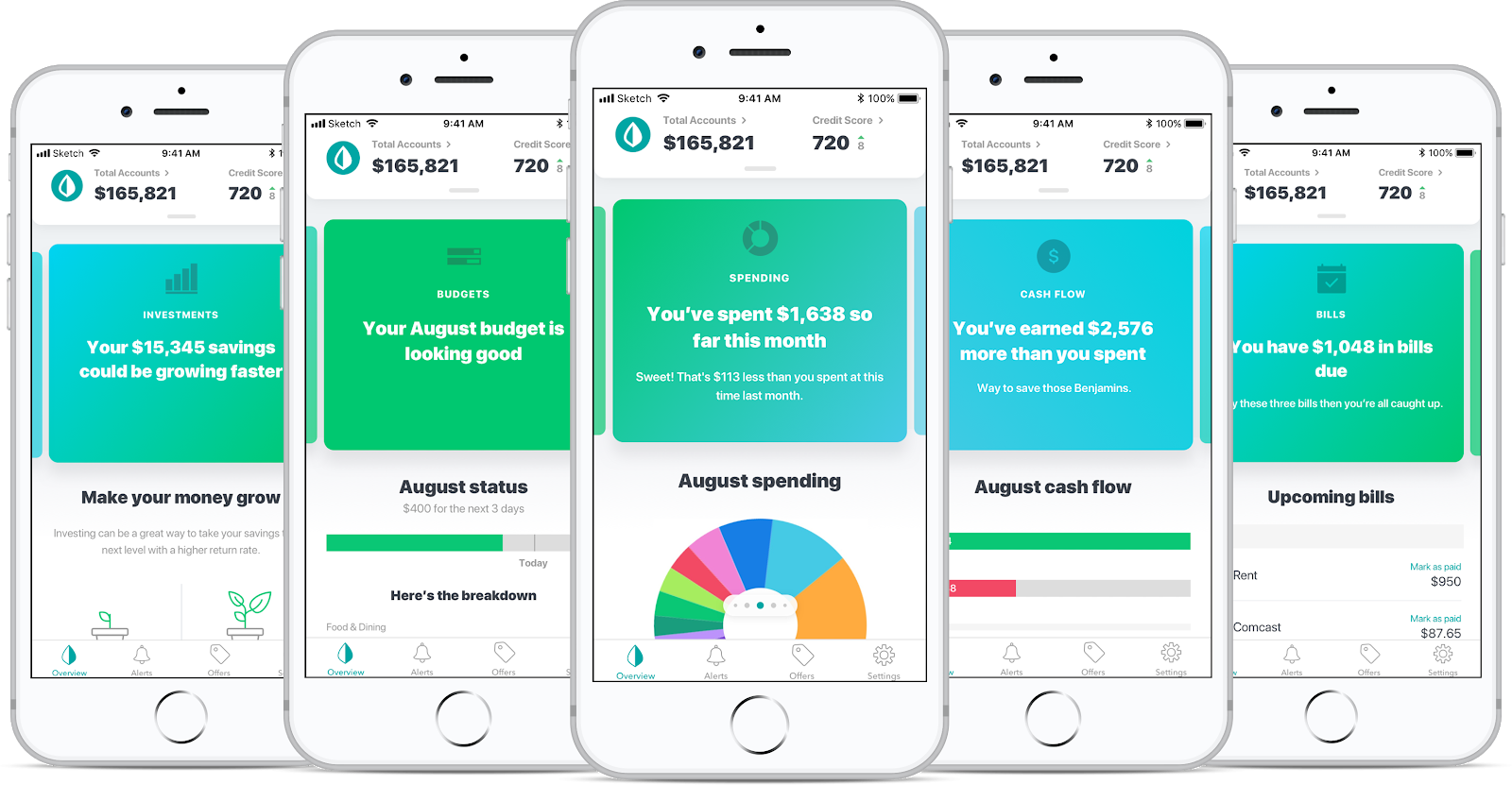 They send notifications when you have a new credit score, when you are going over your budget, and they let you set reminders for on-time bill payments. However, they did just get rid of their bill pay service (paying your bills through Mint) because not enough people were using that tool.
Mint has, though, been working hard to declutter their dashboard, and I think that was a good choice. There are still ads at the top of the page, and Mint makes money by offering financial products and services to users (similar to what Credit Sesame does for your credit score).
Mint recently released a sister product called Turbo. (Don't confuse this with the online tax tool, which is also owned by Intuit.) While I haven't used Turbo, the goal is to show you how you look to lenders using your verified income, credit score, and debt-to-income ratio. They also offer comparisons for motivation.
So, which one is better for…
Signing Up
The sign-up process for both tools is extremely simple. All you need is a valid email address and a strong password to get going. You'll have to link your bank account(s), and then both Mint and Personal Capital will update them in real time. I suggest gathering all of your account information before getting started. Trust me, this will help streamline the process even more, and if you're not adding everything, you won't get an accurate picture of your financial situation.
As far as security, both sites have a version of two-factor authentication. The biggest thing to understand when using these services is that they are "read-only." You can't make transactions through the programs, and they don't download personal information or account numbers.
Customer Service
Personal Capital has great customer service. I've had several readers ask me questions regarding specific types of accounts, and every time I've called into PC they've helped me answer the reader's question. You know I love helping you, and I love when a company makes that super easy.
Mint, on the other hand, doesn't have customer service, which is a little bit of a bummer. They do have support if you run into issues, but it doesn't seem to be very helpful in my opinion.
Budgeting
This is where Mint shines! You can set budgets for items like groceries or gas and monitor whether or not you went over budget in a particular month, and this focus on budgeting is a really excellent tool for young people just starting out, those who want to get out of debt, etc. The entire platform is built around this functionality, and they are doing great with it.
Personal Capital recently released a spending tool, but it isn't nearly as functional as what Mint offers. Plus, it's currently only available on mobile devices.
Investing/Retirement Planning
Personal Capital really does well here. The application features your investment accounts that make up your portfolio making it easy to see if you're up or down in the market. You can connect your investment accounts on Mint, but they don't offer the types of tools PC does, like the asset allocation tool, which really helps you with your planning.
PC, unlike Mint, also has a retirement planner, which helps you project how much money you'll need to invest now to hit retirement age goals.
It also includes a free analysis tool, which will show you where you are leaving money on the table with your various investment products.
Personal Capital is definitely my favorite in this area, and as you saw earlier in this article, many of my readers feel the same way. Despite letting you connect your investments, Mint just doesn't offer the same robust or easy to view tools as Personal Capital does.
My personal favorite?
When it comes to choosing a winner for the Personal Capital vs. Mint test, overall, I think both of these tools are great. But personally, I'm going to stick with Personal Capital for now. I'm more interested in the retirement planning and I just like the overall look of Personal Capital. That might seem a little lame, but design matters to me.
This doesn't mean that you should overlook Mint, because they clearly offer an awesome budgeting tool, and you should check Mint out if you're interested.
If you're not sure which one you'd like, just try them both. They're free, so it's almost a no-brainer.
Images and statistics provided by Mint and Personal Capital.