One of the biggest complaints about Quicken is that it's no good for Mac users. This is why I'm so excited to do this Moneydance review. Moneydance is a personal finance software that feels really similar to Quicken, but it offers strong tools and features that function exactly the same for both Mac and PC users.
Honestly, I can't tell you how many Mac users I've talked to that have complained about Quicken. It's missing features, it's buggy… the list goes on.
Moneydance isn't like that it all. It's the same software across the board. It's maintained well, updated regularly, and has a variety of features for nearly every facet of your financial life.
In this Moneydance review, you'll learn what Moneydance is, all about its features, cost, and the pros and cons.
What is Moneydance?
Moneydance was first released in 1997… that's over 20 years old. Since then, it's gone through numerous updates and releases so users can take advantage of a growing list of features, including bill payment, budgeting, and investment tracking.
It's local software, so not cloud-based, which is good for anyone who is concerned about data breaches. But, you still can link and sync your accounts.
It's also not subscription-based, which is pretty different than what other paid personal finance apps are currently offering. You pay a one-time fee for Moneydance, have free access to the next updated version, and then receive a discount on future software updates. Updating is entirely optional.
One more important thing to note before getting deeper into this Moneydance review – Moneydance has a pretty old school look. Don't get me wrong, it runs quickly and smoothly, but it doesn't look as modern as apps like Mint or YNAB. I don't think this is going to be a major selling point for people, but it's worth mentioning.
Top Moneydance features
Online banking
With Moneydance, you can enter transactions manually or you can link your accounts and let the app download and sync transactions for you. To categorize synced transactions, you will need to click on the transaction and confirm the download, which includes a categorization step.
Once you've been using the software for a little while, Moneydance learns how you categorize transactions and starts doing it automatically.
While it might seem like some work to click on individual transactions, Moneydance learns how to do it pretty quickly. And because you can link all of your accounts to Moneydance, you are saving time by not having to log in to each account separately – you can use Moneydance to keep track of everything in one place.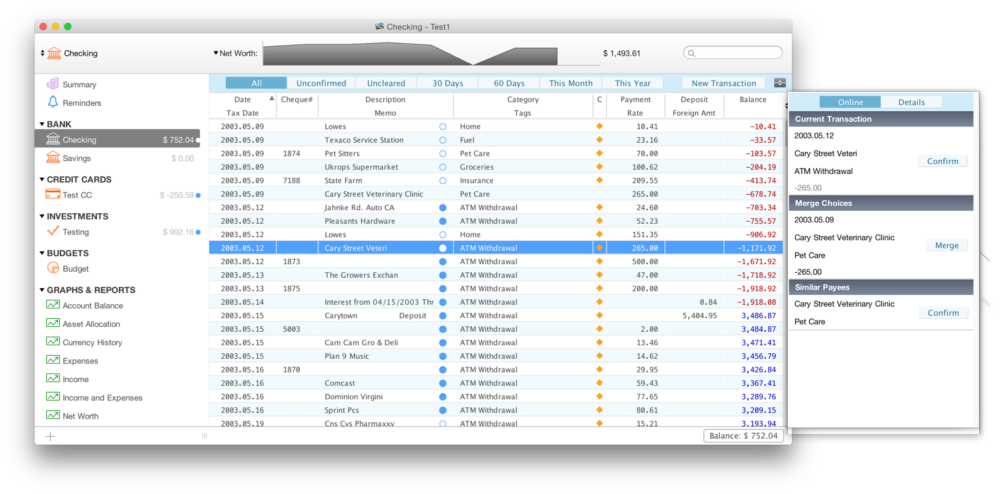 Moneydance Dashboard
Your Moneydance dashboard is where you get a broad overview of your finances because it tells you where you stand on:
Account balances
Upcoming and overdue transactions
Reminders
Budget
Exchange rate information
Balances on investment accounts
Loan balances
Net worth
Monthly expenses
Calendar
On your dashboard, there is a drop-down account list. When you click on an account in that list, you are taken to the account's register, and this is where you can enter and reconcile transactions.
The Moneydance dashboard is set up really similar to other personal finance apps, like Quicken and even Personal Capital. One thing I like about the Moneydance dashboard is that at the very top of your screen, you have a visual reminder of your budget that shows your income vs. expenses – showing you how close you are to going over.
Related to this Moneydance Review: Personal Capital vs. Mint⼁Which Money App is Best?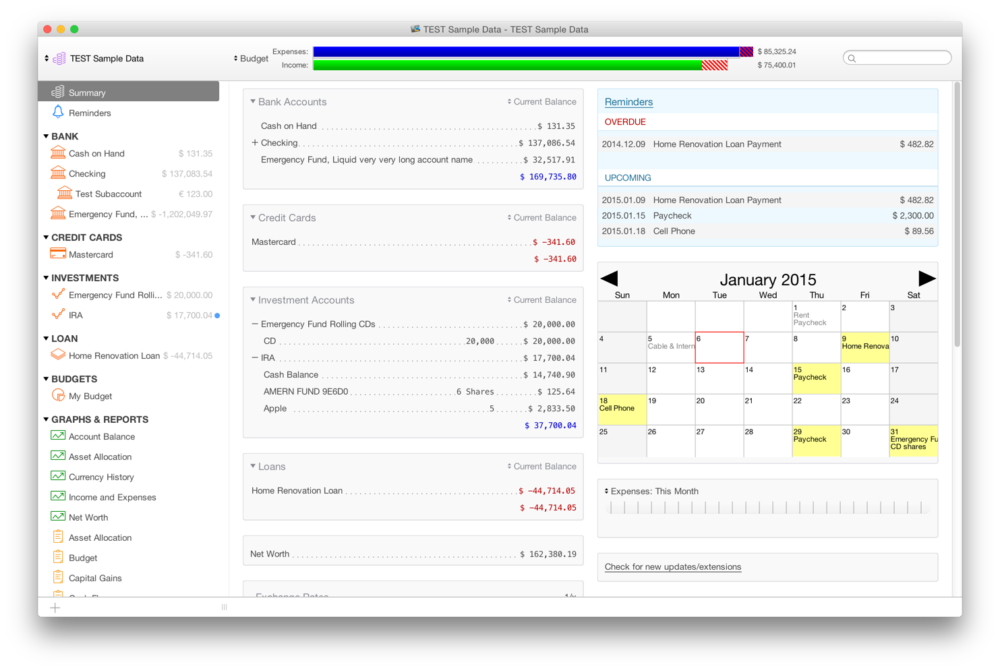 How Moneydance handles credit cards
Just like your bank account, you can link your credit cards to keep track of your transactions with a description, category, amount, and date. When you enter information on a credit card, you have the option to store the interest rate, expiration date, card number, and bank name.
When you make payments on your credit card, they are recorded as a transfer of funds from your bank account. This reduces your bank account balance and credit card balance.
Graphing and reports
Being able to visualize your income and expenses can be really helpful for some people, and Moneydance will create individual graphs and reports for different facets of your finances, including:
Checking account balance
Asset allocation
Currency history
Income and expenses
Networth
When you create your graphs and reports, you can select the type, date range, and any additional settings you want to include. Once you run your reports and graphs, you can download and print the images if you like having a hardcopy on hand.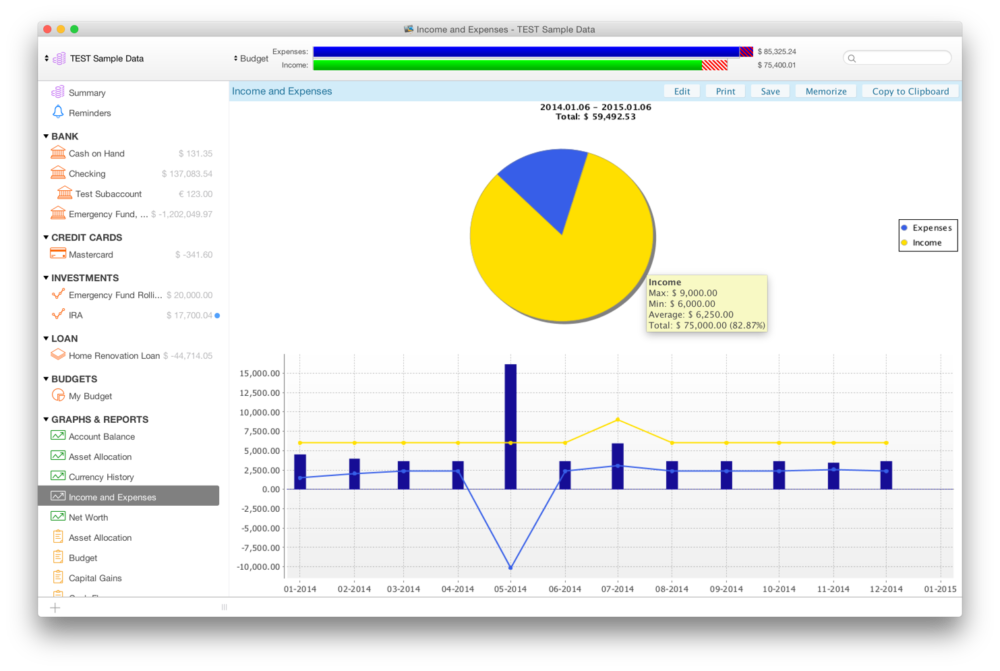 Account registers
This is where you can enter, edit, and delete transactions in any of your accounts. While you can enter things manually, Moneydance takes care of sorting and balancing what's in your account. There's also an auto-complete feature that makes it even easier to enter and categorize transactions.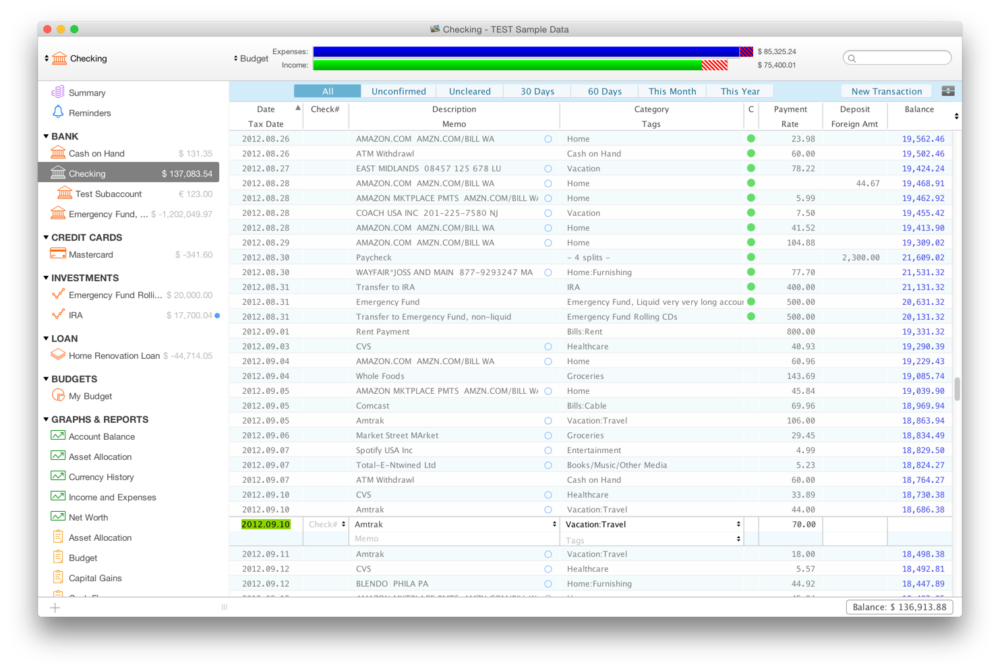 Bill Pay on Moneydance
If your financial institutions support online bill pay, you can use Moneydance's Direct Connect to link your bills and pay them online. Setting Bill Pay up is virtually the same process as setting up online banking – finding your financial institution, following the prompts to enter your login details, and linking your account.
After your bill is set up for online payment, Direct Connect will send a payment request to your bank's server, then a corresponding transaction will be created in your Moneydance account register.
While Moneydance doesn't charge any additional fees for this service, the company you're making online bill payments to might charge a fee.
Moneydance reminders
On the top left corner of your dashboard, you'll find a link to your reminders. When you click on that link you are brought to a calendar screen where you can enter reminders about bills, upcoming expenses, etc. You can set them on a daily, weekly, monthly, or annual schedule.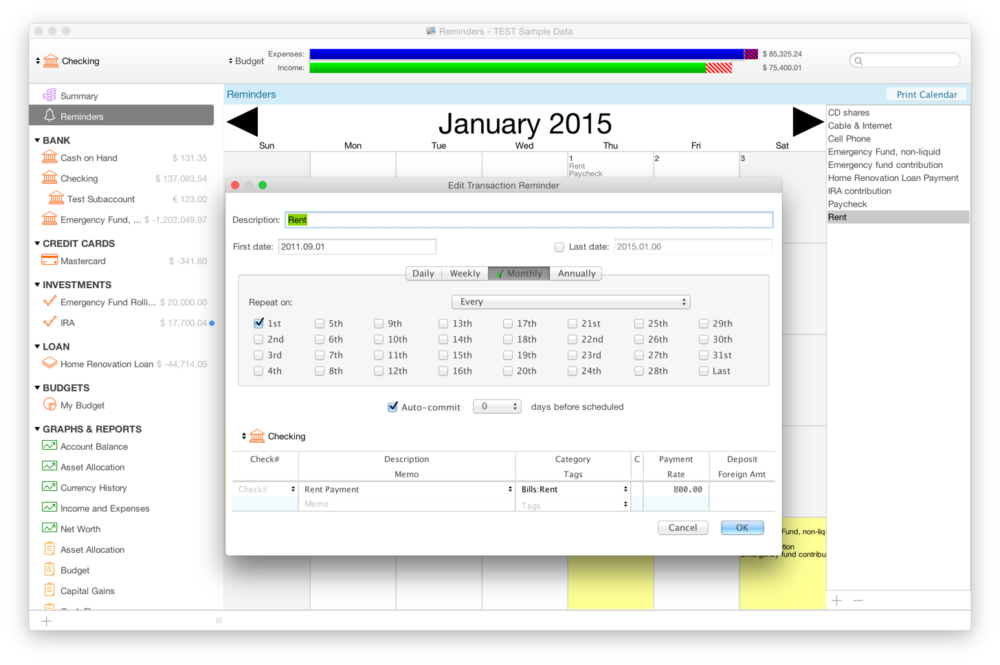 Investment tracking
Using Moneydance you can track your individual investments, investment accounts, and overall portfolio. This lets you get a bird's eye view of your investments and then up close with each of them when you want – including easy downloads of the current price, stock splits, and computing cost basis.
One thing to point out in this Moneydance review is that you can't interact with your investments in the same way that Personal Capital lets you. I mean, the information you get is good, but you can't run a portfolio checkup or analyze your fees.
Learn about how Personal Capital can help you plan for retirement at Personal Capital Review 2020⼁Free Investment and Net Worth Tracking Tool.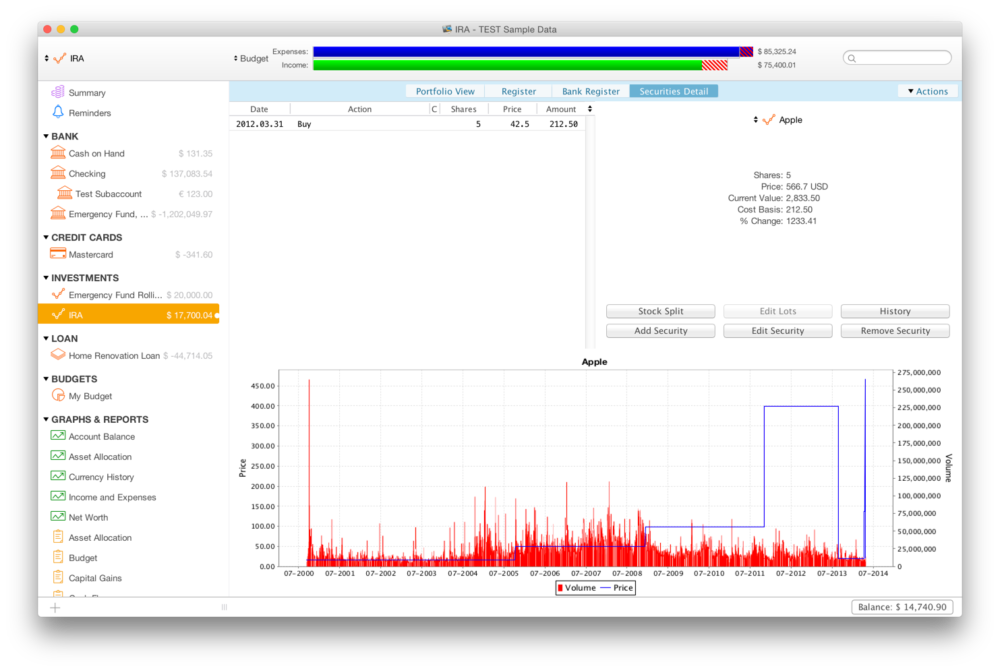 Moneydance's mobile app
Moneydance's desktop app is where you're going to get the most from the software. The mobile app is meant as a companion that you can use to enter and modify transactions on the go. This information is synced between the desktop and mobile apps using Dropbox.
Overall, the mobile app is simple and clean, and it's available as a free download for Apple and Android devices.
Related: Best Personal Finance Software of 2020 (You NEED These Apps!)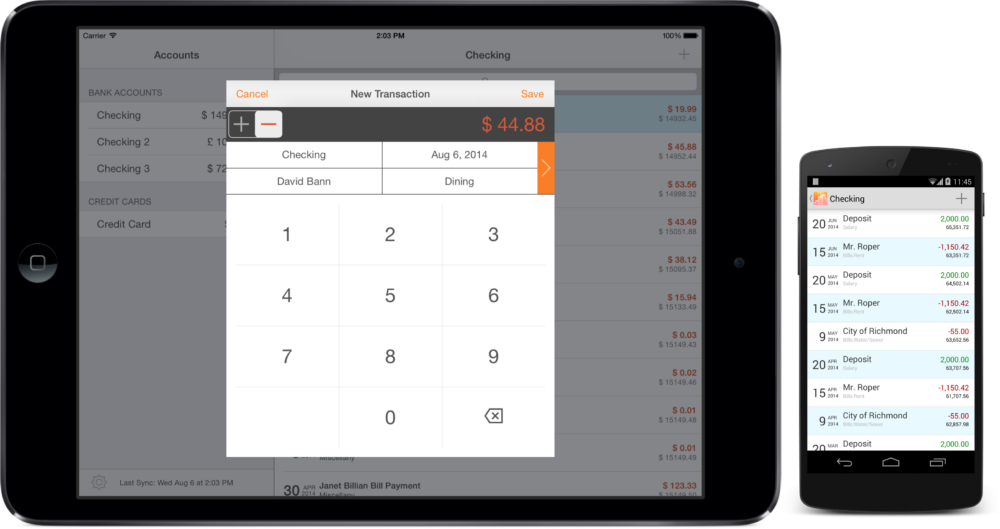 Developer's resources
For advanced Moneydance users, you can develop your own extensions using the free Moneydance Developer's Kit. This kit includes sample code, libraries, and an ANT build file. You also have access to Moneydance's Extension Development support forum.
You can read more about the Developer's Kit and extensions here.
Moneydance support
Moneydance doesn't offer phone or email support; it's run through an online forum. You fill out a request for help and either a member of the Moneydance support team or an experienced user will answer your request. You can also use the search function on the website to look through old forum posts and articles for help.
How much does Moneydance cost?
Moneydance is $49.99. It's not a subscription-based software, so you can make a one-time purchase of the license and use the software for as long as you want.
There is a free trial that gives you access to the full app for up to 100 manually entered transactions, and you have unlimited downloaded and imported transactions. If you want to use the app after 100 manually transactions, you'll have to purchase a license for the software. There is also a 90-day money-back guarantee.
After you've purchased Moneydance, you are entitled to the next version of the software for free. You'll pay 50% of the software price for future upgraded versions.
Pros and cons of using Moneydance
Pros of using Moneydance
One-time fee pricing. Moneydance is a one-time fee of $49.99. You can keep using the software year after year at no additional cost – once you buy the license for the product, it's yours. Remember, you can still update to the next version for free and subsequent versions at a reduced rate, but it's all optional.
Local software. If you are concerned about your information existing in the cloud, Moneydance stores data on your computer.
Simple and straightforward personal finance software. Moneydance isn't relying on looks; it just does what it does best – helping you manage your money.
Online bill pay is supported. Moneydance doesn't charge you any extra for bill pay, and it's available if your financial institution supports it.
Cons of using Moneydance
No way to import Quicken 2019 data. If you have Quicken 2019, there currently isn't a way to move your data from Quicken to Moneydance, and Moneydance says they are currently working on the issue.
It looks a little outdated. This is the flip side of not focusing on design. While the software itself is on point, I wonder how many people are turned off by the overall look of the site.
Somewhat limited features. Moneydance doesn't give you some of the extra features you'll find with some other personal finance tools, like goal setting and retirement tracking options.
Related to this Moneydance review: Personal Capital vs. Quicken 2020⼁Which Money Tracking Software is Best?
The final word in the M$M Moneydance review
Honestly, I think Moneydance is a pretty strong contender for anyone who wants personal finance software like Quicken but has been turned off by the new subscription-based pricing or the fact that it's never been up to par for Mac users.
Moneydance definitely has some strong features that can help you better manage your financial life – I'd say the strongest being your account registers, charts and graphs, and bill pay is a sweet option if it works for your accounts. But for anyone who wants more robust investment and retirement tracking, I'd try Personal Capital.