And just like that, the summer is almost over! It's crazy how fast the months have been flying by, and honestly, I wish they would slow down a little bit so that I can get more work done haha.
But...I can't complain. July was a great month for the businesses (can't believe that I own 3 and will add another project in September too).
Overall, we had a record organic sales month for FB Side Hustle, we're getting ready for the FB Ads for Bloggers launch later this month, I got some huge things figured out for M$M in terms of affiliate income and my writing process, and tons of other cool stuff.
It's so funny when I think back to just three years ago when I started this blog - I had no idea what I was doing.
You could argue that I still don't in a lot of ways, but I do think that I'm getting pretty good at the whole growing a business thing.
Here's what the site looked like almost exactly three years ago: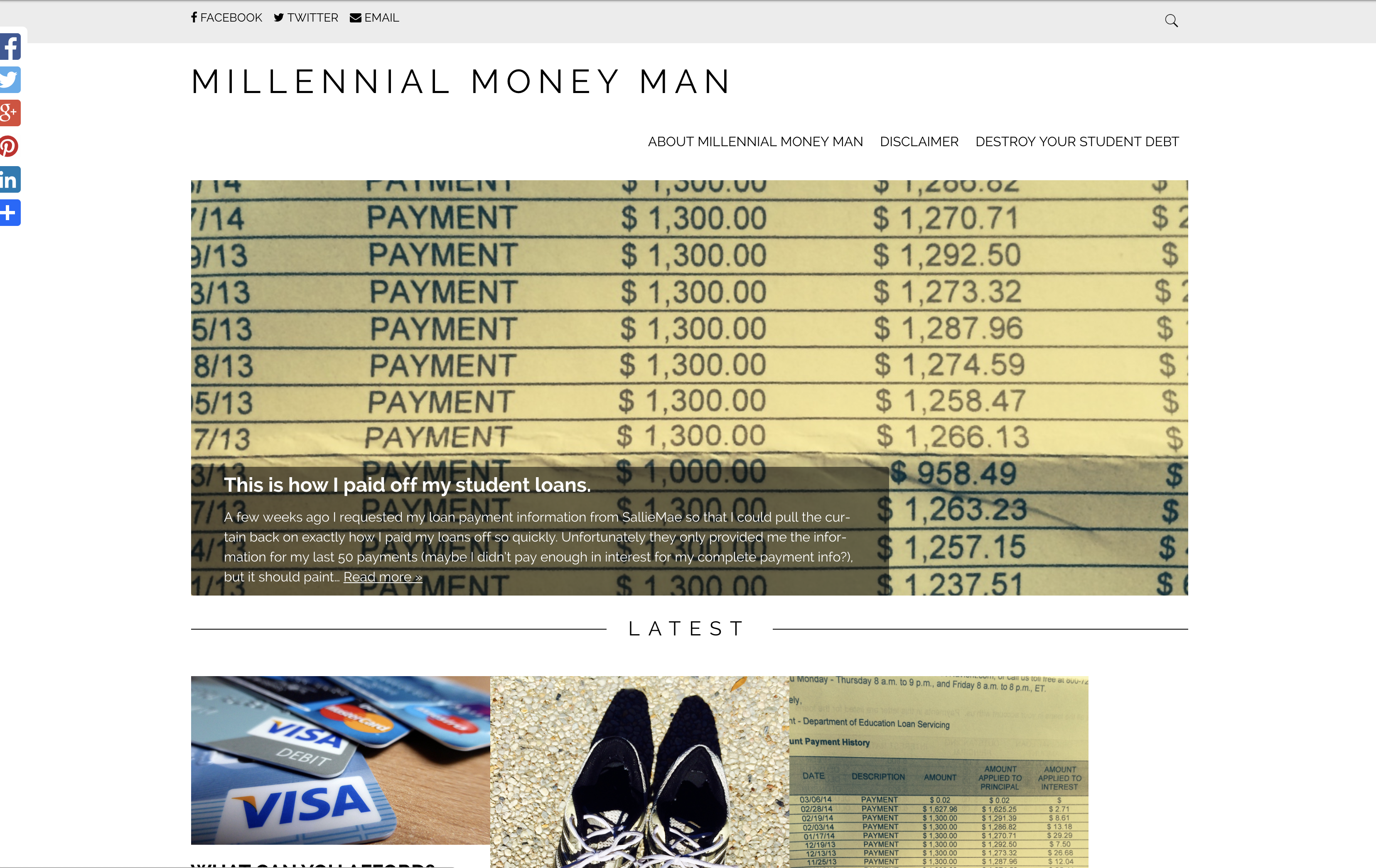 Now, it looks like we'll do somewhere close to $1,000,000 in revenue (!!!) this year, I've got thousands and thousands of new M$M reader friends, and most importantly...
I'm just getting started. Everything you've seen so far is just the warm-up lap.
In this month's income report, I'll go into:
The dog days of summer (and what I'm doing to grow the blog during them)
FB Ads for Bloggers course launch *this is huge* - Click here to jump down to the course info
Update on the Laptop Empires podcast
What it's like having Coral at home all the time
Hiring more team members
Upcoming vacation plans to...you guessed it...Florida again 🙂
Let's dig in, shall we? Read this next little blurb to see how M$M income reports work:
If you're new around here, I started tracking my blogging income through these income reports in mid-2016. This is a great way for me to keep an eye on my progress of doing M$M full-time, and it's also a great way for you to follow along as well if you're thinking of
starting an online business.
My income reports are divided into three sections:
A quick intro to who I am and what my story is for new readers (Must-read if you are new here, skip if you're not)
How I made money the previous month (This changes monthly)
Cool things that happened in my personal life and business goals that I have coming up (Also changes monthly, so you'll want to read)
It's already been so cool to see the progress and how much my life has changed over the past two and a half years!
1. Here's a quick rundown of my story:
I used to be a high school band director, which was basically what I had wanted to do my entire life. I had $40,000 of student loan debt that I hustled really hard on and paid it off in a year and a half (you can read more about that here).
Then, I got really excited about personal finance and started this site. I had NO idea what I was doing, but kept plugging away and eventually quit my job six months later to run M$M (which had basically made no money at that point haha).
And now, here I am. I run an awesome online business and basically have found my passion in life.
A lot of you have wanted to
start your own blogs after seeing the success that I've had, and I highly recommend it. If I hadn't taken a shot on M$M, I would still be stuck in a career I didn't really end up enjoying very much.
Just understand – blogging (or any online business for that matter) isn't easy in any way or for the faint of heart, and definitely not something you should immediately quit your day job for. Most people quit blogging long before they actually "make it."
It takes time to build a business like this, but if you have talent and a good message/story, it is possible to do well.
Take a look at my free blog setup tutorial. You'll have your own blog set up in just 10-15 minutes, and will receive a lower website hosting price since you're an M$M reader when you use my exclusive link. As a bonus from my family at Bluehost- you'll also get a domain name for free ($15 value)!
Have you taken my free blogging course yet?
So far I've had nearly 3,000 people sign up for my blogging course since I created it, and the reviews have been great! Even if you are just thinking about starting a blog or want to figure out how to get more traffic to the one you already have, this will be useful for you.
Basically, if you want to learn the foundational elements of how I went from a high school band director to blogger doing $100k+ of revenue in one month - you'll want to check this out:
Invalid shortcode parameters
2. Here's how I made money with my online business this month:
Facebook Courses (Facebook Side Hustle and Blow Up Your Blog course): $42,883.00 before affiliate payouts and credit card fees

We did a little over $65,000 in gross revenue last month, but I'm WAY more excited about this $42,883 number this month.
Sounds weird, right? Why the heck would I be excited about being down $20k in revenue?
Well, it's pretty simple...
This was our biggest organic month of sales this year. In the dead of the summer. You know...that time when everything is supposed to be super slow.
Last month, we did a flash sale that really boosted our numbers. This month was all about the course's reputation and our FB ad retargeting strategy doing the heavy lifting.
We were starting to see spikes at the end of July when 7-8 people were joining FB Side Hustle every day!
If you know anything about courses, you probably know that what we're doing with this course in such a short amount of time is ridiculous.
The best part is that people who have taken the course are getting results, which basically feeds the beast. When you produce a killer product that actually helps people make more money, you're set.
We've had people quit their jobs after getting multiple FB clients, and now have two members in our $5k club (five $1,000/month clients or more)!
Featured question from people interested in joining the FB Side Hustle Course:
So obviously as the word about the course has grown, I get more and more questions in my inbox from soon-to-be students.
This is the spot where I answer one of the questions that I see popping up more often than others! If you have another question that I don't cover - no worries. We answer almost every question imaginable on the sales page for the course.
Here this month's question:
"What percentage of your students have clients?"
This is actually the toughest question we get, but I think it's a fair one.
The reality is that it's almost impossible to come up with a number like that, but it's not because we don't have students getting clients. It's because we have students joining the course every day and they don't all start the client acquisition process at the same time.
Some people burn through the course and email me the day that they jump in to tell me that they already have their first client.
Some people take their time and fit the course into their schedule and take a few weeks to get their first client.
Some people buy the course when it opens for enrollment and don't take it until later in the year.
But you'll see as soon as you get into the private group for the course that this thing is legit. If you really want to do your homework before you jump in, all you have to do is ask around in the M$M community and you'll probably get multiple students that are really happy with the course giving you feedback. It's awesome.
The course is currently closed for enrollment, but you can jump on the waitlist here to get access when we re-launch. If you've been thinking about making extra money to pay off debt or invest a little more every month, the FB Side Hustle Course is definitely for you.
Click "SEE MORE" below to check out the testimonials and learn more about the course:
**FB Ads for Bloggers (NEW COURSE) is launching this month!**
I'm so stoked about this!
Mike and I created Blow Up Your Blog as a mini-course while we were putting together FBSH a few months ago.
Our plan all along was to give people a taste of what we know about running FB ads to grow a blog and then eventually build out a full course when things were humming with FBSH.
Well...now it's time. FB Ads for Bloggers is coming.
We're rebranding Blow Up Your Blog to FB Ads for Bloggers, adding tons of content, and launching this bad boy at the end of August.
This course will have all of the FB ad techniques and strategies that we've used to do nearly half a million dollars of revenue so far this year:
FB ad basics
Targeting
Driving tons of high-quality traffic to build an audience
List building
Landing page optimization (aka making money like we do)
Our Blueprint for quick blog growth (this is huge if you want to grow and scale on a limited budget)
We're also including a free month of our FB ad coaching group, which includes campaign troubleshooting, access to our entire team of experts, weekly live trainings, hot seats, and coaching calls.
So you'll be able to learn exactly what I do every day to grow this site, try it, and then get damn-near instant feedback and training directly from me, Mike, and our whole squad.
The group is basically where the high-level marketing training comes in after you've learned the techniques in the course, which is what we think sets us apart from other courses in this space.
We don't just teach FB ads. FB is just a tool for the bigger goals, which are lead generation, increasing revenue, and audience building.
We teach you how to make more money, not just get traffic and subscribers.
Oh and the biggest thing that sets FB Ads for Bloggers apart from anything else? This course is by a blogger, for bloggers.
There aren't many people in the FB ad world that have grown an audience as large as mine from scratch, lived through the struggles of growing a blog and an audience, and created the kind of revenue that M$M and Laptop Empires are doing now.
The course will launch at the lowest price we'll ever offer it for this month, and then will close and re-launch at a higher price later down the road.
Jump on the waiting list below if you're ready to quickly grow your site, audience, and revenue exponentially:
[convertkit form=5252065]
Digital Marketing Income: $3,819.95
Not much has changed here since last month (revenue was exactly the same haha). I've had to jump in and take care of things here and there, but overall my team is crushing it for me.
If you're wondering - no. I don't plan on adding more marketing clients this year. I really like where I am right now, and with all of the projects I have going on...it just doesn't make sense.
Affiliate income: $2,511.90
Alright - huge changes coming here. June kinda sucked because it was the lowest amount of affiliate revenue I've had in years, but that trend changed in July and I've got a real blueprint to get this revenue stream to five figures/month by the end of the year.
I'm actually hiring a VA to help me grow my affiliate revenue. Isn't that crazy? Their job will literally be to go back through and optimize every piece of content to produce affiliate income.
There are some other tricks up my sleeve as well of course, but basically, I've been ignoring this area of my business and it's finally time to give it the attention that it deserves.
Bluehost Blog Hosting: $1,500
Credible: $960
Online Surveys: $33.50
ConvertKit: $18.40
Staff writing: $3,000.00
Last month this number was zero, but I played a bit of catch up in July and am now back on track with my writing schedule.
It's funny that writing (which is my favorite thing about running a blog) has become the hardest thing for me to find time for.
I've got some solutions to that problem that I'll detail below, but I'm finally getting a plan put together that will allow me to avoid getting behind on my writing duties for this site and the organization I still write for.
Ads: $997.30
Traffic is starting to make a comeback, but ad revenue isn't really growing. I really don't care too much about ad revenue. The only reason I really still have ads on the site are all are to mitigate some of my expenses for running the blog.
I probably should be making more money here though - but it's just one of the many things I've neglected while growing Laptop Empires for the past 6 months or so.
Now, just like affiliate income, I can turn some of my attention here and get some things optimized. I'm actually not really too sure why earnings decreased so much mid-July, but it could be that ad revenue was down across the board for a lot of bloggers on the ad platform I use.
I'll figure it out I'm sure. 🙂
As far as traffic goes, things are going the right direction again. It looks like August will be closer to 200,000 views, and then I'm expecting some steady growth toward the end of the year as people get back to their computers and Pinterest and Google traffic starts increasing.

Expenses to run M$M for January: $6,871.23
This number includes the costs associated to pay my team, run FB ads, and all of the fun stuff like ConvertKit, blog hosting, Teachable, and images.
Net Revenue: $23,429.92
For the purposes of this report, I'm going to split the net revenue of the Facebook course and BUYB in half. Mike and I leave money in the business (which is structured as an LLC that is owned by our LLCs). It produces a K-1 every year and then we just transfer the revenue to our main business accounts.
For now, I'm actually leaving a lot of money in the business so that I can reinvest. Now that my wife (Coral) isn't getting paychecks from her former school district, we're figuring out exactly how much we need to pull out of the business in the form of a partner draw vs. how much salary I pay myself every month.
3. Cool stuff that happened last month
Here's what I'm doing to grow the blog during the summer and additions to the M$M team
I know for a fact that things are going to get absolutely crazy at the end of the year with FB Side Hustle, FB Ads for Bloggers, Laptop Empires, and of course - M$M.
So I'm taking this time while things are "slow" (even though I've been working my butt off) to reinvest in the business.
I'm hiring an editor as well as a new VA that I mentioned above, which will take a lot of responsibilities off of my plate. Just FYI - I've already hired my editor and have narrowed down VA's to six applicants and am not accepting anyone else at this time. I know people were going to email me about it and I don't want anyone to be disappointed!
The idea is pretty simple: I need to spend less time on things that other people can do for me so that I can focus on the bigger picture.
Now I'll be able to write a post, send it to my editor, and have them send it to my new VA to schedule and post on the site.
This system is *hopefully* going to be awesome because it allows me to do what I do best - focus on connecting with readers.
It will also allow me to get ahead on content, which I've never really been able to do.
Coral is also really focused in on growing traffic via Pinterest, which is already working and my traffic is on the upward trend again.
I'm also considering a heavy reinvestment on SEO. We've been going back through the site and optimizing old posts, but it will take some time before I can look at what we've done and see how it's working.
Even though traffic is a vanity number and doesn't have too much of an impact on revenue for me these days, I'd still like to keep growing the site's reach to around 500,000 views/month this year because I know that I have a message and story that can change lives. I've seen it too many times from readers by this point to ignore that fact.
The reality is that most people will never buy a course from me. Most people won't buy an affiliate product. But that's not why I started M$M, so it's certainly not at the core of what I want to do going forward. My responsibility is to continue to reach people that need some inspiration to get ahead. That's what I'm good at, and I plan on tripling down on it.
Helping people > making money. Always.
The Laptop Empires podcast is crushing it
You know what? I really like doing a podcast.
Writing is awesome and it's always felt like a creative release for me since I don't play instruments very often anymore, but podcasting is actually more fun I think.
And honestly...it takes less work haha.
Mike and I sit down to record, and then the episodes get sent down some internet wormhole and magically appear on the LE website like clockwork every Monday and Thursday (Mike's team for his FB ad business has been trained on editing and posting). It's so freaking awesome.
So far the reviews on the podcast have been incredible. In month one we received nearly 200 five star reviews and 172 comments.
We're having people reach out every day telling us how much they like the content, and I really do think that this podcast is going to grow exponentially in the coming years and be one of the go-to online business podcasts out there.
We're just two relaxed dudes that happen to crush it online and share all of our secrets for making more money. No biggie. 🙂
You can check out the podcast and subscribe on iTunes here.

What it's like to have Coral home all the time
Um, freaking awesome.
I'm not going to lie - it feels really good to know that we've created a situation where she doesn't have to wake up at 5:45 am every day and go to work.
She's also been keeping herself way busier than I expected, which is great.
I had a little bit of a fear that her retiring so early was going to be boring for her because I'm crazy and can't stop making new businesses, but I guess when you don't have to do stuff for someone else, you just start doing stuff for yourself instead.
Sometimes I feel a little bad that I have to work so much during the day, but she understands that I'm trying to build something incredible and knows that I'm passionate about my work.
I could probably do a better job of taking breaks to hang out with her during the day though, so I'm going to work on that this month.
But overall the transition seems to be going smoothly, and she's been helping me out with some things for the business like growing the Pinterest account and keeping track of some expenses for me.
Vacation plans for August!
We actually have a ton of trips planned for the rest of the year, but I'm really excited about this next one coming up in a few weeks.
We'll be going back to Anna Maria Island, Florida for a little bit, as well as hanging out in St. Pete to spend some time with friends and check the city out.
Last month, I mentioned that we were thinking about moving to Florida. So far, we haven't quite decided, but we'll keep taking trips there for a while until we figure it out haha.
The biggest thing I like about Florida is the beaches and water. We have beaches and water here in the Houston area at Galveston...but it's not quite the same as the Caribbean-level water in Florida haha.
Unfortunately, there is a "red tide" moving up the Florida coast right now, so that might change up some of our travel plans if it reaches AMI. We'll likely just stay in St. Pete for longer or pick a beach further north if we have to for the second part of the trip.
We paid for nearly the whole trip with travel points btw - so shout out to my travel hacking readers out there. 🙂
After that, we're going to Florida one more time in September for FinCon, and then Italy/NYC in October. After that I'll probably just want to chill at home for a while haha!
That's it!
If you've been reading M$M for a while - I honestly can't thank you enough. Hopefully, you can tell that I work really, really hard to produce content that makes your life better. It's my passion in life.
But, I can't do any of this without you. I hope you had a great month in July!
Make sure you jump into the private M$M group on FB so we can hang out and share way too many GIFs.
You can take a look at all of my income reports here or check out the latest ones below: