Well…sleeping giant = awake.
To be clear, I'm definitely not talking about me haha. I'm more tired than I've ever been in my life. But after years now of grinding, stress, wondering if I had made the right choice leaving teaching, and all of the things that come from taking a blind leap of faith into a totally different career…I feel like M$M has finally arrived.
Arrived at what? I'm not really sure. But I know that I've built something special, and I'm just getting started. I'm pretty proud of where I am considering I was waving a stick at my band less than three years ago and didn't know how to run a blog at all. 🙂
All kidding aside, this thing has come so far since it was just an idea for a blog in my head. It's just unbelievable.
January was by far the hardest that I've ever worked in my life. Period. But it was also the most fun I've had in the process of building M$M.
Since my last income report, I had a six-figure course launch, created two info-products that are actually helping people (people are already making money with both of my courses), gained a business partner, and have now grown the M$M team to five people (including myself of course).
This income report will be a little different than my previous ones. There is a lot to cover for sure. Here are the things I'll touch on:
How my first big product launch brought in over six figures of revenue
Details about the Make Money Marketing Course that quietly released last month
What is has been like having a team instead of being a solopreneur
How I'm growing M$M moving forward and what I'm NOT changing
…and all of the other fun things that you normally find in my income reports (affiliate income, ad revenue, sponsorships, life updates, etc.)
I'll go through all of the gross revenue and net revenue that M$M brought in last month. Basically, any money that was brought in through M$M will be included in these reports, and then I'll break down where everything goes after that.
This is all way more complicated than any income report I've ever done, so it may take me a few months to get the exact format I like going forward. Just hang with me and I'll get a system worked out. 🙂
So let's get started (you'll want to check all of this out):
If you're new around here, I started tracking my blogging income through these income reports in mid-2016. This is a great way for me to keep an eye on my progress of doing M$M full-time, and it's also a great way for you to follow along as well if you're thinking of starting an online business.
My income reports are divided into three sections:
A quick intro to who I am and what my story is for new readers (Must-read if you are new here, skip if you're not)
How I made money the previous month (This changes monthly)
Cool things that happened in my personal life and business goals that I have coming up (Also changes monthly, so you'll want to read)
It's already been so cool to see the progress and how much my life has changed over the past two years!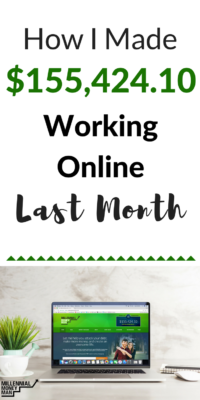 1. Here's a quick rundown of my story:
I used to be a high school band director, which was basically what I had wanted to do my entire life. I had $40,000 of student loan debt that I hustled really hard on and paid off in a year and a half (you can read more about that here).
Then, I got really excited about personal finance and started this site. I had NO idea what I was doing, but kept plugging away and eventually quit my job six months later to run M$M (which had basically made no money at that point haha).
And now, here I am. I run an awesome online business and basically have found my passion in life.
A lot of you have wanted to start your own blogs after seeing the success that I've had, and I highly recommend it. If I hadn't taken a shot on M$M, I would still be stuck in a career I didn't really end up enjoying very much.
Just understand – blogging (or any online business for that matter) isn't easy in any way or for the faint of heart, and definitely not something you should immediately quit your day job for. Most people quit blogging long before they actually "make it."
It takes time to build a business like this, but if you have talent and a good message/story, it is possible to do well.
Take a look at my free blog setup tutorial. You'll have your own blog set up in just 10-15 minutes, and will receive a lower website hosting price since you're a M$M reader when you use my exclusive link. As a bonus from my family at Bluehost- you'll also get a domain name for free ($15 value)!
Have you taken my free blogging course yet?
So far I've had 1,600+ people sign up for my blogging course since it debuted in February, and the reviews have been killer! Even if you are just thinking about starting a blog or want to figure out how to get more traffic to the one you already have, this will be useful for you.
Basically, if you want to learn the foundational elements for how I went from a high school band director to blogger doing $100k+ of revenue in one month – you'll want to check this out:
[mmm_convertkit form=4985303 color="blue_white"]
Let's get to the report…
Something to remember when you look at this income report – I'm self-employed and have to cover expenses, my basically useless health insurance policy (seriously it SUUUUUCKS), and taxes. There will be a lot of taxes moving forward. I am not looking forward to that.
2. Here's how I made money with my online business this month:
Facebook Side Hustle Course: $139,488.00 ($127,741.80 after credit card fees and affiliate payouts)

Well obviously, the FB$H course launch went really really…really well, in a lot of ways.
I actually partnered up with a friend of mine named Mike Yanda (we went to high school together) that owns a dedicated Facebook ad agency to create this course.
When I mentioned the idea of a course that taught people how to make extra money running Facebook ads for small businesses to my audience, I got hundreds of responses in 24 hours.
I knew we were on to something big.
I'll tell you this: It's really scary selling a product to your readers when every piece of information you've given out over the past three years has been free.
Getting people to come to your site consistently because they like your content is one thing, but asking them to trust you enough to pay you for a product (no matter how good and useful) is a different animal.
The course was priced in a mega-affordable way compared to all of the other local lead generation Facebook courses on the market. $397 is definitely a lot of money in my mind, but these courses regularly go for $1,000 – $6,000 (yes seriously) in other entrepreneurship circles.
I knew this would be good for my audience though – it's a killer side hustle on an unbelievably powerful ad platform. Facebook ads are legit, aren't going away anytime soon, and they are so effective that businesses will pay great money to have someone run them and bring in potential customers.
They're also not that hard to learn.
The problem with any online product is that it's hard to convince people that you have a great one when there is so much trash out there.
Right at the beginning of the launch, I had people that didn't know anything about the course already claiming that I was scamming my readers, selling some crappy ebook, a new version of Tai Lopez (gross), and anything else that you can think of.
But then something incredible started happening…
The people that trusted me enough to jump on this started talking. The course and private group attached to it are really well done, and people noticed.
Here's just a taste: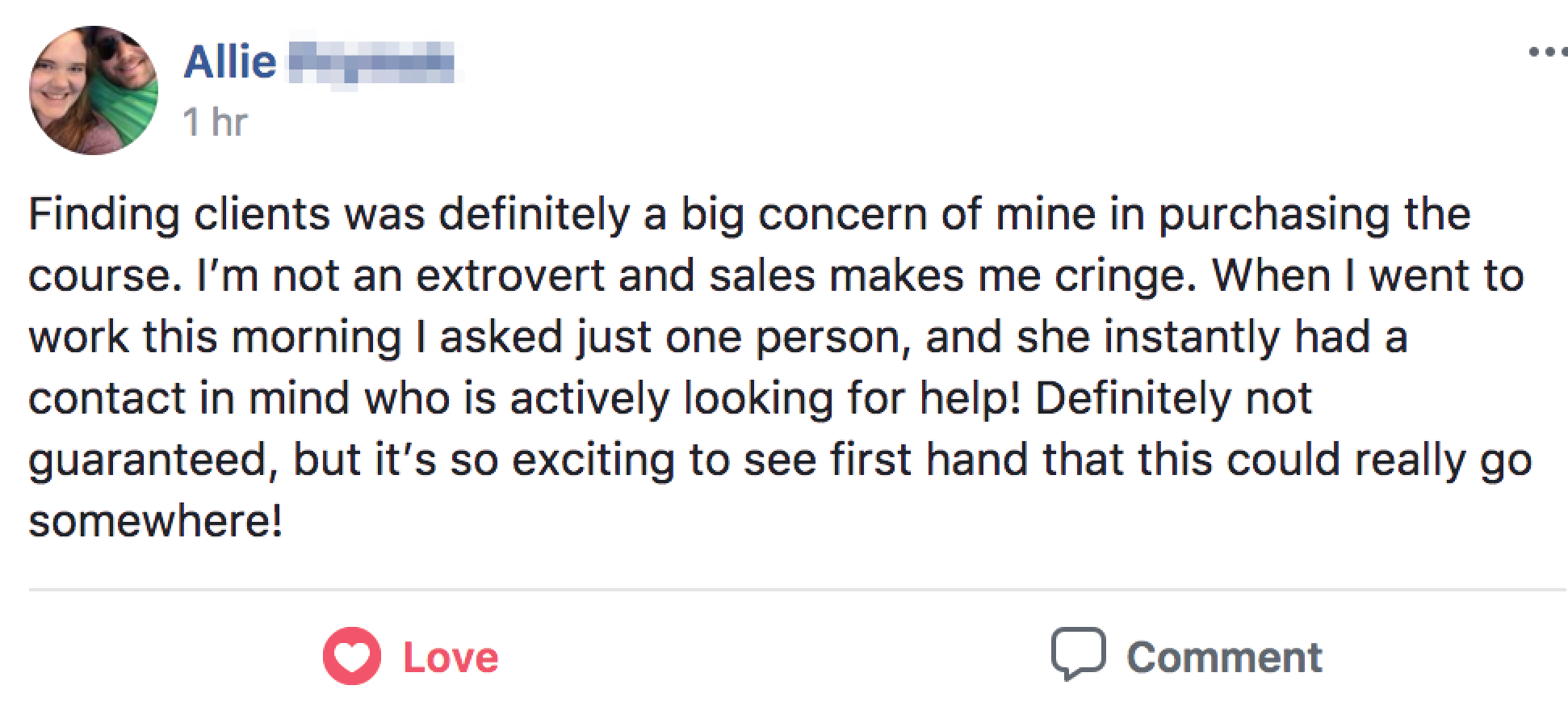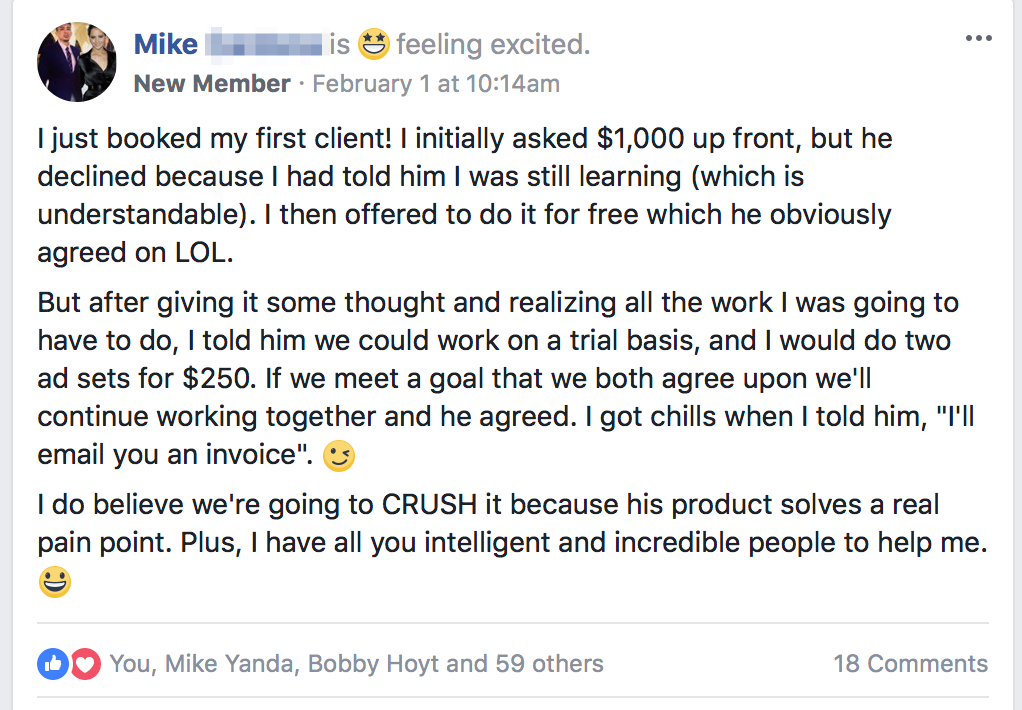 Anyone that was questioning my motives pretty much disappeared on day one of the launch.
We already have course students (we call them "The Hustlers") that have picked up clients that are going to pay them $1,000+ per month as Facebook ad specialists, and a bunch more that have started trials with new clients at different price points.
The course has only been live for two weeks. It's crazy.
It literally couldn't have gone any better.
I knew I was staking a lot of my reputation on this course, so Mike and I did everything in the world that we could to over-deliver and provide a great product to anyone that jumped in.
In fact, the private group for the course is freaking awesome. It's like my other groups, but with more alcohol (we do live happy hour trainings every week) and gif-offs.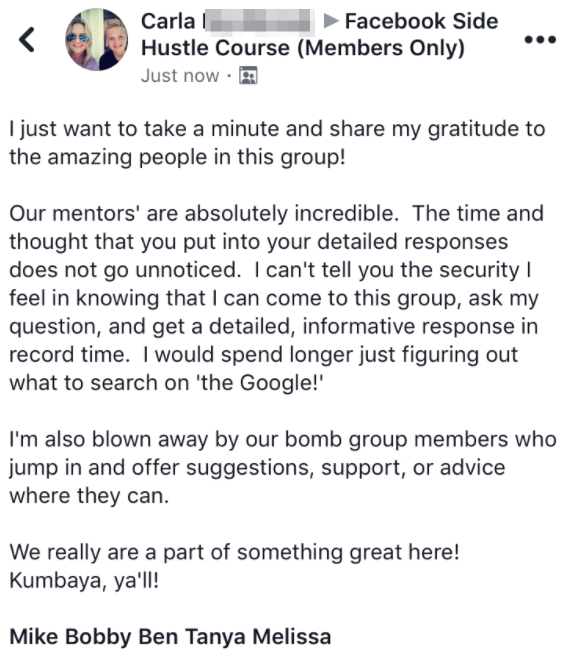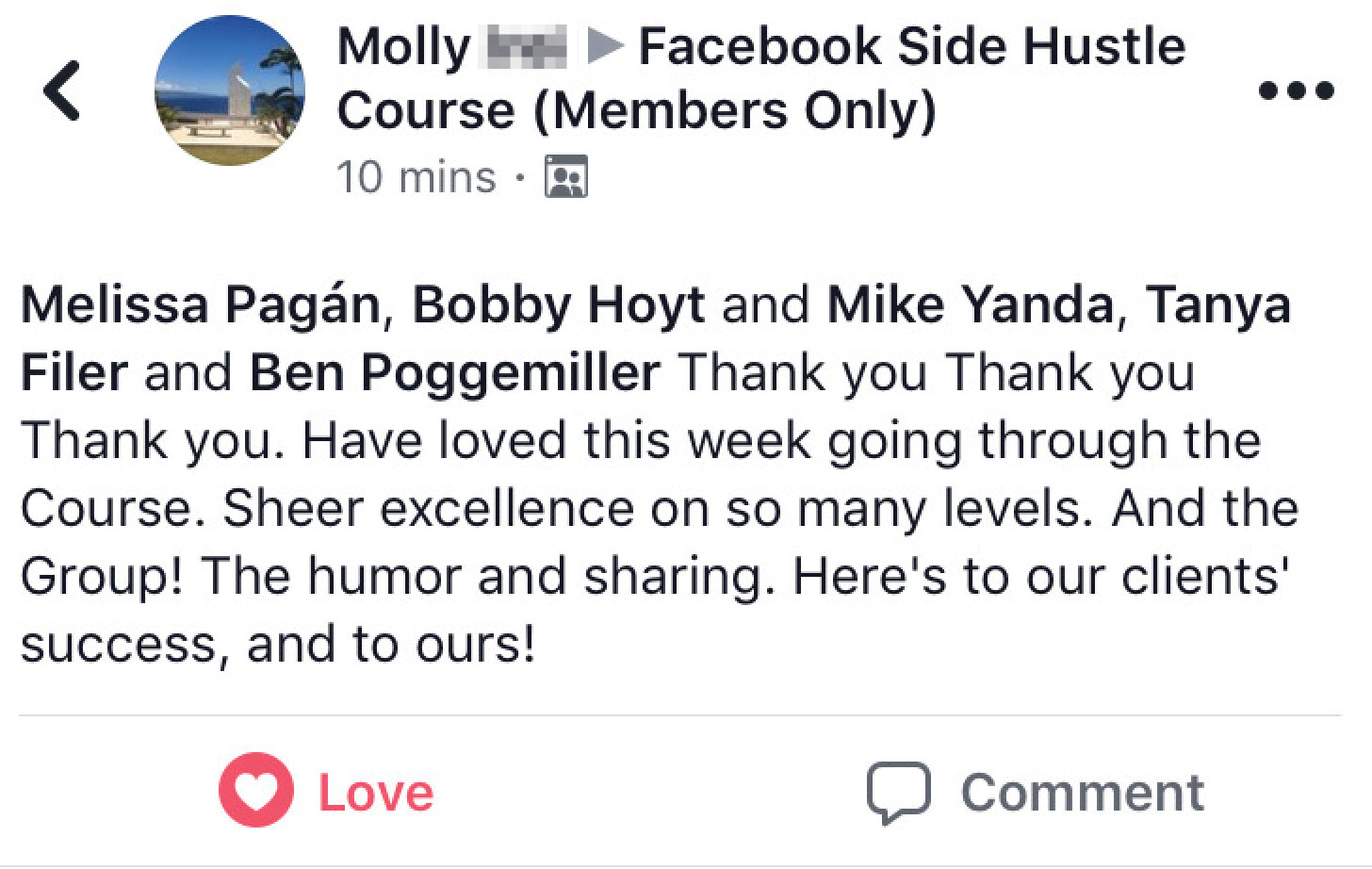 So it was really a perfect storm here. I've done things the right way from the start of M$M, never sold out to push things I didn't believe in, genuinely got to know my audience and care about them, and then found a need and filled it with a high-quality product that actually produces results for people that want to invest a little more or pay off debt.
The short version is that it's the right course at the right time for the right audience at the right price. That's pretty special.
Here are the other reasons that the course worked so well:
Mike and I know Facebook ads. We just do. We both have been doing marketing work for years now, and I've been slowly growing M$M via Facebook for a long time. My readers understand that I get the Facebook game.
Most of them found me through a Facebook ad!
I brought in over 600,000 readers in 2017 to M$M via Facebook ads alone, and I've done it at 2-3 cents per click. That's almost unheard of quite honestly.

And last but certainly not least, we cracked the code on retargeting people that visited the course sales page.
Get ready for this:
We spent $72.87 on retargeting ads during the launch and made $27,407 in course sales from it. That's over a 30,000% ROI.

Needless to say…we've got the Facebook thing down pretty well.
There are a lot of people out there selling Facebook courses for a ton of money that have never built anything. Never dealt with a marketing client, never built an audience, etc.
I want to put those people out of business. They're basically scammers in my opinion. So Mike and I are creating an army of Facebook ad specialists that do things the right way.
We're even creating internships at Mike's ad agency, and I am going to create a referral program where I match M$M readers that own small businesses with Facebook ad specialists that we've trained. It's going to be cool.
Right now, the course is open for enrollment! Click below to jump in if you're interested in making an extra $1-2k per month: