I know it's not even Thanksgiving yet, but since Starbucks announced their new holiday cups it might as well be right? One of my biggest goals this year is to get all of our shopping done SUPER early with Rakuten, formerly known as Ebates (which it seems like I fail at every year). We have what seems like a million nieces and nephews now, which means more $$$ spent on gifts.
I'd also like to do everything 100% online. Before I go on with this Rakuten cash back review, I need to say this first:
I freaking hate stores. I hate shopping. I hate all things that are involved with malls. And I ESPECIALLY hate having to walk into Victoria's Secret and awkwardly stare at my phone while my wife picks out bathing suits (seriously ladies…that store is the most horrific place for any married guy ever).
Now to the Rakuten review:
As most Millennials already know – shopping online is a big deal and super desirable for people our age. According to InternetRetailer.com, online sales will reach $523 BILLION dollars by 2020.
One of the big messages that I push on M$M is side-hustling, or really just making extra money using the internet. That's why I like the idea of Rakuten and other online shopping sites like Qmee so much.
You basically get paid to buy stuff you were already going to. It's a win-win for everyone.
Here's how Rakuten works
It's really simple honestly. All you have to do is create a login (you'll get a $10 bonus when you sign up with my exclusive link), and then shop with a bunch of brands you already buy from like these:

You'll get cash back into your Rakuten account when you purchase items, which you can either have sent to you in the form of a check or directly to your Paypal account (which is what I opted for with my account).
The other part I really like is the slick browser add-on that tells you what kind of cash back you can get from a particular site!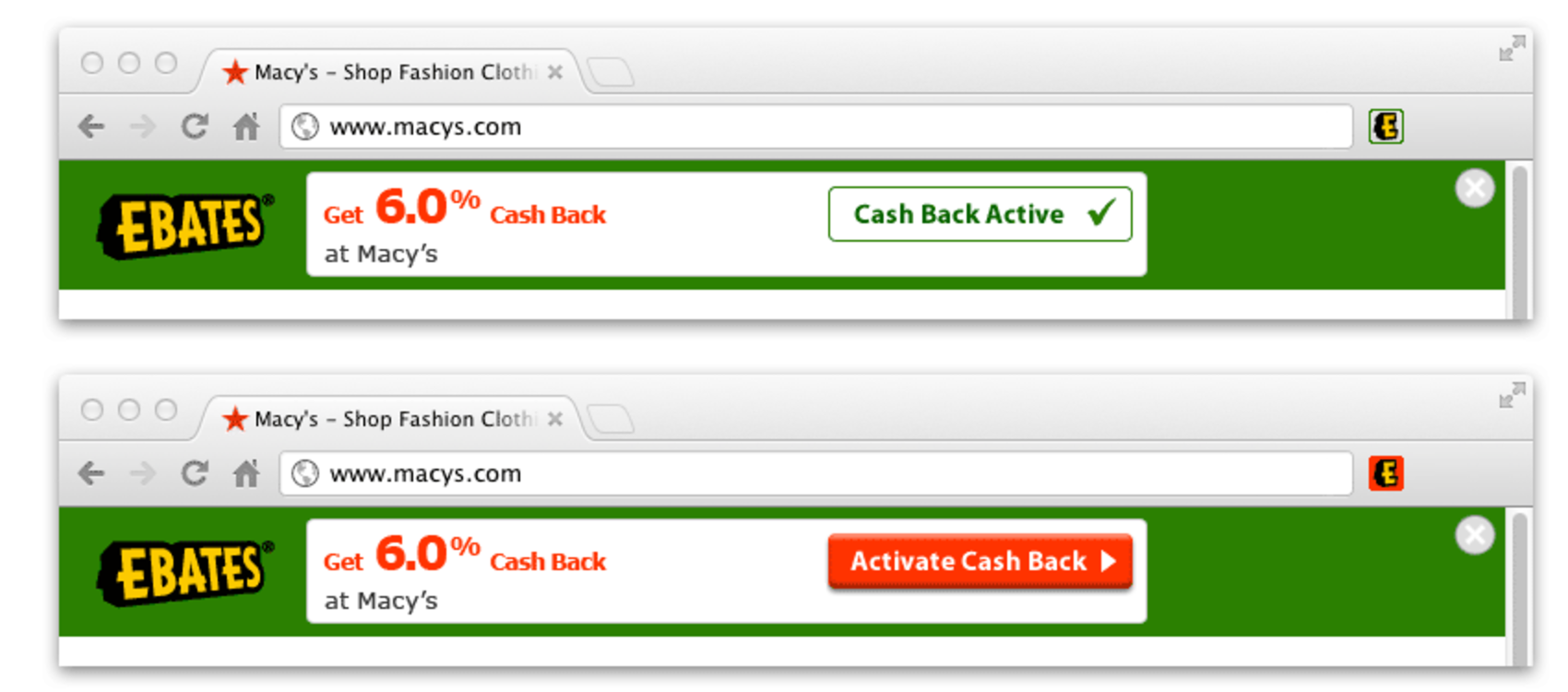 There's also a color coded "Cash Back Indicator" that tells you what type of cash back shopping is available on the site that you're on. Pretty simple right?

Did I mention it's free to use?
Anyone that has been following M$M for any amount of time knows how much I like introducing free stuff to my readers that actually works and doesn't suck. If you're someone that is already going to shop online like I am, why not make some extra cash while you do it?
Be safe on the internet, please!
There are a ton of crappy people out there that try to scam good people like us out of money. I ALWAYS personally vet any product I introduce on the site, so you can feel warm and fuzzy that I already took a risk that you don't have to haha.
With that said, always make sure you are aware of fraud on the internet. I really suggest using a credit card for your purchases just as another level of security.
If you want the extra $10 bonus, use my exclusive Rakuten link here or click on the picture below to sign up for Rakuten and make some extra money this holiday shopping season!