If you've been laid off or furloughed, you're not alone right now. The Federal Reserve Bank of St. Louis estimates that 47 million Americans could lose their jobs because of the coronavirus.
Furloughed workers might be in a slightly better position considering the definition of furlough is a temporary lay off. You can think of it as a forced, unpaid leave of absence. You're not paid during a furlough, but you probably get to keep your employee benefits.
Still, being laid off or furloughed is never ideal, and they can both bring on considerable financial stress. Even with expanded unemployment benefits, it can become difficult to pay your bills.
Here's what you need to do if you've been laid off or furloughed
You can apply for unemployment benefits
Regardless of if you were laid off or furloughed, you will qualify for unemployment benefits. And these will come through the state in which you work.
The $2.2 trillion CARES (Coronavirus Aid, Relief, and Economic Security) Act expanded benefits to freelancers, gig workers, and self-employed people. And with more and more Americans working these kinds of jobs, this is much-needed relief.
The CARES Act also provides emergency funds to states so laid off or furloughed workers can collect an additional $600/week in payments. This is from the time you lost your job until July 31, and it also funds an additional 13 weeks of payments to what your state typically offers.
Unemployment varies state by state, and some states will have requirements you'll have to meet in order to collect, like that you need to be actively searching for work. Other requirements may include that you've worked for so many consecutive quarters, or collected a paycheck for a certain number of pay periods.
How to apply for unemployment:
Contact your state's unemployment office as soon as possible. You can make a claim over the phone, online, or in person.
Be prepared with the following information:

Social Security number
Driver's license number (if you have one)
Your address and a phone number you can be reached on
Name and address for any companies you've worked for in the past two years, as well as your dates of employment
Employer Registration Number or Federal Employer Identification Number (if you have them)
Bank account information if your state offers deposit

Be prepared to wait two to three weeks to get your first benefit check.
Laid off or furloughed and health insurance
If you're furloughed, you're still considered an employee, so you'll probably be able to keep your health insurance. But you should contact someone from your company about how you'll make contributions to your health insurance even though you're not receiving a paycheck.
Laid off workers are in a tougher spot, because benefits probably ended when you were laid off. Keeping your employer's health insurance through COBRA is one option, but you will have to pay your own premiums and it's typically pretty expensive. Learn about COBRA here.
You might also qualify for a special enrollment period on HealthCare.gov, or you can look into a health care sharing ministry (generally a less expensive alternative to health insurance, but not for everyone). You can learn more in the following articles:
Assess your financial situation
This step might be tough, especially if you're the primary breadwinner or don't have an emergency fund, but now is the time to see where you stand financially. Here are some questions you'll need to consider if you were laid off or furloughed:
How much will you get from unemployment and how long will it last?
Do you have any money saved up in an emergency fund?
Do you have any other sources of income, like a side hustle?
Take all of those things into consideration and create a new budget for yourself. A zero-based budget is a really effective budgeting strategy that puts every penny you make to work, and it also makes it easy to see where you need to make cuts.
Here are some articles on budgeting if you want help starting one:
If you need to trim your budget, start thinking about what expenses you can live without right now. Think about getting rid of cable, cutting some streaming services, lowering your cell phone plan, etc.
Read 36 Ways to Save Money Fast for more ideas.
This is a hard time for everyone right now, but avoid using online retail therapy to deal with boredom or stress. Now is the time to embrace a more frugal lifestyle.
If there still isn't enough money in your budget to meet your essentials – food, housing, utilities, basic transportation – you may need to make some more drastic cuts. These might mean cutting things like extra debt payments, adding to your investment account, or saving for your kid's college fund. These cuts can be hard to make because they're so good for your future financial health, but remember that this is temporary.
Find ways to make money
Even though unemployment numbers are high right now, laid off or furloughed employees can and should start looking for work. It can affect your unemployment benefits, but getting back on track with your money is important right now.
Here are a few options for making money right now:
Focus on your resume and skills
Now is a great time to polish up your resume so that you're prepared when normal hiring resumes. Are there new responsibilities or job titles you can add? Did you go through any new training that will make you more valuable to future employers?
Speaking of training, there are a ton of websites offering learning resources and free training right now – take advantage and add some new skills to your resume. Alison is a great resource, and here's a list of over 400 different Ivy Leagues courses that you can take online for free right now.
What if you can't pay your bills?
The hard reality is that many laid off or furloughed workers will struggle to make ends meet until they're back to work. The government has responded to this with expanded unemployment and stimulus checks, but there are options if that's not enough.
There is a six-month payment suspension on federal student loans
Contact your mortgage company
Lenders like Wells Fargo Home Lending, Ally Bank, BMO Harris, and Citi all have temporary relief programs. They're offering things like payment deferrals, zero late fees, or not reporting late payments to credit agencies.
Many other banks are likely to have similar programs, so contact your lender to find out what your options are.
If you're a renter
Get in touch with your credit card companies
Some credit card companies are also offering financial relief programs that can help if you've been laid off or furloughed. This includes Chase, American Express, Bank of America, Discover, Capital One, Goldman Sachs, and more.
Most companies are handling their financial relief on a case-by-case basis, so contact them to see what your options are. Be honest and direct about your situation and how coronavirus has affected you.
For your utilities
Utility companies across the country are developing financial relief programs. At a minimum, many have committed to keeping services on even if you can't pay your bill. Contact your utility company to see what your options are.
There are also over 650 broadband and telephone companies that have signed the FCC's Keep Americans Connected Pledge. The pledge reads: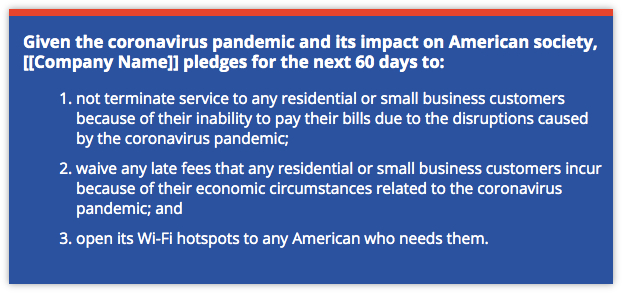 The final word if you've been laid off or furloughed
Repeat after me: This will get better. I will find work again. My finances will recover.
That might be hard to believe right now, but we're all getting a huge lesson in resilience.
No doubt it will be a struggle at times, but you can and will get through this. You'll come out the other side knowing what you need to do to be better prepared for times like this. Maybe it forced you to focus on paying down your debt when you can, or showed you the value in multiple streams of income and why you need an emergency fund.
Take those lessons and make them happen. Your future financial self will thank you.