If my wife knew I was writing this, she would roll her eyes so hard. As much as she tries (and she is like full-time dedicated to this), I just don't care about what I wear or if people think I'm broke.
Perfect example – I'm currently sitting in a coffee shop that I come to a few times a week to write. Even though I'm not a hipster at all, this place has a weird hipster feel that somehow inspires me to write some of my best stuff haha.
When I first came in several months back, the owner of the coffee shop noticed that I had been here a lot and usually stayed for hours typing on my computer.
One day he asked what I was doing here:
Him: So what kind of test are you studying for?
Me: Test?
Him: Yeah you're in college right? I figured you were studying for an exam or something.
Me: *Realizes that I'm wearing flip flops, shorts I've had since almost college, and a black undershirt with a little hole above the pocket* Oh…no no I'm actually a full-time personal finance blogger and run a marketing company. I'm also almost 30 unfortunately.
Him: *The look people have when you tell them you're a full-time blogger* Do you make money doing that?
Me: Uh…yeah a little.
I went on to show him the website and then chatted a bit about marketing stuff and online advertising.
He actually used to underwrite mortgages, so we had a pretty interesting conversation about 2008 and all the fun times of the mortgage meltdown. Small world.
Read also: The Big Short Movie Review
Now I come here all the time and they know me as "the blogger guy", so I guess that's pretty cool and I get free coffee refills. 🙂
The point of the story is that I don't resemble any aspect of my wage in everyday life, which is how I like it.
Now…I can clean up pretty well when I have to for a TV appearance or something (see the homepage picture for a rare glimpse), but ultimately it just doesn't matter to me if people think I'm a college student, pool guy (I have a lot of free pool shirts from a friend's company), or jobless video game enthusiast.
Up until this year, I hadn't bought new shoes for myself since college. When my wife's father was still alive, he insisted on getting me new shoes for my birthday because he knew I wouldn't buy them for myself.
My wife forced me to throw away all of my socks with holes in them and get new ones, which I'm still vaguely bitter about because I felt like they had some life left in them. You can't feel the holes anyways when you have shoes on.
The vast majority of my wardrobe consists of either free stuff I've picked up over the years or the rare times that I bought clothes out of pure necessity.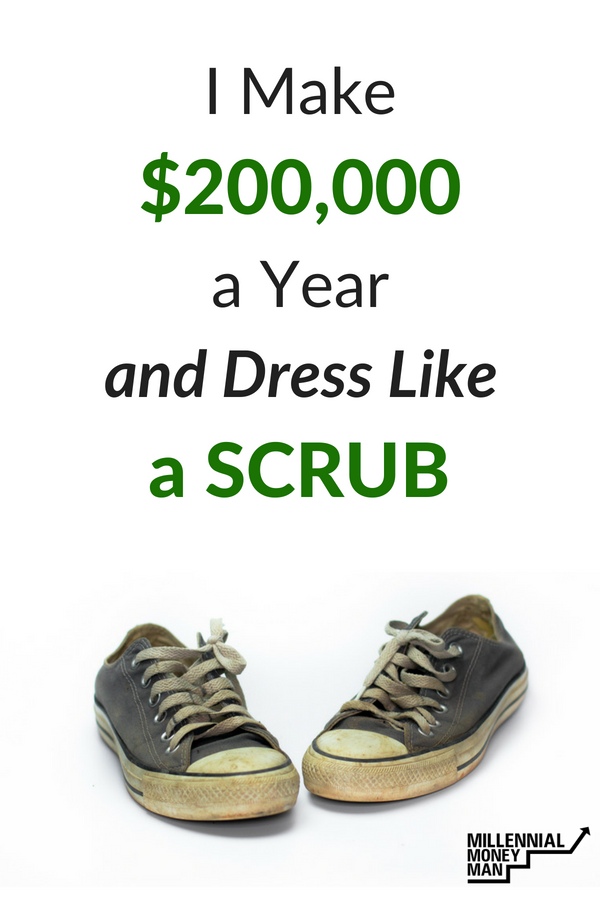 That's not to say that I don't have a few nice things…
I'm not trying to convince people that I'm some ultra-frugal person that doesn't enjoy life at all. I'm also not saying everyone should be walking around with holes in their socks either.
Trust me, I'm the afflicted one – not the people who wear decent clothes.
My wife and I own a pretty sweet wakeboarding boat, go on decent vacations from time to time, and are in the process of building a cool house.
Read also: Tips for Building a Home and Sticking With Your Budget
Our goals have always been to prioritize the things that are important to us in life, and then go after them and not look back. I don't feel "guilty" for owning a boat (mostly because we paid cash for it), or dumb when we spend money on a trip somewhere (also because we pay cash for it).
That's part of the reason that we have two cars with a combined value of *maybe* $9,000, and haven't had cable once in our post-college lives. For us it's about prioritization, and so far it's working out pretty well.
I know exactly who I am and what's important to me, which helps drive my success
That comes from really taking a deep look at the inner fiber of who you are and realizing the difference between what actually drives you to do well in life, and what you're doing just to impress other people.
Unfortunately, part of growing up as a millennial involves fake crap on social media too. I scroll through Instagram almost every day, and can't believe how many of the "get rich quick" people are out there with their rented lambos and Airbnb mansions.
Even the actual rich people *cough Bow Wow cough* try to make their life look cooler than it really is on social media. It's crazy.
People can think I'm a scrub as much as they want when I roll up in my 13 year old car and free pool company shirt, but their opinion won't change how much money is in the bank.
Once you learn to let that aspect of life go, it's really a pretty freeing experience.