Alright, so today's guest post from Matt over at Method To Your Money is about something that is near and dear to my heart. For those of you that have been following M$M from the beginning, you probably already know this, but when I originally started this site I wanted to use it to teach high school kids about money!
When I was still a teacher, I started teaching my students little money lessons during their advisory period…and they freaking loved it.
That's basically how I realized that I was passionate about/good at communicating with people about personal finance, and M$M was born. The blog got traction so quickly that I had to put those plans on the backburner, but it is something I'd really love to do someday.
Teaching personal finance is unbelievably important, and it's still not integrated into every student's education.
Fortunately, people like Matt (who is a public educator) are taking this on and really helping kids learn more about personal finance. Enjoy! ~M$M
Patrick recently graduated from high school. During his 13 years of education, the primary focus was learning how to juggle, ride a unicycle, and master the tightrope.
He can't read or write, at least not well enough to do anything more than sign his name and read a few road signs. He knows almost nothing about history or science and he can't do math to save his life.
But he rides a mean unicycle…while juggling… on a tightrope.
Unless you had circus in your blood, most people would agree that teaching kids in this fashion would be insane.
INSANE.
Why would we spend 13 years of that poor kid's life teaching him skills that aren't even a tiny bit helpful in "the real world".
If you were his parent, you be filled with righteous anger at why your child wasn't being taught what they needed to be successful when they graduate.
And yet, that's exactly the system we've designed for an overwhelming number of students who graduate today.
And the Survey Says…
Quick show of hands…how many of you took a class on basic personal finance in school?
I did an informal Twitter poll. The results?
70% said they had not received even a SMALL amount of personal finance education during their school years.
Nothing. Nada. Zilch.
Not even in Math class.
For real?
Seriously??
Not A Problem?
One possible explanation is that this lack of financial education is not a problem. Despite no formal teaching about money as they prepare to make some of the biggest financial choices of their lives, high school grads must be succeeding with money, right?
(Ya, that's not happening.)
Two of the most important financial decisions you'll ever make generally happen in your 20's: what are you going to do for your career and where are you going to live. How students handle these choices can dramatically impact their financial future.
Career
Going to college and racking up massive amounts of student loans on partially completed degrees, degrees with little or no return on investment, or degrees in things you hate but feel pressure to go into doesn't make sense for anyone…except the colleges and universities requiring you to sell a kidney on the black market to pay your tuition.
In the landmark personal finance book, The Millionaire Next Door, Thomas Stanley details the unlikely characteristics of the truly rich. What's the most common profession of millionaires? Business owners and those who are self-employed.
While some of these millionaires may have gone to college, many took non-traditional routes to success which did not include going to college or the 5 to 6 figures worth of debt that come with it.
Where Will You Live?
Despite having just taken on heavy levels of debt for the first time in their lives, and making an entry-level wage, the cultural pressure to buy a house is huge.
The average first-time mortgage is nearly $200,000.
Yikes.
So just to recap, in the 5-10 years after graduating from high school, many people will have taken on in the neighborhood of $300,000 in debt (not to mention $7,000 in credit card debt).
No wonder personal finance fundamentals like "live on less than you make" and "invest 15% of your income" become difficult if not impossible to achieve.
The Whitney Houston Solution
Surprisingly, the remedy for preventing financially illiterate high school graduates comes from…Whitney Houston.
I believe that children are our future;
Teach them well and let them lead the way.
If we want to improve the state of affairs when it comes to people's finances, we need to teach children to handle money better.
This should not come as a shock to anyone.
We know that if we want to teach someone to do something, generally the earlier they're taught, the better. We generally don't introduce people to reading when they're 35.
You can't teach an old dog new tricks, but a new dog? Yup, they can learn.
I Feel the Need, the Need to Teach
Eight years ago my beautiful fiance (now my wife) came to me and expressed that she wanted me to learn a bit more about personal finance. Doing so would make her feel more secure and help us manages our finances wisely.
That conversation kickstarted me along my current path of learning and growing as much as I can when it comes to personal finance.
Because I'm a teacher, I felt this insatiable need to share what I was learning with everyone around me. And because I spend 6 hours a day with kids, they were my unwitting victims, ahem, I mean pupils.
As a Science teacher, my curriculum never really lent itself to teaching personal finance. Trying to relate student loan debt to how Igneous rock forms was always a bit of a stretch.
Enter Money, Money, Money
But 5 years ago I became an assistant principal. My new role afforded me several immediate benefits:
A wider pool of parents who could potentially become angry at me.
The chance to teach students on a daily basis the intricacies of wise decision making (read, talk to them in the office about the dumb choices they had made)
But I also was able to have influence over some of the programming at my school, which included developing my own course.
My class?
Money, Money, Money (aka personal finance).
I knew from my years of teaching that kids were really interested in money. Well, let me rephrase that; they were interested in being rich, which was why I called the class Money, Money, Money and not Personal Finance.
All I had to do was hook them on the idea of being rich and use that as jumping off point for teaching them the basics of personal finance. If they were able to leave my class with a solid foundation, they'd be set up to crush it with their money in the future.
With the theme song from The Apprentice blaring from the speakers to set the tone, I asked the first question:
What would you do if you had a million dollars?
In other words, without sounding shallow and materialistic, what would you do if you were rich?
Their answers were awesome.
I got responses that varied from things like, "I'd buy a MacBook Air," to, "I'd buy a house for my parents."
Some talked about giving the money away, and other dreamed of world travel.
The highlight of the first class was describing to students how interest works. I told them that if they took the million dollars and invested it, they could make money while they slept.
This boggled their minds and helped set the tone for the classes to follow.
What'd They Learn?
Over the next six weeks, using a variety of interactive online games and demos, students learned the basics of personal finance. We discussed:
Spending (Needs vs. Wants)
Budgeting
Debt
Saving and Investing (compound interest)
Working and Salaries (Active vs. Passive Income, how level of education is generally tied to wages)
Entrepreneurship
Giving
The course culminated by playing a game called Countdown To Retirement where students were forced to make basic financial decisions in a life simulator. It was awesome seeing them use their new found knowledge to weigh the pros and cons when it came to spending, investing, going into debt, and what type of career path they decided to take.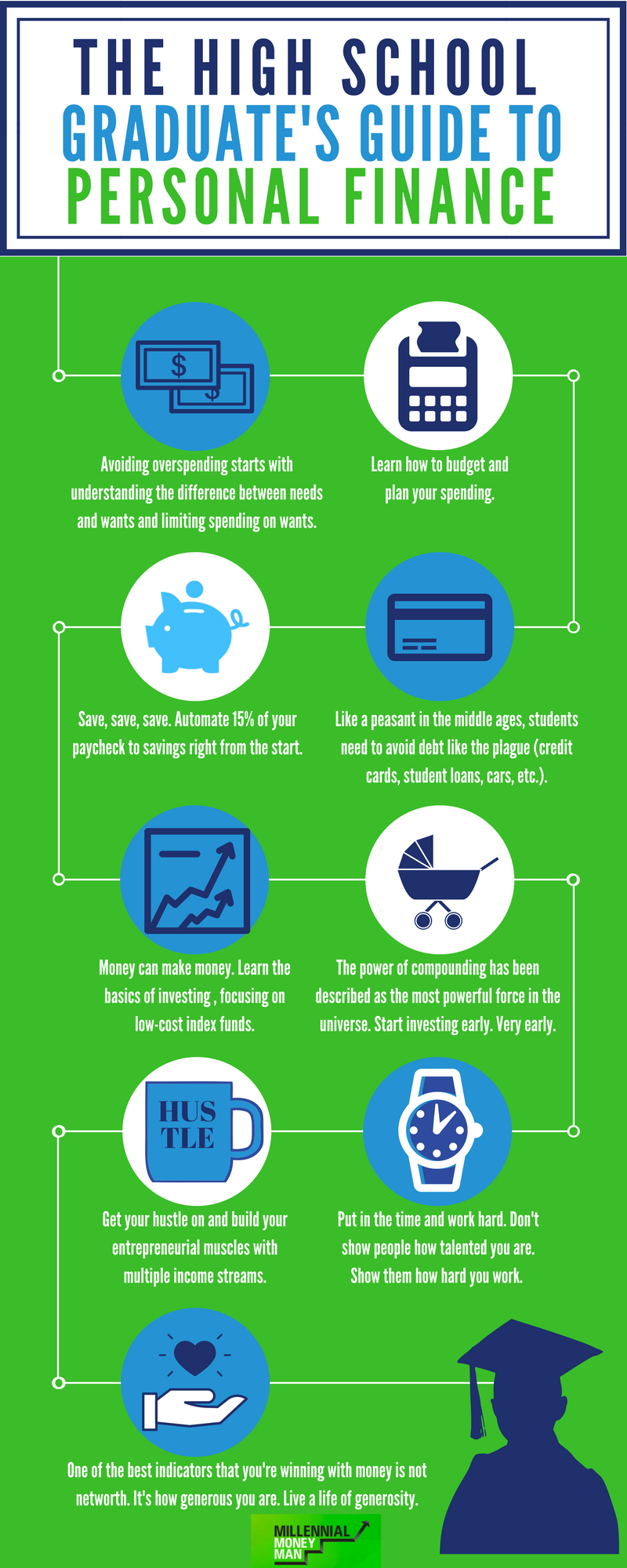 Not Hard
For many of the students I teach, this is the first time they've ever had the chance to openly discuss money with an adult.
This isn't right.
Kids are growing up today thoroughly unprepared to face a world which is designed to eat them up and spit them out when it comes to money. Each and every day they are bombarded by messages of hyper-consumerism.
The least we can do is give them the tools they need in order to navigate this scary place we call adulthood.
And the irony is, it's really not that hard.
You don't have to be a teacher or a personal finance geek to teach kids about money.
Try using these 6 tips to fill in the gaps in your child's (or future child's) financial education:
Talk with your kids about money – Parents might think about how they're going to talk to their kids about the birds and the bees, but they often have no clue how to bring up money. One of the best things you can do? Simply talk openly about money. Whether it's sharing how you pay the bills, discussing how you're hoping for a raise at work, or explaining why you give money to the less fortunate, make money-talk normal in your household. Your kids will learn so much more than you have time to teach them.
Teach them to work – Our 2-year-old is a little young to be working for his keep (just by a few months or so) but our 5-year-old knows the score in our house when it comes to making money: You work, you get paid. You don't, you don't. She has a list of 7 chores that we expect her to do each day. They're things like making her bed and putting away her dishes. At the end of the week, she gets paid for what's she done, $1.50 if they're all complete (you may think I'm cheap…I prefer to think of myself as a valuist). We really want her to make the connection that work = money. The last thing I want is her developing an attitude of entitlement.
Teach them to handle money well – It's not enough to just GIVE your kids money when they work, you need to SHOW them how to handle it well. We've given our daughter 3 labeled jars which my wife has beautifully decorated. The first is Give, next is Save, and the final one is labeled Spend. Each payday she puts 1 quarter in Give, 3 in Save, and 2 in Spend. We're intentional about teaching her to give first, save next, and spend last, with the hope that we're ingraining a pay yourself first attitude and growing her giving and saving muscles.
Teach them to invest – Compound interest is powerful. Crazy powerful. Like insanely powerful!! I've run the numbers for our daughter if she were to start investing at 5 how much she would have at 55. It's nuts. Talk to your kids about this. They may not get the math. They can, however, learn to understand that a dollar today is worth way more down the line.
Learn from your mistakes – Money can be scary for kids and adults alike. It's important that parents teach their kids to have a growth mindset about money. Mistakes are not catastrophes. Rather, they are valuable opportunities to learn and grow.
More is caught than taught – There is nothing more powerful than modeling great behavior to your kids when it comes to handling money well. When they see you choosing to spend your money in an intentional way or to save consistently, this has an incredible impact. On the other hand, if we're living above our means and spending like it's 1999, it's tough to teach our kids to exercise self-restraint.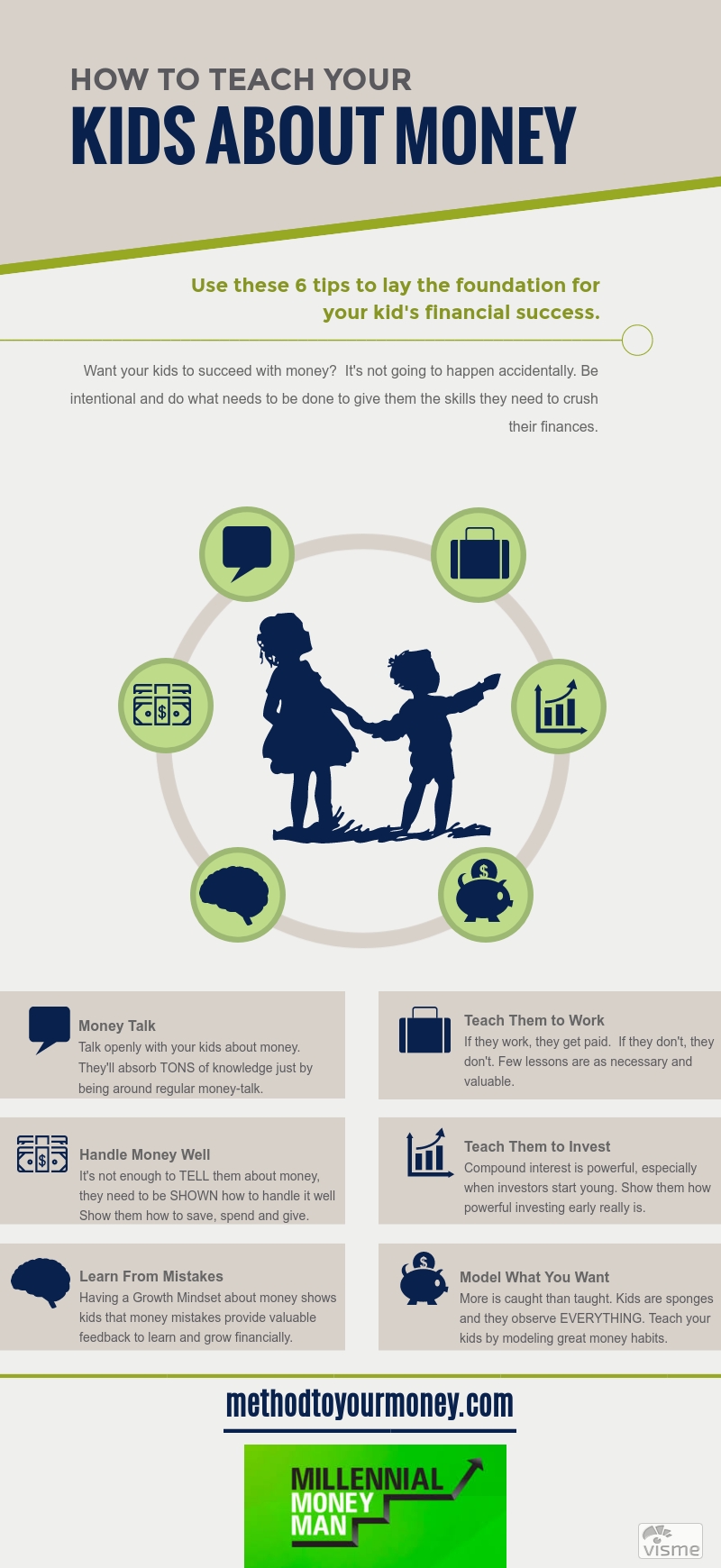 If we hope to give kids a fighting chance when they grow up, they need to learn the basics when it comes to personal finances. As the adults in their lives, it's our responsibility to pass on the financial knowledge that has worked for us. Some of this should come from classes that students take in school and some from parents being intentional about teaching money skills at home.
As with anytime massive societal change is needed, we need to focus on reshaping the hearts and minds of kids. If we succeed at that, we'll succeed at producing large-scale and lasting change.
And they won't be living in our basements until they're 45.