I very specifically remember times while I was paying off my student loans that I was just getting tired of doing it.
I would make a student loan payment and then find myself looking at the screen thinking:
"Ugh…this sucks. I freaking hate this."
I was probably about a year into the grind when that started happening. Coral and I were living with her parents, we didn't have much privacy, my car sucked, my clothes sucked (still do haha), my bank account sucked, my friends were doing cool stuff, and on and on.
It just felt like I was getting passed up by everyone and my life wasn't really going anywhere, you know what I mean?
I drove to work, ate a breakfast sandwich in the car, ate basically the same lunch every day (I made a bunch of chicken breasts and rice every weekend for lunches because it was super cheap), and then rinsed and repeated every day.
All of that because I had these stupid student loans. It was so annoying that I couldn't just do what everyone else was doing in life because of some numbers on a screen.
Don't get me wrong – there was definitely some satisfaction when I clicked the "submit payment" button on the Sallie Mae website because I knew I was doing something that eventually would pay off. But there were just so many times where I wondered if all of the trouble was worth it.
There's a reason that a lot of people who have the ability to pay off their debt don't do it. It sucks. You have to sit there and let everyone around you pass you up. As much as I've written that you shouldn't compare yourself to other people, it's still really tough to avoid.
When it comes to any form of delayed gratification that you're practicing, it's really the same way. It's hard to go against the grain of society and do it for an extended period of time, whether it's with investing, side hustling, or paying off debt.
Here are some strategies that I suggest for staying motivated when you are trying to reach your financial (and life) goals:
1. Surround yourself with the right people
I actually didn't do this at all when I was paying off my loans, which probably made it so much harder. I felt like I was the weird or something for trying to reach debt-freedom. People would call me crazy for doing all of the things that I was doing, so I really just avoided talking about it at all.
But if I could go back, I would change that in a heartbeat.
Since I've been running M$M, I've seen every single day how powerful it is to have the right circle of people around you.
Just this morning before I pressed publish on this post, I saw this: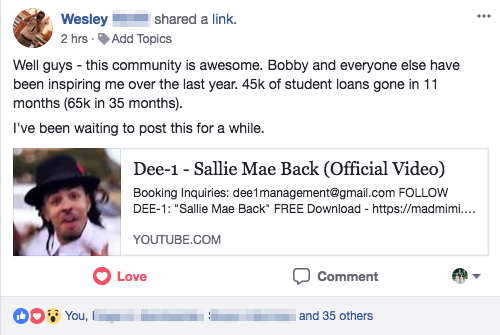 I mean…that's huge. That's how surrounding yourself with people that give a crap about your goals can help you.
If you aren't in the M$M Facebook group yet (or any personal finance group…there are tons of great ones out there), you should give it a try and see if it's a good fit for you.
2. Change up your routine
We all get stuck in routines, and I definitely was when I was working on the loans. Maybe it's just my personality or something, but I find myself eating the same stuff all the time and doing things the same way for days at a time. That, mixed in with grinding to make the same student loan payment every two weeks just felt…meh.
Monotony is boring, so do stuff differently just for the hell of it every once in a while. Go somewhere you've never gone before, strike up a conversation with someone you've never talked to (which is terrifying for me because I'm introverted, but I still do it haha), etc.
Even though it doesn't directly relate to your financial goal(s), I think doing things like that can just put you in a better mental state, which in turn makes it easier to stomach doing the things that are harder.
3. Celebrate your wins
This post is basically just turning into things that I should have done when I was paying off my student loans haha! But, after looking back on my debt payoff journey, I've learned a lot.
I was ultra, ultra, frugal back then. I'm not as much anymore, which is actually a good thing IMO. I have no interest in living with my in-laws or living in a tiny house like some of my personal finance blogging friends do.
If I could go back, I would have bought a decent bottle of wine or something like that every time I hit a major debt goal.
Celebrating your own success is fun, and it's something I didn't do for many years because I was afraid to spend any money at all.
But here's the thing – it doesn't even have to be something you spend good money on. Maybe it's one of those cool debt payoff charts that I always see M$M readers using, or cooking a fancy-ish dinner at home. It could even be something simple like taking your kids to the park and flying a kite.
Just…do something to mark your achievements. It's fun to look back on things and get the warm fuzzies that you did something most people don't do.
4. Put your life into perspective
You woke up today.
I mean, take a second to think about that. You're alive. You're reading this. How incredible is that?
It's so easy to fall into the trap of thinking that your life sucks, or beat yourself up because you don't have enough money invested or the student loans feel like they are suffocating you.
Unfortunately, there are people in this world that have far less to work with in life than a lot of us do who even have something as seemingly simple as internet access. It sucks. Obviously, it's tough to think about, but I think it's important to remember things like that on a daily basis.
Yes, student loans suck. Yes, it would be nice to retire a multi-millionaire at 31 or whatever all those FIRE blogger people do.
But…you woke up today.
Seems simple enough to me.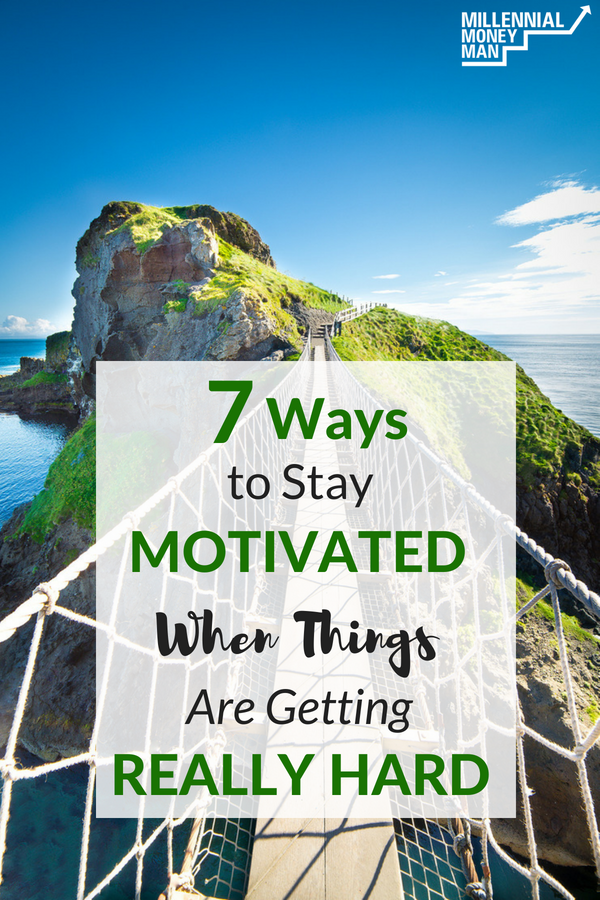 5. Visualize your future success
Ah! Something I actually did do when I was paying off my loans. 🙂
I constantly thought about what it would be like when I made the last payment. What I'd feel like, how my life would change after I clicked the button. I saw it over and over again in my mind.
That's honestly one of the biggest reasons that I kept going when things got hard. This probably should have been #1 on the list, but we're here now…so oh well.
But seriously – you need to see yourself having success as often as possible because nobody else is going to do it for you. They just won't. Most people probably want you to fail so that they feel better about their own situation.
I can tell you this:
Making the last payment was every bit as cool as it was in my mind's eye.
6. Document the journey
I've seen this in a lot of different forms, but whether it's a journal or a blog – documenting the ups and downs makes it easier to keep going.
If you think about it, that's basically what I do with this site. I'm taking you on my journey of personal finance and entrepreneurship, and doing my best to share the good and bad things I'm experiencing along the way.
It's fun to read for you, but it's important for me. It keeps me focused on my life goals, and I feel like every post that I write is basically me getting one step closer to everything I want to do in life.
If you haven't tried it before – just start writing things down or making videos about your process and what you're doing. Maybe you don't share it with anyone, or maybe you share it with the world and become a professional at it like me. Who knows?
7. Find peace with less (at least temporarily)
Ultimately, I just had to be OK with not having the same stuff or experiencing the same things (mostly vacations) that all of my friends were doing. Everyone passed me up, and I just learned to be cool with it because I knew that I was just at the beginning of my journey. They had no idea how far I was about to go.
When people see you doing "weird" stuff like turning down the invitation to go out to dinner or driving a car that's old enough to be your teenage child, they don't realize that you're just biding your time before you reach greatness.
Now all of those people that passed me up early on look at me now like: "What the? How did he…? Wow."
Keep doing what you're doing and they'll do the same to you one of these days. 🙂
Question for you:
What are you working on right now? What's your biggest financial goal?