What up debt destroyers? Today I have the BEST debt payoff story that I've seen to date! These two (Zack and Jenna) are legit. Basically…they moved into a camper to pay off their debt. Read on, you won't be sorry. Enjoy! -M$M
It all began about a year ago after my wife and I returned from our dreamy honeymoon in the Bahamas. We settled into our new life together in our cozy downtown apartment and began planning for our financial future. That's when we realized that our financial situation was grim. Together, we brought $49,000 worth of debt from student loans and car payments into our marriage. We were crushed when we realized how long it would take us to pay off our loans by only paying the minimum payments each month.
Related: Check here to see if your student loan rate is too high.
If you've ever had any large sum of money you owed someone else, then you know it is a paralyzing and daunting feeling to begin to know where to start. We knew we had to get our financial situation under control so we headed to the whiteboard and created our "Get Out Of Debt Plan". I've included 3 specific steps that have been crucial to our progress.
Step 1:
We listed all of our assets and liabilities. In short, everything that we owned and everything that we owed. In order to understand what we needed to pay off, we needed to know what we were bringing in and what was going out.
Step 2:
We focused on making as large of payments on the highest interest rate loan as possible, which for us was my wife's car. It also happened to be the smallest loan we had so it made sense to pay that off first. We made $2000 payments each month towards that loan until it was fully paid off. This accomplished two things, it gave us momentum to stay motivated because we saw progress quickly and it also eliminated the highest interest rate loan, which saved us money over the long run.
Step 3:
We identified ways to save on our largest re-occurring monthly expenses. Things like: rent, insurance, phone plans, and eating out. We found a new insurance provider, got our cell phone bill paid by our employers, and decided we would allocate $300 per pay period for spending money. Additionally, we swapped our high-speed internet for a cheaper plan, cut Netflix, Hulu, Audible, and other subscriptions.
Since implementing these strategies we've paid off our smallest amount and highest interest rate loan in roughly six months. At the time, we still had one problem; our largest re-occurring payment each month went to our landlord.
Until one night, we were enjoying dinner and a life shaping discussion came up. "Why don't we downsize and live in a camper to focus on paying off our loans?" I said to Jenna. We both laughed and smiled nervously at each other while I did the math on the back of a napkin…. "Nine months and we could be debt free," I said to my beautiful and nervous looking wife.
We sat quietly smiling at each other and Jenna said, "Okay, let's do it!"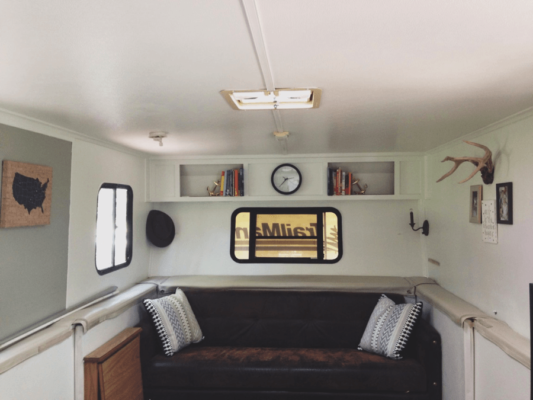 We searched craigslist day and night and ended up finding a great deal. Within a few weeks of our original conversation, we had our future home. We worked late nights and weekends to fix it up. We remodeled it just enough to call it home, and as of two weeks ago we are moved in and are loving every moment of it.
Make no doubt about it, this was a stressful transition but it's been completely worth it. We sold our stuff, donated half our wardrobe, and rented a storage space for the rest. Our goal is to be completely debt free in nine months and to celebrate by taking an extended backpacking trip to Europe.
We still have more to pay, but to date, we have paid $17,000 of debt. We've had up's and down's but we've stuck with our goal and are learning that our sacrifices are finally paying off.
Although this is about our financial future, this season of life has been more than a quest to get debt free. It's taught us how to dream together and work to make that dream come to reality. It's gratifying when you unite together around a common goal with your spouse. And to think that we're just getting started!
If we can do it, you can, too. Write out a plan that works for you and stick with it. The way we see it, if your plan is not challenging your lifestyle, it's not changing the way you see your money.
Cheers!
Zack and Jenna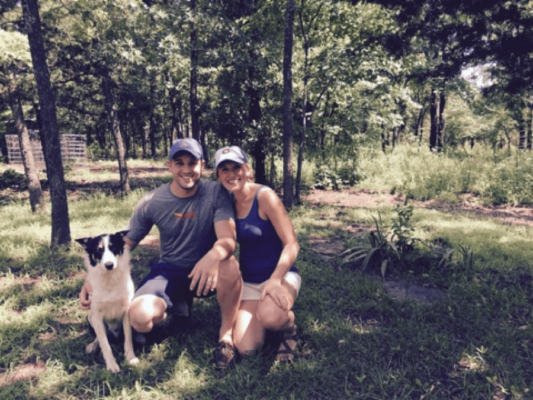 Zack and Jenna reside in Oklahoma with their Border Collie, Banjo.
If you are interested in starting an online business of your own like Zack and Jenna, please read How To Start A WordPress Site On Bluehost. This is a free tutorial that will give you the specific steps to create your own blog. Through my special Bluehost link, starting a blog of your own can cost as little as $2.95 per month!