How much should I have in savings? This is a question I'm asked pretty often as a personal finance blogger. And the answer is: It depends.
You will hear different recommendations from different people, but how much you should save depends on your financial situation and lifestyle. I know that's not what anyone is looking to hear, but that's the truth.
Personal finance is, well… personal.
There are also different kinds of savings – emergency savings, retirement savings, cash savings, etc. My retirement savings, for example, might look drastically different than yours because we probably have different goals.
Even though there isn't a one-size-fits-all answer, there are some guidelines that will help you determine how much you need to have saved up. I'm also going to explain why blanket savings advice doesn't always work.
How much should I have in savings? Saving for emergencies, retirement, and more.
How much savings should I have for emergencies?
I want to start with your emergency fund because having a well-stocked emergency fund gives you a financial buffer to prevent taking on debt. Your emergency fund can help if you lose your job, have a major medical expense, need to make a sudden home or car repair, or have any other kind of financial emergency.
Emergency funds prevent debt. It's a way to protect yourself if something major happens.
The general rule of thumb is that you should save 3-6 months worth of expenses in your emergency fund, but it's more subjective than that. Here are some guidelines:
Freelancers and other self-employed people should save 6-12 months' worth of expenses because you're more vulnerable to major financial changes like a drop in income or job loss.
If you have a chronic health issue that may prevent you from working, you should have closer to 6 months of expenses saved in your emergency fund.
If it would be difficult to find another job that pays what you currently make, you should save 6-12 months.
If you have a lot of high-interest rate debt, $500-$1,000 is a good starting place. Focus on paying off your debt and then get back to saving.
Your emergency fund should be easily accessible (i.e. not invested), but I don't recommend keeping it in your checking account. Emergency funds should be in a separate savings account.
How much should I have saved for retirement?
The amount you need to save for retirement varies based on the lifestyle you want in retirement and what your income is. You'll need to save more for retirement if you want to travel a lot or take up an expensive hobby like golf… as someone who's recently taken up golf, you'll need to save lots.
Your retirement savings is also based on your current income, because it's one way to calculate how much you'll need to save. This gets tricky because most people earn more when they're closer to retirement, and one popular formula recommends that your retirement income should be 80% of your desired pre-retirement income.
If you're making $100,000 annually, then you will need approximately $80,000 per year in retirement.
Millennials are less likely to have Social Security and pensions, but you can adjust the 80% based on other sources of retirement income. You'd also adjust up or down depending on where you plan on living, if you want to travel in retirement, and any other lifestyle changes. And don't forget about golf.
The next part of the retirement savings formula is to figure out how much your nest egg should be.
You can divide your desired retirement income by 4% and get the total amount you need to save. This is called the 4% rule, and in our example, the formula looks like: $80,000 x 4% = $2 million.
The 4% rule assumes a 5% return on investments. That's on the conservative side, and some advice says you can expect more like 6% to 7% return. You can always meet with a financial advisor if you have questions about how much you need for retirement, how to invest it, and how to reach your financial goals.
M$M tip: I highly recommend Personal Capital to track your retirement savings and investments. It's a free financial planning tool, and my wife and I have been using it for years. It's got a bunch of robust features that can help you optimize your accounts and save on fees.
How much should I save each month?
Here's the better question: what's the suggested savings rate to save for emergencies, save for retirement, and save for any other goals you might have?
Your personal savings rate depends on what each of your savings goals are, and how much you have to start with.
People pursuing FIRE (Financial Independence, Retire Early) often aim for a monthly savings rate of around 50% and sometimes higher. They accomplish that by finding ways to save more money, which is usually a combination of increasing their income and decreasing their living expenses.
But for everyone else, the 50/30/20 budgeting rule gives you clear guidelines for how much you should put towards savings and other financial obligations each month:
50% of your after-tax income for your needs
30% for wants
20% for savings and debt
If you have high-interest-rate consumer debt, you'll need to prioritize that before saving the full 20% each month. But the 50/30/20 rule is a good maintenance budget once you have your debt under control.
How much does the average person save each month?
The average personal savings rate in the U.S. has fluctuated a lot over the past 60 years – from around 3% to 13%. In 2019, the average savings rate was 7.6%, and that's closer to the historic average.
Interestingly, in April of 2020, in the middle of a global pandemic, the savings rate jumped to 33%!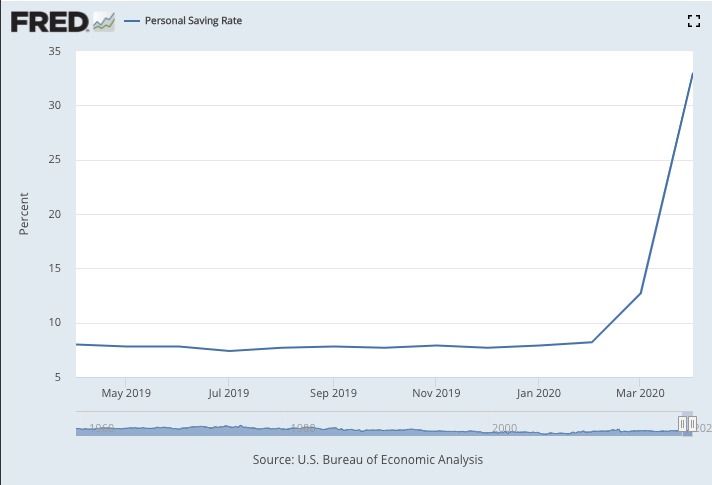 People saved way more in April because of the stimulus checks sent by the government as part of the CARES Act, and because federal student loan payments were paused. Plus, many of the places people usually spent money – like restaurants, bars, and malls – closed their doors. All of that led to more disposable income to save, especially if you were preparing for the possibility of unemployment.
How much is too much savings?
I don't think there is such a thing as too much savings, but this question refers to cash savings vs. invested savings. The drawback to too much cash savings is that you're neglecting tax-advantaged retirement savings and/or not earning interest on your savings.
Your cash savings is the amount you have in your checking account to pay your bills, your emergency savings, and any other liquid savings. It's money you can easily withdraw from the bank.
High-interest rate savings accounts and money market accounts are better savings vehicles for some cash savings. You'll earn a small amount of interest on your savings while having some liquidity. Some people also like to save on CDs, but your money is essentially untouchable until the CD matures.
Keep the amount you need to be saved for emergencies readily available, replenish it as needed, but don't neglect your retirement savings.
Your retirement savings, including your 401(k) or IRA, is generally considered invested savings, and invested through assets like stocks, bonds, ETFs, and mutual funds. There's more risk in the stock market, but diversification and the right asset allocation help protect your nest egg.
What about the advice on how much I should have saved by 30, 35, 40, and beyond?
The advice you're asking about recommends that you save:
1x your income by 30
2x your income by 35
3x your income by 40
5x your income by 50
7x your income by 60
Advice that gives you savings recommendations by age sometimes includes the exact amount you need to have saved at each age. It uses retirement savings formulas that are similar to the ones mentioned earlier.
While these kinds of hard numbers can be useful, they're not a one size fits all solution for everyone's goals and lifestyle. Let me explain what I mean...
1. It assumes everyone has the same financial goals.
Savings advice based on age assumes that everyone has the same financial goals – graduate college, get a job, buy a house, have kids, maybe buy another house, start putting your kids through college, and then retire when you're 65.
Not everyone is on that path, and that drastically changes the amount you need to save. For example, if your goal is to retire by the time you're 35, twice your annual income isn't enough… well, not unless you make $500,000 a year.
2. It assumes people are making enough money to save some of it.
Depending on the survey, anywhere from 50% to almost 80% of workers are living paycheck to paycheck. Lower-income earners make up the majority of those numbers, but 1 in 10 workers making $100,000+ are also living paycheck to paycheck.
There are a few reasons for those staggering numbers:
How much should I have in savings? The final word
There are two things I want you to take away from this article:
1. Personal finance is personal. The amount you need to save is based on your lifestyle and goals.
2. There are ways to start saving more. Throughout this article, I've linked to other M$M articles that offer advice on reducing your expenses, paying off debt, and increasing your income. Check out those links and start following the advice you need to start saving.
Saving money isn't easy for everyone, but the sooner you address your savings issues, the faster you can start working towards your goals. And trust me, your future financial self will thank you.