Interest… you pay it on your mortgage, car loan, and credit cards, and you earn interest on savings. But how does interest work?
The reality is that a lot of people are pretty clueless when it comes to how interest works. There are just so many different factors – how it compounds, loan periods, how the Fed sets rates, and more.
But it's important stuff to know because all of it affects you and the amount you pay overtime or how your money grows. So today, grab a cup of coffee… or glass of wine… and join me as I take a deep dive into how interest works.
What is Interest and How Does it Work?


What is interest?
Interest is what you pay to a bank or other financial institution when you borrow money from them. Paying interest happens with credit cards, personal loans, auto loans, and mortgages. It's what you pay for the privilege of using someone else's money, and to compensate the lender for the risk of lending you money.
Interest can also be earned when you lend your money out or put it in a bank to be held. You earn interest on savings accounts, money market accounts, and certificates of deposit.
Interest rates are represented by percentages, and a small change in just a percentage point or two can have major effects on the amount of money you earn or owe.
How does interest work on a loan?
When you take out a loan, interest is calculated on the principal balance – the amount you're borrowing. It's usually represented by an APR (annual percentage rate), which accounts for interest, administrative fees, and points.
The amount of interest you pay is based on the interest rate and length of the loan. Common loan periods for mortgages are 15- or 30-year terms, car loans can be around 60 months, and personal loan periods are of 2-5 years.
The length of your loan
Choosing a shorter loan term can have a pretty significant effect on the amount of interest you pay throughout your loan. Here's an example of a $250,000 mortgage with a rate of 3.75% looks like in two different scenarios:
30-year mortgage: Your monthly payments are $1,158 and the total cost of your mortgage is $416,804
15-year mortgage: Your monthly payments are $1,818 and the total cost of your mortgage is $327,250.
But here's the other thing about a shorter-term loan: you can usually find a lower interest rate because it's less risky and cheaper for banks to lend you money. The downside is that your payments are higher, which leaves less money for other opportunities, like investing or retirement savings, so weigh up the pros and cons.
How payments change over the term of your loan
Interest is the highest at the start of the loan repayment, before the principal has started to decrease. For home and auto loans, interest is front-loaded at the beginning of your repayment, so the majority of your payment goes towards the interest with a little bit going towards the principal.
The principal starts to decrease as you make payments, causing the amount of interest you accrue to decrease. This is why you often pay more towards interest at the beginning of your repayment, and more towards the principal at the end of your repayment.
Your loan payments might stay the same, but how your payment is allocated towards interest and the principal often changes.
Fast facts:
Banks set the interest rates on their loans, but they take Fed policies, competition, and market levels into account.
Loans with interest rates that stay the same are called fixed, and variable rates are ones that change over time.
How does interest work on a credit card?
Credit cards only charge interest when you don't pay your balance in full. The amount of interest charged is based on your balance and APR. And in the case of credit cards, APR and interest are the same.
When you don't pay your balance in full, you are charged interest for every day that you carry that balance. You aren't charged interest on new payments, just what's leftover from the previous month.
The risk of carrying a credit card balance
Interest charges balloon when you carry a balance on your card month to month, so you keep adding to your balance, while only making the minimum payment. This is why it's so important to pay off your credit card debt.
Here's an interest rate example for credit cards. In this example, your average daily balance is $1,000 and your APR is 17%.
First, figure out how much interest you pay daily. This the APR divided by 365.
.17 / 365 = 0.00046
Multiply your average daily balance by the daily rate.
0.00046 x $1,000 = $0.46
Multiply that by the number of days in your billing cycle (30 days).
$0.46 x 30 = $13.80 in interest is added to your balance
That example uses averages, and interest on most credit cards is compounded daily.
Credit cards often have more than one APR
Your credit card has a standard rate, but there are different APRs for different situations. For example, there might be a low introductory rate when you first open the card. Cash advances and balance transfers have different APRs. You can also have a penalty APR when you're late on payments.
These rates are disclosed in a standardized format called a Schumer box. You should check this before you open a new card, and your statements will have one too. Here's an example: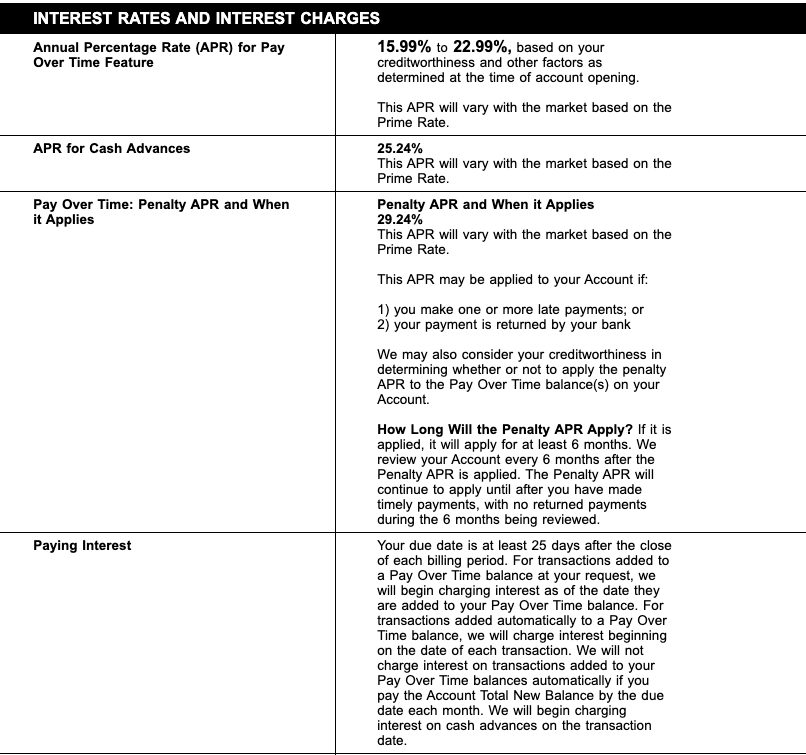 Fast facts:
Your credit card's standard APR is based on your creditworthiness – your credit score. Typically, a higher credit score equals a lower APR.
Some credit card companies also publish a DPR (daily periodic rate) which is the rate used to calculate interest when you carry a balance. DPR is your APR divided by 365. This was used in the above example.
How does interest work on a savings account?
Up until now, we've been talking about paying interest. Now, let's talk about earning interest.
You earn interest when you deposit money in the bank because the bank basically pays you to keep your money there. Some savings accounts earn more interest than others – high-yield savings accounts and money market accounts are known for offering higher interest rates.
The amount of interest you earn is calculated by the bank's APY (annual percentage yield). The higher the APY, the more you earn.
Your bank's overhead costs affect what you earn
The APY is based on the Fed's benchmark interest rate – if the Fed increases the rate, APYs generally increase. But a bank's overhead costs will affect the APY of their savings products, which is why you see a lot of online banks offering higher than average interest rates. They have lower operating costs than brick and mortar banks.
Compound interest is your friend
Most all savings accounts have compounding interest, which is a fancy way of saying you earn interest on your interest. Here's an interest rate example for a savings account:
You deposit $4,000 in a savings account with an interest rate of 1% that compounds annually.
At the end of the year, after not touching the money or adding to it, you've earned $40.
That $40 is added to your balance and now you earn interest on $4,040.
Some accounts compound daily or monthly, and more frequent compounding only adds to your balance. You can see how saving early and often can really help you reach your long-term financial goals.
Fast facts:
Banks charge fees for all kinds of things – annual fees, inactivity fees, paper statement fees, excess withdrawal fees, transfer fees, etc. Look at fees and APYs when comparing banks.
APYs fluctuate on high-yield savings accounts, but they are still much higher than the average rate of 0.06%.
FAQs about how interest works
How does the Fed set interest rates?
When you hear someone talk about the Fed cutting or raising interest rates, they are talking about the Federal Funds Rate. This is a target rate set by the Federal Reserve's Federal Open Market Committee, which reviews current economic data to set the rate.
Raising or cutting the rate affects the money supply. So, you'll see lower rates to stimulate economic growth through lending, and rates increased to slow inflation or return economic growth to normal, sustainable levels.
The Federal Funds Rate is actually the rate that banks charge each other for overnight loans – which is how they meet daily federal reserve requirements – but it affects everyday lending and savings.
How do I save interest on my loans?
One of the most common ways to save money on interest is to make extra payments because they go towards the principal balance.
This is really common with mortgages, and you can easily get one extra payment in a year by switching to biweekly payments. Because there are 52 weeks in a year, you end up paying half of your monthly payment once every two weeks, which works out to 26 biweekly payments = 13 monthly payments.
That extra payment doesn't sound like a huge deal, but it adds up. Using the mortgage example from earlier in the article, here's how biweekly payments affect the total interest you pay on a 30-year term:
With regular monthly payments: You pay $166,804.03 in interest
With biweekly payments: You pay $140,755.32
How do I get a lower interest rate on my credit card?
Your credit score plays a major role in determining the APR on your credit cards because it gives lenders an idea of your lending history. Several factors go into your credit score, but the most important ones are your payment history and amounts owed. Keeping up with your payments and paying off your debts can help you raise your credit score.
But most credit card companies don't just call and say, "Hey, want a lower rate!?" There are actually scammers that make calls like that.
You can always call your credit card company and ask to have your rates reduced. It's best if you have a good payment history with them.
Are there ways to save money at a higher interest rate?
CD (certificates of deposit) accounts sometimes have higher rates, but this is money you won't be able to touch until the CD matures. And you'll need a longer CD – 5 years or more – to find the best rates.
Another option is investing. Now, there aren't any guarantees, but historically, you will earn at a rate that's closer to 6%. This is a long-term strategy to grow your wealth, and there are some great ways to start investing:
How does interest work? The final word
Interest is a regular part of your life, and there are lots of nuances that can cause you to save more or owe more. The best thing you can do for yourself is to understand the terms of your loans and credit cards, make regular payments, and start saving money as soon as possible.