Ah internet financial scams. I'm sure that all of us at one point or the other have had to deal with the super shady message in our inbox that tells an epic story about a Nigerian prince, or the great aunt that recently left her entire inheritance to…that's right…you.
To be honest, I get these a ton just because of how much the site has grown over the past two years. I easily get at least one ridiculous scam attempt a week in my Facebook inbox, sometimes more.
Typically I just ignore them or report it as spam just like I'm sure all of you do.
Then came my favorite one of all time. It's freaking awesome because it skips all the fluffy scam stuff and gets straight to the point! It's not lost on me that they were trying to avoid wasting my time haha.
I shared this on the M$M Facebook page the other day, and the response was really really good. Several readers asked me if I would turn the conversation into a post, so…here we are.
Pro tip: Read the following exchange by replacing "50,0000" with "fifty super-thousand". It makes it so so much better. 🙂
Behold, the fifty super-thousand dollar request: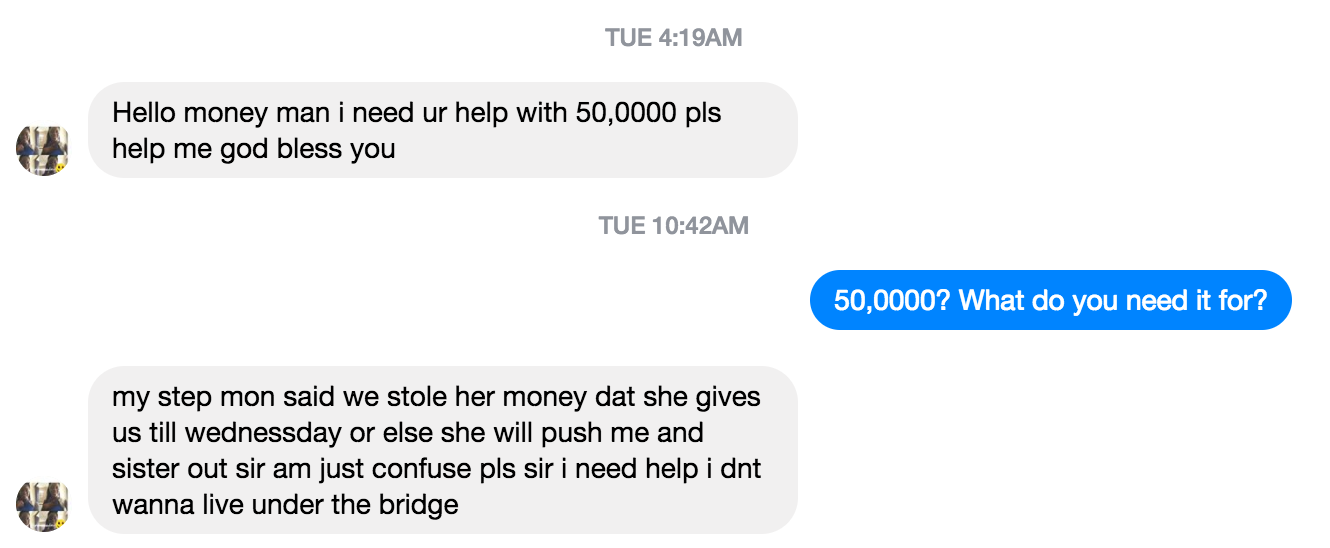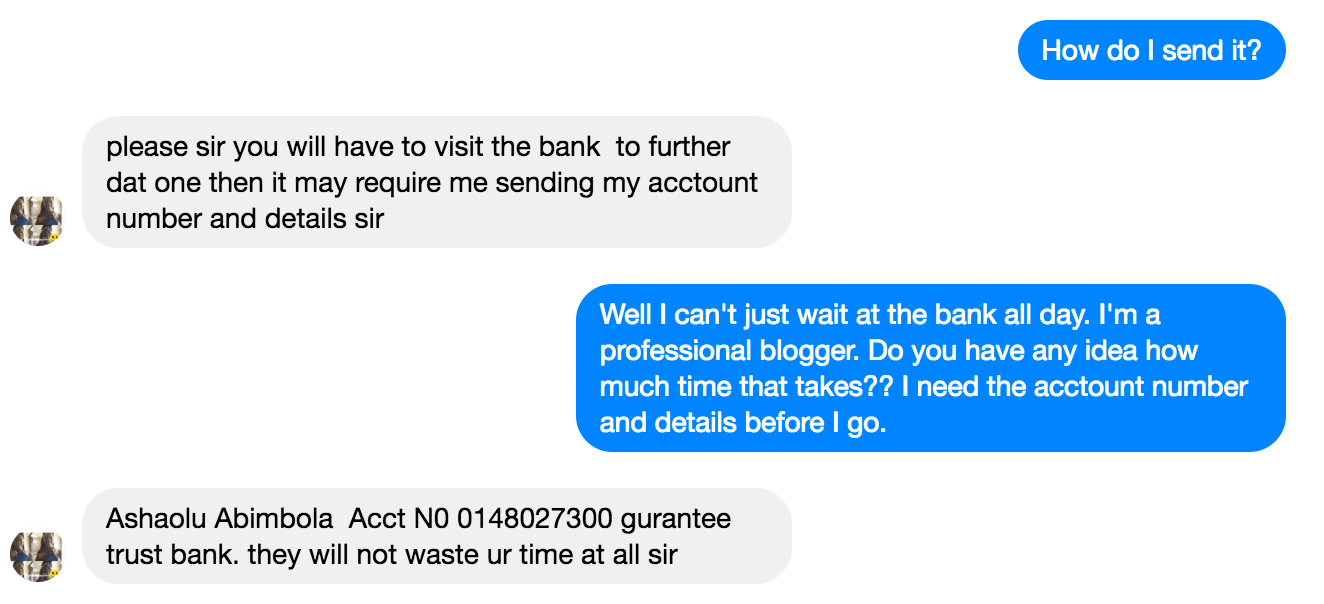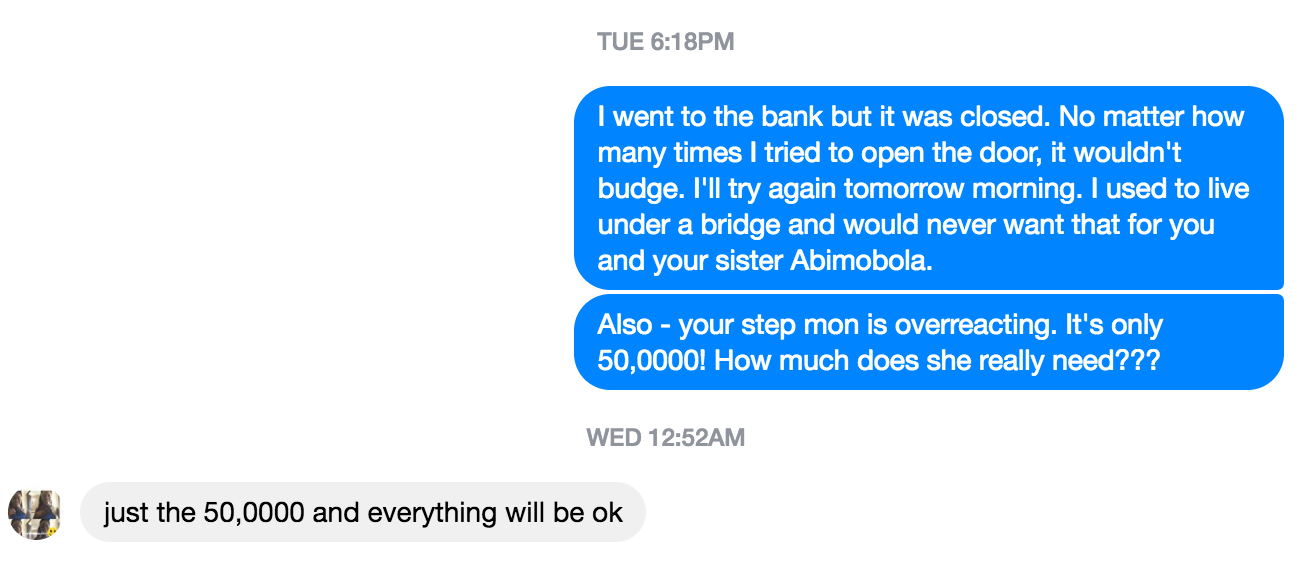 If you were wondering – 50,000 naria is about $158 US dollars. I'm still not sure if they wanted 50,000 or 500,000, but I don't think we'll really ever know.
Please don't fall for financial scams
Sorry to switch gears from funny to serious, but please don't ever ever ever fall for something like this. There is no reason that you should give any type of personal or financial information out over the internet.
Now to be honest, I'm not even sure I can count the above attempt as a scam. There's a real possibility it was just someone who actually DID steal 50,0000 from their step mon and was tripping because, well, nobody wants to live under a bridge.
But sometimes these scams can be way more complex and they can actually come off as real people or entities.
According to a survey by CNN Money, 8 out of 10 consumers have been presented with fraud, and 11% of those people actually lost a "significant amount of money". The financial fraud industry steals an estimated $50 billion per year!
Specifically, the IRS phone call scams that are starting to become more prevalent now concern me the most. I literally received a call and voicemail recently by someone "from the IRS" claiming that I owed money and was going to jail (or something).
Even though I knew I paid my taxes for last year and have my accountant game on lockdown, I felt a twinge of worry for a half-second before I realized it was bogus.
From experience, I can tell you that the IRS communicates through snail mail. Banks, government entities, or anyone else that's legit are not going to ask for personal information via phone or email.
Check out these statements about communication and tax scams by the IRS:
"In recent years, thousands of people have lost millions of dollars and their personal information to tax scams and fake IRS communication. Scammers use the regular mail, telephone, fax or email to set up their victims. This page looks at the different scams affecting individuals, businesses, and tax professionals and what do if you if you spot a tax scam. 
The IRS doesn't initiate contact with taxpayers by email, text messages or social media channels to request personal or financial information. In addition, IRS does not threaten taxpayers with lawsuits, imprisonment or other enforcement action. Recognizing these telltale signs of a phishing or tax scam could save you from becoming a victim." – via IRS Tax Scams/Consumer Reports
Here's a great rule of thumb for scams:
If it even feels even slightly suspicious, don't trust it.
Now, back to the fun stuff.