Hey everyone! I've had several emails from readers that want to know more about managing and building their credit through services like Credit Sesame. Credit scores are a notoriously intimidating topic in personal finance, and there are PLENTY of shady companies that offer to "fix" your credit score for a monthly fee.
Let's just get this out of the way – Credit Sesame is legit and something I have used for years now.
I use it to keep an eye on my credit score, and have never had any issues with it or a negative experience (yet). It actually really helped me out during a semi-crappy time in my life.
Before I started this site, I had a pretty serious issue with my credit score. A grant that I had during college turned into a loan after I graduated, and because of a very serious illness with an immediate family member – I just missed it when it happened.
By the time I realized what was going on and took care of it…my credit was literally trashed. I went from a 800+ score to a mid 500 score what felt like instantly (that $hit happens fast).
Crushed doesn't even begin to describe that feeling.
A lot of people don't realize that even when you catch something like that and immediately take care of it when you find out, your credit score will still be effected negatively for years.
I looked into all of the credit repair companies I could find online, but ultimately decided that they offered a service I could do on my own (calling and disputing the negative marks on my credit report).
So instead, I signed up for Credit Sesame and started monitoring my score while I did everything in my power to fix my credit. I started using my credit card for all my purchases, disputed the negative inquiries like crazy, and worked with the grant company to help get everything cleaned up.
It took a LONG time, but here are the results so far:
It's not perfect, but WAY better than it was 2 years ago. This was a huge learning lesson for me. If I had been using something that would have notified me of the issue with an alert or email – it wouldn't have happened.
Since then my view on credit scores and "evil credit cards" has changed a lot. If you know what is going on with your score, you'll be way more likely to actually DO something about it. Using credit cards ISN'T dangerous if you're organized.
You can use my exclusive link to create your free account.
Here's the important stuff you should be wondering:
How does Credit Sesame work?
After you sign up for a free account (which takes about 3 minutes), Credit Sesame will work with the credit reporting agency TransUnion to pull up your credit history. Using that data, they show your credit score and update it every month.
Credit Sesame is a "freemium" service (just like Personal Capital), so for the basic stuff like checking your credit score and getting alerts when your score has been updated, it's completely free to use and won't hurt your credit.
Do I have to pay for it?
For the average person's needs – no. My favorite kind of companies to introduce on the site are ones that have legit free options, because I'm super cheap haha! It's nice not to shove paid crap down my reader's throats all the time (in my opinion…I'm sure you all agree).
How do they make money?
Credit Sesame makes money by getting small fees from banks when users close on a loan or offers that they match with users' credit scores. Don't let that scare you – I've been using their service for years now and have never paid a dime OR signed up for a loan.
If you find something they recommend based only your credit score that would be useful to you – that's fine. If not, it doesn't matter. Like I mentioned above, it's really not hard to just use the free service and call it good!
Will it hurt my credit score?
Great question that you should always be concerned about – and no. Credit Sesame uses a "soft pull" when they update your credit score, which won't hurt your credit in any way.
If you're somebody that has had credit issues in the past – you aren't a freaking criminal and shouldn't be embarrassed. I remember being so crushed when I had my "oops" moment, and now that I look back it was just a blip on a much longer (and very good) financial journey.
You all know that I only recommend products and services on M$M that I personally use or have fully vetted. I think this is a [email protected]$$ one that won't cost you any money and will ACTUALLY provide some value for you, so it's a no brainer in my opinion.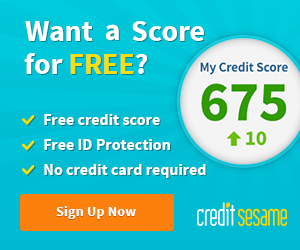 Live differently. Your bank accounts will thank me later. ~M$M