Are you looking for the best online course platforms available in 2023? This round-up lists nine of the top options available for new and seasoned course creators.
One of the questions I often hear from side hustlers who are looking to scale their online business with a course is, "What is the best online teaching platform?"
That's a hard question to answer because there are so many good options out there. Online learning platforms have been booming in recent years as users look for affordable ways to learn valuable skills, and experts want out-of-the-box solutions to creating courses.
Online course platforms meet those two groups in the middle by providing intuitive software and learning platforms. For instructors, you can generate a semi-passive source of income, and students aren't limited to in-person courses.
In the end, it's flexible learning options all around.
But with so many options available, I want to walk you through some of the most popular options, breaking down features, cost, and pros and cons
What do digital learning platforms let you do?
These platforms are learning management systems (LMS) that provide the tools and infrastructure it takes to create and teach online courses.
At the bare minimum, that's video or text-based content, and some platforms offer quizzes and assessments, student-teacher interaction, and more. However, some platforms go beyond that by including unique features that meet the needs of individual course creators, like membership sites, coaching, webinars, and more.
For example, there are all-in-one options that include email marketing software, and others that are plug-ins for existing websites.
What's really appealing is that you can create a course about anything. We're talking watercolor painting, social media marketing, graphic design, accounting basics, how to bake sourdough bread, and anything else you're an expert in.
If there's a skill you want to teach, you can do it with an online course.
What to look for in an online education platform
Knowing that each platform is going to have some standout features, then how do you pick the right one?
It's honestly going to depend a lot on what you want out of the experience. With that in mind, here are a few considerations:
Do you want to own your course content? Some platforms host your content, while others are more of a marketplace for educational content. The latter helps you leverage the marketplace's audience, but you typically don't retain ownership of your course. Using a platform to host your course gets a little more expensive and can lack the marketplace audience, but you have total control over your work and get to keep a larger revenue share – often 100%.
What is your budget? Some of these options can get pricey for newbies, but I'm a big believer in that you get what you pay for. The most popular choices have tiered pricing so you can start at a lower price point and then add on features and cost as you grow.
Do you want an all-in-one platform? Most platforms give you the tools to create your courses and some kind of e-commerce features. These will require you to pay for additional marketing tools and possibly a website builder. Then, there is software that has everything baked in, which can simplify the process.
How do you want to teach your course? Think about your teaching style. What do you need to facilitate your teaching style? Do you want capabilities for videos, quizzes, drip content (which means you control when the students can access the material), memberships, coaching, and webinars?
Are third-party integrations available? Integrations provide more functionality out of an online course platform. It's how the course platform "talks" with other software you use for your business, like your email service provider or analytics tool. Zapier is a leader in integrations, and if a course platform offers Zapier integrations, then you should be covered.
Now that you know what to look for in a course, let's review some options.
What are the best online course platforms? Eight options for 2023
1. Kajabi
Kajabi is a unique platform because it's the only one that boasts all-in-one business features, from course creation software, selling tools, automated marketing, blogging capabilities, and the ability to build and sell more than just courses.
You can use Kajabi to create courses with videos, text, webinars, quizzes, and drip content. There are also options for building coaching services and membership-based sites, and you can also use Kajabi to sell physical products.
Kajabi's stand out feature is what's called Kajabi Pipelines, which are automated marketing and sales funnels. These can be pre-built templates for different kinds of products, or you can build a pipeline from scratch.
There's also educational support for business owners through Kajabi University, including how-tos, courses, and bootcamps. You'll learn how to get the most out of Kajabi as well as business essentials, like accounting basics.
Kajabi pricing
Kajabi is pricey, but you have to remember that it's an all-in-one-platform. The lowest tier plan starts at $119/month when billed annually. Kajabi's pricing is based on the number of products, contacts, and active members.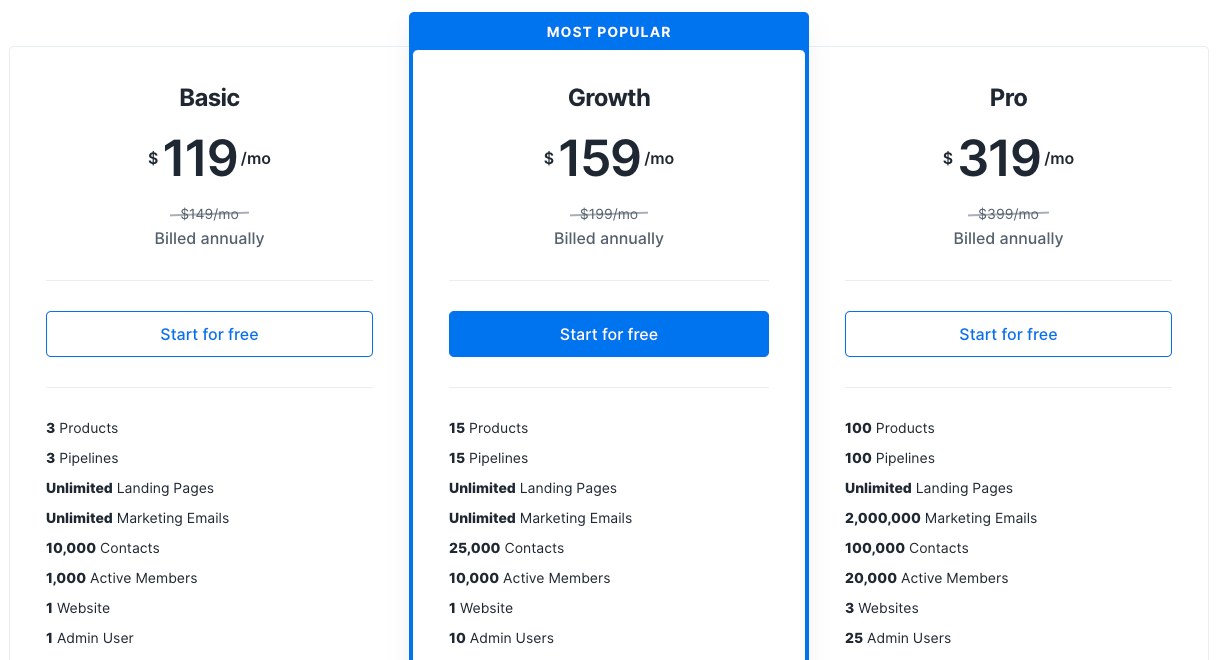 The Growth and Pro Plans also give you access to an affiliate program, as well as the ability to remove Kajabi branding and 24/7 chat support. The Pro Plan adds a code editor, too.
What you'll love about Kajabi
Easy – it's a complete business solution. There are also third-party integrations to connect software you already love using. Kajabi also has stellar marketing tools like pipelines and segmentation.
What you won't love about Kajabi
2. Thinkific
Thinkific has built-in tools for creating, marketing, and selling online courses. These tools include an intuitive course builder, marketing integrations via Zapier, and tracking via Google AdWords and Facebook Pixel.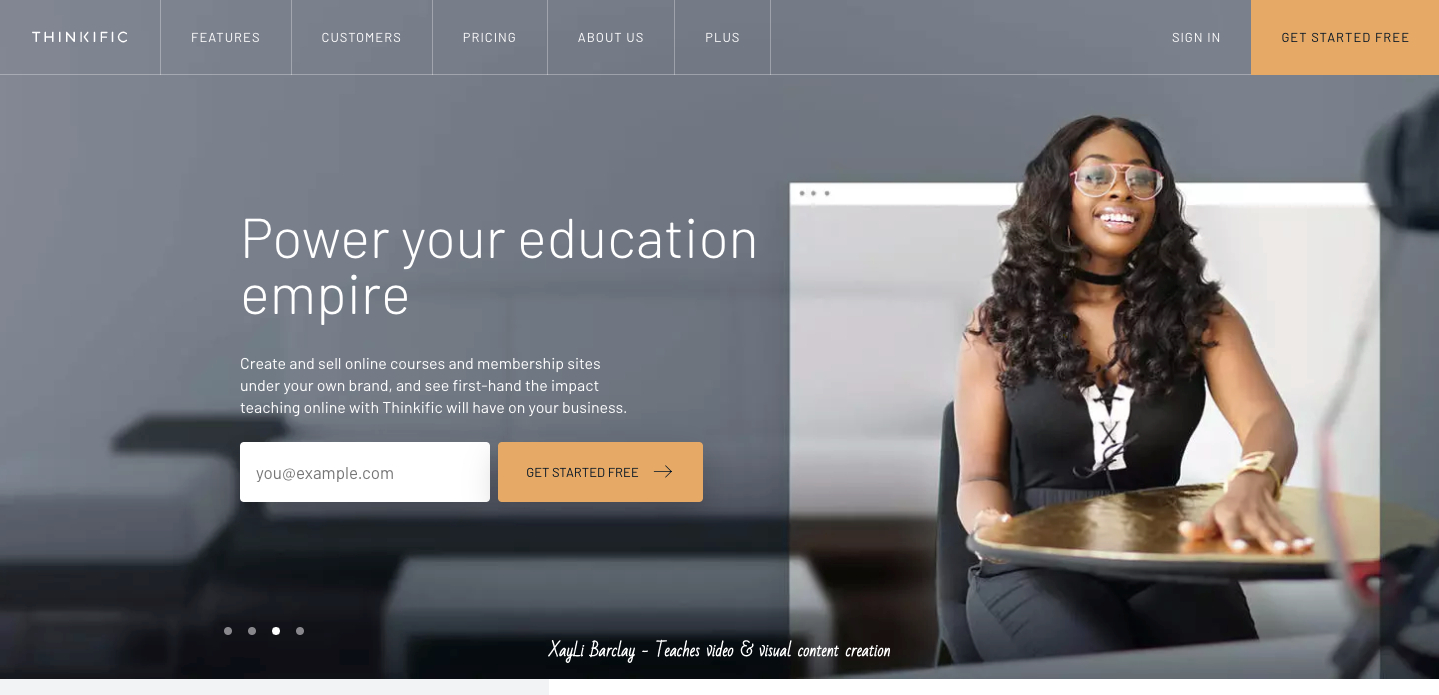 Thinkific's course builder gives you options for creating self-directed, hybrid, and group classes. Courses can be evergreen or scheduled, and you can monitor student progress via Thinkific's dashboard.
When compared to Kajabi, you'll notice Thinkific doesn't have built-in email marketing tools. But you can build sales pages for your courses and a school website to catalog your courses. Your Thinkific school (website) can have additional pages, like FAQs and an About page. Your entire site and course can be customized with your branding, and there's advanced CSS/HTML editing available.
Your Thinkific course can include voice over Powerpoint instructions, video, PDFs, downloadable content, student discussions, quizzes, surveys, text, and content from third-party sites like Typeform and Google Docs.
Thinkific pricing
Thinkific offers a free plan, but it lacks features like adding drip content, affiliate reporting, custom domain, email integrations, Zapier triggers, and manual student enrollment and exports. All of those features come with the paid plans.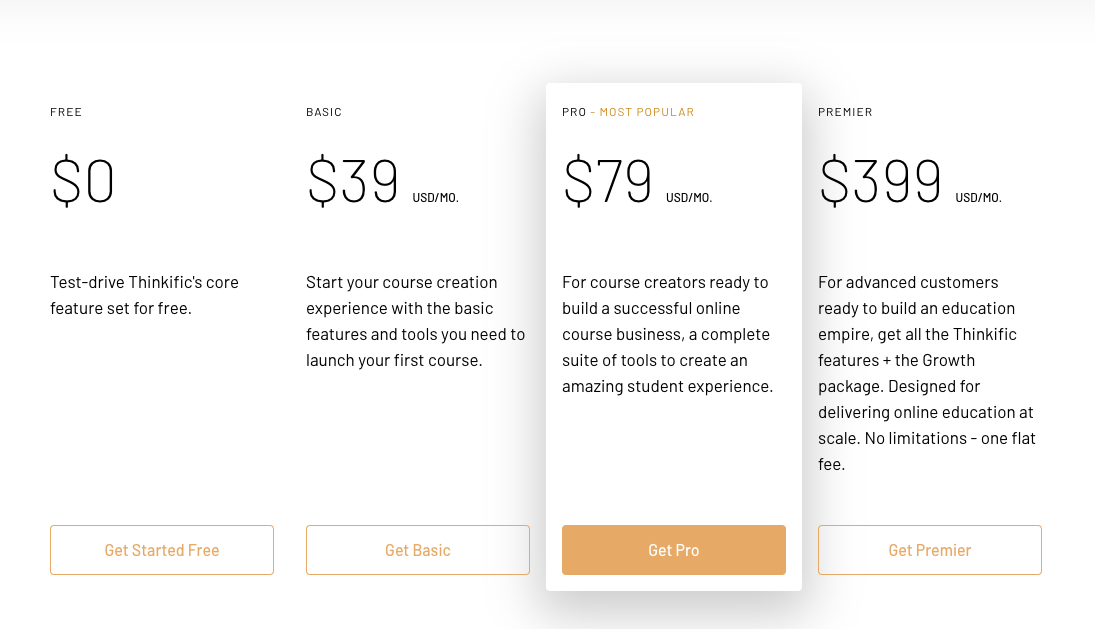 You can add the Growth Package to the Pro Plan, which makes it easy to sell your courses to groups, you can remove Thinkific branding on the course player and website, get advanced segmentation, send bulk emails, and more.
The Growth Package is based on the number of active students, but it's free for the first 100 students.
What you'll love about Thinkific
Brand new course creators and small business owners will find the platform easy to use, and there are robust tools that can help you scale your business. This education platform is also well known for its customer service.
What you won't love about Thinkific
3. Teachable
Teachable is the online course platform I've been using to run my courses – the Facebook Side Hustle Course and Facebook Ads for Bloggers. I had a 6-figure launch for my first course and have generated seven figures of revenue between the two of them.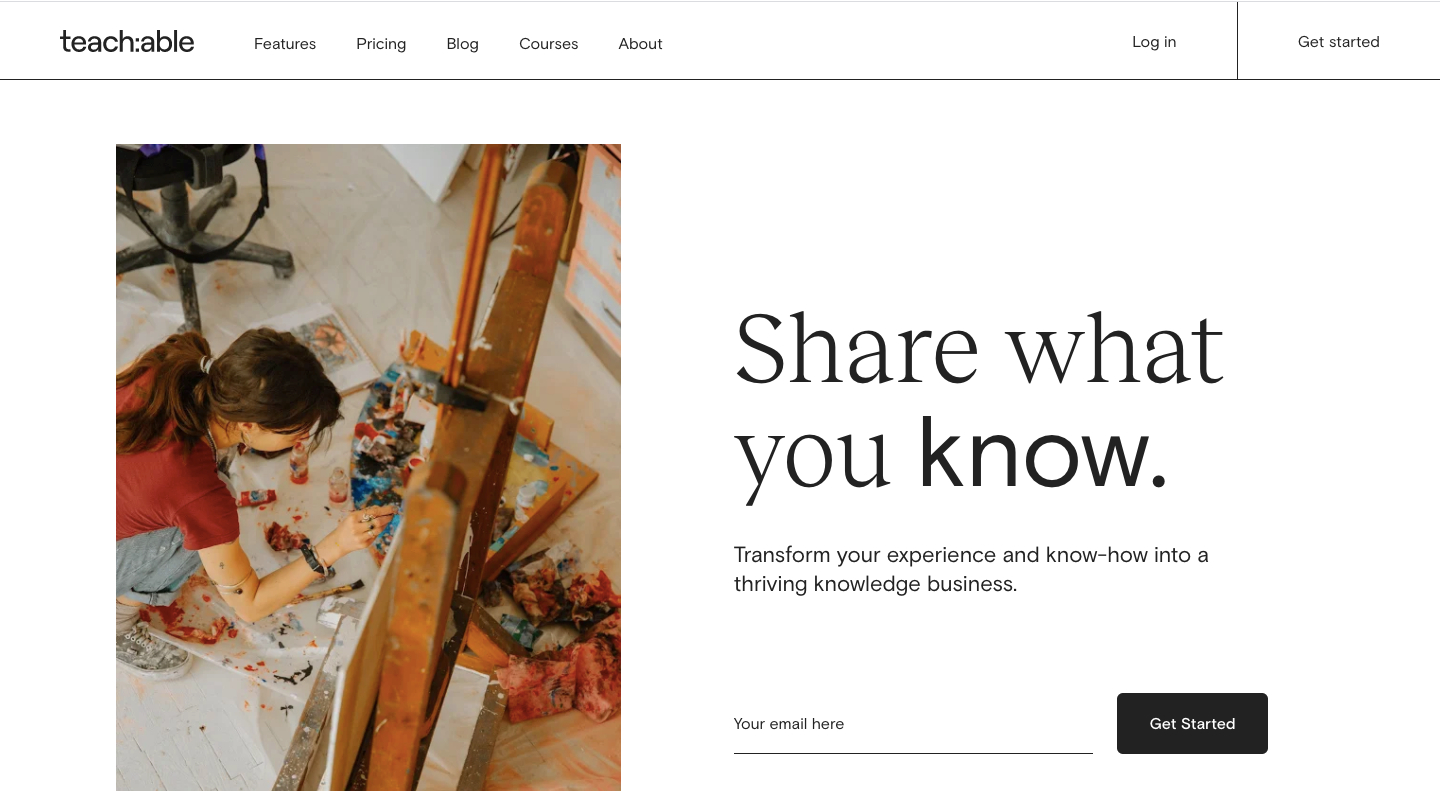 I chose Teachable after hearing strong recommendations from some of my blogger friends, and I've been really happy with the platform's intuitive course creator.
There is a bulk importer you can use to upload lots of files at once, and it's extra helpful if you've created all of your course content in advance. Then you can use the drag-and-drop editor to place videos, audio files, or text-based lessons in your modules. I choose to do self-paced courses, but Teachable allows you to create scheduled or drip content.
One of the newer features on Teachable are coaching products. This option gives you the opportunity to run one-on-one sessions with students who want a little more support with goal-based sessions. For the instructor/coach, it creates an opportunity for upselling.
I've used several Zapier integrations with my Teachable courses, inducing ones for my email marketing software and checkout software. Teachable offers responsive support for both teachers and students.
Teachable pricing
Teachable has three plans that start at $29/month when billed annually. They recently got rid of their free option (it was pretty limited), but the Pro and Business plans come with a 14-day free trial.

All Teachable plans come with unlimited video, courses, and hosting. You also get integrated payment processing, student management, lecture comments, basic quizzes, no fees on free courses, and VAT for the EU.
For coaching products, affiliate marketing, and an unbranded site, you will need at least the Pro Plan.
Where Teachable shines
The platform is easy enough for new course creators to use, but it has advanced features for more seasoned instructors. The pricing structure offers affordable options, and there's a small course marketplace that is growing.
What you might not love about Teachable
4. Learnworlds
Learnworlds is one of the best online course platforms for interactive course content, which can lead to a really positive student experience. The interactive features include:
Synchronized transcripts
Note-taking capabilities
In-course links and videos
Flexible learning pathways or drip content
Formal and informal tests
An integrated social network to build community among your students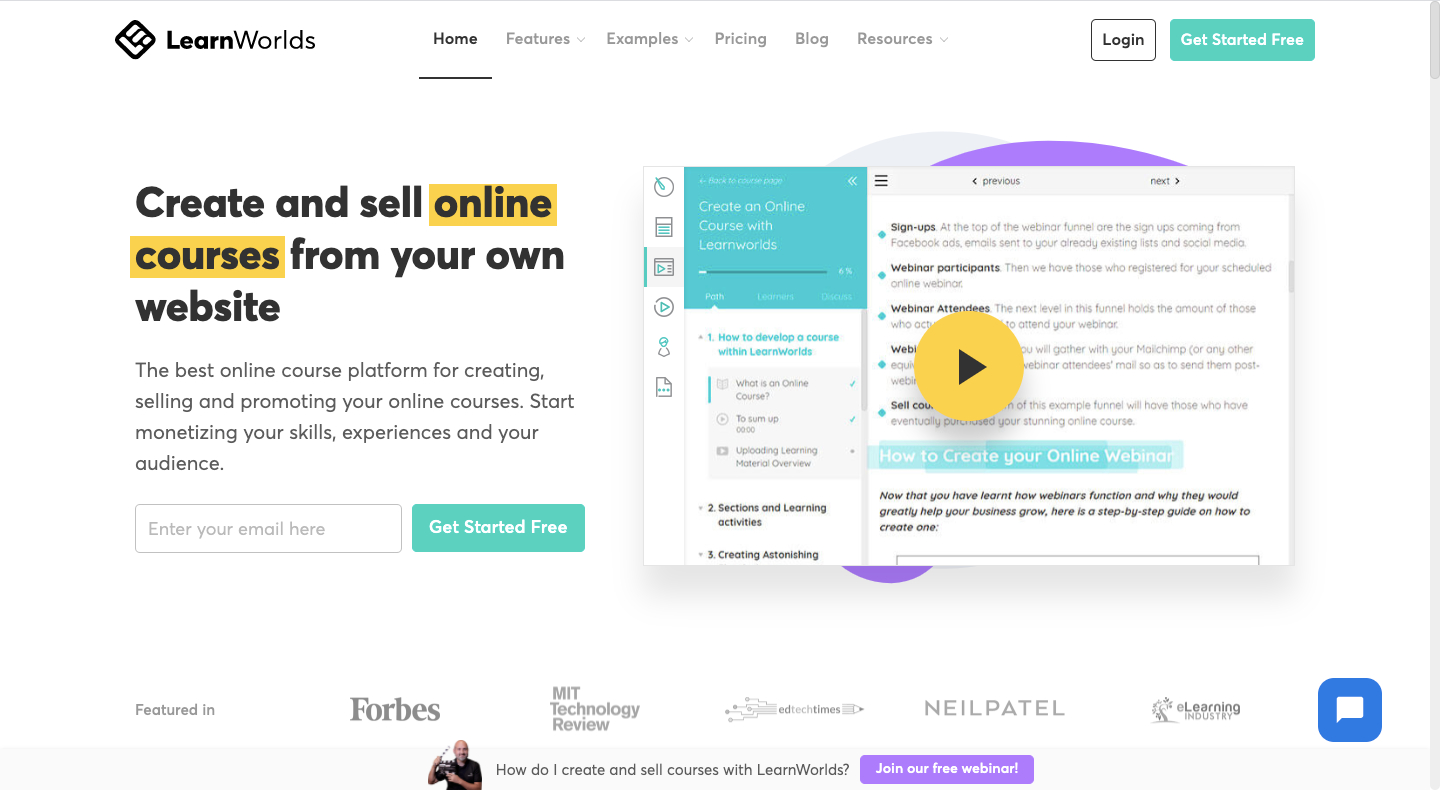 Learnworlds lets you market your course with coupons and promotions, memberships and subscriptions, and affiliate management tools. You can also integrate third-party apps using Zapier, add conversion pixels to track your leads, and create a custom website to host your Learnworlds school.
Learnworlds pricing
All of Learnworlds plans come with a 30-day free trial, and plans start at $24/month with billed annually. But you don't get the interactive features Learnworlds is known for unless you opt for the Learning Center plan, which is $249/month.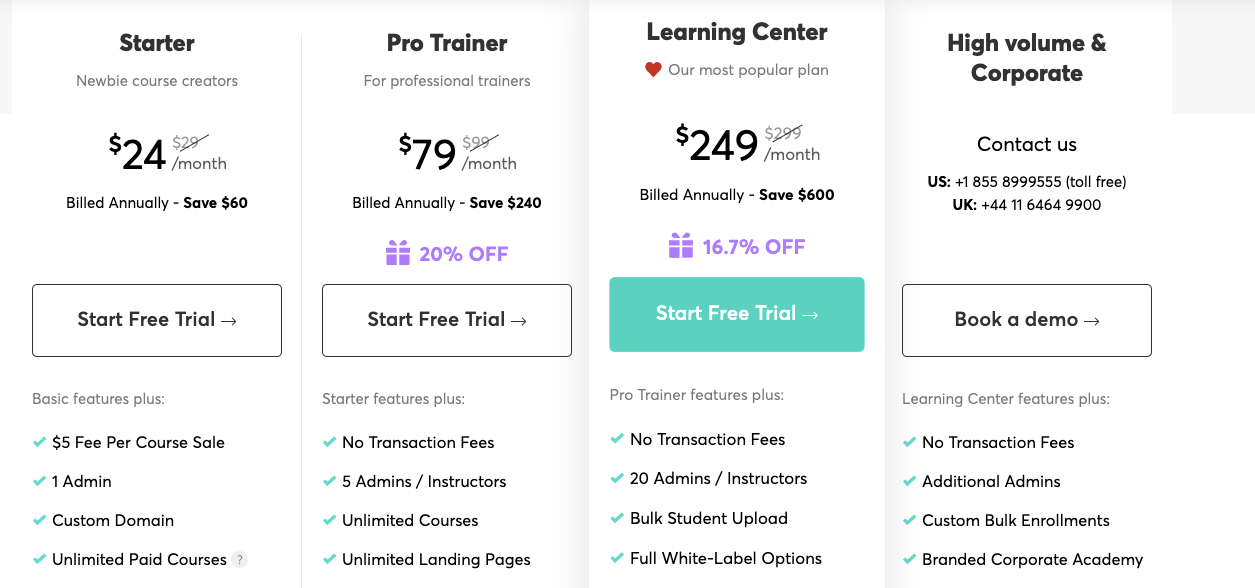 All of Learnworlds' plans come with unlimited courses, a multilingual UI, ready-made templates, interactive course ebooks, learner analytics, conversion tracking with Facebook and AdWords, and more.
Where Learnworlds shines
The interactive learning tools stand out on this list of digital learning platforms – it offers options that none of these other platforms have. Plus, the community building tools can help you and your students get to know more about each other.
What you won't love about Learnworlds
The free option charges a $5 per sale and has a limited course- and website-building capabilities. There isn't a bulk uploading option for course content, which Kajabi, Thinkific, and Teachable all offer.
5. LearnDash
LearnDash presents a different kind of online course platform – it's an LMS plugin for WordPress sites. That makes it a top option if you already have a WordPress blog or website. LearnDash is used by some big companies like InfusionSoft, ProBlogger, even the University of Michigan.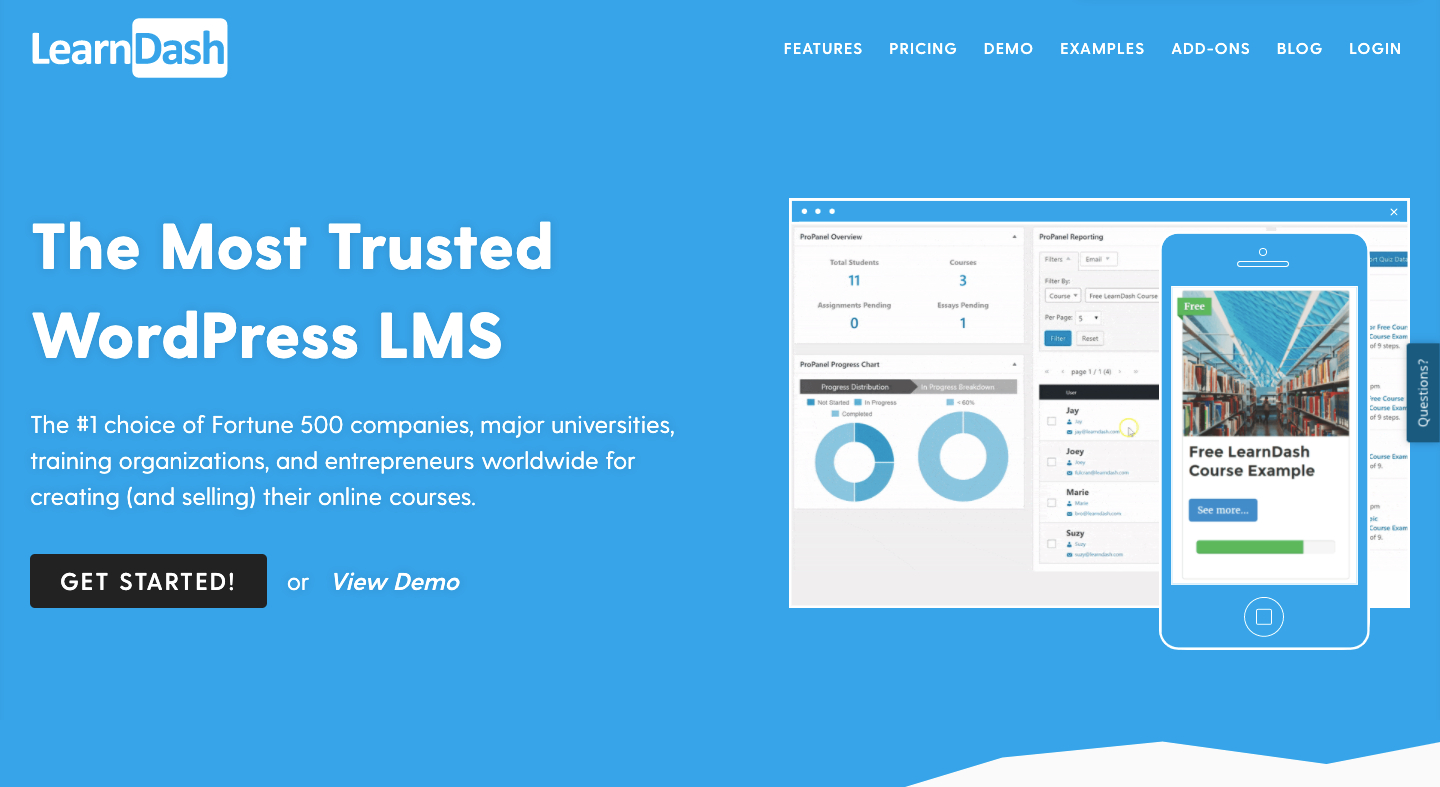 LearnDash offers essential features like a drag-and-drop course builder, drip content, prerequisites, community forums, quizzes and exams, and completion certificates. There are selling options for subscriptions, memberships, and course bundles.
There are also standout features like Focus Mode – you can remove on-screen distractions so students can immerse themselves in your course. There's also an instructor grade book that automatically syncs with quiz and assignment grades, supports weighted and manual entry grading, and creates student report cards.
LearnDash pricing
Pricing starts at $159/month when billed annually. The advanced plans give you additional site licenses and ProPanel, which is a reporting upgrade that gives you more insights into how your students are progressing through your courses.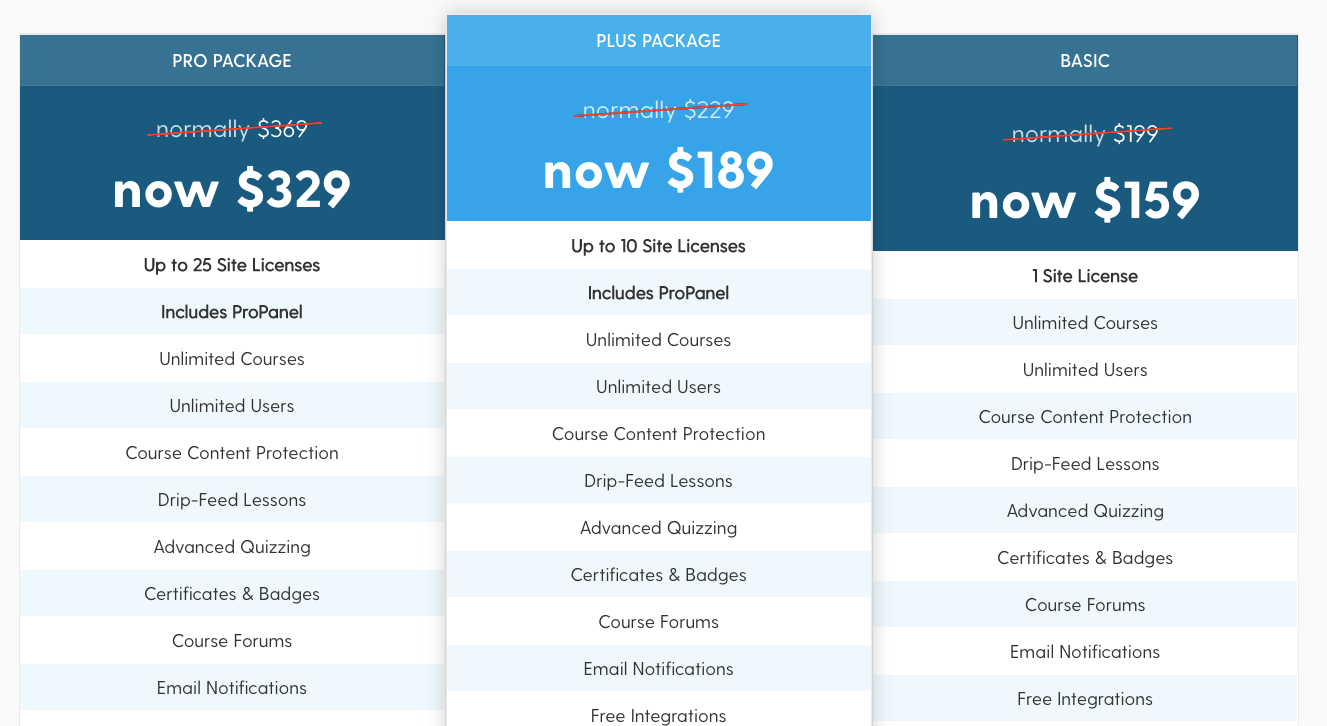 Where LearnDash shines
LearnDash has a feature called the Visual Course Builder that allows you to see how your course connects and flows. There are also engagement triggers when students complete a lesson, fail a quiz, upload assignments, or haven't logged in for a certain number of days. You can integrate with Zapier to connect these triggers to your email marketing software.
What you might not love about LearnDash
Well, it's only available for WordPress users. Plus, the pricing is high, considering it doesn't offer built-in marketing tools like Kajabi does.
6. Podia
Podia is a newer digital learning platform that gives you the tools to create and sell educational content like courses, ebooks, checklists, audiobooks, cheatsheets, and more. You can create membership-based sites at different levels, host webinars, and host everything on your own branded school storefront.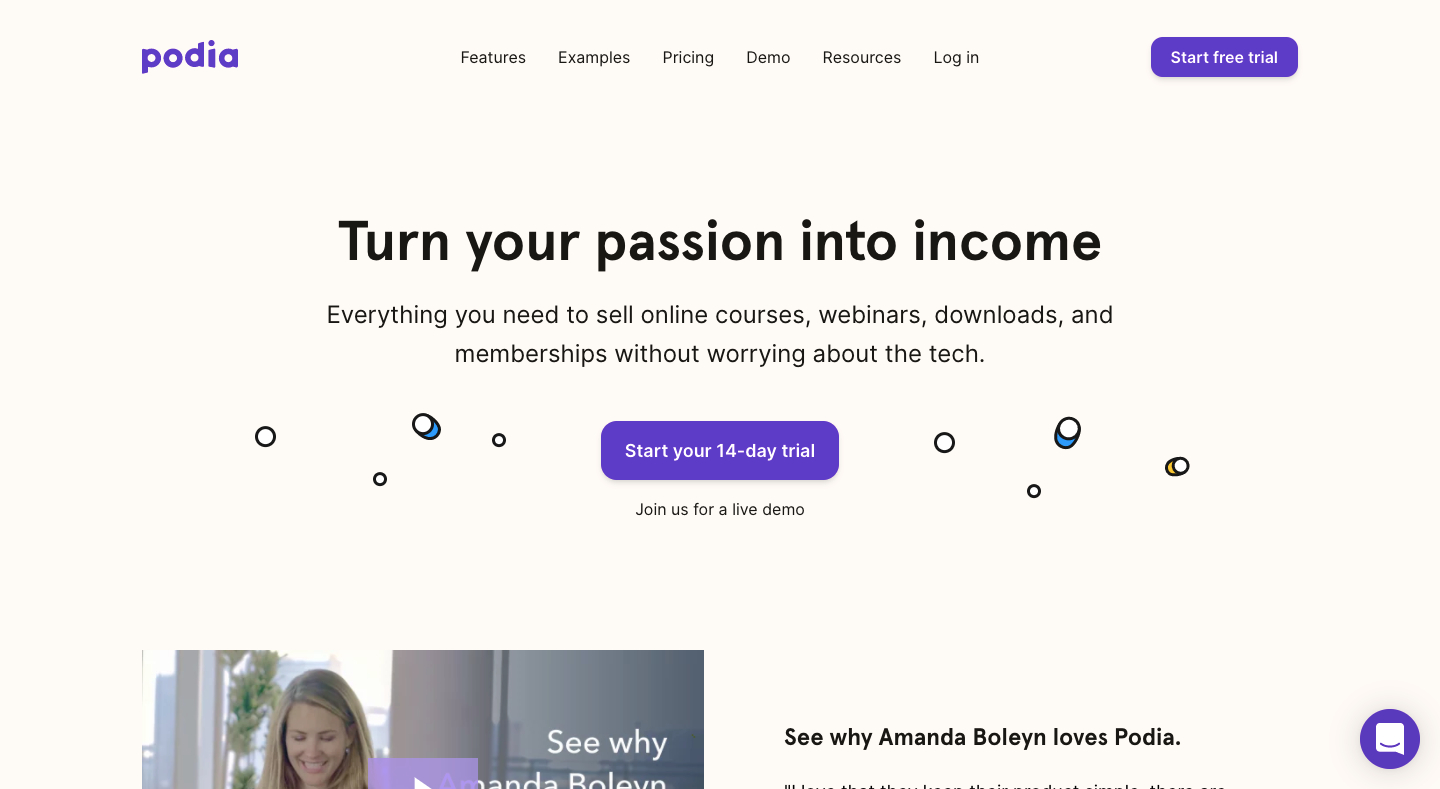 There are built-in marketing tools, including sales pages, email marketing software, affiliate programs, drip campaigns, segmentation, analytics, tracking tools, and email capture tools. Or you can continue using your existing email service provider with Zapier integrations.
All Podia plans come with those built-in marketing tools. There are also free migration tools to bring course content over from another platform, unlimited hosting, there's a live in-course chat feature, and flexible payment plans for students.
Podia pricing
There are two options with Podia at $39/month and $79/month when billed annually. The Shaker plan ads Zoom integration, a blog, offsite buy buttons, affiliate marketing, and third-party code.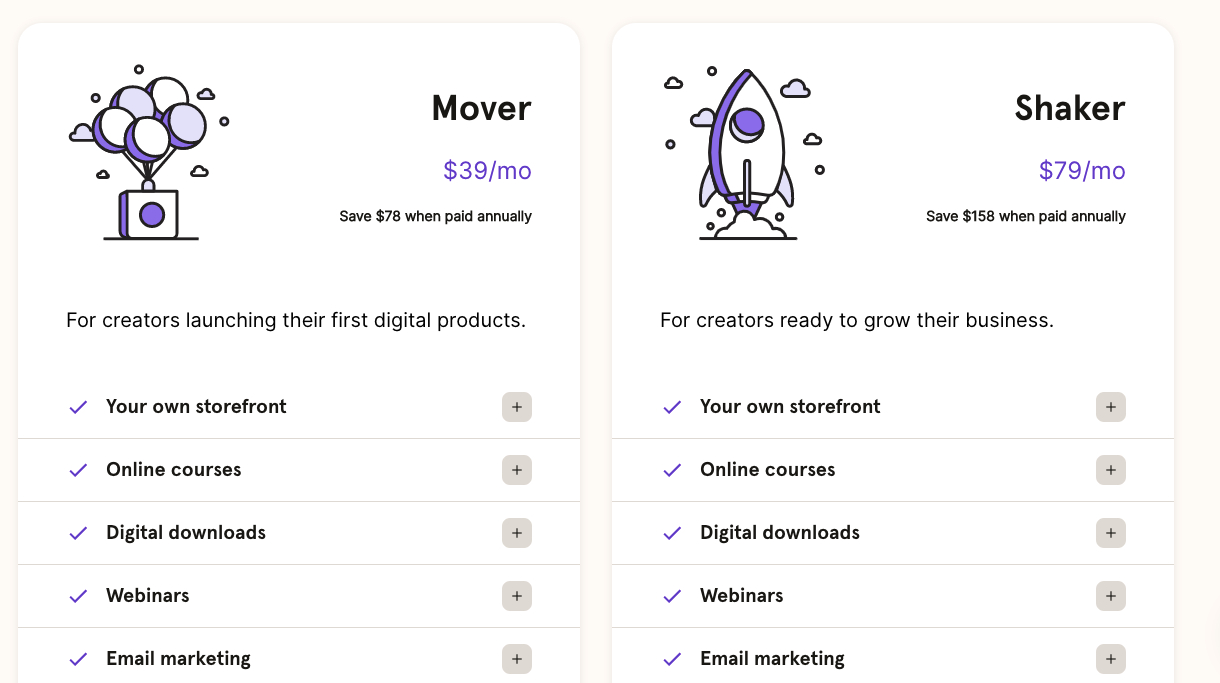 You can add additional teammates for $20/month per person. There are $0 transaction fees and unlimited everything with each plan. There's also a 14-day free trial to test out Podia before you commit.
Where Podia shines
For an all-in-one course platform, this is a low-cost option. The front and backend design is clean and modern, making it appealing for both instructors and students. The live chat widget is unique to Podia and gives students platform support.
What you might not love about Podia
It lacks features for graded quizzes, course compliance, and certificates. That's really the most significant downside – a lack of flexibility if you want to create a fully customized course site.
As far as online course platforms go, Skillshare is highly regarded but very different than anything on this list so far. Skillshare is more of a course marketplace – with over 16,000 courses available – where learners can find short, focused courses on a variety of topics.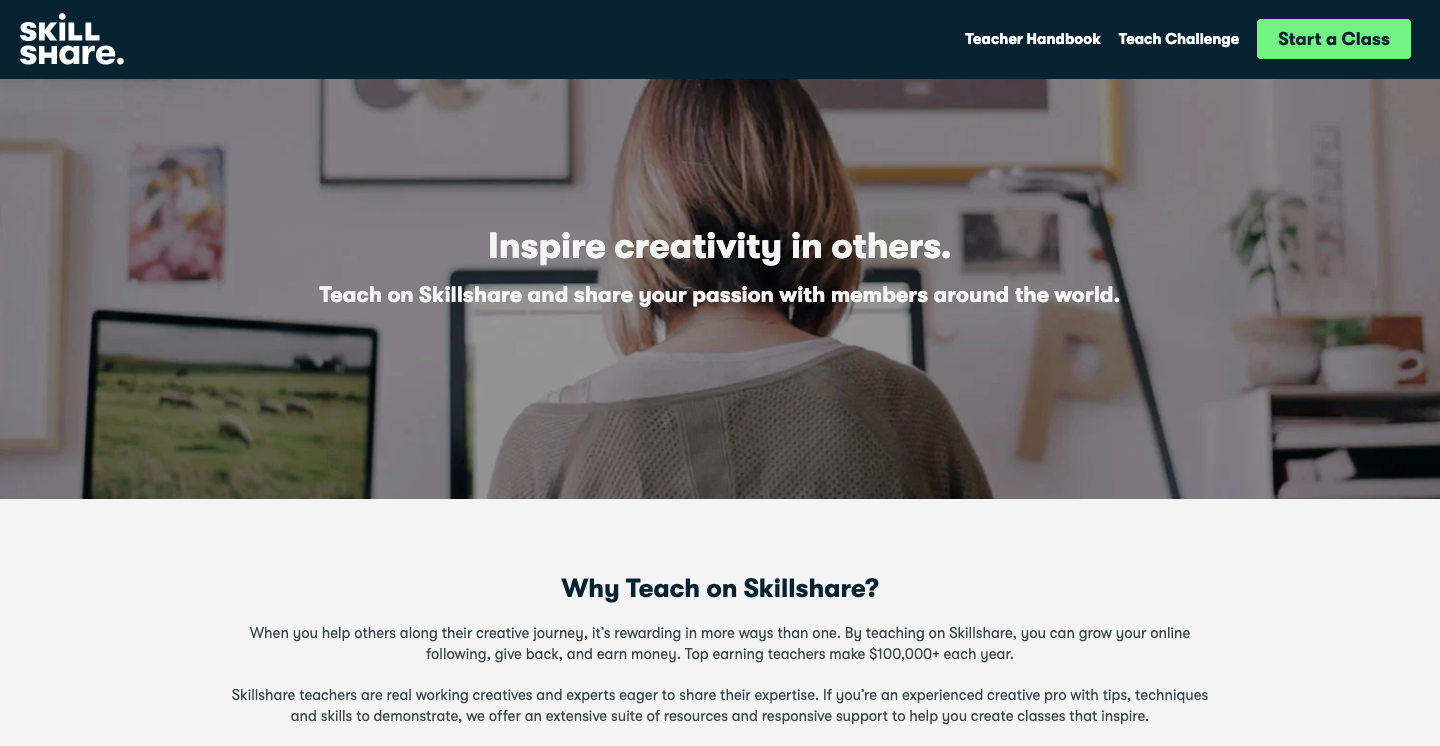 As the instructor, you're creating 20-60 minute long video-based lessons that are broken down into 2-5 minute lessons focused on specific skills rather than broad topics. There aren't quizzes, assessments, or drip content.
For example, there's a content marketing course on SkillShare that teaches students how to promote their brands with video. The instructor teaches you how to stylize, shoot, and edit your video, and it culminates with a video project where you film and edit a one-minute video about your business.
When students browse courses on SkillShare, they can see projects that have been created for each course. This gives you (the instructor) social proof that your lessons work.
There is a Skillshare Teacher Handbook that walks you through planning, producing, promoting your course, and engaging your students. Pretty much anyone can create a course on Skillshare as long as it adheres to these guidelines.
Here's another significant difference – there is no cost to using the platform as an instructor. But, you don't earn revenue until you have at least 25 enrollments, and after that, you earn $1-$2 per student. You can also make $10 for each student that signs up for a Skillshare membership through your link.
The premise is simple: create short and easy-to-digest courses. It's entirely free for course creators, which makes it an approachable choice for anyone hesitant to pay a monthly fee. Students love Skillshare because it's an affordable learning option.
Because you can earn only $1-$2 per course, it can be difficult to generate much revenue from Skillshare. There aren't any built-in selling features, and it lacks any interactive teaching tools to engage students.
8. Udemy
Similar to the last one, Udemy is a well-known course marketplace for learners, with over 50 million students already taking at least of Udemy's 80,000+ courses. Courses are straightforward with short video, text, and slideshow lessons.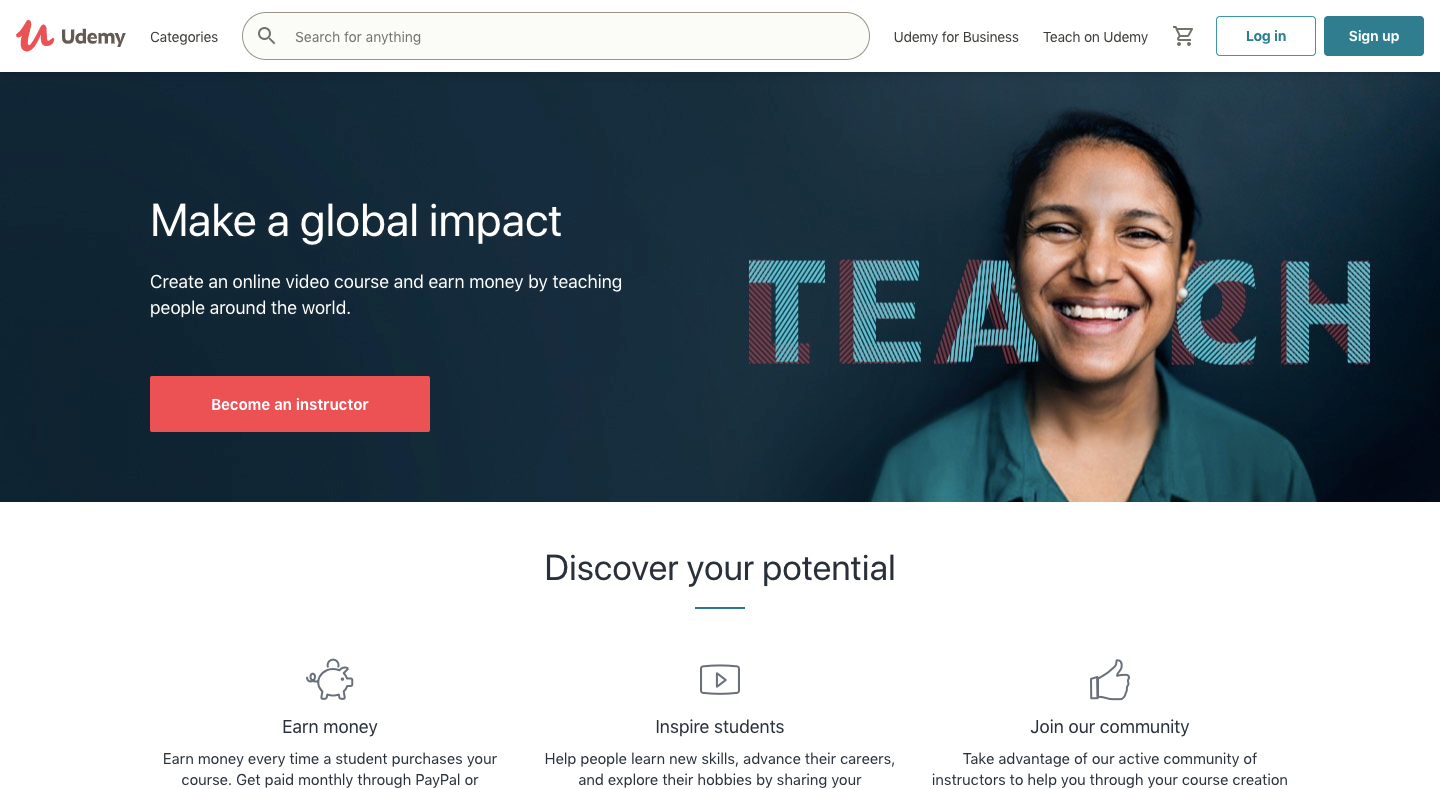 The central selling point for Udemy is its vast online course marketplace where students can search for topics they want to learn about. You will need to go through this checklist to have your course approved, and Udemy offers step-by-step instructions that make sure you hit all of those checkpoints.
Udemy courses lack the branding and customization options you'll find with the first six options on this list. You're also responsible for marketing your course or relying on Udemy's marketplace to promote your work.
Udemy pricing
It's 100% free to create a course on Udemy, but your earnings are limited. Udemy keeps 50% of each sale that comes through the marketplace or 3% of sales that come directly through an instructor generated affiliate link. So to make the most money with Udemy, you will be responsible for promoting your course.
Where Udemy shines
Simple, straightforward course creation. It's an uncomplicated way to create courses, and Udemy drives traffic to their site, giving you access to potentially millions of users.
What you might not love about Udemy
It's easy to get lost in the course marketplace, so you're reliant on your own marketing strategies. One major bummer is that you don't gain access to student emails, so if you move off the platform, you can't encourage students to follow you.
Tools for building your online course
No matter which digital learning platform you use, there are a few tools I recommend to help you create your courses. Full disclosure, I'm an affiliate for some of these platforms, but I've used them all:
Canva is graphic design software for beginners, and it's handy for creating professional-looking images. Read my Canva review to learn more about pricing (there's a free option) and how to use it.
Grammarly is editing software that will help you polish your course text until it's spelling and error-free. My editor wrote a Grammarly review that explains what the software does.
Loom is the software I use to create videos with screen sharing for my courses.
Asana is a project management software you can use to plan your courses.
The final word on the best online course platforms
Creating an online course can generate a nice source of passive income. This is true if you're an existing business owner or want to get started as an edupreneur.
But the reality is that all of these online course platforms are just tools. You'll need to leverage your skills, build an audience, and create the content for your courses.
Running courses has been a high for me as a blogger. I genuinely love teaching and connecting with students, and they've also been a lucrative income stream.
No matter which platform you choose, focus on creating a high-value course that delivers what your students need to succeed. That means a clear course intent and actionable lessons.
Now that you know what options are out there, it's time to get to work!