A Canva review might seem like a weird fit on a personal finance blog, but here's why I'm doing it: I love helping people find ways to make money. I dedicate a lot of space on my blog to different side hustle ideas, and Canva is a tool that can help you with your side hustle.
Before I go any farther, let's back up a little…What is Canva?
Canva is graphic design software that has layouts, templates, a drag-and-drop editor, fonts, images, and more. Its purpose is to help users make beautiful and professional-looking designs without years of experience or expensive software.
I was first introduced to Canva a couple of years ago after some of my blogger friends talked about using it for their sites. And Canva came up again when I started hiring people for my site, like my Pinterest virtual assistant, who used Canva to create custom M$M pins.
Back to the review… Today, you're going to learn what you can do with Canva, how much it costs, how to use the software, some pros and cons, and how you can use Canva for your side hustle.
2020 Canva Review | Pricing & How to Use It For Your Side Hustle
What you can do with Canva
Canva has intuitive and approachable tools that make it easy to create eye-catching designs without any background in graphic design. This software is loaded with free and paid templates, stock photos, and a growing list of features that can help you create images and printables for your personal or professional life.
Here's a list of some of the things you can create with Canva:
Social media images: Instagram post and stories, cover photos for your Facebook page, blog banners, YouTube thumbnails, Pinterest pins, animated social media posts
Event designs: Invitations, posters, tickets, event programs, save the date cards,
Marketing: Facebook ads, brochures, logos, business cards, coupons, email headers, web ads, flyers, newsletters
Prints: Posters, menus, cards, postcards, announcements, letterheads, thank you cards, birthday cards, certificates, programs, stickers
Videos: Short promotional videos, Facebook videos, YouTube intros
School and work: Presentations, worksheets, infographics, yearbooks, schedules, mind maps, lesson plans, Zoom backgrounds, LinkedIn banners
Personal: Planner pages, resumes, photo collages, budgets, labels, calendars, t-shirt designs, desktop wallpapers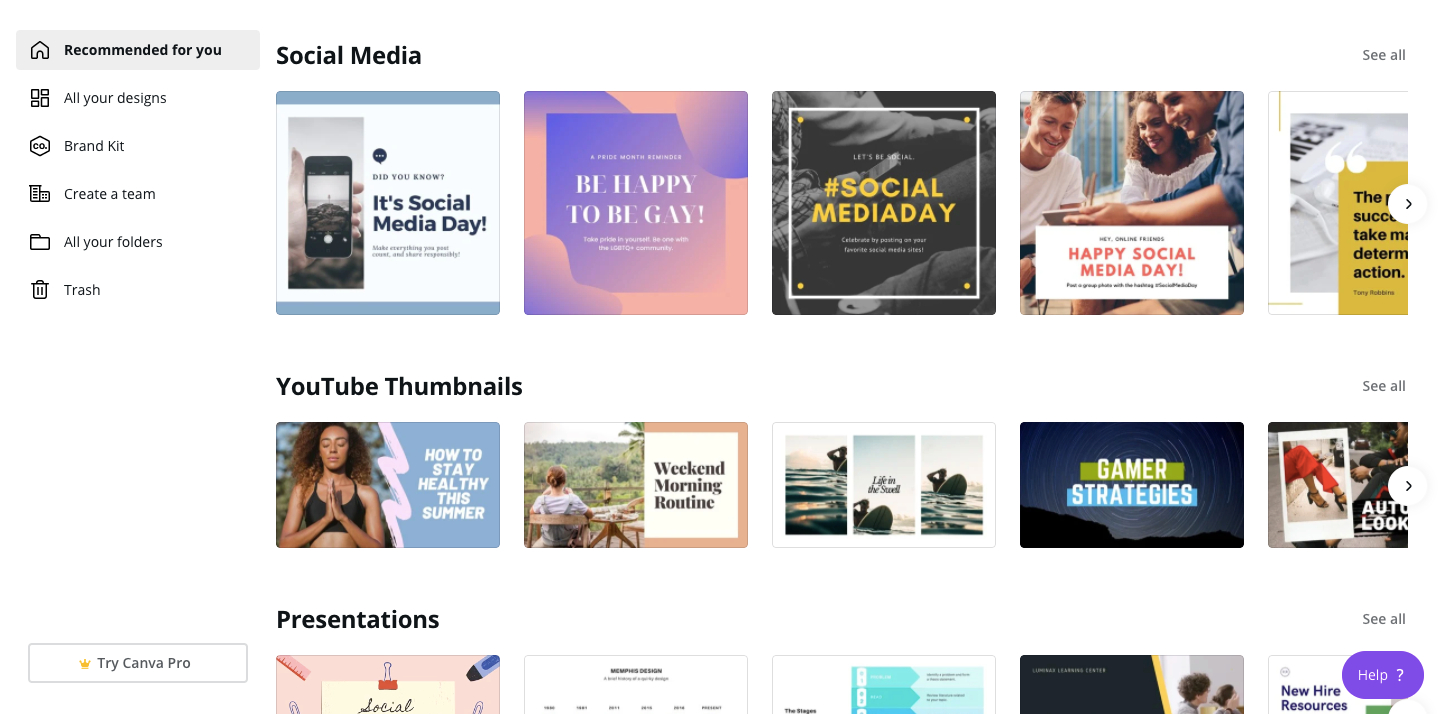 Canva has templates for all of those options, or you can start with a completely blank screen. Either way, you can customize each design with images, copy, design elements (lines, shapes, arrows, etc.). You can upload your own photos, fonts, or other digital images and edit them to fit your design.
All of the templates on Canva are fully customizable in the editor. Some of the templates and design elements are only available through Canva Pro, which I'll explain more about further down in my Canva review.
How much does Canva cost?
Canva has three different prices based on how you're planning to use it – free, Canva Pro, and Canva Enterprise.
Free Canva comes with a lot, but you'll eventually run into templates, fonts, and images that you may want to use are behind a paywall. Still, Canva free offers over 8,000 templates and more than 100 design types.
Canva Pro pricing is $9.99/month when billed annually or $12.95 when billed monthly. You can use it to create a brand identity kit, access over 60,000 templates, more than 60 million stock images and videos. Pro is good for solopreneurs and small teams. Use my exclusive M$M link and get a free month of Canva Pro.
Canva Enterprise is for larger teams and includes workflow capabilities, brand controls, advanced template locking features, and more. It's $30/month per user when billed annually.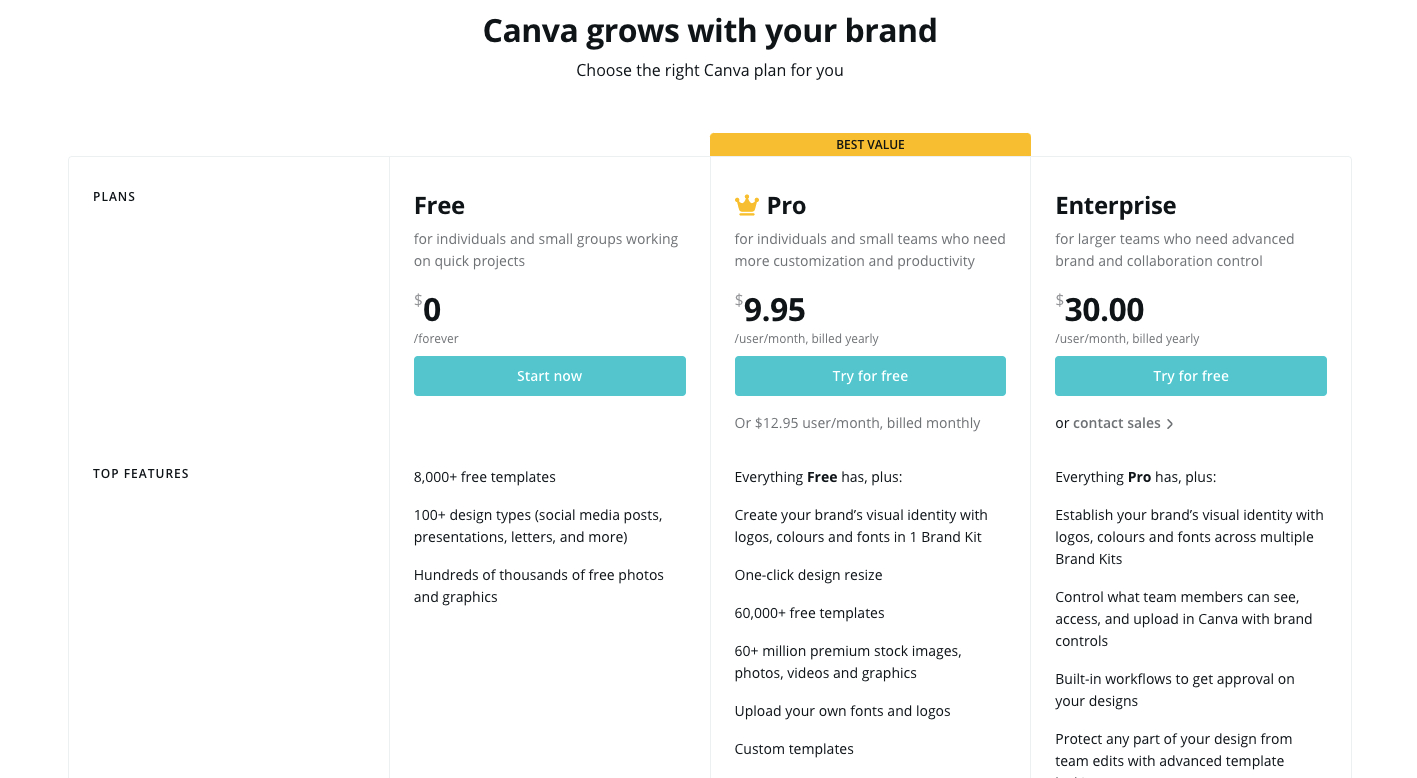 How to get started with Canva
Step 1: Set up your account
Step 2: Tell Canva a little bit about yourself
Canva will make recommendations based on how you'll be using the software. You will have access to everything no matter which one you select. Canva is just helping you get started.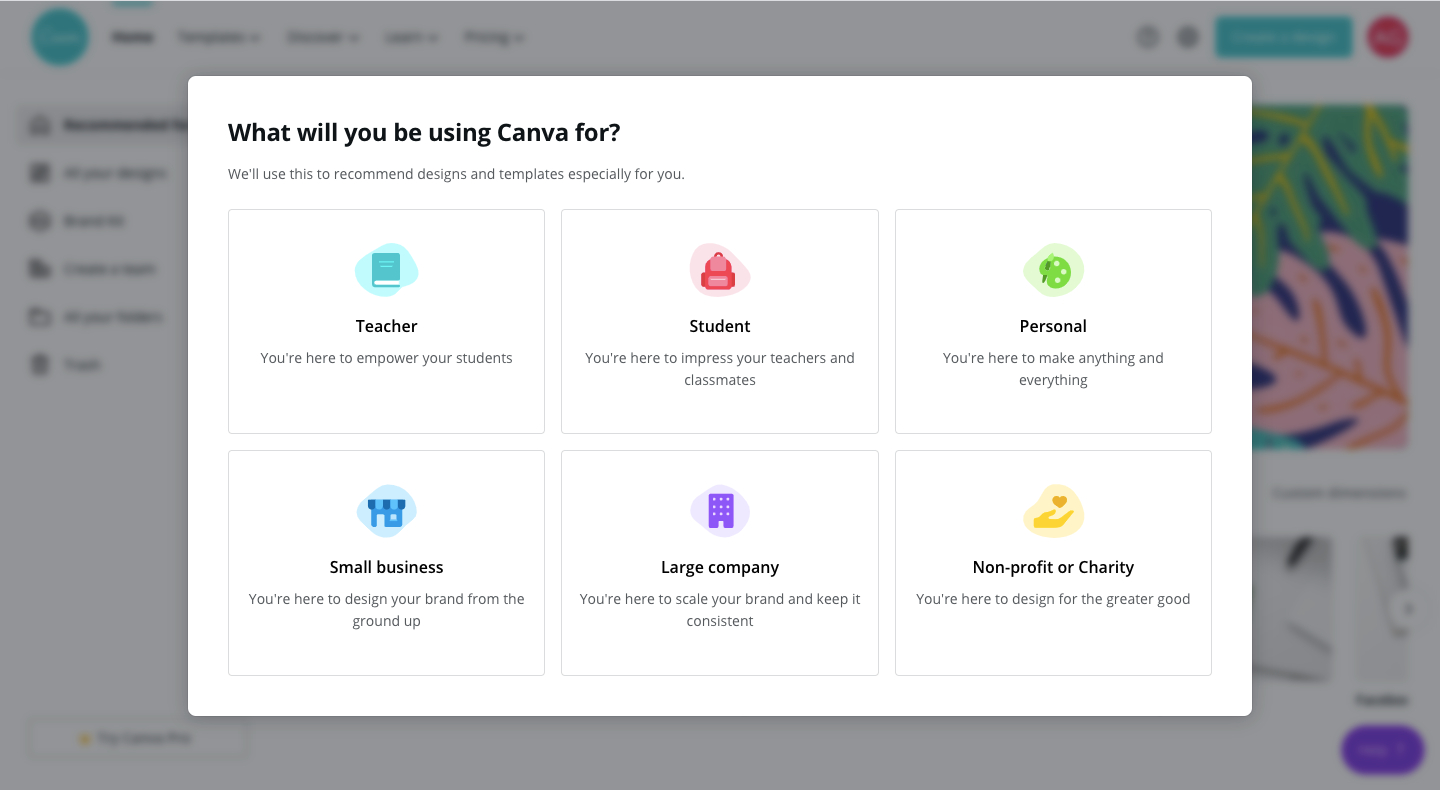 Step 3: Create your first design
Below is the home page, and it's where you'll select the kind of graphic or design you want to create. Every design you make will be saved on this home page.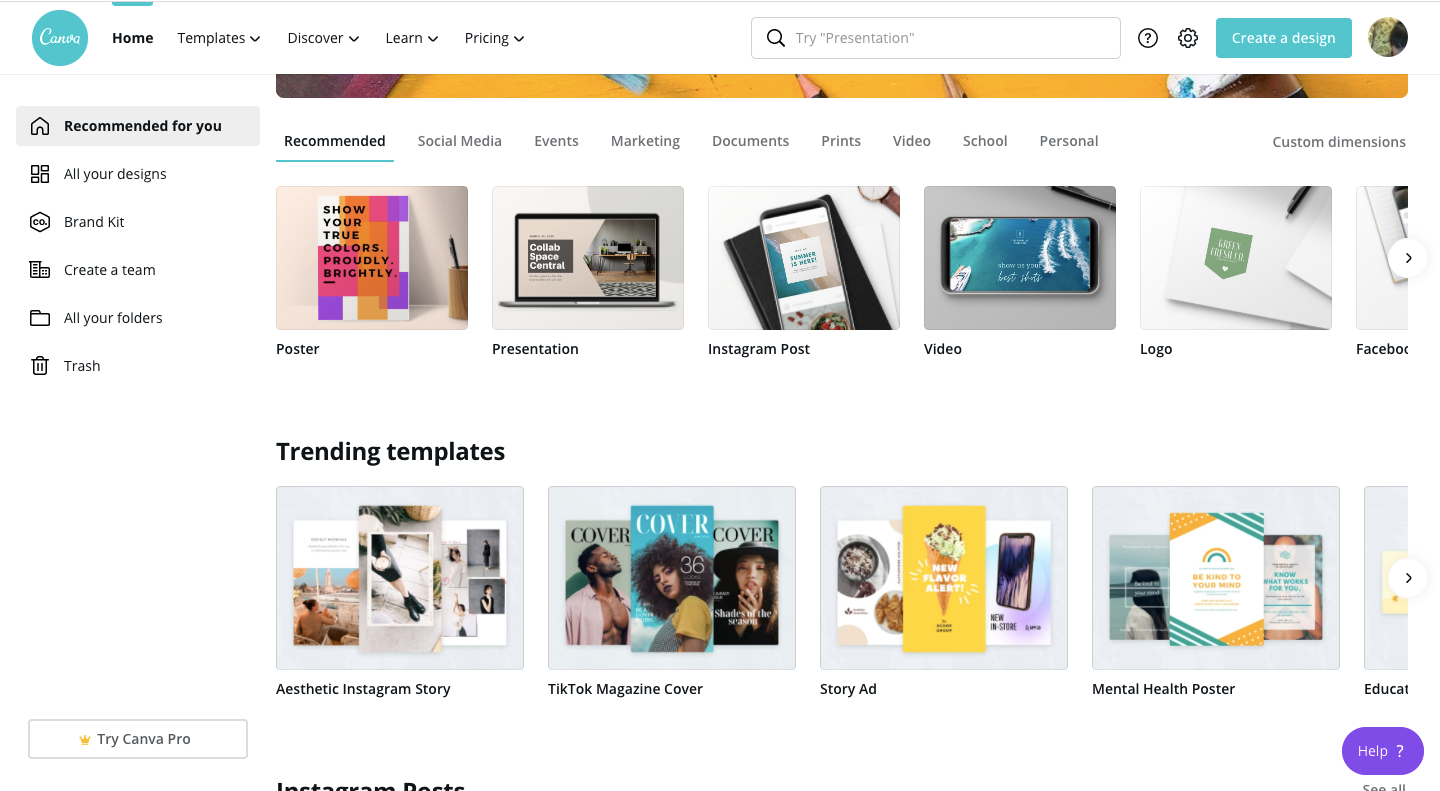 If you're using Canva for your business – like if you're a blogger, influence, social media manager, Facebook ads manager, etc. – you can create a brand kit and access it from your home page.
The brand kit feature is available on Canva Pro, but it's a really easy way to keep track of your logos, brand colors, and fonts. You don't have to dig through saved files on your computer and then upload them each time you need them, and when you're ready to have someone else do design work for you, you can just point them to your brand kit on Canva.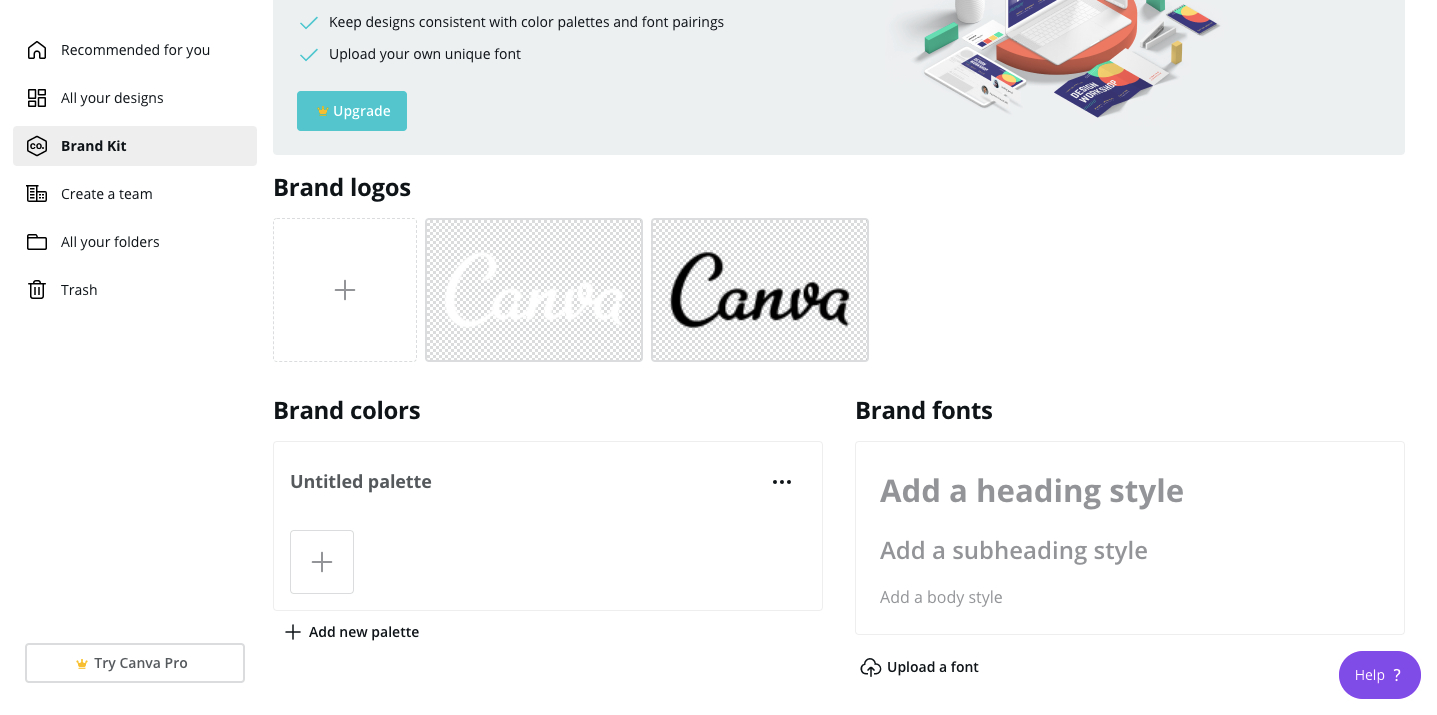 For the sake of this Canva review, I want to show you how easy it is to create a design, so I'm going to create an infographic that explains how to create a budget.
First, I scrolled down on my home page until I got to the infographics section. You can see there are several options, and I can click on the arrow to the left and see even more – there are over 100 different infographic templates, but you can also start from scratch and create your own.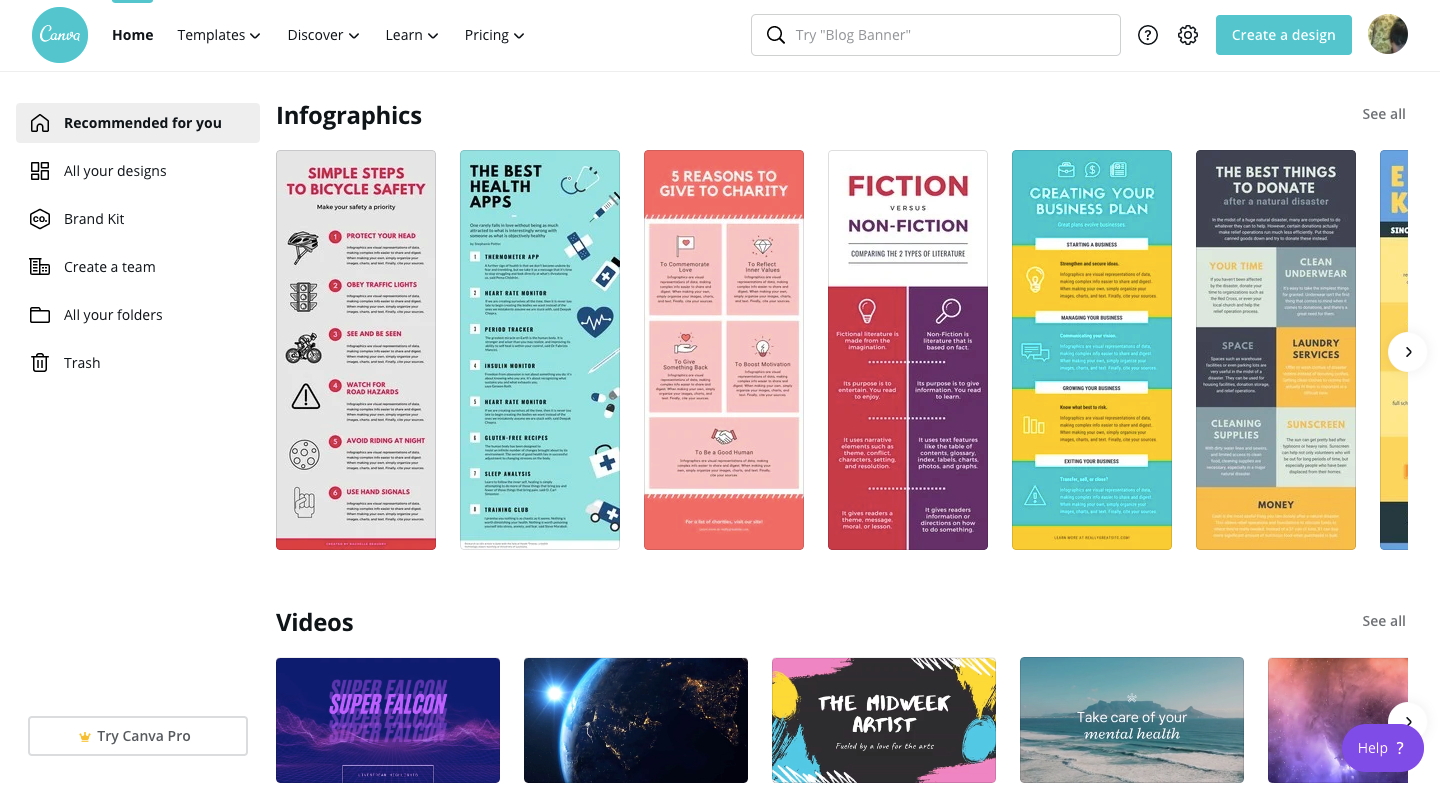 I selected the first one to keep it simple, and that brings me to the editor screen. This is where I can customize the template and make it my own.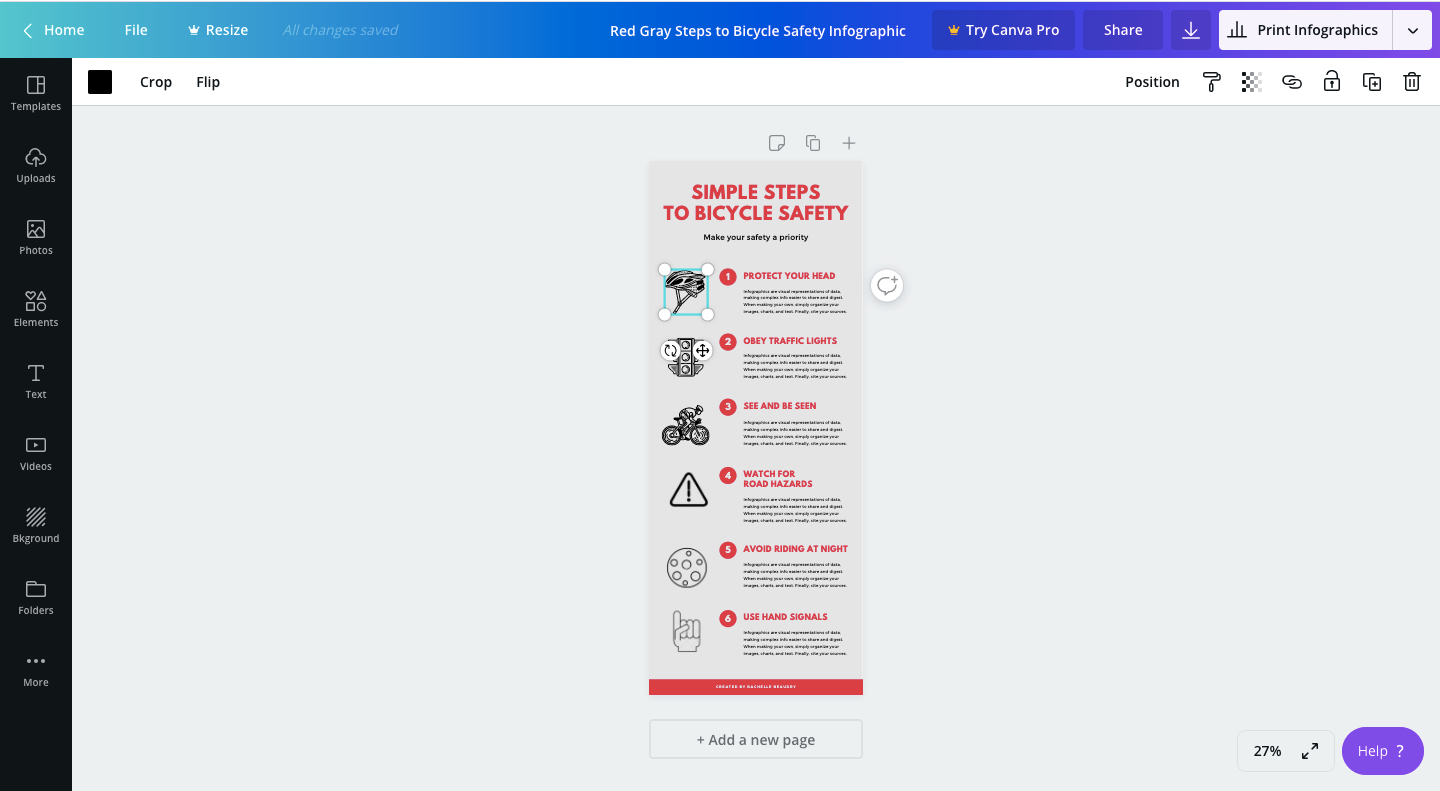 To change the template, I can click on one of the elements and edit. You can see that I've already changed the name of my infographic. I'm going to change the subheading, the colors, each of the steps, and even the images to the left of each text block.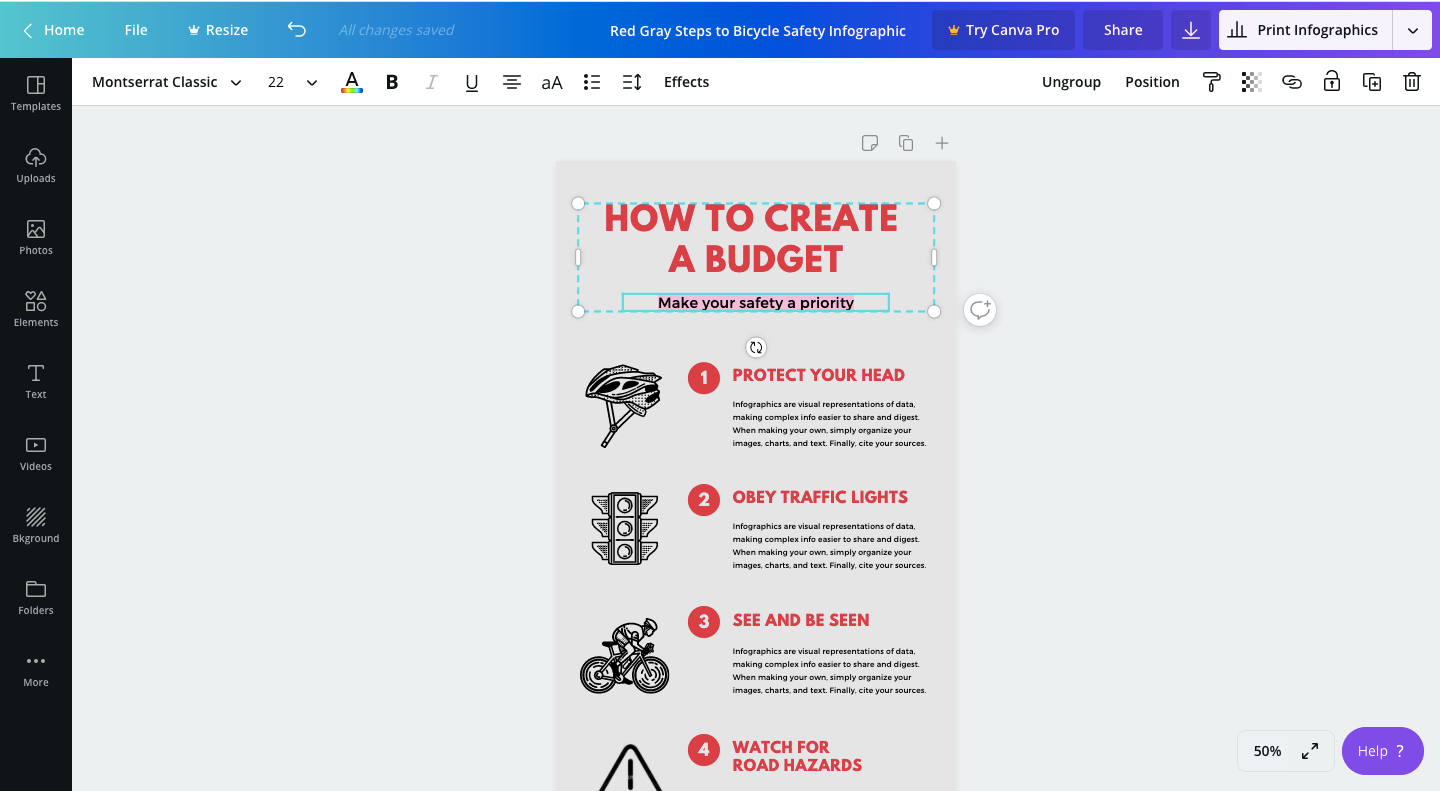 Now that I've made a couple of more changes to my infographic, I'm ready to change the image for this first budgeting step. I clicked on "Elements" on the control bar to the right, and searched for a pencil.
A bunch of results popped up, but you will need to unlock some of them with a Canva Pro account. The red arrow in the image below is pointing to the little crown that pops up next to elements that require a pro account.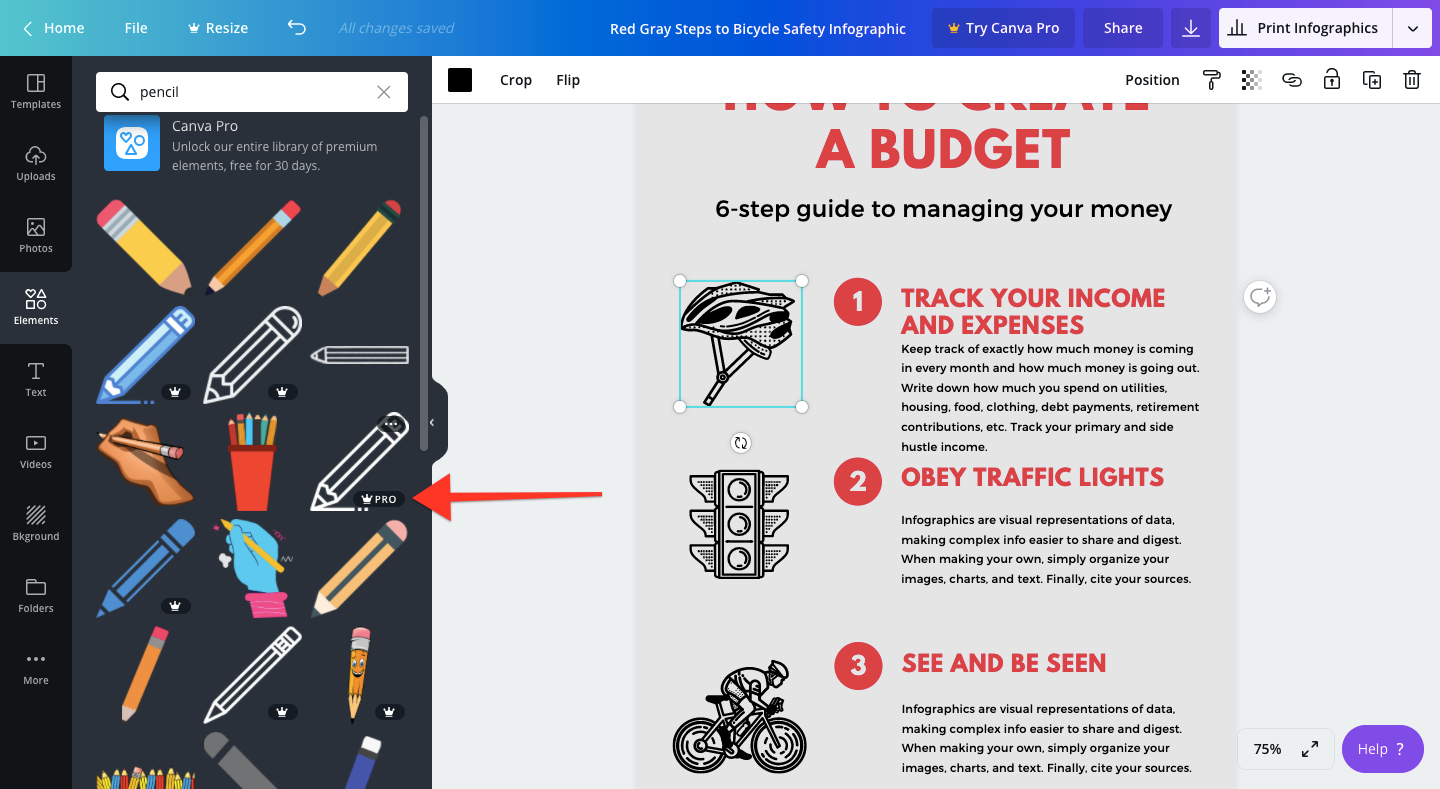 Can we stop for a second and talk about how professional this looks so far?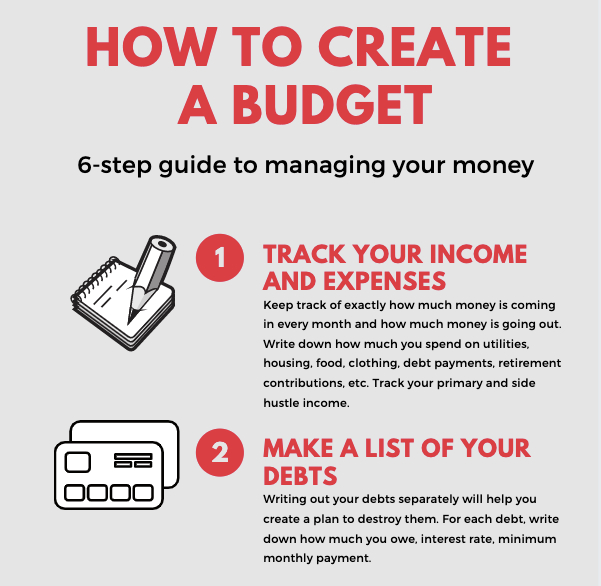 I keep going through and changing the copy and images for each of these steps, and now I'm almost finished. I just need to change the colors to match my site and add some branding stuff like a logo and website.
To change the background color, I can click on "Background" on the control bar to the right and up pops a bunch of different options. There are lots of prints, but if you want to go with a solid color, you can click on the palette icon and add colors.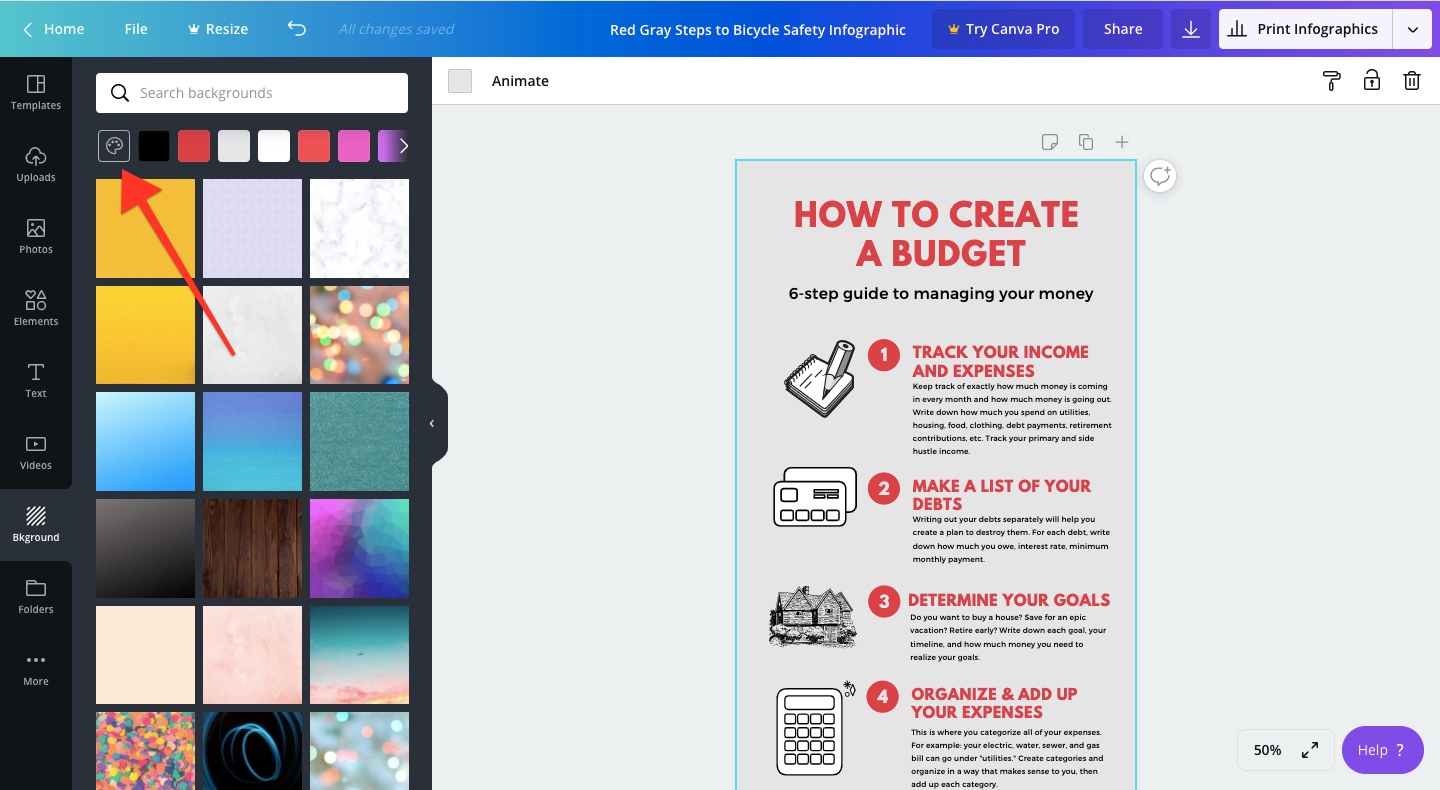 After I made all of those changes, here's my finished product. I'm pretty damn proud of myself, and if this blogging thing doesn't work out, I might have a career in graphic design.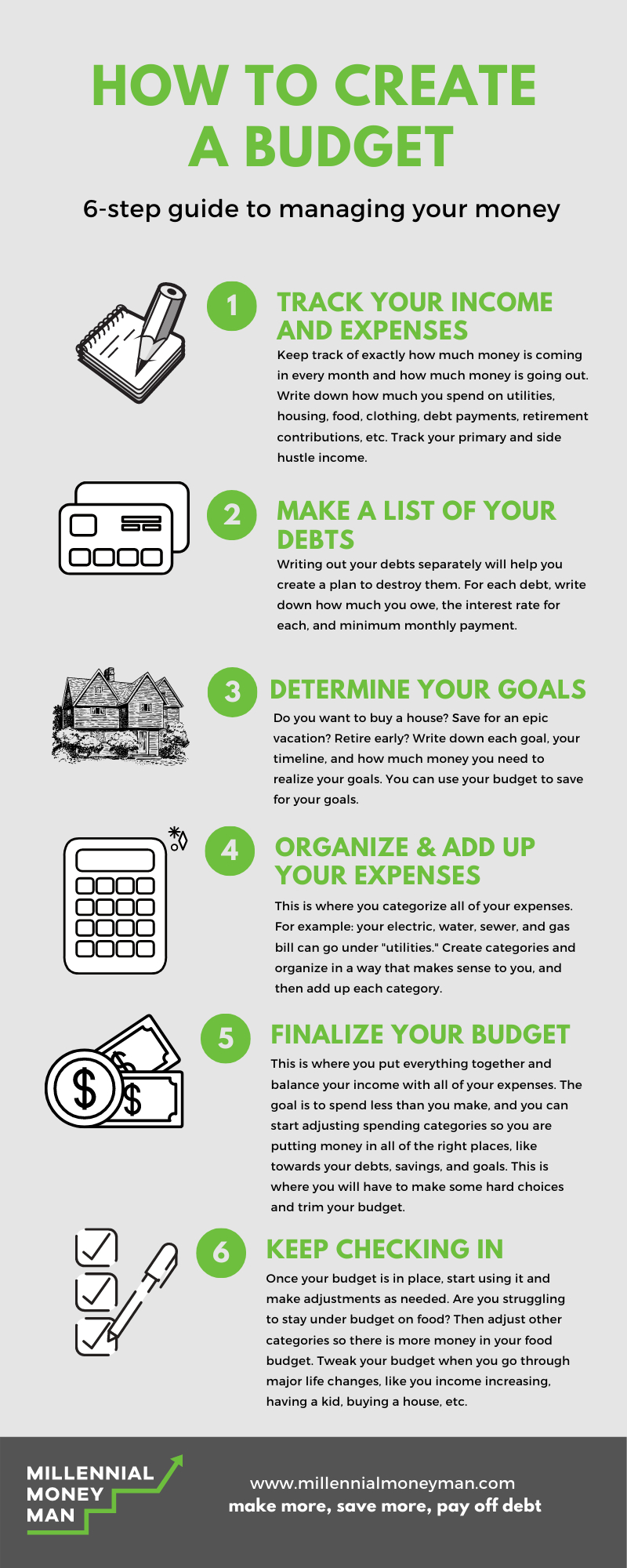 Step 4: Do a final review
Before you start using what you made with Canva, go back and read through all of the copy and make sure you're using correct punctuation, spelling, and grammar. I went through my budget infographic and made a couple of changes.
If you are using Canva for your job or side hustle, do not neglect this step. Canva gives you the tools to make professional-looking images, but it's not 100% foolproof.
Step 5: Use your image
In the top right-hand corner of your screen, you will see an option share, download, or "print infographic." If you click on the little arrow next to "print infographic," you will be given a bunch of different options.
You can share to social media, download, present the graphic, email it, tweet it, save it to Dropbox, etc.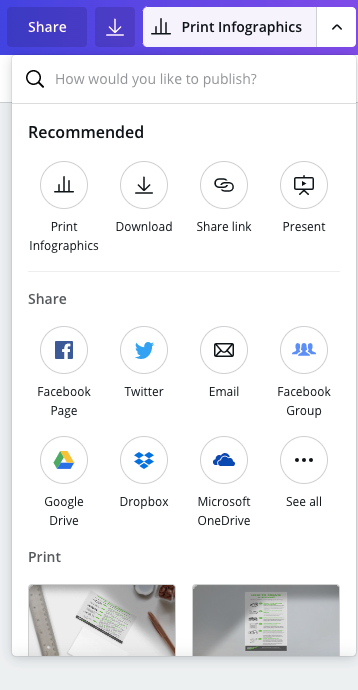 If you scroll down through those sharing options, you will see options for printing and other apps you can integrate with Canva to use your image in different ways.
Using Canva professionally
At the very beginning of this Canva review, I mentioned that many side hustlers can use Canva, and I want to dig into some specific examples.
Say you're running Facebook ads for small businesses, you can use Canva to create ad images. The exact sizes you need for Facebook ads are baked right into Canva, and you can upload your client's logos and change the copy.
Here is an article from my other site, Laptop Empires, that shows you exactly how to use Canva for Facebook ads: How to Create and Use Facebook Ad Templates.
Virtual assistants and social media managers can use Canva to create social images, like Facebook, Instagram, and Pinterest. You can use Canva to create custom images for your Shopify site. You can use Canva to create digital images for the Etsy printables side hustle.
Bloggers can use Canva to create professional-looking graphics, logos, blog headers, printables, and other images for their blogs. It's a solid choice for new bloggers who aren't ready to pay for graphic design services.
Where Canva shines
Canva is user-friendly
Canva is made for people who don't have any design experience. There are ready-made templates and easy-to-use editing options. For example, one of the reasons I was able to make my infographic look so professional is because guidelines pop up as you move elements around to help you keep things lined up.
Cost
Free is great, and as you can see from what I've created, free gives you lots of options. But if you want more, Canva Pro is reasonably priced IMO, especially if you're using Canva professionally.
Lots of design options
You saw how I took an infographic template and turned it into something I can use on my site, but there are dozens of things you can create with Canva. Here's an example of another image I made for Instagram, and it took me less than 20 minutes.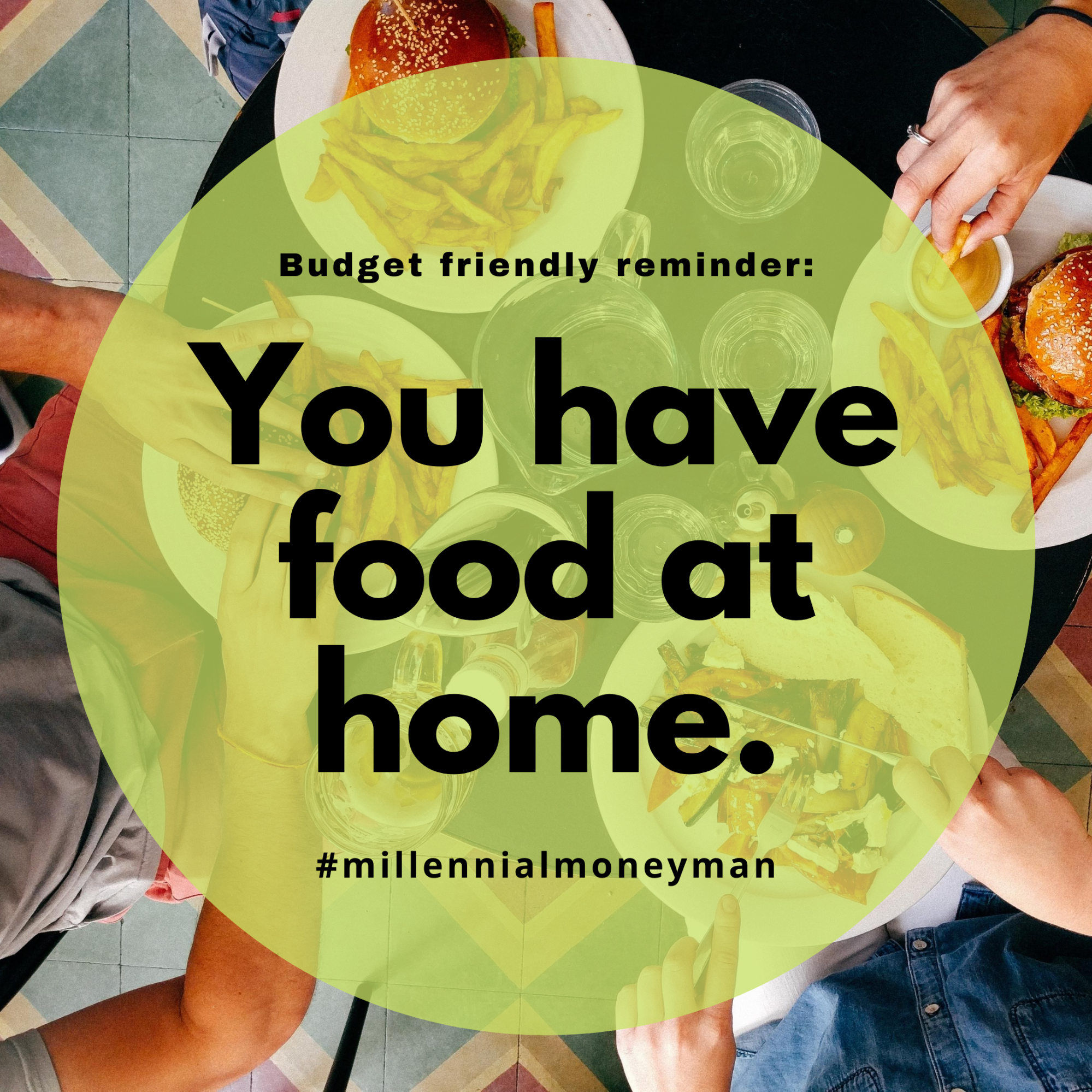 What you might not like about using Canva
You can't filter for free content
There's not an easy way to filter between free and premium templates, designs, and elements. This can be a bit of a time suck if you're using the free version of Canva and trying to search for just the right thing.
Lacks robust tools for advanced users
Canva can do a lot, but if you make a living as a photo editor, illustrator, web designer, or graphic designer, Canva probably isn't for you. There are much stronger tools out there like what you'll find in the Adobe Creative Suite.
Canva is really better suited for those with beginner to intermediate skills – I guess this is both a pro and a con.
The final word in my Canva review – Is it worth paying for Canva?
I think Canva is solid graphic design software for beginners. It has easy-to-use features, customizable templates, and a lengthy list of layouts to choose from. I only wish I knew about it when I started my blog.
As far as paying for it, I think that depends on what you're going to use it for. You might be able to get enough out of the free version for personal use, but I can see how it would be worth the investment if you're using it for your side hustle.
At the very least, you can use my exclusive link and try Canva Pro for free for one month . Give it a try, see what you can do, and then decide from there.