Grammarly is an AI-based grammar checker that can aid in the editing and writing process. It has a growing list of features, fully integrated apps, and it's gotten better over time. But Grammarly is not an infallible tool. It's software that's learning how to do the job of a human editor.
This Grammarly review is going to explain who will get the most out of the app, all about the free and premium features, and whether or not Grammarly is worth it.
Grammarly Review 2022 | Is Grammarly Worth It?
What does Grammarly do?
Grammarly is an app that can check your writing for spelling, punctuation, and grammar errors. There are already over 20 million people using Grammarly daily – that's the combined population of New York City, Los Angeles, Chicago, Houston, and Philadelphia.
The company was founded in 2009 and now has a full suite of apps to check your work and help your personal and professional writing, from emails, to documents, and social media posts.
If you upgrade to Grammarly Premium, you'll also get edits for conciseness, engagement, and tone. It also checks documents for plagiarism and integrates it into a wide range of apps.
Who is Grammarly for?
Honestly, anyone. I edit and write for a living and occasionally use it. My husband is a teacher and uses it. My kids' teachers have even instructed them to use Grammarly for identifying and correcting simple errors.
That's a wide range of users for a good reason – writing well is important. The written word is still one of the best mediums for imparting your message and connecting with others.
I personally don't believe that proper grammar is always essential, but there are some situations when you need to express yourself in a professional and polished way. And some people want to ensure that their writing is always spot-on, in any situation. Here are some examples when you might want to use Grammarly:
When sending cold emails to potential Facebook ad clients
Before presenting a Powerpoint for your entire team
If you're a blogger and want readers to take your seriously
If you're about to hit "post" on Facebook
If you're self-publishing an ebook
That's only a handful of the many situations in which Grammarly would help, and you can see that it can be useful for professionals, students, and personal use.


Where you can use Grammarly
Both the free and premium versions of Grammarly have several integrations and extensions, which will allow you to use Grammarly virtually anywhere.
Grammarly Keyboard app
You can find this app on both Android and Apple devices. It can be used for writing emails, texts, social media posts, and more.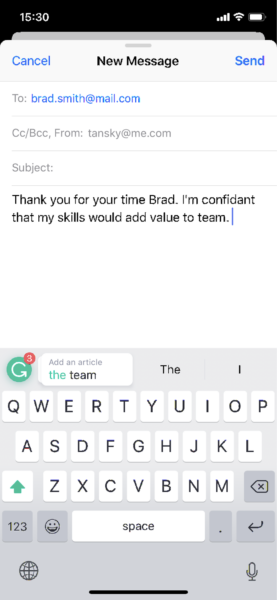 Browser extensions
You can download extensions for Chrome, Safari, Firefox, and Microsoft Edge. Below is an example of what that extension looks like when you're using it on Facebook.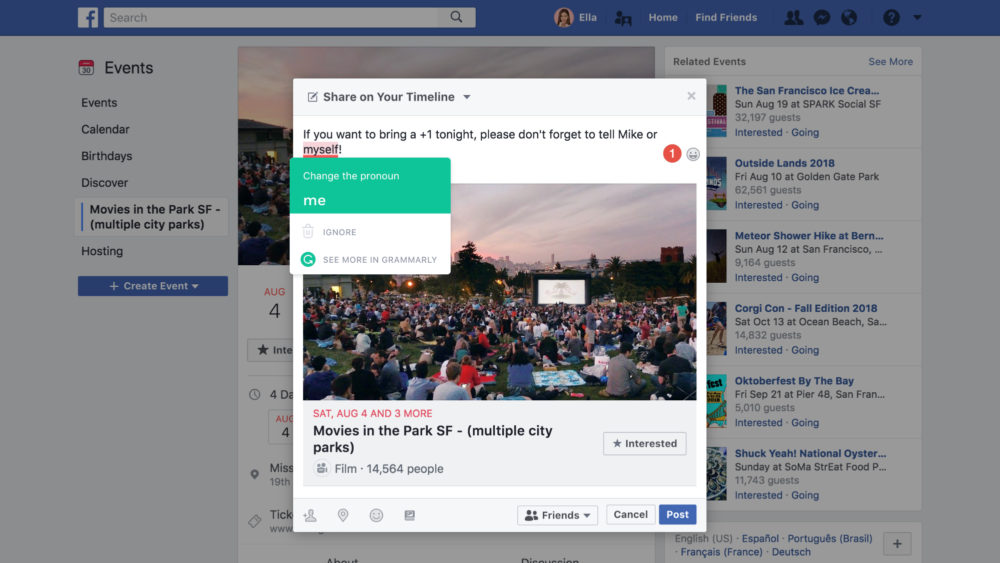 Microsoft Office add-on
You can also use Grammarly directly in Word and Outlook.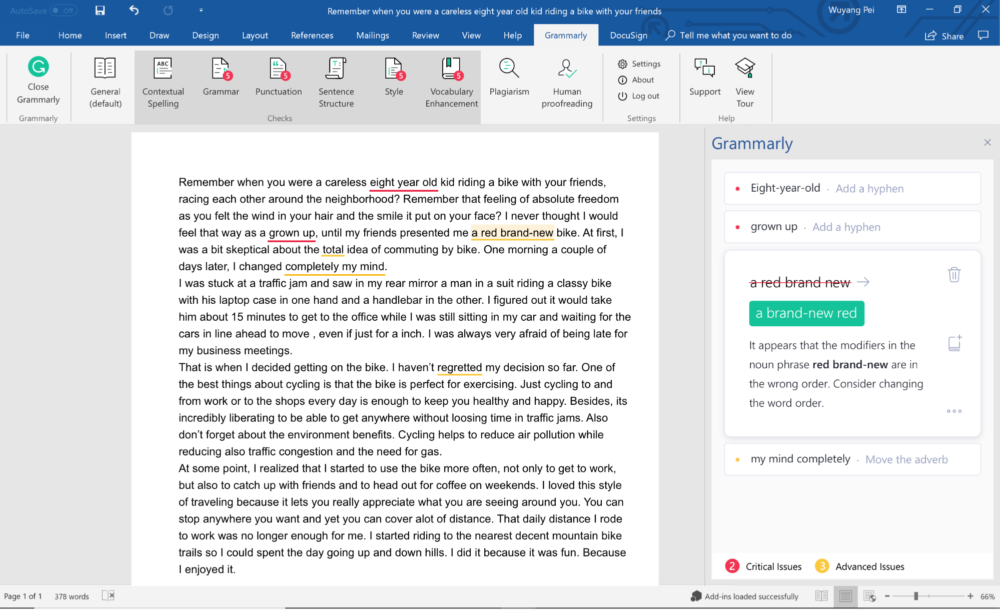 Native apps for Windows and MacOS
These desktop apps allow you to drag and drop files for corrections.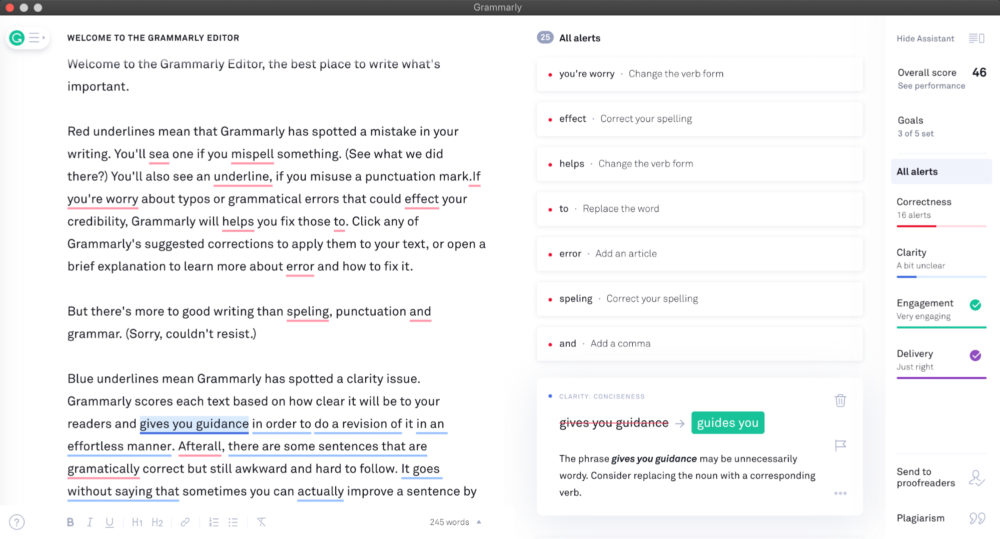 Grammarly editor
This is the original version of Grammarly that you'll find when you go to Grammarly.com and log in to your account. It's what I've always used, and it looks just like the native app version above.
Google Docs support
Grammarly is beta testing its free version for Docs, and it's being tested by users on Chrome, Safari, Firefox, and Edge Chromium.
What comes with the free version of Grammarly
The free version of Grammarly focuses on basic writing issues: spelling, punctuation, and simple grammatical errors. It's much more effective than the free spelling and grammar checker that comes with your word processing software.
Grammarly underlines potential errors in red, and when you click on the error in question, you get a dropdown box that suggests a fix.

If you agree with the correction, you click on the corrected word or punctuation mark.
As you're using free Grammarly, you will probably run into more complex grammatical errors that you can only unlock with Grammarly Premium. I spent a lot of time seeing if I could correct the errors on my own but eventually I upgraded to Premium.
Tip for using the free version of Grammarly: For issues that require Grammarly Premium, try rewriting your sentence to fix the error. It takes a little more time, but this practice will improve your writing. This is how I used the free version of Grammarly before upgrading, and it worked the majority of the time.
Premium is Grammarly's paid version, and has a growing list of features that correct high-level grammatical errors, plus suggestions for sentence structure, clarity, and tone. When used well, these features can help you become a better writer.
Grammarly Premium makes suggestions for:
Consistency in spelling and punctuation
Fluency
Conciseness
Readability
Engagement – compelling vocabulary and sentence variety
Tone detections – confidence, politeness, formality, and inclusiveness
Appropriateness of words
Overused words
Unclear structure
Grammarly Premium also lets you set goals and customize your audience so you can get tailored suggestions. You can adjust the formality, domain (academic, email, casual, etc.), intent, and tone.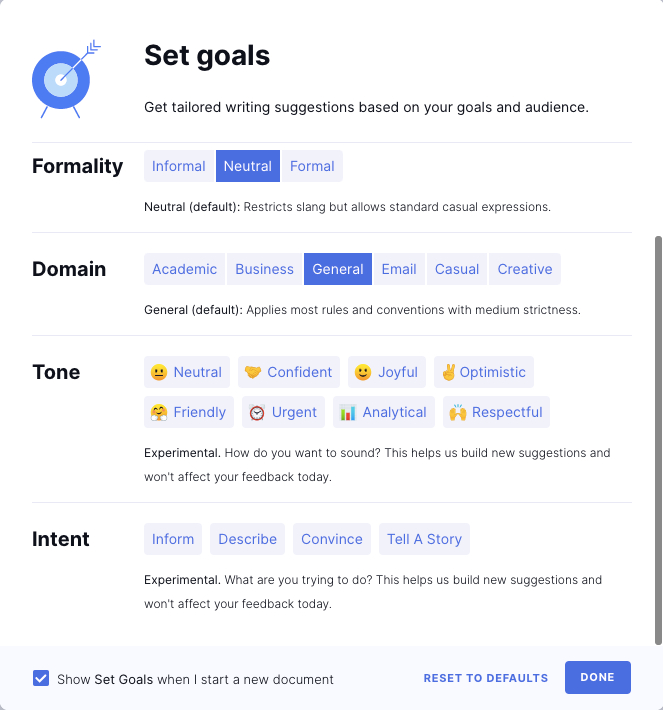 One of the newer features that I like is that you can turn off certain suggestions. For example, some people swear by the Oxford comma (raises hand), while others don't think it's necessary. It's sometimes known as a serial comma, and it goes after the penultimate item or term in a list of three or more. Grammarly flags it as an error if you don't use the Oxford comma. You can see this in the screenshot below:

If you, or the brand or company you're writing for, doesn't use the Oxford comma, you can turn off the suggestion so it stops registering this as an error.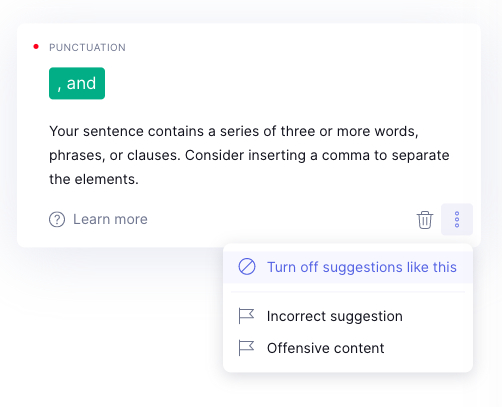 That sounds like everything you would ever need for truly beautiful writing, but Grammarly is not an infallible tool. It occasionally makes mistakes – it's grammar software, not a human editor or proofreader. I'm going to explain more about this further down in my Grammarly review.
Premium does not come cheap – it's $29.95/month. You can save money if you pay for more than one month at a time:
Quarterly is $19.98/month, billed as a one-time payment of $59.95.
Annually is $11.66/month, billed as a one-time payment of $139.95.
How to use Grammarly
After you sign up for Grammarly, you can start using it right away. I've already shown you a few examples of what it looks like in action, but let's look at some more complex writing issues.
I've pasted part of this Grammarly Review into the editor, to show you how to use it. Here's what it looks like: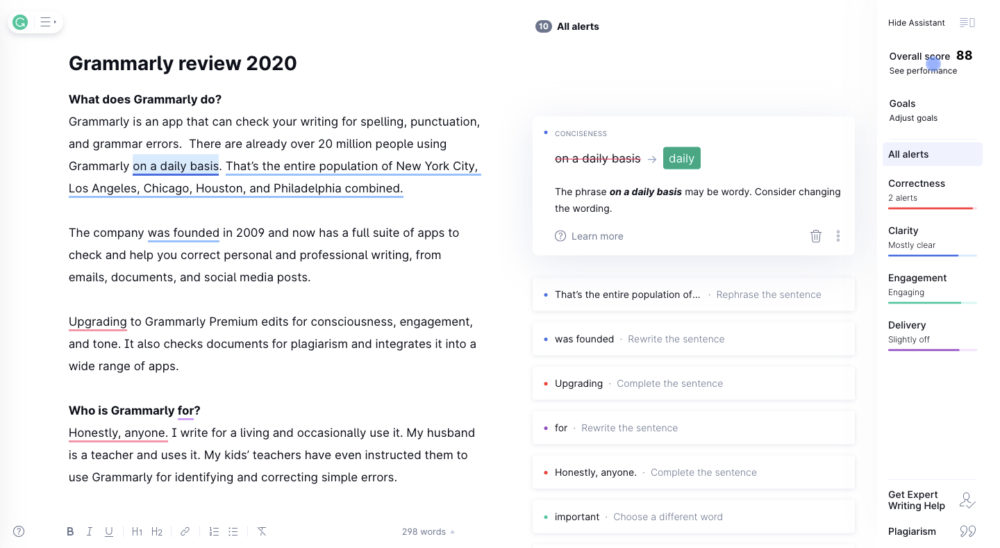 Yikes.
You're going to be shocked by the number of marks – it's like when your English teacher handed back a paper in high school.
You need to go through each of the suggestions and either accept or dismiss them. Like I've already said in my Grammarly review, it's not always accurate, so it's important to double check all of the suggestions.
I agree with this first suggestion, and all I have to do is click on the green word, and Grammarly changes it for me.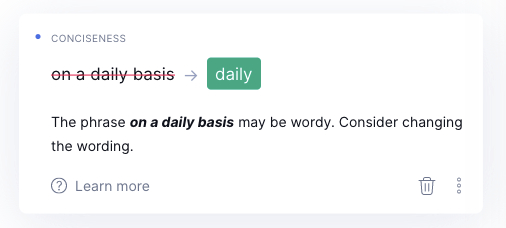 The next suggestion is for clarity and is part of a feature that is being tested right now – "replace with this version." This feature makes suggestions for entirely rewritten sentences, and when I clicked on the "Learn More" button, I can see Grammarly's rationale.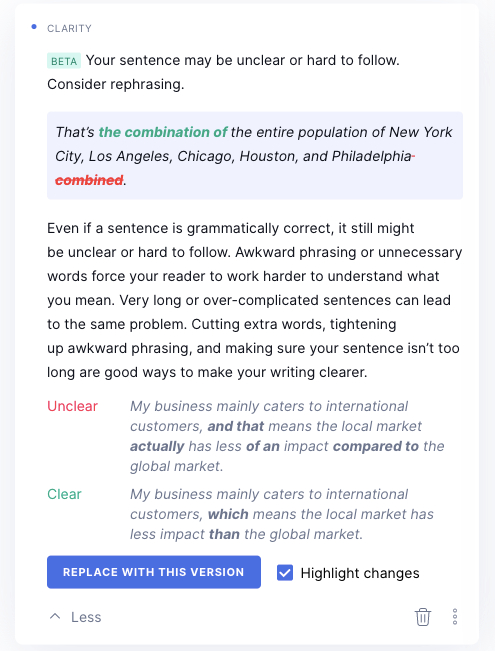 I'm not 100% on board with that suggestion, but I agree that the sentence should be changed. So I rewrite and let Grammarly recheck. I've highlighted the rewritten sentence, and Grammarly likes it (aka, it's not flagged as an issue).

Improving your writing with Grammarly
Most people think Grammarly is only for checking for accuracy, but it's a much better tool for helping you become a stronger writer.
You saw in the example with my Grammarly review how easy it is to accept suggestions and let Grammarly make the changes. But I highly recommend making those changes yourself, because it forces you to address your writing issues. Again, it's like when your English teacher handed your paperback. They wanted you to make changes; that's how you grow.
This is going to sound super nerdy, but I like to look at some of Grammarly's suggestions as a challenge – see if I can rewrite the sentence without looking at the suggestion. I win if my new sentence isn't flagged.
All of this brings me to probably the most important part of my Grammarly review…
Is Grammarly worth it?
Let me remind you that Grammarly isn't 100% accurate. However, it's gotten better over time, and it will continue to improve.
Grammarly is an AI that uses machine learning algorithms that improve through experience. So the more people using Grammarly, dismissing some errors and accepting others, the better the app gets.
Paying for Grammarly Premium just a few years ago would have given you an entirely different experience than what you get right now.
Still, I think it's important to realize that paying for Grammarly Premium will not immediately morph you into a better writer. And it cannot replace a good proofreader or copy editor.
You have to know which suggestions to accept and which to ignore. I've been using Grammarly Premium for two years, and I run into fewer and fewer incorrect suggestions. But they still sneak in from time to time.
The free version of Grammarly is definitely worth it. It's a no-commitment way to get a second set of eyes on your writing, and it can save you from embarrassing spelling errors, as well as common punctuation and grammar mistakes.
Grammarly Premium has become more worthwhile as it's learned from users and improved its algorithm. It's currently a useful tool for casual writers who want to grow their skills, including professionals who do basic business writing.
If you do technical, academic, and business writing, these styles are far too complex to rely on Grammarly.
Just for fun, I uploaded a section of my honor's thesis in Grammarly. Grammarly didn't like the length of my sentences, some of my word choices, and it went wild with punctuation issues. I would not have used many of those suggestions. Grammarly cannot replace a trained human editor in situations like this.
I imagine Grammarly will get better with that style of writing in the coming years, but it's not there yet.
If you're on the fence, you can always try it out for a month and see if it's worthwhile to you. Unfortunately, there's no free trial period, but you can cancel after the first month if it doesn't meet your needs.


Grammarly review – the final word
A few years ago, I had a client pay me $50/hour to write email comms. They were fairly simple emails, and I wrote several of them a week. My client wasn't a good writer – he expressed this to me, and it's why he hired me.
Grammarly Premium would have been a great fit for him. It would have taken him a little time, but he could have improved his writing and saved a ton of money.
Keep that in mind as you decide whether or not Grammarly is worth it for you.