This Kajabi review is part of a series where I'm focusing on tools and platforms to help side hustlers grow their businesses. You're going to learn if Kajabi is the all-in-one platform of your dreams.
The idea is that before Kajabi, you were probably using multiple platforms to run your online business. Think email marketing software, a landing page builder, lead tracking tools, analytics software, a commerce platform, and more.
After switching to Kajabi, you have everything in one place – this is where Kajabi shines. No more dealing with multiple platforms and managing different subscriptions. No more piecing things together and learning new tools.
Kajabi wants to be everything for you and your online business, and this Kajabi review is going to explain how it all works, including pricing, pros & cons, using the platform, and more.
What is Kajabi?
Kajabi is an all-in-one online business platform that was launched in 2010 by Kenny Rueter and Travis Rosser. It has intuitive tools for business owners to create and sell courses, run marketing automations, design landing pages, sell digital products, and more.
Since it was launched, Kajabi has been used by more than 50,000 business owners, has served more than 60 million students, and has generated over $1.5 billion in sales.
Because technology can be a barrier for some business owners, Kajabi's real goal is to simplify the process of running an online business by putting all of the tools you need in one place. I mean, not everyone is tech-savvy, even online business owners.
Kajabi pricing
Kajabi is subscription-based software with three different plans that you can pay for monthly or annually – annual plans are discounted. There's also a 14-day free trial so you can get to know the software a little more before deciding if you want to invest in it.
As far as the plans go, there are three tiers based on your business needs. Kajabi's plans are based on the number of products you are selling, contacts, active members, admin users, and extra features (I'm going to cover these features next).
Here's an overview of Kajabi pricing for each plan: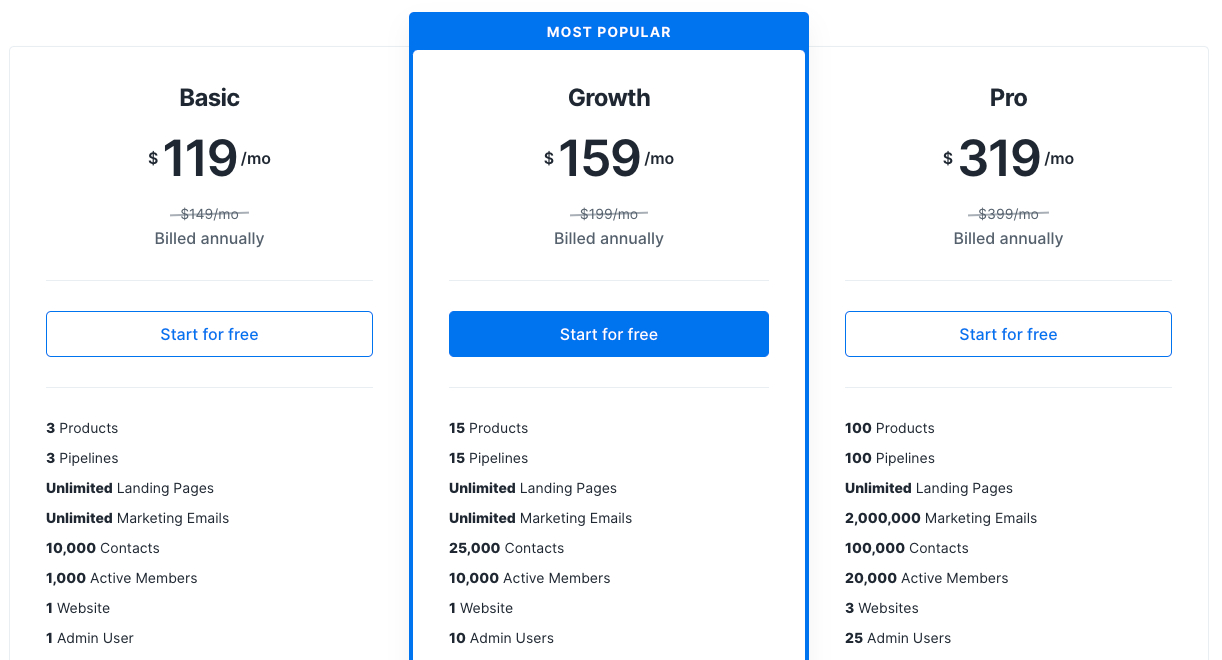 There are $0 transaction fees with each plan – one of the appealing things about Kajabi – and each of these plans come with:
Kajabi University (Kajabi's online resource tool for site owners)
Webinars and events
Fully customizable templates
Course assessment tools to create quizzes and surveys
Chat support
Marketing automations
The Growth Plan, Kajabi's most popular plan, also comes with 24/7 chat support, advanced automations, an affiliate program, and you can remove Kajabi branding. Kajabi Pro takes it even further and adds a code editor.
Kajabi does have a 30-day money-back guarantee if you try one of the paid plans beyond the 14-day free trial and decide that it's not for you.
Kajabi features – what this all-in-one platform offers
Kajabi's features are designed to help with these five things: building a website, reaching more customers, selling digital and physical products, course creation and management, and email marketing.
1. Features for building your website
You get a custom domain name for your site, and Kajabi offers unlimited hosting for videos, photos, and other digital files. And there's a drag-and-drop editor to build and customize your site with integrated marketing tools.
Kajabi sites have some built-in SEO optimization, but there are tools for sharing and more SEO configuration. There's also auto-scaling technology to adjust to any number of visitors and one-click marketing sequences that take advantage of Kajabi's pre-built and customizable sales pipelines.
2. Growing your following
There are list building tools like landing pages and opt-in forms, plus segmentation to track your leads and follow-up with them. Kajabi has high-converting templates that are mobile-ready and made for webinar sign-ups, upsell pages, download pages, sales pages, and opt-in pages.
3. Selling your products
The built-in sales features include:
Integrated checkout: Accept payments from Stripe or PayPal
One-click upsells: Offer add-on products like coaching services or memberships
Coupons: Run promotions for your products
Abandoned cart recovery: Trigger emails to leads to give them another chance to buy from you
Single price point: Sell courses at a single fee for lifetime access
Free trials: Convert leads by allowing them to preview content
Subscriptions: Offer weekly, monthly, or annual subscriptions
Payment plains: Give students a more flexible payment option
4. Sharing your knowledge
These features help create educational content with videos, text, audio, PDFs, digital downloads, and more. There's also unlimited video hosting (video-based courses do really well).
You can use tools to create drip content, which releases course content on a set schedule or after students have completed specific modules. You can also add quizzes and assessments to your courses, and Kajabi also has course insights to show you how students are progressing through the course.
5. Marketing automation features
I'm going to explain more about these later on in my Kajabi review, but you have access to several marketing pipeline blueprints that gently guide your audience through the sales process. You can create pipelines for any of your products.
There are email broadcasts and sequencing features to connect with users and follow-up. All of your emails can be personalized and segmented to fit your brand and client.
Additional features
This feature is pretty cool – you can use Kajabi to create a mobile app for your business that has one-touch access for all of your content. It could house videos, quizzes, training content, and more.
Kajabi University has boot camps, courses, how-to series, and resources that explain how to set up and use Kajabi. There's even a Business Essentials series that includes courses on accounting, website psychology, legal basics, and hiring.
There's also an affiliate program called Kajabi Partner, which pays out a 30% commission for any new members who join through your link.
Kajabi Heroes is a program that rewards business owners when they reach certain sales milestones. There's a $1K, $10L, $50K, $100K, $250K, $500K, and $1M hero status. You can earn pins, AirPods, a down jacket, etc. This feels more promotional than anything, but I'm always up for little perks.
How to use Kajabi
After you sign up for Kajabi you're taken to your dashboard, and this is where you can start designing and using the platform. On the left-hand side of the dashboard, you're going to see four options: website, products, marketing, and people.
Under the Website tab, you get the design, pages, blog, and analytics tools. You can customize your site's theme, create landing and thank you pages, write blog posts, see your store, add opt-in forms, and manage files saved to your site.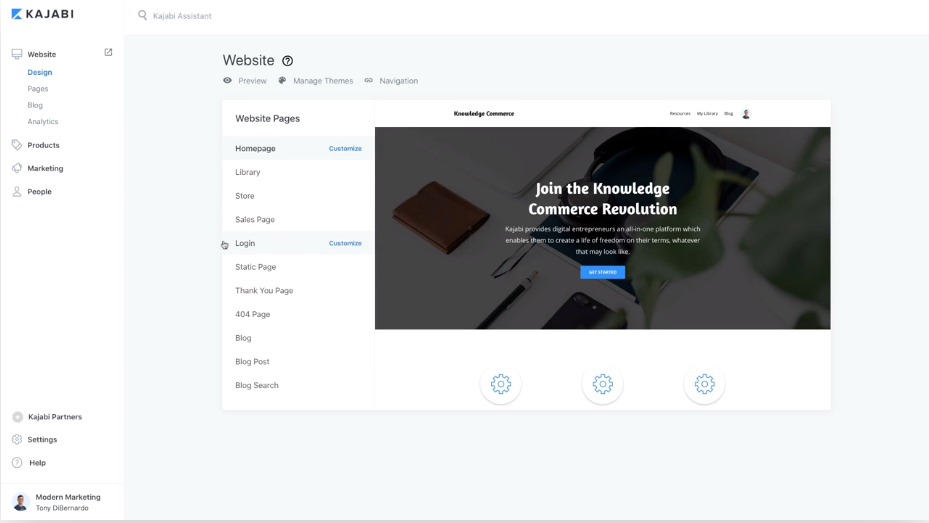 Kajabi's analytics tools let you track your net revenue, subscriptions, opt-ins, progress, and create forecasting models.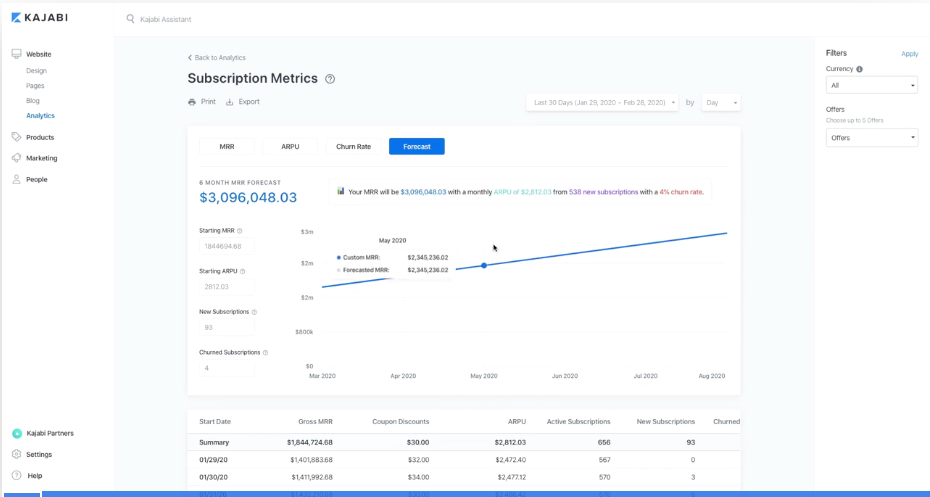 The Products tab is where you will manage any of the things you are selling or delivering to your customers – courses, groups, digital products, offers, and physical products. You can upload all of your content to Kajabi, and the platform handles the distribution and use of those products.
Below you can see some of the product templates you can use, including coaching, mini-course, online course, and community (this would replace something like Facebook Groups for your business). These are actually more like blueprints, so you get an outline and design for each of the products you create.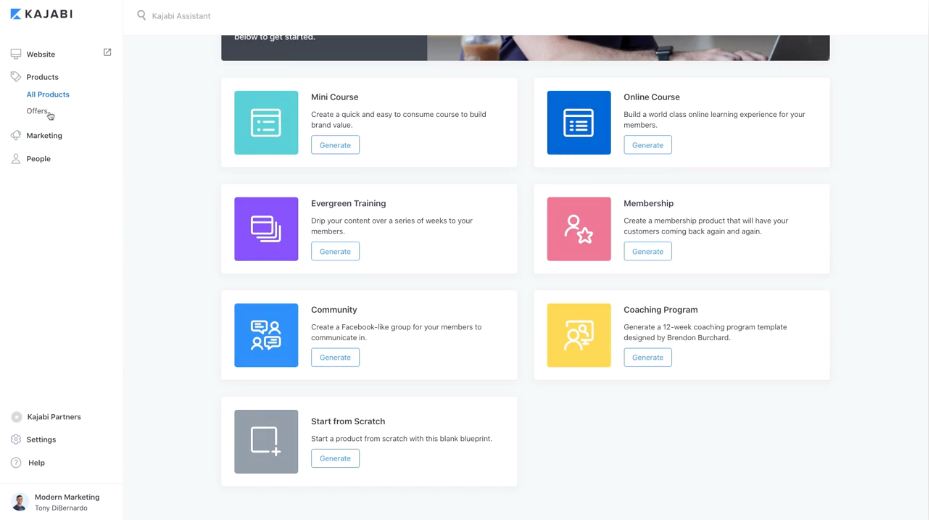 You set all of your pricing through the Products tab (one-time, payment plans, and subscription-based payments), and Kajabi has PayPal and Stripe integrations.
The Marketing tab is where you will find the tools to sell the products you've created on Kajabi. One of the things Kajabi is known for is their pipelines. Kajabi Pipelines combine email automation tools and sales funnels, and you can find pre-built blueprints for specific kinds of products – webinars, books, course launches, etc.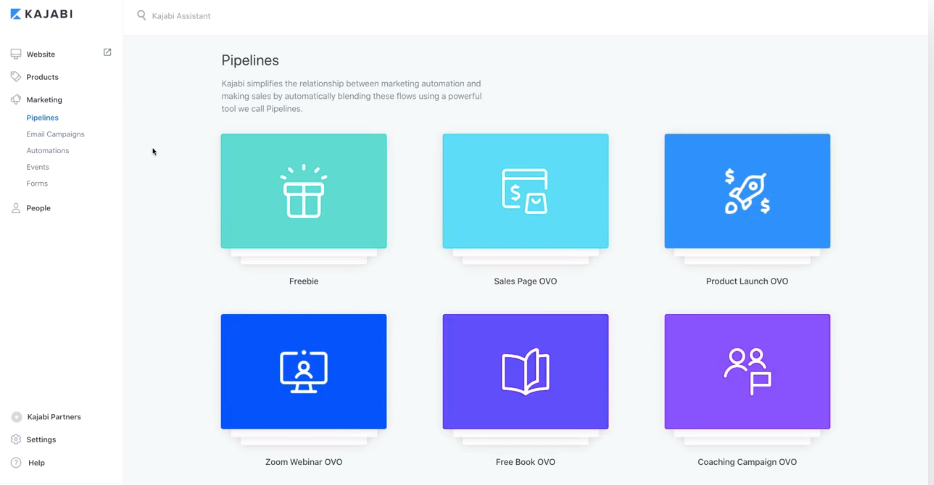 For example, say you wanted to create a Zoom webinar to launch a new course. Here's what a pre-built Kajabi pipeline for that webinar would look like:
Webinar registration page
Confirmation page
4 emails leading up to the webinar – remind your customers and get them excited
5 email after the webinar – move them closer towards buying your course
A linked sales page if and when someone wants to buy through one of your emails
Checkout page where they finalize their purchase
You will still need to go in and add all of your own copy, images, and branding, but the selling process is streamlined for you.
Pipelines take the work out of building your automations and funnels, but you also have the flexibility to create your own automations using "when, then" logic. That means one action triggers another action. For example, you can set automations for when a customer has been inactive for a certain number of days, then a single-use coupon is sent.
The People tab is where you can see who's signed up for your courses, members of your groups, email bounces, and inactive members. You can manage affiliates through this section, with special links, number of clicks and conversions, and handle affiliate payments.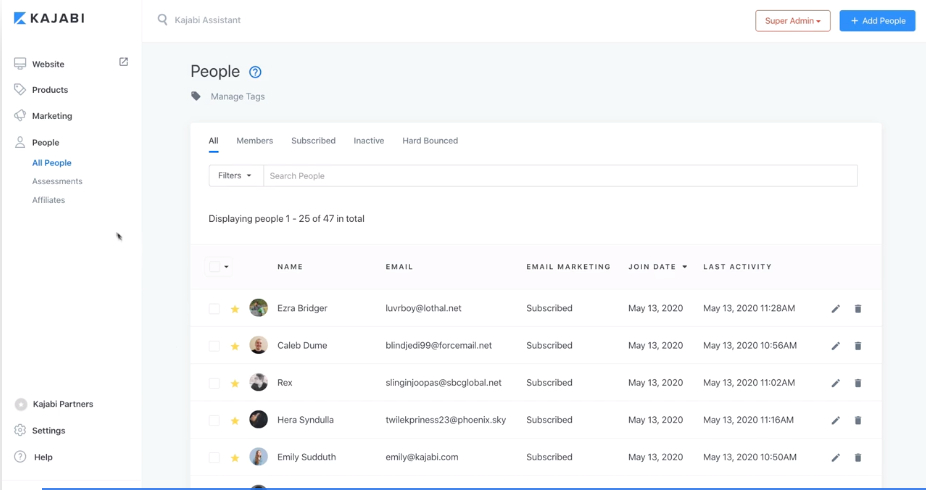 What kind of businesses use Kajabi?
Okay, really any kind of business can use Kajabi, but I honestly think it's best for solopreneur types who are marketing educational and service-based content. I'm thinking about bloggers, authors, consultants, speakers, and even freelancers who want to start selling courses, coaching, and digital products.
A good indicator of this is the number of products you can sell on Kajabi – 100 product limit with Pro. It's not meant to be an e-commerce site like Shopify. It has sophisticated selling features for small product loads, which is the kind of thing solopreneurs need to sell courses, ebooks, etc.
From there, I mean, really any kind of niche can use Kajabi. Here are a few examples of features Kajabi businesses to get an idea of what you can do with the platform:
I recommend that you take a look around those sites – you'll notice these content creators taking advantage of many of the features I've mentioned in this Kajabi review.
Related: Shopify for Beginners | How to Create & Launch Your Shopify Site
FAQs about Kajabi
What if I already have a domain name?
No problem, you can transfer it to Kajabi. There are step-by-step instructions to transfer your domain name under Site Settings.
Can I use Kajabi with third-party apps?
Yes! Kajabi wants to be everything for you, but they realize that you might really like some of the software you're already using. For example, you might love using ActiveCampaign for marketing automations and want to keep using it. Kajabi has Zapier integrations so you can keep using it.
There are integrations for Shopify, Google Sheets, Active Campaign, Facebook Lead Ads, Zoom, Slack, AirTable, Asana, Trello, Dropbox, and much more.
Can I integrate my WordPress site with Kajabi?
Yep, there is a Zapier integration for that. And this is a good question if you started your blog on WordPress and want to create a course to sell on your site. You can find all of the Zapier integrations and how to connect them to Kajabi when you click on Settings in the dashboard and then go to the Third-Party Integrations tab.
Kajabi reviews go back and forth on starting a WordPress blog or using Kajabi's, and I honestly prefer WordPress. Kajabi does have blog-publishing tools, but WordPress is built just for blogs and offers more robust publishing tools.
Does Kajabi replace MailChimp?
Kajabi can replace MailChimp for your email marketing needs, but you can also integrate MailChimp with Kajabi if you want to continue using the platform.
Is Kajabi a CRM?
A CRM is a customer relationship manager – technology designed to manage interactions and relationships with your customers. It typically includes content management, sales management, productivity, and more.
And yes, Kajabi has tools for all of that.
Pros and Cons of Kajabi
I love a pros and cons list, so here it goes for my Kajabi review:


Kajabi Review: The final word
I think it's pretty clear by now that Kajabi is a solid all-in-one platform, and I think it's best for people who don't want the hassle of piecing together their online business. I don't mind it, and it helps to have people on my team that keep everything organized.
But if you're a small team or solopreneur, I definitely recommend giving Kajabi a try.
You're making an investment in your business that's only worthwhile if you're also putting in the work. You still have to create your course content, write epic email copy, and drive traffic to your site. Kajabi is a strong tool, but it's only a tool. You're responsible for using it and building your business.