"If you can't afford to pay cash, then you can't afford it."
One of my great friends and financial mentors says this to me at least once every time we talk about money. In the version of America that I grew up in, you don't hear this statement very often at all.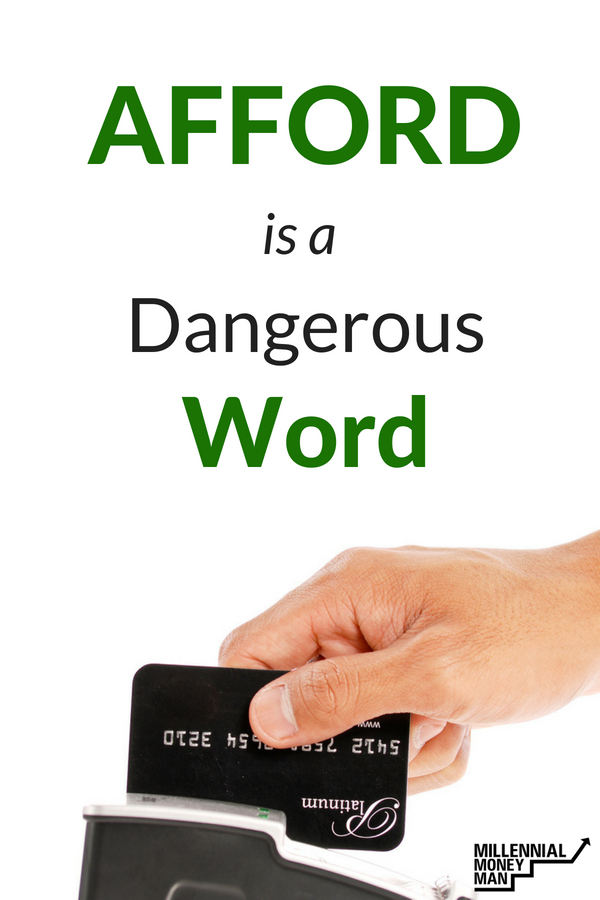 Actually, I had never even thought of using the word "afford" in the same sentence as "pay cash".
I'm also willing to guess that most Millennials haven't either, but why not? It seems like a really simple concept. Once you acquire enough numbers to buy something, you subtract another number from it and then get an item or service. (I try to talk about money as just numbers so that I can get rid of any emotional attachment that I might have to it.
Related: Track Your Spending and Investments for Free with Personal Capital
It's weird and it makes me weird, I know…but it works for me.)
My friend and I are on the total opposite spectrum. He is older than me, wiser, more financially experienced, etc. He also created a very successful business and is just as good at investing his money as he was at becoming an entrepreneur. He LIVES by the statement above, because he can afford to.
What can Millennials afford?
Where does that leave me? I'm not too far removed from college and just finished paying off my student loan debt less than a year ago. I can pay cash for some things, and the amount of things that I could buy goes up every month because I continue to follow my own money rules and save more.
However, there are still plenty of things that I can't buy. But let's forget about me for a second, where does that leave my generation? Everywhere you turn, someone or some company is telling you that you can afford whatever they are providing.
You can pick up a credit card and instantly afford whatever your credit limit is. Millennials are pretty financially vulnerable because our financial educations range anywhere from horrific to nonexistent.
The word "afford" has really put people my age into financial trouble early. It's a pretty innocent word, but can handcuff you in debt as fast as you can sign your name to a piece of paper or swipe a card. I'm terrified of the word, and I think you should be too. Anytime you are told that you can "afford" something, you are being lied to.
Sorry for the cynicism, but it's true. 
There are some things that you will most likely need to finance as you navigate through the money minefield that is life in America. For me, I know I will have to bite the bullet and finance a house. I plan on flipping whatever house my fiancé and I live in so that I can come out ahead on the deal.
I use a credit card, but I pay the full balance every month (I let a balance stay on the card until it is reported to the credit agencies so I can show a low credit utilization rate, but that's for a different article.) The next car I buy will be used and I'll pay cash for it. At this point I can't quite live exactly like my friend's definition of "afford", but I can try to get as close as possible.
For a lot of Millennials, the above quote can be used more like this one:
"Shoot for the moon, because even if you miss, you'll land in the stars." – Les Brown
Maybe you can't pay cash for everything, but it wouldn't hurt to have a strong definition for what you think being able to afford something really means for you. Knowing what you can realistically afford can keep you on track for your financial goals, and may become your secret weapon for being debt free. At the very least, it might make you think twice before you finance!
Related: Personal Capital vs. Mint – Which Free Money Tracker Should You Use?