I have to admit, it's been crazy to see how many M$M readers are absolute budget-ninjas over the past few years. There are so many of you that are killing it and literally tracking every single cent that rolls in, and then leveraging that knowledge to pay off student loans faster, invest, or vacation at will.
But for every one reader that's awesome at budgeting, there are probably five that wish they could figure out how to optimize just a little bit more.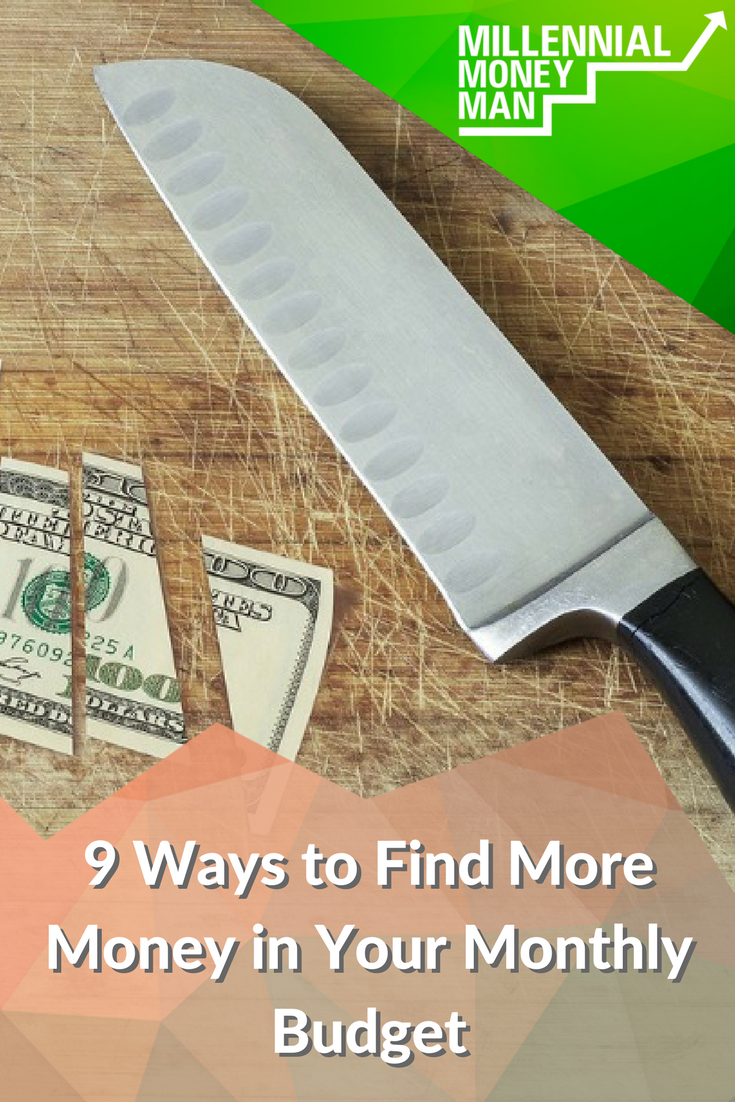 Whether you're trying to boost your emergency fund, or just trying to breathe a little easier at the end of the month, these tips for finding extra money could be really helpful!
Here are 9 ways you can get a little more out of your budget:
1. Evaluate your fixed expenses
Obviously "fixed" doesn't sound too promising, but there's still no harm in trying to find flexibility in your monthly expenses. If you're renting, you may be able to negotiate your rent down or find ways to get better deals on things you don't even think about very often like car insurance.
Also, take some time and evaluate if you are overspending on your living expenses (i.e. living somewhere that is larger or more expensive than what you really need).
2. Share meals at restaurants
If you've already cut back on your restaurant trips but want to save even more without totally abstaining, start sharing a meal!
We all already know that portions are out of control, so why not just ask the waiter for two plates and split something? Another little trick my wife and I use is to order one appetizer and one meal, and if you're next-level you can order off of the kid's menu.
3. Consider finding lower interest rates before they rise
The Fed has been slowing raising interest rates, which I can tell you is starting to make refinance companies a little bit nervous. If you're still working on debt that's higher than 3-4%, you may want to take a look at refinancing now while rates are still very low.
If you're considering a refinance on federal student loans, just understand that you will not have access to federal benefits anymore. That might not be *that* big of a deal though – many people are surprised to find out that they don't even qualify for them.
Here's a great tool from the Department of Education that can help you figure out what federal benefits you could have access to.
4. Cut out monthly services you don't need
A lot of people are guilty of getting roped into some service that they don't really use very much after getting the free trial *cough Amazon Prime cough*.
While I am starting to see some companies pop up that offer to get rid of those unnecessary services for you, it's just as easy to set a recurring reminder on your phone to look over your checking account/credit card bill every month and cut things out as needed.
5. Eat more veggies
Not much to say here. Vegetables (in general unless you're super fancy) are cheaper than meat. I'm not advocating for you to become a vegetarian or anything like that, but there are plenty of awesome recipes out there that can actually make veggies taste good.
I've never pushed a food blogger on this site before, but once Coral and I found Chungah from DamnDelicious.net – it was game over. We eat at home more often and have more veggies than I've ever had in my life.
6. Make your clothes last longer
Now I'll be the first to admit that I'm not some kind of clothing guru. One of the most popular posts on M$M is about wearing socks with holes in them to save money. My wife literally forced me to buy new socks after I wrote it.
You don't have to be extreme like me, but you can at least do some easy things to make your clothes stretch a little longer by washing them on gentle and air drying or using a detergent that protects colors (we use Woolite dark religiously).
7. Learn how to negotiate
In my opinion, you should assume everything in life can be had for a lower price until you're told no.
I can't tell you how many times I've saved money just by asking, even if it seemed a little obnoxious at the time. There's always a 50/50 chance that whoever you're buying something from will say yes.
And if they don't or get annoyed, who cares? You'll probably never see them again anyway. 🙂
Waaaaay back when I first started this site, I actually created a how-to guide on negotiating here. Enjoy.
8. Is your energy bill too high?
Chances are, yes. Energy costs are specifically a big culprit here, and many times they can be lowered with a few phone calls. Double check what you are paying for energy in your home and see if you can find a better rate. Even one or two cents less per kilowatt hour can mean huge cuts in your energy bill.
Also, make sure you turn the lights off when you leave, opt for energy efficient light bulbs, and find areas where air may be moving in or out of your living space where it shouldn't be.
9. Start a side-hustle
Look – there are only two basic ways to be great at personal finance. You can either spend less or make more. If you can do both, you're a financial rock star.
A lot of M$M readers have told me over the years that they've cut out as much as they possibly could from their budget. If that's the case, you've got to get started on a side-hustle.
I will repeat this till the day I stop running this site: Your side hustle does not have to be complicated. There are so many ways to make extra money out there…you just have to pick one and get started. Read this and see if any of them are a good fit.