After running this site for a few years, I still can't for the life of me figure out why we don't have financial education required for every child. I've written once or twice about what would be most important to teach, and the reader reaction to those posts are always really strong.
EVERYONE is on the same page about this. We all actively use money more in our lives than any other type of math that's taught in a school setting, but for some reason it's only required to be taught in a handful of states.
As I understand it, one of the main points of having public education is to have a society full of people that can contribute positively in a social and economic way. We want people to be well-educated enough to get jobs (and make money), but we don't want them to learn what to do with the money?
It just boggles the mind haha.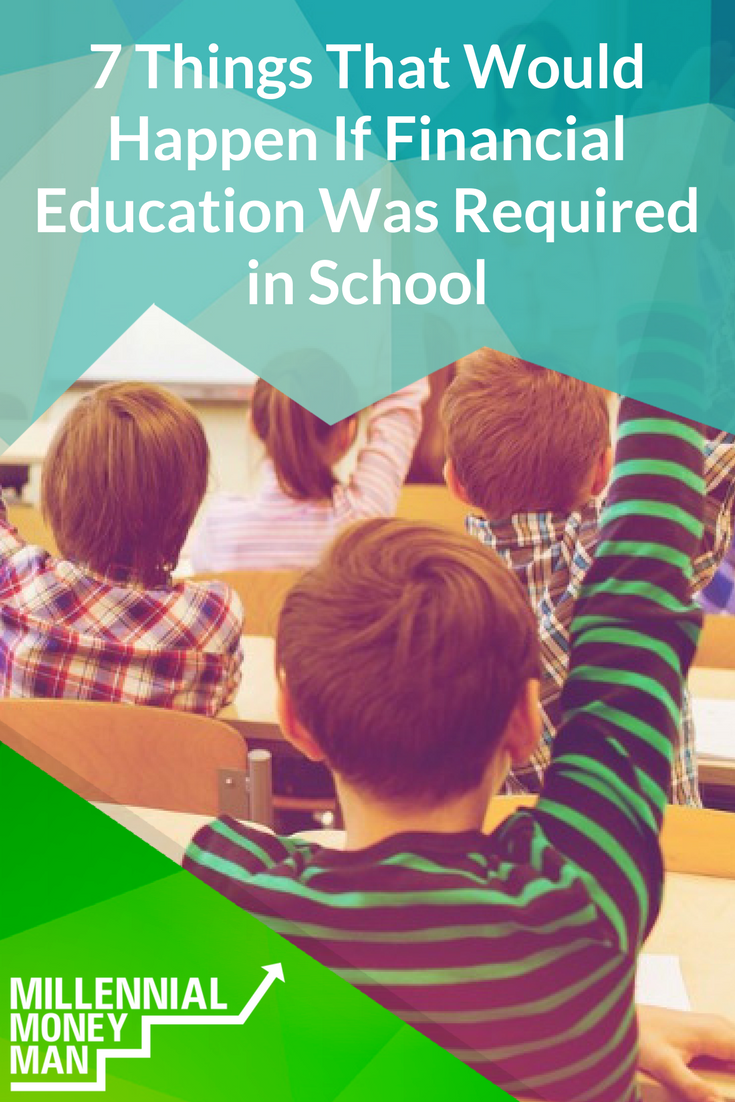 I've done some research on this topic, and there are a few main issues that pop up when you start to explore the "why" around this bizarre omission from education:
Education is handled by the states, so there isn't a federal mandate or standardized approach for teaching personal finance curriculum
Teachers supposedly aren't comfortable teaching personal finance (probably because they aren't receiving the tools to teach personal finance)
Nobody is sure what type of personal finance education would be most effective, so they just don't put it in the curriculum requirements
So, instead of writing about what I think is the most important topic, I'd rather discuss the potential effect of requiring every kid to at least have some basic education on the following:
Budgeting
Student loans
Time value of money
Assets vs. liabilities
Compounding interest
Investment vehicles
Consumer debt
Entrepreneurship
Taxes
What if Financial Education Was Required in School?
1. Personal finance bloggers wouldn't have jobs
Well, this might not be totally true, but you'd probably see less personal finance blogs. There's a huge need for personal finance education out there, which is why you see so many blogs doing well right now.
[convertkit form=4985303]
The pie is just so big that it almost eliminates competition. Even the biggest of the big money sites only reach a small fraction of people that are interested in personal finance, so it's not too hard to operate in your own little money bubble.
As much as I love this community and ultimately love what I do for a living, I'd be 100% cool if my services weren't needed anymore because everyone just knew enough about money when they graduated high school.
If everyone had a basic understanding of personal finance, you'd still have sites like mine, but they would possibly be even more niche than they already are.
So if anybody that has control over school curriculum requirements reads this site – please do your best to put me out of a job. I promise that I'll find another way to make money.
2. Fewer people would go to college
One of the best discussions that pops up on the M$M Facebook page is on college and how "worth it" taking out high amounts of student loans really is.
If I had to guess, I'd say that it's about 60/40 in terms of readers that think college was worth it and those that think they should have done something else.
Back when I was still teaching, I tried pretty hard to let kids know how crushing student loan debt can be if you aren't careful (or even just aware) of how much was being borrowed.
Unfortunately, it always felt like it was too late. The push for college is fully institutionalized and kids are indoctrinated with the message of "Go to college or you're a failure" from as early as elementary school.
With the rising need for trades and the massive opportunity available in entrepreneurship, don't you think that more kids would skip the loans and go straight into trying to make money?
Read also: Is College Still Worth It?
3. You'd see way less new cars on the road
🙂
You didn't think you'd get out of an M$M article like this without hearing about cars, did you?
Cars are straight-up money losers. I've heard literally every argument for why new cars are necessary expenses from hundreds of people, and I just respectfully disagree.
I'll even lose money to depreciation on the $6,000 car that I drive currently. It's just not a great place to put your money, but so many people get trapped in the "I'll always have a car payment" mentality.
I'm not saying that the car industry would crumble, but if young people understood how quickly cars depreciated combined with the true cost of financing $35,000 debt-mobiles…they might at least buy used cars instead to save some money.
Read also: I Deserve a New Car, Right? Wrong.
4. More people would focus on acquiring assets instead of liabilities
To piggy back off of the car subject, people that are great at money tend to focus their money in areas that will make them more of it instead of less.
For the next 30-40 years of my working life, I'm going to be buying as many income producers that I possibly can.
You can get wrapped up in dividend stocks vs. ETF's vs. real estate arguments all day long, but ultimately if you just buy things that over time that make money you're going to be better off than those who don't.
I can tell you this about kids – they want to make as much money as possible. When you ask a teenager if they want to be wealthy, their eyes light up.
At that point in their life, they still feel like they can be the next deadmou5 or whatever YouTube makeup person is big right now that's getting rich. I think you can channel that passion and optimism into being fired up and actually focusing on personal finance education.
5. Net worths would be higher overall
This would really just be a convergence of all of the basic personal finance concepts.
People who focus on keeping track of their money, accruing less bad debt, creating tax-advantaged investing strategies, letting compound interest do it's thing, and ultimately making as much money as possible through entrepreneurship (full or part-time) would just have more money.
I mean…when you put it like that it's all pretty simple right?
Read also: Find out why I love Personal Capital for tracking my net worth!
6. Consumerism might actually give way to minimalism
This is a little more of a "hot take", but minimalism is pretty huge right now (I don't classify myself as that BTW…I'm just kinda cheap). I have actual friends that are moving into campers and trying to figure out ways to beat their debt and avoid buying stuff they don't need.
Ultimately, it will probably just be a trend…but it is kinda cool. The American consumerism machine is strong, and the only way to beat it is to understand how to use your money to create a better life in ways other than buying more stuff.
If everyone understood money a little better, I guarantee that advertisers would have to work quite a bit harder to get us to love things that won't actually make us any happier.
7. Financial independence would be the goal instead of retirement
Even though millennials are redefining retirement right now – it's still basically the goal. Work for a while until you don't have to, because everyone hates their jobs.
What if more people could reach financial independence (aka having your assets produce enough income to cover your basic needs) earlier?
If everyone was financially educated and understood that with time and discipline FI was actually possible earlier than 66, you might see people pursue their passions earlier in life and create some pretty cool stuff.
Obviously this is all pie in the sky stuff right now, but the benefits of having a society that understands money from an early age would be pretty killer.