Hey everyone! Today I have a guest post for you by Jason from Winning Personal Finance. Back when I was paying off my student loans, I gave up pretty much everything haha! But since then I've definitely found that there are things in life that I just don't want to give up anymore (like boating). I think that it's really important to find a balance, and quite honestly it's probably healthier from a mental standpoint. 
Jason nailed it here – enjoy! ~M$M
Before giving details on what I'm not giving up, here's a brief summary of my financial life:
My wife and I have always been savers. We've taken advantage of 401(k) and IRA accounts since starting our careers. We've also saved a bit outside of them putting us in a strong financial position.
A few years ago, my wife and I changed our lifestyle and drastically cut our expenses so she could stay home to raise our children. The pressure of being the sole breadwinner for the first time – and having three mouths to feed – started to give me some anxiety.
I realized focusing on saving was the key for me to have Less Stress and More Happiness. I started reading personal finance blogs and caught the Financial Independence (FI) bug hard. Learning how to calculate my FI number using the 4% rule of thumb was eye-opening.
Since we've always been focused on saving and investing, we had a strong start. My first calculation put us about 11 years away from FI. Then I went to work.
I went over our budget and spending again with a fine tooth comb to cut any remaining fat. I found some savings on the insurance and cable bills even though I failed to cut the cord.
Still, we spend a lot of money each year. Partly because there are certain expenditures more important to us than cutting our time to FI. Even after all the scrubbing to our budget, some discretionary items remain.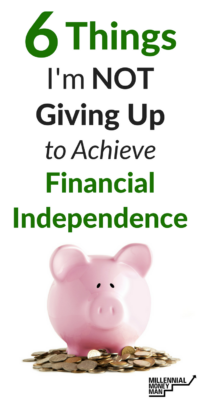 Here are the six things I'm not giving up to achieve FI:
1. My Favorite Hobby
I'm a bit obsessed with skiing. When the days start to grow shorter and everybody starts complaining about the cold, my energy level picks up a step. There's a saying that "the worst day skiing is better than the best day of almost anything else." I couldn't agree more.
There's nothing quite like skiing a steep run with fresh powder. I spend about six months a year looking forward to my annual ski trips. Giving them up would not be pretty on my psyche. Unfortunately, many single day lift tickets top $100. It's not a frugal hobby.
To better balance our budget, I made some adjustments to our ski trips. Last season, I stayed within driving distance of home in NJ to avoid airfare and car rental expenses. This year, instead of separate trips with my friends and my wife, I'm taking one longer trip.
Even though I'm flying for that one, I'll use miles and points to keep the costs low. To save on lift tickets, I carefully choose destinations and buy season passes and/or discount cards well in advance to get the most value for my money.
If you love your favorite hobby as much as I do, don't give it up to pad your brokerage account. Figure out a way to make it work while achieving your financial goals. Spending on the things that make you happiest is a fundamental principle of Winning Personal Finance.
2. My Children's Activities
I have two boys under the age of four. The younger one isn't quite ready for anything other than the basic functions of ESP (eat, sleep and…you know the rest). Our older son has been enrolled in various activities since he's very young.
We enrolled him in music classes when he was just a few months old. Even as a baby, you could tell that it soothed him. A few years later, my son is already starting to keep a beat and is always grabbing his microphone to put on a show.
We enrolled him in swim lessons for safety. Knowing my kid can swim will give both me and his mom peace of mind when around water.
My son has been in gym class since he first started walking. It has been fantastic for his socialization, patience, balance, sense of adventure and confidence on his feet.
A local park runs some inexpensive classes that teach kids about the animals and plants in our area. Anything I can do to get my kids excited to learn about nature is good by me.
We participate in plenty of free activities, too. We go for walks, bike rides, enjoy a playground, take free Home Depot workshops along with other community events. Yes, you can have great experiences for free. Still, the paid activities above are worth working a bit of extra work to me.
3. Leisure Travel
When I think back on the highlights of my life, the top ones are obvious. My wife agreeing to marry me. The quiet moments holding my newborn children. Once we get past those, the rest of my list is mostly travel related.
As a child, I remember the beauty of Yosemite National Park and my first experience skiing powder in Lake Tahoe after an epic snowstorm.
As an adult, I've hiked in Hawaii, went ziplining in Costa Rica, ate amazing food in Paris, visited Mickey in Florida and partied in New Orleans.
I've also skied in Zermatt, Chamonix, Colorado, Utah, Wyoming, Lake Tahoe, British Columbia and all over the Northeast. Did I mention I love skiing?
If you really want to get me talking, ask me about any of the trips above. They were all amazing and memorable in their own way. Those experiences are well worth the dollars spent. While we always consider the cost and relative value when we book travel, the line in our budget will always be there.
4. Investment In Physical Fitness
Even though I've been failing at this one lately, I'm adding it to this list because of its importance. In what seems like a lifetime ago, I ran two marathons, a handful of challenging obstacle course races and more shorter races than I can count. Additionally, back in our dual income days, my wife and I hired a personal trainer to come to our apartment and force some physical fitness on us. We were in the best shape of our lives at the time.
When we cut our budget so my wife could stay home and raise our son, the personal trainer and races went by the wayside. So did my physical fitness. One of my 2018 goals is to run a half marathon. Signing up for a race will give me the motivation to get out and train. I'll get a solid return on my race fee investment.
Nothing is more important than your health. Yes, you can work out without spending money. If you do, that's fantastic. If not, and it takes a gym membership, race entry or a personal trainer to force you to exercise, find space in your budget for them. Future you will say "thank you."
5. Date Nights
With two children, one full-time job and one blog keeping us occupied, quality time with my wife is more cherished now than ever before. We are lucky to have our parents who offer to babysit nearby.
When they do, we take advantage of their help to have a date night. Whether it's dinner and a movie, bowling or something else, the activity really doesn't matter. It's great to just get out for a bit together. I'll never give that time up even if our dates cost a few bucks.
Our date nights have gotten less expensive lately. In our dual income no kids days we may have spent a Saturday night in a high-end wine bar or celebrating the latest accomplishment with a steak from Del Frisco's in New York.
While those expensive meals are not completely out of the question today, they are very rare. I find that the quality/cost of the restaurant we patronize does not matter nearly as much as the company.
6. My Children's Education
Preschool
One of the largest cost savings realized when my wife left her job to stay home with our children was no longer having to pay for daycare. The cost of our old daycare was closer to a mortgage payment than a car payment and eliminating the bill was a relief. One short year later, it was time for my older son to start preschool.
I'm sure he'd be "fine" if we saved some money and he stayed home with my wife until kindergarten. But when it comes to parenting, I'm not looking to be "good enough."
That may work for horseshoes or a pass/fail exam. It does not work for parenting. Our children will benefit from preschool, so we're going to send them no matter the cost.
Thankfully, half-day preschool is still much less expensive than full-day daycare.
College
Last but not least, is the more expensive education: college. I chose to attend an in-state college to keep my costs reasonable. I also was fortunate that my parents could foot the bill.
I am where I am today because of my education, and my savings were greatly boosted because I didn't have to pay for it myself.
I'm saving to give my children the same benefit. I don't feel like my parenting obligations will be complete without giving my sons the same advantages in life that I had. So, if I have to work a little longer or harder to reach my college savings goal, I plan to do so.
It's Not a Race
Anybody who has read a FIRE (financially independent, retire early) blog has imagined how awesome it would be to have enough of a nest egg that you don't need to work to fund your needs. I'm super excited for that milestone. I'm going to save and invest and get to FI…when I get there. It's not a race.
Sure, I have a target date. In an ideal world, I'll shave off years to FI by saving more than I planned and having my investments exceed projections. If life intervenes, maybe I get there a little later.
No matter what, I'm not planning to give up the items above to win a non-existent race. I strongly believe that chasing financial independence is about prioritization, intentionality, and focus – not sacrifice.