If you're looking for new ways to make extra money, you may have heard of Swagbucks. It's a cashback website where you can make extra money to put towards paying your debt, saving for a big purchase, building your emergency savings, or just having some extra cash in your pocket.
Swagbucks is free to use, and you can earn cashback by shopping online, taking surveys, playing games, and more. Sounds easy enough, right?
But what's the catch with Swagbucks?
Spoiler: Swagbucks is a 100% legitimate company, and you can use this site to make extra money. There's no real "catch." Over 10 million users have already made money with Swagbucks.
But there are a few things you should know if you want to make Swagbucks your side hustle, like how much you can really make with Swagbucks. I'm going to cover that and a whole lot more in my Swagbucks review for 2020.
Swagbucks Review 2020: Is this side hustle worth your time?
What is Swagbucks?
Swagbucks was founded in 2008, and it's become one of the most popular points-to-cash sites today. Users have already made over $400,000,000 with Swagbucks.
There are tons of different ways to earn points that can be redeemed for cash on Swagbucks. You can shop online, play games, watch videos, take surveys, and more. But not every option is as worthwhile – as in you're not going to earn many points – but I'll explain this more in-depth further down in my Swagbucks review.
And FYI, Swagbucks is owned by Prodege, which also purchased another popular rewards site, MyPoints, back in 2016. You can read my review of MyPoints at: My Points Review | The Original Cashback Portal... But is it Legit?
Is Swagbucks a legitimate website?
I get the "Are they legit?" question a lot when I bring up cashback or survey sites. A lot of people think of these sites as free, easy money, and assume they must come with a catch.
Here's the truth: Swagbucks is 100% legit, but it's not as simple as free money. Swagbucks makes money by sending consumers to one of its partner companies. Swagbucks then pays you in points that can be redeemed for cash as a thank you.
Every other cashback site I've heard of follows this same model: you make money because they make money.
How Swagbucks works
Now let's talk specifically about how you make money with Swagbucks. The first thing to know is that Swagbucks calls its points SB.
The most popular way to earn SB is by shopping online through Swagbucks. There are over 1,500 different online retailers you can shop at, and it's the easiest way to earn points if you're already shopping online.
Instead of going directly to an online retailer's website, you find them on Swagbucks, are redirected to their site, and then shop like you normally would. Swagbucks pays in your points for shopping in certain categories or claiming offers.
Here's an example of offers you can find when you shop through Swagbucks at Amazon. Note: These offers were available when I wrote this Swagbucks review and are subject to change.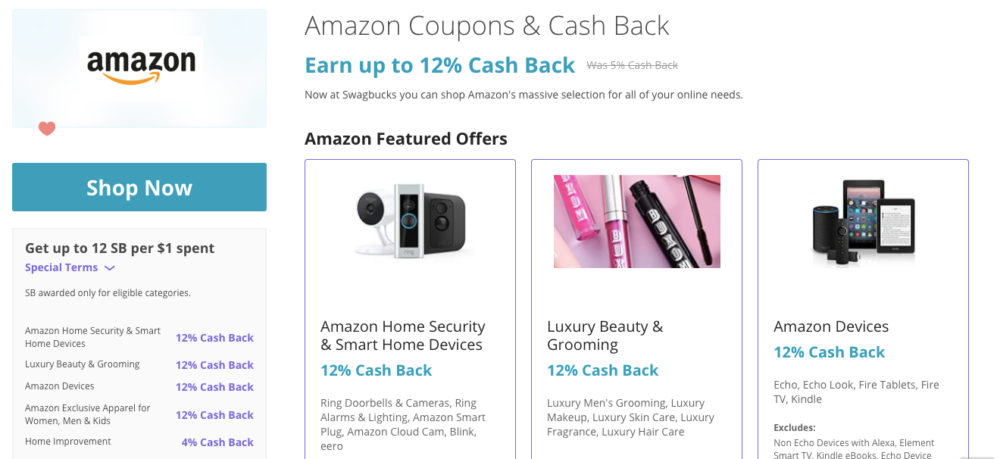 Swagbucks will pay you up to 12 points for every $1 you spend on Amazon in different categories. You can also earn $1 back when you create an Amazon Baby Registry, $10 back when you sign up for Audible Gold, $1.50 when you sign up for Prime Video, and so on.
After you've used an offer, whether that's shopping online or taking surveys, Swagbucks will deposit points into your account. When you have enough points, you can redeem them online for gift cards, cash via PayPal, or even as charitable donations.


How you earn points with Swagbucks
I honestly think that shopping online is the best way to earn Swagbucks points, because it gives you the highest payout for your efforts. But there are so many different ways to earn points with Swagbucks, that you're bound to find at least one other way to make a little cash.
Shop online with Swagbucks
There are over 1,500 different online retailers that have partnered with Swagbucks so you can earn points. These include popular big-name companies like Amazon, Target, Walmart, Best Buy, Macy's, Lowe's, and Kohls.

You can earn a range of points depending on the company, anywhere from 2 SB for every $1 you spend, to a specific sum of points when you make a qualifying purchase.
Every online retailer has its own SB policy, so make sure you check out the details before you shop through Swagbucks. You'll lose the points if you make a return, which is why most online shopping points won't hit your account until 30-90 days later.
While most of the online retailers are big national chains, you can also find coupons for local stores and still earn points by searching for deals on Groupon. For example, I found more local deals for ax throwing classes, dog grooming, and one of my favorite wine bars.
In-store shopping
This feature is new to Swagbucks, and it's similar to how cashback shopping apps like Ibotta work – you claim offers on the app, then shop in-store like you normally would. Swagbucks pays you points based on the offer.
Here are a few offers available at the time of writing: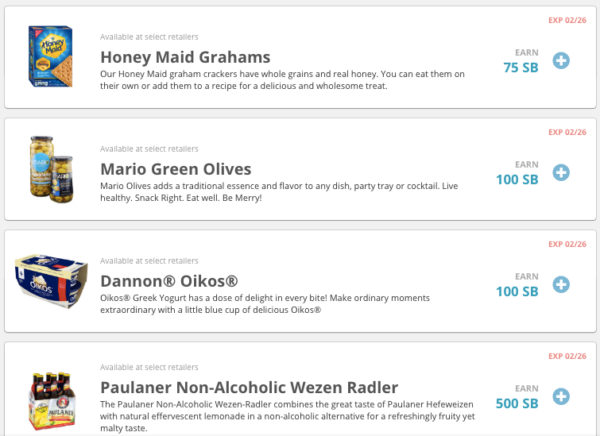 Another in-store shopping option is to link a credit or debit card to your Swagbucks account and earn back a percentage of each sale.
Read more at Ibotta Review 2020: Is It Worth It?
Swagbucks surveys
Swagbucks surveys give companies valuable market research insights, and this helps companies decide how to market and develop new products for consumers. There are new surveys on Swagbucks every day.
Fair warning, you will not be eligible for every single survey, and you'll have to answer a series of questions to check your eligibility.
Swagbucks shows you how much time the survey takes to complete, your guaranteed earnings, if you're, aren't eligible for the full survey, and how many SB points you can earn if you complete the survey.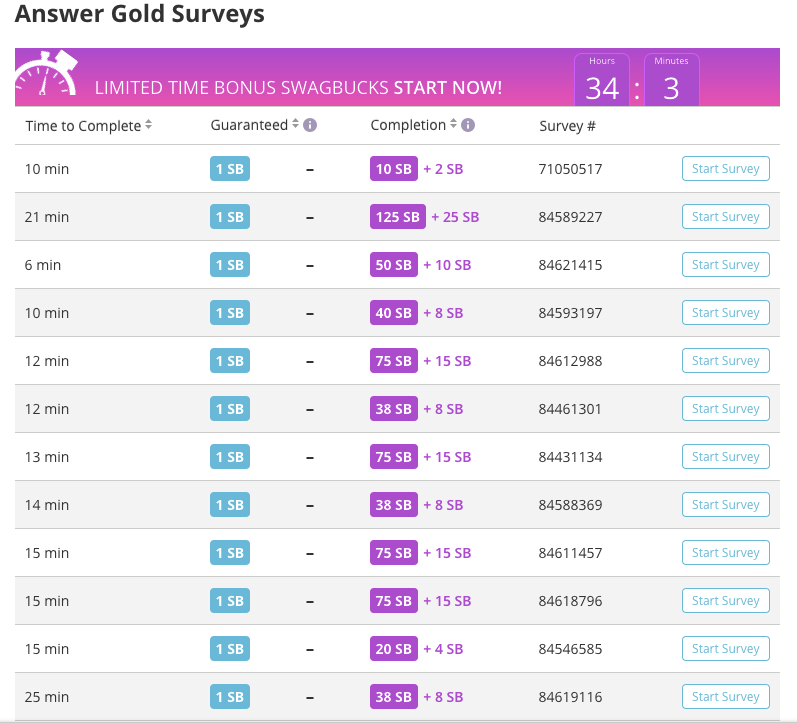 You have to complete a short demographic survey before you can unlock the rest of the surveys on Swagbucks. It only takes a couple of minutes, and you can earn 3 SB for completing it.
Read more at: Is Completing Online Surveys for Money Worth It?
Watch videos
Swagbucks will pay you 1-2 points for watching videos about topics like entertainment, news, sports, finance, lifestyle, travel, and more. These videos are pretty long for the payout – they can be up to an hour to more.
Discover offers
There are a wide range of things that fall under this category. Swagbucks will pay you in points for claiming offers for subscriptions, specific products, checking out web content, and more.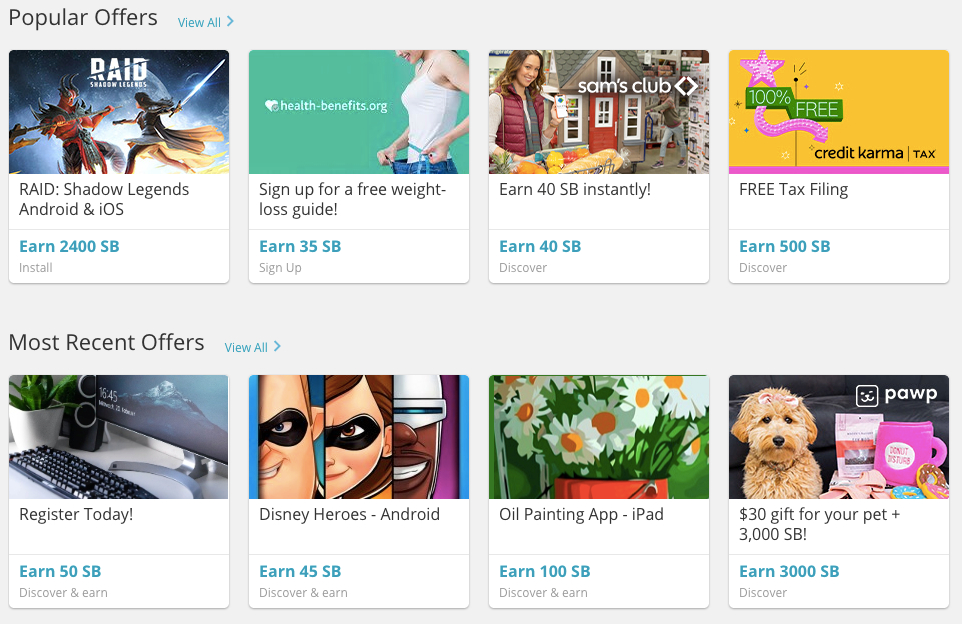 Here are a few offers I found when writing this Swagbucks review:
8,000 SB when you purchase a LifeLock subscription through Swagbucks
1,500 SB for signing with Hulu
Download and play the mobile game King of Avalon up to level 18 and earn over 4,800 SB
Sign up for the streaming service Tidal and earn 700 SB
Join Sam's Club and get 40 SB
Search the web
You can earn points when you use the Swagbucks Yahoo! powered search engine. It's pretty random when Swagbucks pays out for web searches, and you have to use it pretty frequently for the chance to earn just a few points.
Play games
Swagbucks has partnered with the Game Show Network to pay you points when you make in-app gaming purchases. That means you have to spend money to get points, and it's typically 4 SB for every $1 you spend.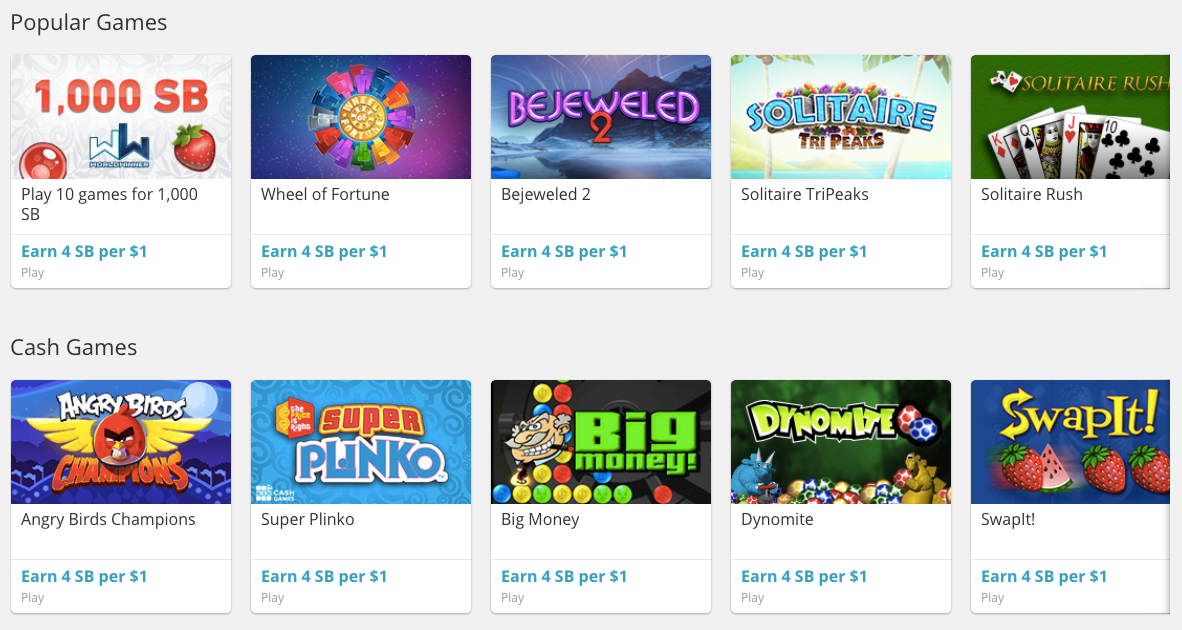 SwagButton
The SwagButton is a Google Chrome extension that you can download to your computer. The extension automatically finds coupons, sales, and cashback offers for you. You earn 50 SB just for downloading the extension. It's worth noting that you are sharing your web browsing data with Swagbucks if you use the extension.
Use Swagbucks Mobile
The Swagbucks mobile app has everything the web version of Swagbucks has in a well-designed app. Plus you can also earn points when you:
Watch movie clips and trailers
Watch videos through Sportly.tv
Watch music videos on IndyMusic.tv
Read more at Top 23 Legit Money Making Apps to Download for Your Smartphone.
Swagbucks referral program
Swagbucks has a pretty decent referral program that will help you earn even more points. Every Swagbucks user is given a special referral link that you can share with your friends and family.
You can earn referral points in a couple of different ways:
When your referral sign-ups and earns their first 300 SB, you both get an additional 300 SB
You earn 10% of their SB earnings for as long as they are using their account
Earn an additional 100 SB if they add the SwagButton extension


How to redeem your Swagbucks points
Once you've accumulated some SB points, you can start checking out the different gift card offers, have cash transferred into your PayPal account, or donate your points value to a charity of your choice.
What is the Swagbucks conversion from points to cash?
100 Swagbucks equals $1 when you're redeeming your points. That's $0.01 per point.
You can browse through offers organized by point value, category, even "on-sale" gift cards that will let you get more out of your points. There are more than 140 different companies you can redeem points for gift cards, including:
iTunes
Domino's Pizza
Amazon
Walmart
Southwest Airlines
Bath & Body Works
Home Depot
Kohl's
Best Buy
Starbucks
Target
You can also redeem your points for Visa gift cards. And a few of the charities you can donate your points to include The Humane Society, Wounded Warrior Project, American Red Cross, and Doctors Without Borders.
How much money can you make using Swagbucks?
Like every other cashback site out there, you are not going to get rich from Swagbucks. And the amount of money you make is very dependent on how you use the site.
I read through tons of Swagbucks reviews online, and I found that frequent users of the site earned between $50-$150/month from Swagbucks.
Most of those Swagbucks reviews came from users who were spending hours a week on the site watching videos, doing web searches, claiming offers, and playing games in addition to online shopping.
I even found one Reddit user that claimed to make an average of $525/month with Swagbucks. But here's the kicker: he said his earnings came after spending 8-10 hours a day taking surveys on Swagbucks.
So here's the real question you should be asking…
Is Swagbucks worth doing?
If you have 8-10 hours a day to devote to making extra money, there are far more profitable side hustles out there.
I definitely think Swagbucks is worth using for online shopping, because it's easy money and requires virtually no extra effort on your part.
It may even be worth a little of your time to try some surveys or discover offers. Those are fairly mindless tasks that can be done while you are waiting at the doctor's office, standing in line at the store, or commuting on public transit.
My point is, making money with Swagbucks has a place, but if you have lots of time to devote to side hustle, there are far better options. You can find some of my favorite side hustles in these articles:
Pros and cons of using Swagbucks
Swagbucks review: My final word
Like I said, there is a time and place for Swagbucks. The company is 100% legit, and real people are earning points that they can redeem for cash.
Swagbucks is worth checking out for online shopping alone, and if you find yourself with a few minutes to burn, you could take a survey or browse through other offers. I just wouldn't count on Swagbucks as your primary side hustle – there are too many better options available.