If you shop online, MyPoints is a popular money making app that pays you in points that you can redeem for cash. But MyPoints is much more than just online shopping – you can take surveys, play games, watch videos, and more.
I was curious about how it all worked, so I signed up for a free MyPoints account and gave it a try. Today I'm going to give you my full MyPoints review so you can see if MyPoints is worth your time.
MyPoints Review 2023 | Is it worth your time?
What is MyPoints?
MyPoints is an online platform where you earn points that can be redeemed for cash, gift cards, or travel miles. MyPoints has been around since 1996 and has helped over 9 million people earn cashback online.
In 2016, MyPoints was purchased by Prodege, which owns the popular cashback site Swagbucks.
There are a number of ways to earn points on MyPoints – shopping online, taking surveys, playing games, watching videos, searching the web, etc. Some of these rewards are easier to earn than others, but more on that further down in my MyPoints review.
It's free to sign up for MyPoints, and all you need is an email address to get started.
How MyPoints works
MyPoints gives you a ton of different ways to earn points. One of the easiest and most popular ways is to shop online through the MyPoints website, and then earn points for every dollar you spend when you purchase through one of its partner companies.
If you're already shopping online, it might be worth checking out the companies that partner with MyPoints. You can earn points based on category (home, beauty, electronics, etc.) or take advantage of discounts for MyPoints members.
For example, if you shop at Walmart, you can earn up to 4 points for every dollar you earn or $10 off a $50 grocery delivery or pick-up order. These offers were available when I wrote this MyPoints review and are subject to change.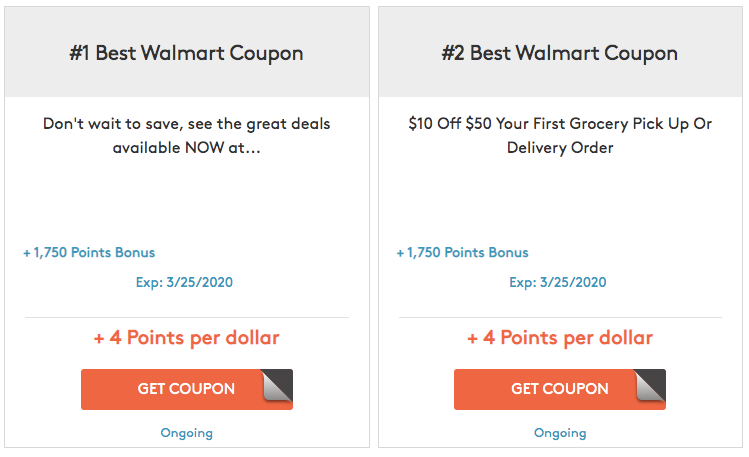 To claim those points, you have to shop through the MyPoints website, which is a common practice among cashback shopping sites. These sites, including MyPoints, make money by sending you to their partner companies, and then they give you a little kickback as a thank you.
MyPoints pays you in points, and you can see your earnings when you log in to your account, which has a running tally of all of the points you've accumulated. You can redeem for cash via PayPal, Visa gift card, or gift cards to dozens of retailers nationwide.
Ways to make money on MyPoints
One of the things you might like about MyPoints is that there are a ton of different ways to earn points that you can redeem for cash and gift cards. Shopping online is by far the easiest and most efficient way, but let me explain all of the options.
Shop online to earn points
MyPoints works with over 2,000 retailers nationwide so you can earn points for purchases you make online. You'll find special offers on your MyPoints homepage, or you can browse through a list of retailers.
MyPoints Score
This is a web browser extension for Google Chrome that will automatically apply coupon codes and find points. You'll even earn 100 points when you download MyPoints Score. It's worth noting that you are sharing your web browsing data with MyPoints if you download and use this extension.
Dining Deals
This is a newer feature, and you can earn up to 51 points for every $1 you spent at one of MyPoints partner restaurants. You have to link a debit or credit card before claiming any of the offers, and you earn points when you use your linked card to make a purchase.

Local deals
You can earn points for every dollar you spend on Groupon and LivingSocial coupons and offers. This also includes in-store shopping offers at places like Bed Bath & Beyond, Cost Plus World Market, and H&M.
Read emails
If you click and read through your MyPoints BonusMail, you can earn up to 5 points per email. If you click on the ads in the emails and make a purchase, you can earn even more points.
Take surveys
Taking online surveys is providing market research companies with valuable insights into how customers think, shop, and behave. It's a mindless way to claim points on MyPoints, but as I'll explain a little further down in this MyPoints review, survey points are a little harder to earn than you might think.
For more surveys, read Survey Junkie Review: Is it a Legit Side Hustle?
Watch videos
You can earn points by watching videos about entertainment, sports, news, politics, and more. Fair warning, these videos average at least 1 hour and only pay 2-4 points each, so it's a bit of time sync.
MyPoints nCrave
You can earn around 2 points for reading articles that MyPoints recommends. Note that you will have to allow pop-ups for this to work. There's content curated on topics like lifestyle, finance, active living, news, and entertainment.
Find deals
This feature allows you to easily browse through offers from MyPoints partner sites.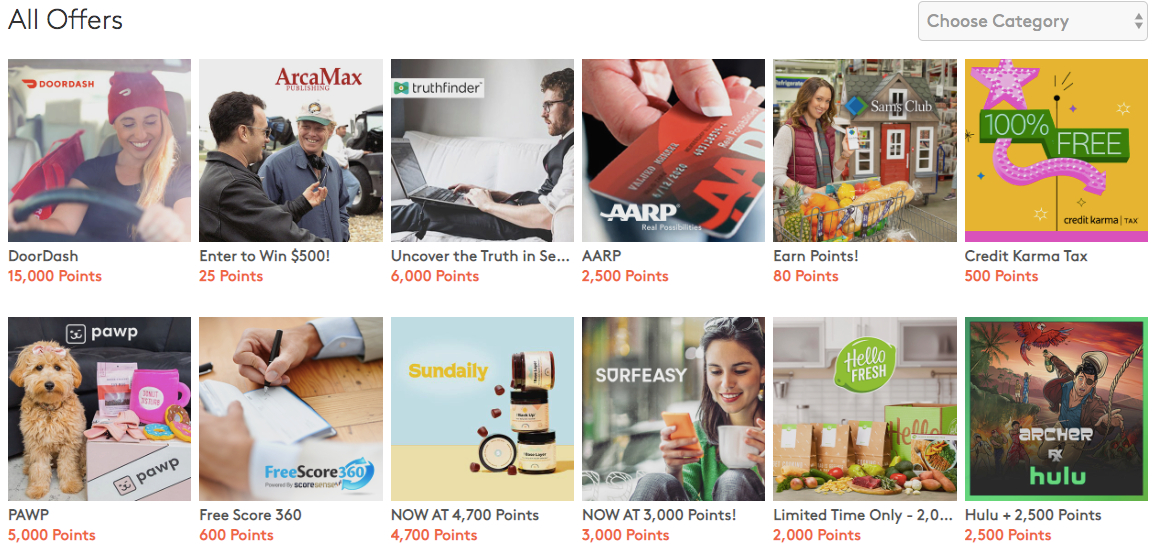 Here are a few of the offers I was able to find:
2,000 points when you sign up for a Hello Fresh subscription, plus $90 off your first four boxes
600 points when you sign up for CBS All Access, includes 7-day free trial
2,500 points when you sign up for Hulu
My Points Search and Earn
You can randomly win up to 170 points for searching on the MyPoints Yahoo! powered search engine.
Print coupons
Each coupon you print and redeem at your local grocery store is worth 26 points. That's 25 for redeeming the coupon plus 1 for printing it. There were coupons for pet food, cereal, mouthwash, cleaning products, diet products, and more.
Play MyPoints games
You can earn up to 8 points per dollar that you spend playing cash tournament games on MyPoints. You'll have to deposit money into a Game Show Network account before you can start earning points.
Refer-A-Friend
Every MyPoints user gets a unique referral link that allows them to earn points when they refer people, and it's a pretty sweet deal if you and your friends like using MyPoints. Here's how Refer-A-Friend works:
Share your unique MyPoints link with your friends.
Earn 25 points when someone signs up through your link.
When your friend spends $20 or more with a MyPoints partner, you earn 1,750 points and they earn 750 points. You're only eligible for one of these bonus opportunities.
You can earn a percentage of points your friend earns at least 10 points.
You can refer as many friends as you'd like, and there's no limit to the number of friends that can join your network.


How much are MyPoints worth?
MyPoints value varies by offer, but approximately 150 points = $1. That's only $0.006 per point. I tried to find out that valuation compares to other reward sites, but they are all very different. It would be like comparing apples and oranges.
How do I redeem my MyPoints?
Depending on how you earn your points, it can take up to a month to 90 days before points show up in your MyPoints account. Then, you will have to meet a certain point threshold to redeem your points for MyPoints gift cards or cash.
To redeem your points, you will click on the "Redeem Points" button at the top right-hand corner of the website, and then browse through a list of over 80 offers. These include My Points gift cards to companies like:
Amazon
Best Buy
California Pizza Kitchen
CVS
eBay
Home Depot
Groupon
Kohl's
Olive Garden
REI
Starbucks
Target
Walmart
The lowest number of points you can redeem is for Amazon – 250 points for a $1 Amazon gift card.
For more flexible options you can redeem your points for cash via PayPal. It takes 3,970 points to have $25 deposited into your PayPal account. You can also redeem points for online Visa gift cards. It's 1,500 MyPoints for a $10 Visa gift card.
You can also redeem points for gift cards to purchase airfare through American Airlines or Delta. You can also turn your points into United Airlines miles.
Signing up for MyPoints
Signing up for MyPoints is incredibly easy. There are just a few steps to take before you can start finding ways to earn cashback.
Step 1: Go to MyPoints.com and use your email address to create a free account. After you enter your email address, MyPoints will show you the kind of offers you can find on its site.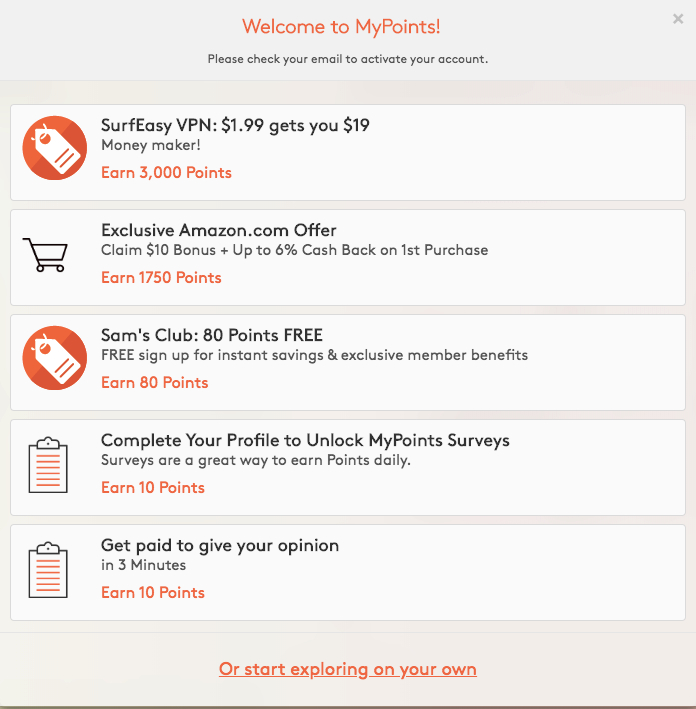 Step 2: Check your email inbox for a verification email. Click on "Verify Now."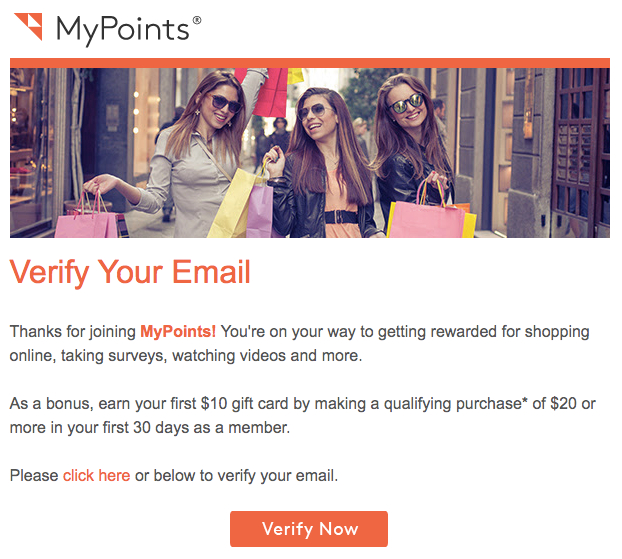 Step 3: You are brought back to MyPoints.com so you can start searching for offers, surveys, videos, games, coupons, and more.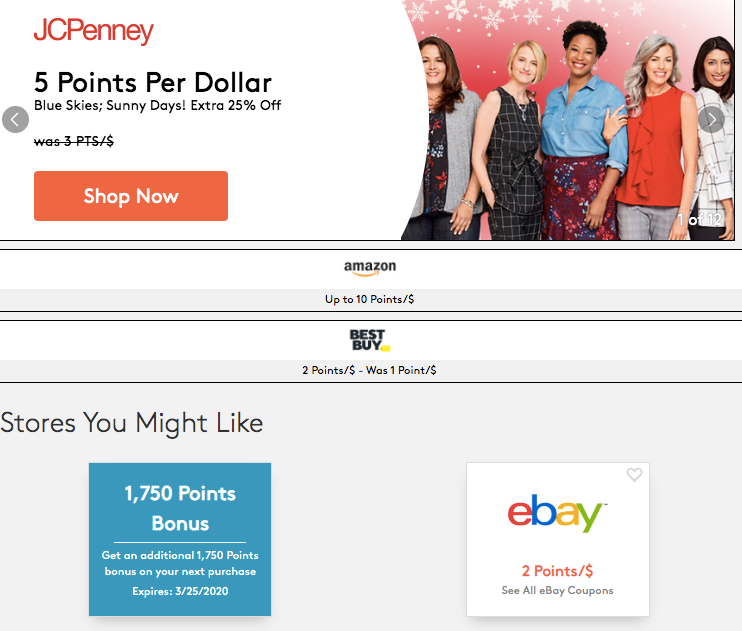 Related: Top 23 Money Making Apps to Download For Your Smartphone
Customer support
MyPoints has a help center that has answers to frequently asked questions. You can also open the MyPoints chatbot to ask for support, but it only searches the support database to find an article that answers your question.
There is a customer support center where you can fill out a help ticket, but there isn't live chat or phone support.
MyPoints review: What to expect
Once I joined MyPoints, I started exploring the site to see how easy it would be to make money with MyPoints. I started with surveys, and I had to take a three-minute survey to "unlock" any other surveys (I did earn 10 points from the first survey).
Taking surveys
I attempted to take a couple of surveys, but after answering a few questions, I was dropped from the surveys because I didn't qualify. MyPoints did reward me with 5 points for each survey I tried.
Playing games
I figured I wouldn't mind playing Angry Birds for a few minutes and maybe make some cash. But then I remembered that I had to deposit money before I could play the game to make money… no thanks.
Searching the web
I tried the web search option, and after searching for over 20 different things, I didn't randomly win any points. This search function is not like a typical Google search – it's a Yahoo! powered browser, but it redirects to other third party sites. I'm a big fan of Google's search engine, so I don't think I would use this in the future.
MyPoints coupons
If you're up for couponing, this was pretty easy to use. I found coupons for $4 off the dog food I buy, so I was able to save $4 and earn 26 points.
Shopping online
I browsed around the MyPoints site for a little bit and found an offer to earn up to 1,750 points when I shopped on Amazon. You earned points per dollar depending on the category, including:
Furniture: 8 points per dollar
Home improvement: 8 points per dollar
Amazon devices: 8 points per dollar
Pet food and supplies: 6 points per dollar
There were also one-time point bonuses when signing up for different programs on Amazon:
200 points when you sign up for Amazon Music Unlimited
100 points when you sign up for AmazonFresh
100 points when you sign up for Prime Pantry
M$M tip: If you want to find ways to make and save money with Amazon, I have a list of two dozen different Amazon hacks. Check them out at 24 Amazon and Amazon Prime Hacks That You Have to Use.
My experience with MyPoints has been really similar to what I've heard in other MyPoints reviews – there are lots of ways to earn points, but some are done better than others. Bottom line, you're probably not going to like or use every feature on the site.
That might be frustrating if you think you're going to sign up, earn points all day long, and redeem lots of cash. That just isn't how these sites work. It's not fast cash, but it is easy money that will slowly build up over time if you keep using it.
Read more about another popular cashback site at Ibotta Review 2023: Is it Worth It?
Pros and cons of MyPoints
MyPoints review: My final word
Like many cashback, point, or survey sites, you're not going to get rich with MyPoints. You will earn the most points if you regularly shop online, and nearly every popular retailer has partnered with MyPoints, so you're bound to find a way to earn points.
Using MyPoints to make money with surveys, games, or videos is even less lucrative, but that's on par with what you can expect from similar companies.
Overall, MyPoints is worth checking out if you want to make a few bucks for shopping online. It's free to sign up, and MyPoints is a 100% legitimate site that's been in business for nearly 25 years.