Hey everyone! If you're new around here, I started tracking my blogging income through these income reports in mid-2016. This is a great way for me to keep an eye on my progress of doing M$M full-time, and it's also a great way for you to follow along as well if you're thinking of starting an online business!
I can't wait to look back on these several years from now and see how far the site has come. It's already been crazy so far.
On a personal level – life is good. I feel like I've been able to create a really good work-life balance while making great money at the same time.
A lot of you have wanted to start your own blogs after seeing the success that I've had, and I highly recommend it. If I hadn't taken a shot on M$M, I would still be stuck in a career I didn't really enjoy very much.
Just understand – this isn't easy in any way or for the faint of heart, and definitely not something you should immediately quit your day job for. Most people quit blogging long before they actually "make it."
It takes time to build a business like this, but if you have talent and a good message/story, it is possible to do well.
Take a look at my free blog setup tutorial. You'll have your own blog set up in just 10-15 minutes, and will receive a lower website hosting price since you're a M$M reader when you use my exclusive link. As a bonus from my family at Bluehost- you'll also get a domain name for free ($15 value)!
Jump on the wait list for my marketing course!
You'll see this a little later in my income report, but one of the most important income streams that I currently have is from running a digital marketing business through my blog. Over the past two years, I've made tens of thousands of dollars by running marketing operations for small businesses.
There are a lot of great ways to make money from a blog, but I think using a blog as a portfolio to get marketing work from local small businesses is the fastest monetization strategy that requires the least amount of traffic.
This is the only way I was able to survive and bring in money after I quit my job to run my blog, and I think it's the ultimate side hustle for someone that wants to make money online. Within a few months of leaving my teaching job, I literally replaced my salary with marketing work through my site.
I 100% believe that bloggers can and should be making money this way.
The course will be available for purchase in October. The price tag will be under $200 (with an option to split up the course payment), and will also have a generous affiliate commission so you can increase your blogging income stream.
Here are some of the things you'll get from the course:
How to use your blog to secure marketing work and actually make money blogging early on
All of the email templates and important document templates that I use to secure clients (including budget proposals)
How to run Facebook ads, Google ads, SEO, email campaigns, and manage social media for small businesses
How to find the right clients and help them grow their online presence and revenue
What you can charge for your services
How to run your accounting program and pay yourself from the company
How to get clients to recommend your services to their business owning friends
Admission to a private Facebook group where you'll have direct access to me and all of the bloggers/digital marketers who have taken the course (this will be a killer resource)
I'll keep you all updated on the course, but if you want early access and updates, sign up for the course waitlist below:
Have you taken my free blogging course yet?
So far I've had 1,230 people sign up for my blogging course since it debuted in February, and the reviews have been great! Even if you are just thinking about starting a blog or want to figure out how to get more traffic to the one you already have, this will be useful for you.
Everything in the course applies to small business websites that have a blog as well, so there is good value for business owners out there that want more engagement on their sites.


Let's get to the report…
Something to remember when you look at this income report – I'm self-employed and have to cover expenses, my terrible health insurance (seriously it sucks), and taxes.
I've increased the amount that I pay myself recently, which means that I'm paying more Social Security and Medicare taxes than I used to. I also pay quarterly taxes that will probably have to increase next year as well.
Here's how I made money with my online business this month:
Well...August kinda sucked for a number of reasons haha. Things seemed to be going along pretty well and I thought it would be another $14-15k month (which has been the norm lately).
Then, Hurricane Harvey hit us in Houston. I didn't really think it would affect my business that much since I work online, but it actually did.
I found out that when you're in the middle of a natural disaster, the last thing you think about is your business.
For a little over a week, I didn't send a single sales email, push affiliate products, or even schedule posts for M$M.
I also temporarily stopped running Google ads, Facebook ads, and email campaigns for my marketing clients (that are based in Houston), in addition to discounting my SEO services.
That's an important tip if you want to retain marketing clients long-term - treat them really well and they will treat you really well.
All in all though, it could certainly be worse and I'm not complaining that I was down a couple thousand dollars. My family was safe, which is really all that matters.
I think September might be a little slow too (one of my marketing clients completely flooded during Harvey, so no idea what will happen there), and then the last three months of the year should be great with the holidays coming up and my marketing course coming out.
Digital Marketing Income: $3,890.00
If you're new to M$M, I'll just catch you up really quick! When I left my job almost two years ago to start working for myself, I wasn't making much money at all. The site itself had made around $3 when I took the leap of faith (please don't do what I did).
A reader really liked my story and work on the site, and became my first marketing client. This is a great way to make money when you first start blogging because the skill-set is identical to what you do with your own site.
This income stream isn't my biggest, but for me, it's the most important. This money is what helps me sleep at night because it's consistent and I love the work.
The course that I mentioned earlier (you really need to sign up for the waiting list if you're interested in making steady money online) will cover everything you need to know about how I make money this way.
Out of respect for clients' privacy, I can't name them on the site or list my rates for specific projects, but you're always welcome to email me if you are an aspiring digital marketer and want tips or guidance!
MillennialMoneyMan.com Income: $8,396.40
Affiliate income: $4,354.24
Bluehost Blog Hosting: $1,910 (Take a look at my free blog starter guide to set up your own site in 15 minutes or less!)
LendEDU: $1,471.50 <- Over 1,000 M$M readers have used this free rate finder tool so far to search for better student loan interest rates. (Bloggers, I highly recommend that you apply to become a LendEDU affiliate here)
Making Sense of Affiliate Marketing: $428 (Read my review of this course that helped me grow my affiliate income to over $4,000 per month!)
Haven Life Insurance: $180 (If you're looking for term life insurance, this company is bomb)
Online Surveys: $150.00
Personal Capital: $100.00
Thesis: $65.01
ConvertKit: $8.70
Amazon affiliate: $41.03
Pinterest Virtual Assistant Course (CLOSES TODAY!!!!): $18.00
Staff writing: $0
I didn't do any staff writing for the second month in a row.
Fortunately, I'll have some more staff writing gigs coming up in September. I was supposed to have one for a Texas-based energy company in August, but once Harvey hit Houston, they decided to delay a bit so they could use part of their budget to help the flood victims.
Pretty understandable, right?
Advertising: $4,042.00
I continue to be blown away by Adthrive (the company that manages the ads on M$M). My RPM was over $15, which is great.
Even more impressive though; they gave me additional money (not included in this report) to use for helping my sister recover from flood damage that her house sustained during the hurricane.
That kind of stuff is why I love the industry I'm in. It's full of just straight-up good people.
Lastly, they rolled out their new dashboard this month and it looks great! 🙂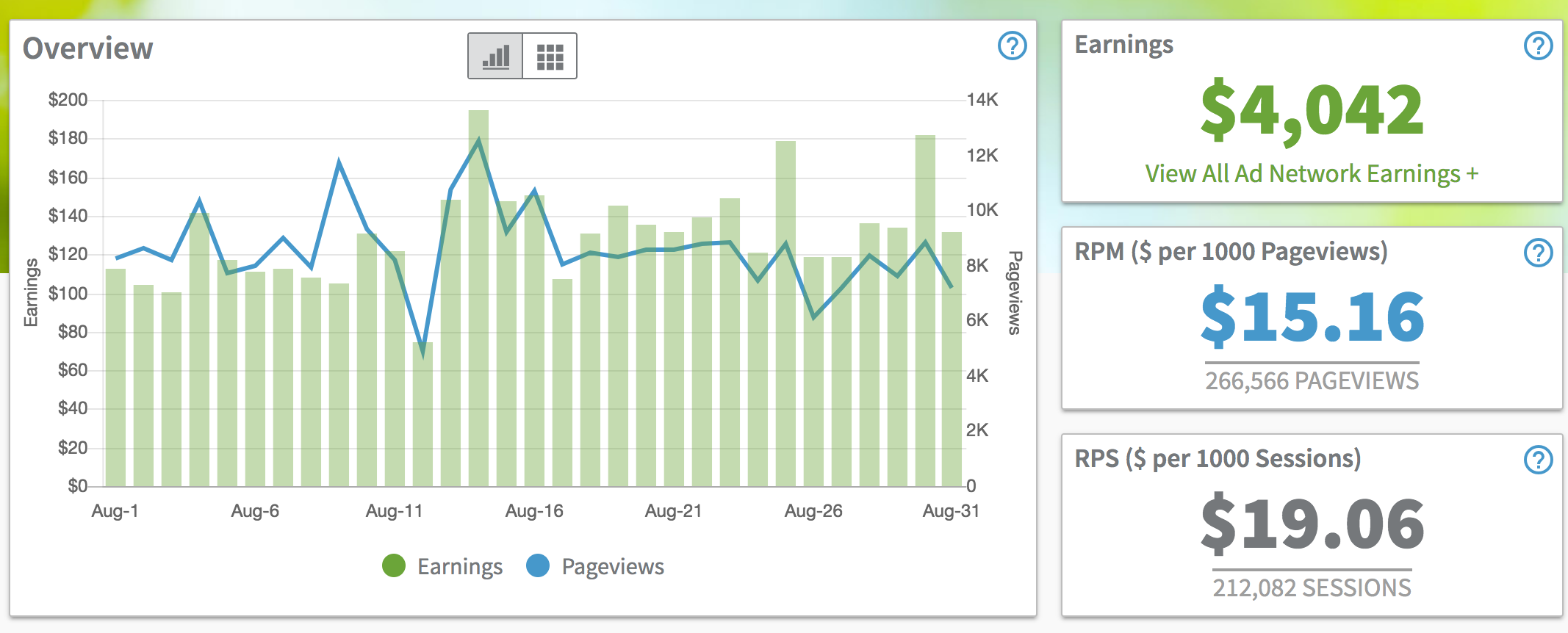 Cool stuff for M$M:
Our new house didn't get any hurricane damage
A lot of you asked how our new house faired during the storm, which was really thoughtful and much appreciated. It did fine...and I have no idea how.
It looks like the flood waters came about 3 feet from the front of the house, but I guess the drainage is really good in the new neighborhood?
We were supposed to close on the house on September 13th, but due to the storm it got pushed back to the 18th.
I am sooooo looking forward to not dealing with mortgage nonsense anymore (at one point I had three lenders competing against each other for my business because...of course I did).
Coral and I are so stoked to get out of our apartment and into the new house, but I am kinda dreading the moving process. The LAST thing I want to do right now is take time away from my business, but I am fortunate that I have flexibility in that regard.
I started the M$M Blogging Club!

Muahaha! So a few weeks ago, I started a private Facebook group for M$M readers called "The Millennial Money Man Community". It did so well (over 2,500 members in just a few weeks and growing fast) that I decided to make a blogging club too!
Obviously, I love blogging and online businesses. This whole experience of running M$M has been life changing, and I truly feel like I've found my calling by helping other people get excited about personal finance and making money online.
If you want to join a super chill, non-judgy group where you won't get spammed to death while learning more about reaching people with blogging, you can join the group here.
Anyone who is in my original M$M personal finance group knows that I run a tight ship. 🙂 You'll like it!
I neeeeeeeeed to record my Make Money Marketing course
Ah yes, hello my good friend procrastination.
I have my course completely structured, but haven't sat down and actually recorded anything yet.
For whatever reason, I keep finding other stuff to do. My big goal in September is to get at least the first quarter of the course recorded, but we are moving during that time...so we'll see.
I WILL GET MY COURSE DONE BY THE END OF OCTOBER.
Sorry for yelling. That was more for me than you.
Read the post below if you're a normal human and want to make money with Pinterest
http://millennialmoneyman.com/how-to-make-money-as-a-pinterest-virtual-assistant/
My friend Kristin Larson from Believe in a Budget created an awesome course! She'll teach you how to make money as a Pinterest Virtual Assistant (yes, it's a real thing and I've actually hired one before).
Course admission ends tonight, so I definitely suggest you get in while you can here.
#thankyou
As always, I'd like to take a second to thank you for reading the site, participating in my Facebook groups, and letting me be a small part of your lives. Without all of you, I would probably be homeless or something.
You can take a look at all of my income reports here or check out the latest ones below: