Transcription work is usually a flexible way to make money from home, and if you have experience in the legal field, you can find legal transcription jobs from home.
Legal transcription is a specialized field and requires a higher level of skill than general transcription, and like I said, experience is a must. You'll see that mentioned throughout this list of legal transcription jobs from home – they all call for a certain amount of years of experience or training in working with legal documents.
So if you have experience as a paralegal legal assistant, law secretary or related field – or are willing to learn – and want to make extra money from home, check out the companies on this list.
What is a legal transcriptionist?
Transcriptionists listen to audio files and convert them into text documents, and legal transcriptionists do that specifically with legal documents. That means you might be transcribing interviews, depositions, and file notes.
Legal transcriptionists are often required to have some experience working in a law office. This helps you understand the specific set-up and formatting of legal documents like court hearings, depositions, and legal pleadings.
Accuracy is also extremely important for legal transcription work because these are documents may be used by lawyers or law enforcement agents. And most jobs require that you type things verbatim – even filler words like "umm", "like", "uh," and more. You'll also have to note stutters and false starts.
Like general transcriptionists, legal transcriptionists are expected to go back and edit what they've just typed. You will have to correct any grammar, punctuation, and spelling errors. Sometimes you'll use software that makes the transcription and editing process easier, but it usually depends on what tools the company you're working for wants you to use.
It's worth noting that some of the content you're transcribing is graphic or disturbing. It might have offensive language and contain descriptions of violent acts.
If you're just starting out, check out Online Transcription Jobs for Beginners | 7 of The Best Companies to Start With.
How much can transcribers make?
Legal transcriptionists can make anywhere from $15-$25/hour working as independent contractors. You're paid on a per-project basis, which can be based on how many words you transcribe or per audio hour.
Audio hours are the length of the audio files, and the faster you're able to accurately transcribe them, the higher your hourly pay. For example, if the per audio hour rate is $50, and it takes you 3 hours to transcribe a document, you make approximately $16.75/hour.
A more skilled legal transcriptionist will be able to command a higher pay because they will be able to type faster, have a higher accuracy rate, and understand the proper formatting of legal documents.
How do I become a legal transcriptionist?
You don't need formal training to work as a legal transcriptionist, and you don't need experience working as general transcriptionists. But like I said earlier, many companies prefer that you have experience working in a law office. That could be as a paralegal, legal secretary, legal assistant, etc.
You should also have the following skills:
Accurate and advanced typing skills
Strong knowledge of the English language, including proper spelling, punctuation, and grammar
Ability to proofread and edit your own work
Ability to listen closely to audio files
Working knowledge of common legal terms, procedures, and an understanding of how legal documents are formatted
Multitasking capabilities
Capable of following instructions with minimal supervision
If you are brand new to transcription work, I recommend checking out the course Legal Transcription: Theory & Practice from TranscribeAnywhere. It comes with training modules, typing drills, a legal transcription style guide, over 100 pages of legal terminology, and job-seeking support.
M$M tip: If you're looking for more ways to make money from home, check out Jobs That Will Allow You to Make Money From Home and 13 Legitimate Work From Home Jobs (Earn an Extra $1,000 Per Month in 2020!).
8 Legal transcription jobs from home
1. SpeakWrite
SpeakWrite provides legal transcription services for legal offices, law enforcement, protective services, and government agencies.
You will need to have at least one year of legal transcription experience to be considered by SpeakWrite. Because of the kind of work you'd be doing, they also prefer applicants who have worked in a law firm.
SpeakWrite also has some pretty specific technology requirements:
Windows-based PC (no Macs or tablets)
Windows OS 7 or newer
Licensed and downloaded version of Microsoft Word 2007 or newer (not subscription or cloud-based)
Microsoft Internet Explorer v8.0 or higher
Adobe Acrobat Reader v8.0 or higher
Windows Media Player v10, 11, or 12
Sound card and earphones
Foot pedal (SpeakWrite says they'll tell you when to order it)
SpeakWrite pays legal transcriptionists one-half cent per word, and sometimes there's a 10% bonus. You'll need to be able to work at least 15 hours per week, but you can pick your own hours.
2. Transcription for Everyone
This company has legal transcription jobs from home as well as medical and business. They match typists with the kind of projects they will be best for, and they only hire experienced transcriptionists.
Transcription for Everyone has the following requirements:
High grammar and research abilities
Ability to learn independently and accept constructive criticism of your work
Driven and motivate for long-term work opportunities
Quiet workspace (preferably an at-home office)
Computer and high-speed internet connection
High-quality noise cancelling headphones
To apply, you'll need to send in your CV and cover letter that explains why you would be a good fit.
3. American High-Tech Transcription and Reporting
American High-Tech Transcription and Reporting has full-time salary employees, but they occasionally outsource work to independent contractors. Their team consists of former court reporters, legal secretaries, paralegals, and medical transcriptionists.
You will need a newer PC with at least Windows 10 and Microsoft Word 2010 or higher. Apple computers are not compatible with the transcription software they use. They ask that applicants apply only if they are considering a long-term career in legal transcription and would like to work for American High-Tech for longer than a few months.
You will also have to submit to a nationwide criminal background check.
4. Cambridge Transcriptions
Cambridge Transcriptions has legal transcription jobs converting interviews, court proceedings, depositions, and conference calls into text documents.
They hire legal transcriptionists with at least a year of experience, and ask that you send redacted transcript samples of your work with your cover letter and resume when you apply.
Cambridge Transcriptions doesn't offer a ton of information about requirements, but here's what they say about their ideal candidate:
"Our ideal candidate is self-reliant and self-motivated, reliable, most likely a perfectionist who enjoys words, an efficient communicator (especially with his or her employer), savvy with software applications and equipment, and has a t least a year of proven legal transcription or court reporting experience."
5. Kendall Creek Communications
Kendall Creek Communications specializes in legal transcription for law clients and a number of government agencies, including:
Nuclear Regulatory Commission
Bureau of Veteran Affairs
Federal Communications Commission
Drug Enforcement Agency
Defense Office of Hearings and Appeals
Federal Emergency Management Agency
S. House and U.S. Senate
Because of the nature of the work, some transcribers will need to get a security clearance through the Department of Justice. It involves a full background check and fingerprinting, but Kendall Creek covers the costs.
Pay varies based on the work. Work for the U.S. Senate and House hearings pays per audio minute, and general legal work pays per page.
6. Cyber Dictate
Cyber Dictate has legal transcription jobs from home working on audio files for insurance, law enforcement, protective services, and other legal entities. They have high minimum requirements compared to some of these other companies:
No less than 3 years of intensive legal experience working in a law firm, must be in the past 5-7 years
You must have extensive experience and working knowledge with legal terminology and how to set up legal documents
Minimum typing speed of 85 words per minute
Available during normal business hours and able to work under strict time constraints
Cyber Dictate tests all of their applicants' skills, and they also require that you have a foot pedal, headset, and transcription software to take the test.
7. E-Typist.com
E-Typist prides itself on offering a flexible schedule that allows you to work around family or other career demands. This makes it a great work-from-home job for parents or those wanting to make extra money on the side of their day job.
This company only hires legal transcriptionists with at least 3 years of legal transcription experience or experience working in a law office. You will also need Express Scribe software, an infinity wav foot pedal, over the ear headphones, high speed internet or DSL, and a smartphone.
They also note that you should be comfortable transcribing dictation with heavy accents, distorted audio, background noises, and rapid speaking.
E-Typist also promotes transcriptionists to legal assistants if they've shown reliability, accuracy, and commitment. The legal assistant jobs require you to be available Monday-Friday business hours.
8. Post your skills on Fiverr
Another option for finding legal transcription jobs from home is to Create a profile on Fiverr, which is a platform that connects freelancers with potential clients.
You create a profile, list your services, pick your own rates, and create custom bids. Fiverr does take 20% of what you make through the site, but it could be a good way to get started or a way to supplement the transcription work you're already doing.
A professional looking profile is really important on Fiverr, and it should include details about any legal background and transcription experience. If you have any special skills, like you're fluent in another language, make sure to include that too. You want to stand out and sell yourself.
Here's an example of the kinds of transcriber profiles on Fiverr: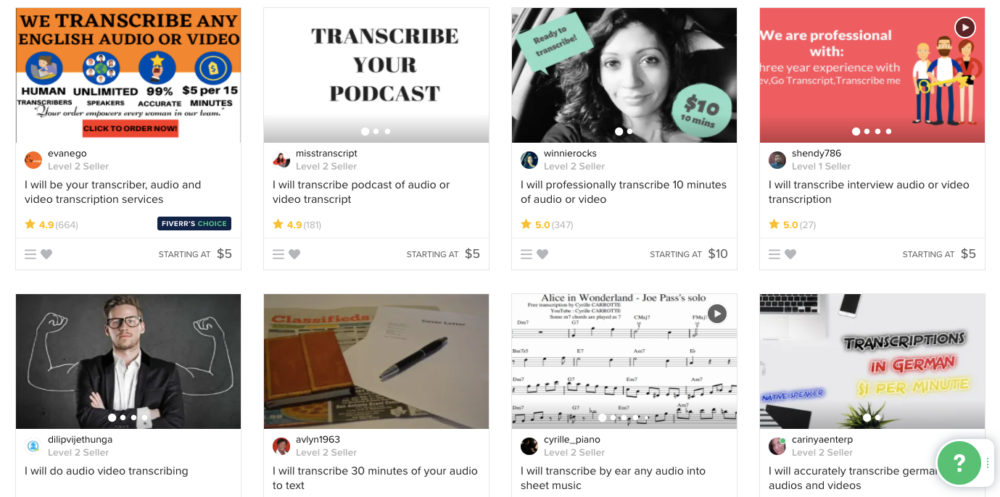 You can learn more about Fiver at Everything You Need to Know About How to Make Money on Fiverr.
The final word on legal transcription jobs from home
As you can tell, many of these jobs require a high level of skill and experience. That's great for those who are qualified, but if you want other flexible work-from-home options I highly recommend the following side hustles:
Run Facebook ads for local businesses. You can make $1,000-$1,500/month creating and managing ad campaigns for small businesses on the world's largest social media platform.
Teach English online with VIPkid. VIPKid needs online English tutors to teach one-on-one lessons to young Chinese students. You need at least a bachelor's degree, but it doesn't have to be in English or teaching.
Work as a virtual assistant. Virtual assistants work for bloggers, solopreneurs, and other online business owners. There is a wide variety of responsibilities (depending on the client), including invoicing, scheduling, inbox management, social media management, and more. VAs can make around $500-$1,000 a month per client. Read more at How to Become a Virtual Assistant in 2020 (Best Courses Included).